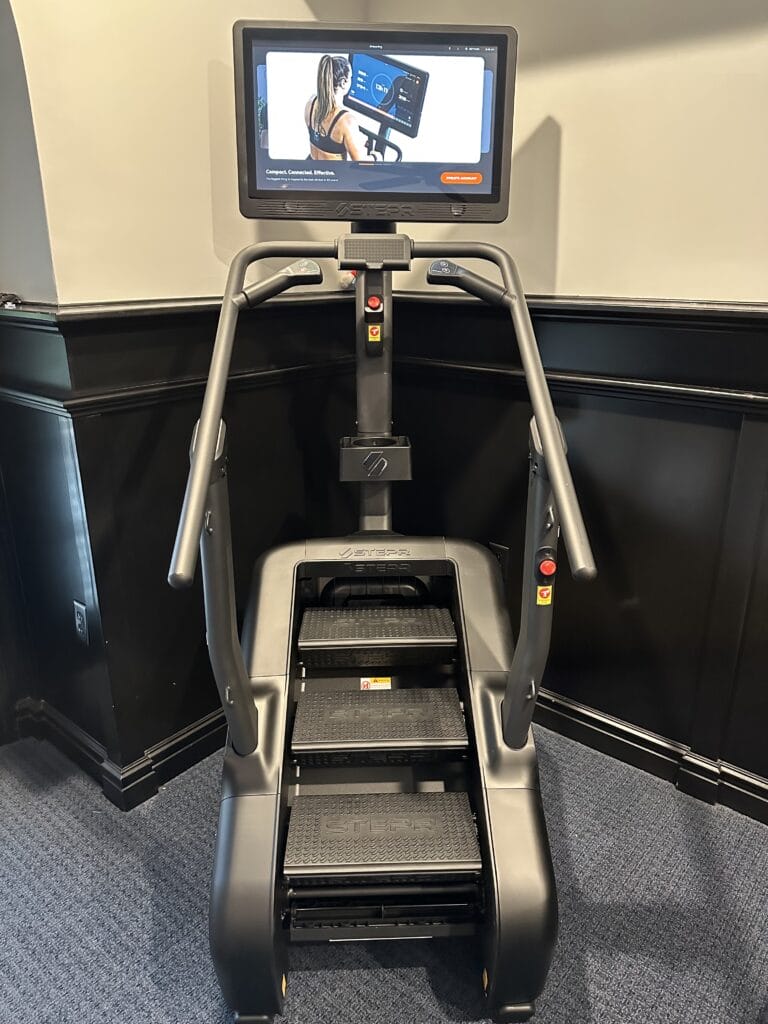 Gone are the days where stair climbers have to be intrusively huge and boring to use because thankfully, the STEPR+ has arrived.
With a compact frame and one of the most sophisticated consoles in home fitness, the STEPR+ is surely going to change the way we think about stair climbers forever.
Its compact footprint allows the STEPR+ to fit easily in most corners, but it's still able to provide the authentic stair climbing experience only rotating stairs can offer.
And with 5.2″ high, stadium-style steps, the STEPR+ offers a lower-impact, more easily accessible experience than ever before.
There's also that gorgeous, 27″ HD touchscreen console located front and center giving us easy access to instructor-led workouts, scenic hikes, and built-in entertainment apps.
If all this sounds pretty good, that's because it is.
The good folks at STEPR were kind enough to send me one of their high-tech stair climbers to test out and I have to say I'm very impressed with what they've come up with.
There are a few minor software issues (which I'm sure will be resolved with future updates), but otherwise I think the STEPR+ is easily one of the best stair climbers currently on the market.
But I'm getting ahead of myself here.
In this thorough review, I'll be going over everything the STEPR+ has to offer, all from a firsthand user's perspective.
I'll also compare it to some of the other stair climber machines currently on the market so you can see how it stacks up against the competition.
After reading, you'll know whether or not this elite cardio machine will be a good fit for your home gym.
Disclaimer – the kind folks at STEPR sent me a machine to test out for this review, but I haven't been compensated in any other way. This review is based solely on my personal experience with the STEPR+. As an affiliate, I get a commission if you decide to purchase through one of my links, but that of course doesn't effect your price.
The STEPR+
The STEPR+ is the debut product from the STEPR brand, which was founded in 2021.
It took 'em a few years to get their first stair climber machine up and running, but I had the pleasure of speaking to STEPR's CEO, Dan Toigo, and it sounds like they'll be launching additional products in the near future.
Sounds like exciting stuff.
And even though this is a new brand, they've got some pretty serious experience on their side.
Their CEO, Dan, has worked with fitness brands like iFit and Freemotion in the past and I believe some of the founders even worked with Force USA, another great fitness brand.
And when you see the STEPR+ in action, it's obvious the folks behind its development knew what they were doing.
Their goal was to create a compact, interactive stair machine that would make stair climbing more accessible for home use.
Personally, I'd say they nailed it, but more on that later.
Let's start this review off a rundown on the machine itself, including some pertinent specs you should be aware of.
Pros
Compact footprint
5.2″ stadium steps
27″ rotating HD touchscreen console
375 lb weight capacity
25 speed levels
24 – 137 spm
Heavy-duty frame
Great safety features
Smooth, quiet stair action
Textured steps
Integrated anchor points for resistance bands
Access to instructor-led workouts
Scenic hikes
Built-in entertainment apps
Great speakers
Compatible with bluetooth heart rate monitors
Reasonable price
Cons
Some minor delays when making selections on console
Console doesn't have a sleep mode
Warranty could be a little longer
Frame/Construction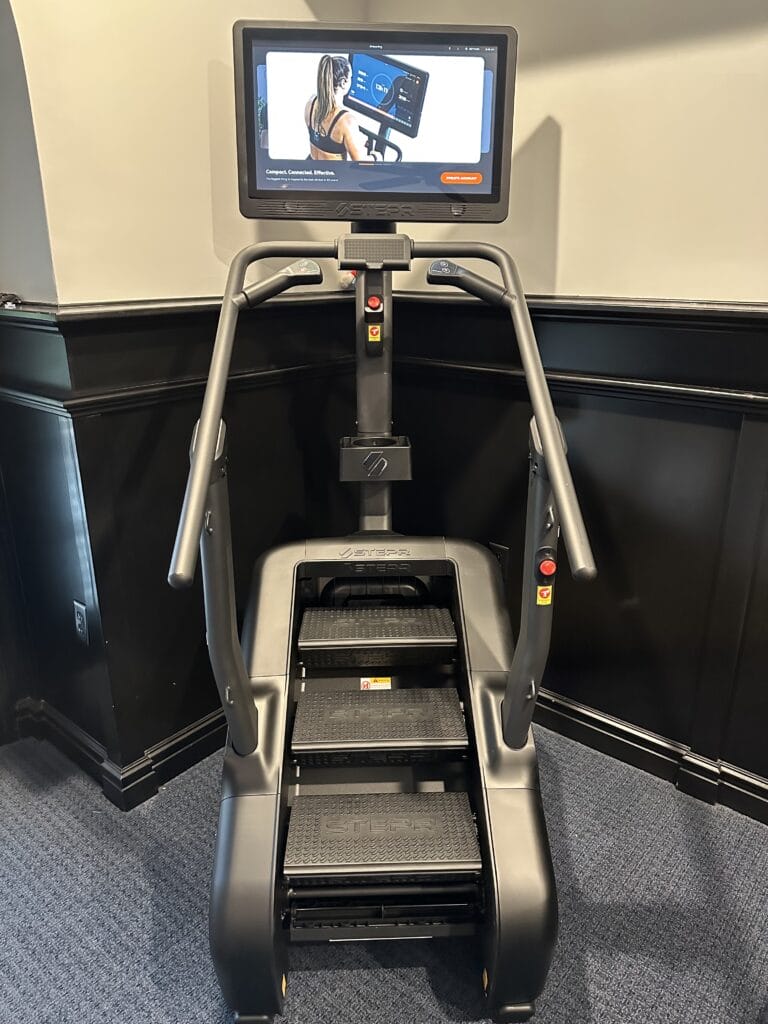 I've mentioned that the STEPR+ is compact in size, but let's get more specific.
This stair climber takes up a footprint of roughly 40″ x 29″, which is remarkably small for a revolving stair machine (aka 'step mill').
For the sake of comparison, my Peloton Bike is about 8″ longer and only about 5″ more narrow.
That said, if you look at a side profile, you'll notice that the console extends out past the footprint of the base, so you do need a few more inches to make room for the upper portion.
Everything considered, you need roughly 50″ x 29″ of available space to comfortably accommodate the STEPR+. You'll also need at least an 8′ ceiling for safe operation.
Again, this is much smaller than your average treadmill, elliptical, or recumbent bike, so I could see its small footprint being a huge perk for homes with limited workout space.
Actually, my home gym is pretty packed at the moment, but we didn't have any problem fitting the STEPR+ in our basement.
For my setup, it made more sense to face it toward a corner, which I could see being the case for homes with shared exercise spaces.
But don't let the compact design of the STEPR+ fool ya because this thing is heavy-duty.
Assembled, it weighs in at 286 lb, giving it plenty of bulk to provide a stable base during workouts.
And with a max weight capacity of 375 lb, folks of all sizes will be able to safely use it.
There's also a minimum weight limit of 95 lb, so small children and adults weighing less than this won't be able to use the STEPR+.
In terms of user heights, according to STEPR, this machine should be able to comfortably fit most users who are between 4'11" and 7'2″.
In other words, most people.
Personally, I'm 6'1″ and about 200 lb and the STEPR+ feels rock solid while I'm stepping away – I don't feel any frame sway or wiggling regardless of how fast I'm going.
This is a heavy cardio machine, but it does come with built-in transport wheels and included transport handles that make it pretty easy to move around.
The handles can be screwed into the base when necessary and easily removed afterwards and they make things a lot more convenient.
After the STEPR+ was delivered to my basement (they hooked me up with white glove delivery), my wife and I changed our minds on where we wanted it, but we were able to easily move it by ourselves.
Oh, I also want to mention that the STEPR+ is narrow enough to fit through standard doors, so it can be easily wheeled anywhere you need it.
Luckily, we didn't need to go up/down any stairs, but if that's the case in your home, I highly recommend going with white glove delivery and letting the pros do it.
Again, this is a heavy machine.
Overall though, I love the compact size and how stable it feels during workouts.
Stepping Action
As I mentioned earlier, the STEPR+ is of the revolving-stair design, so you get to climb actual steps (this is opposed to a HIIT Trainer or other stepper machines that utilize flywheels and magnet resistances to mimic the sensation).
Personally, I prefer this style because I feel like I'm getting a better workout.
Anyway, the STEPR+ comes with 3 revolving stairs, each with a thick, textured plastic surface for optimal grippy-ness.
Each step is 5.2″ high, 8.6″ deep, and 15.7″ wide, making for a compact and cozy fit during workouts.

The 5.2″ height is quite a bit lower than the average stair you'd find in your home (probably 7-8″), making them easier to ascend and more accessible to users of all fitness levels.
It also means less pressure through your knees and hips with each step, which the physical therapist in me appreciates.
I find the STEPR+ to be remarkably low-impact, even at faster speeds, and the lower step-up height is the primary reason for this.
But I don't want to give the impression that the smaller step height makes this stair climber any less effective – this is still a stair climber and it's still capable of kicking your butt.
The shorter steps just mean you have to do more of them to ascend each floor, so you'll still be able to get as hard a workout as you're looking for.
Anyway, the 8.6″ depth is a little more shallow than what's found on other home stair climbers (StairMaster's 4G uses 10″ deep stairs and Matrix's C50 uses 9″ deep stairs), but I don't find that it effects the workouts.
With a size 11.5 shoe, the heel of my foot hangs off the step a little, but I'm still able to push off comfortably without feeling like I'm climbing up on my toes.
I also find the stepping action of the STEPR+ to be smooth and responsive to speed changes.
Speaking of speed, this climber comes with 25 levels to work with, giving you access to a step rate of 24 – 137 steps per minute (spm). The speed can be adjusted with the handle buttons or you can instantly jump to a set speed by touching the bar at the bottom of the screen.
Personally, I start struggling to keep up at a step rate of around 85 spm, so I couldn't imagine anything over 100, but it's nice to know it's there if I ever need it.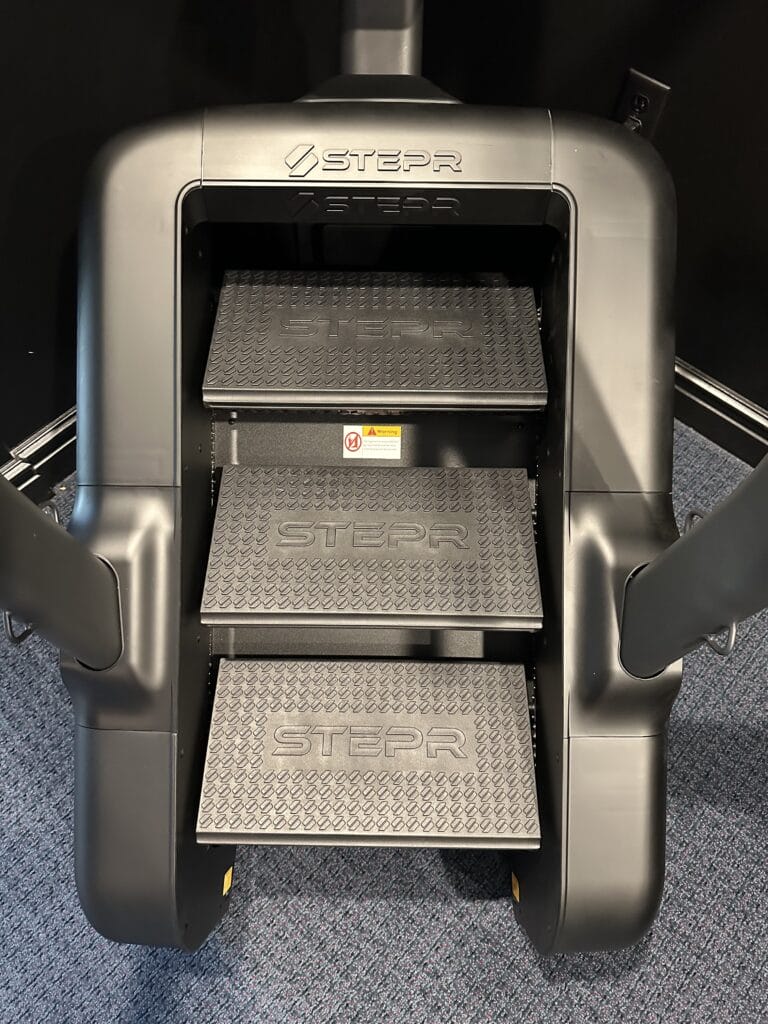 And even though there's only 3 steps to work with, you can still do double steps (two steps at a time) if you want to, but you have to nail the timing.
It takes a little practice but it's doable – you have to push off that last step right before it turns in to go back into the machine.
Some of the instructors include this move in their workouts as well, so don't be afraid to go for it.
And I don't have any way of measuring decibels or anything like that, but I'd say the STEPR+ is pretty quiet for a revolving stair climber.
It makes a little noise obviously during operation as the stairs rotate, but the first time I used it my wife sat on the couch beside me on a work call and she wasn't disturbed in the slightest.
Overall, the STEPR+ scores highly with it's smooth stair climbing action and I appreciate the comfortable, low impact feel the lower step-up height provides.
Console and Features
The STEPR+ scores highly in the performance department, but that's only half the story – there's a ton of cool tech and safety features to discuss as well.
27″ HD Touchscreen Console
It's hard to miss the huge touchscreen console mounted front and center and that's kinda the point.
The STEPR+ is designed with streaming in mind and this beautiful console is your ticket to accessing everything this climber has to offer.
The entire surface of the console acts as a touchscreen, so it's easy to tap and make all selections.
And of course the large screen makes it easy to see all your workout stats at the same time (step rate, total steps, floors climbed, calories, etc.).
The console can also tilt up/down and rotate 360°, making for easy viewing whether you're on the stepper or doing a floor routine.
One minor complaint I have is that there's sometimes a delay of a few seconds when making a selection – not sure if this is an issue with my wifi or the software itself.
You also have to be a little careful with where you touch the screen when scrolling, because sometimes you'll accidentally make a selection when trying to scroll up or down.
I also don't see any way to turn the console off without turning the whole machine off.
I could be missing something, but the console stays on and doesn't go into a sleep mode or anything like that when it's not being used.
Again, a minor offense at best (because it's easy enough to flip the power switch at the bottom of the frame), but it would be nice if the console would turn off automatically when not being used (sleep mode).
That way, you could simply hop on and tap the screen to get started.
Perhaps this will be added down the road.
Otherwise, there's not much to complain about here.
Additional console features include:
Loud speakers in the front
Headphone jack on the side
Volume buttons on side
Charging port
Bluetooth compatibility with heart rate monitors
I want to mention that I'm pleasantly surprised by the performance of the speakers too – these things are loud and put out some great sound.
I enjoy jamming out with the Spotify app and these speakers are loud enough to be easily heard over the churning of the stairs.
Overall, easily one of the largest, nicest consoles I've ever seen on any home cardio machine.
Fitness Streaming
As a streaming machine, the STEPR+ offers a library of on-demand workouts to choose from, each lead by a professional trainer.
They offer stair climber specific workouts obviously, but there are other off the climber workouts as well, including strength training, stretching/flexibility, and more.
There are also immersive, scenic workouts you can do and the huge console comes in really handy here.
The first workout I did was a 10 minute hike up one of Hawaii's most scenic trails and it was gorgeous.
As I'm writing this, it looks like STEPR has about 100 or so workouts to choose from, but I know they'll be adding more regularly.
The app makes it easy to choose workouts based on duration, difficulty, instructor, or style and I really like that they give you an idea of how difficult each workout is and how many calories you can expect to burn in the info section.
In terms of production value, the workouts aren't bad – nothing too fancy, but the instructors are easy to see, easy to hear, and easy to follow.
All of the workouts I've done so far are filmed with white backgrounds and without background music, so strictly business.
But I wouldn't be surprised if STEPR ups the ante on these in the future.
In terms of workout quality though, I think the STEPR coaches do a great job.
All of the instructors I've watched are energetic, engaging, and seem to know what their stuff.
And I wasn't sure how much variety you could really include on a stair climber, but it turns out there's quite a bit.
You can adjust your speed obviously, but the coaches do a great job of including double steps, side stepping (which is also doable with the lower step height), hip extensions, high stepping, and more to make for challenging and versatile workouts.
If you purchase a STEPR+, you get a free trial membership, giving you access to all the streaming features this climber has to offer.
I'm not sure how long the free trial will last, but eventually the All Access membership will likely require a monthly subscription fee.
As I'm writing this, it doesn't look like the price has been set yet, but according to their marketing team, it'll likely be somewhere in the $29 – $39/month range, which is pretty standard based on what other popular streaming services cost.
Entertainment Apps
The instructor-led workouts and scenic routes are great, but the STEPR+ also comes with built-in entertainment apps, giving you the ability to watch your favorite shows and movies while stepping.
As I'm writing this, Netflix, YouTube, and Spotify are already available and it looks like Disney+, Hulu, and Prime are already in the works and should be available soon.
You need your own subscriptions to access each app of course, but you won't need an All Access membership to use the entertainment apps.
These will be available to you without a membership, which is great in case you loose interest in the instructor-led workouts.
And as you can imagine, this giant console works wonderfully with Netflix.
Funny side note – the first thing my 9 year old son asked me when he saw that huge console was if he could play Fortnite on it… sorry bud, maybe with a future update.
Safety Features
The STEPR+ comes with several built-in safety features designed to help minimize the risk of injury during workouts.
The safety rail encompassing the entire frame makes it easy to find a comfortable grip regardless of where you are on the steps (and the metal stays cold too, which feels great against sweaty hands).
And the additional handles jetting out from each side of the rail offer additional options for hand placement.
These handles also offer convenient buttons for adjusting the speed and pausing your workout.
You'll also find 2 bright red emergency stop buttons – one located below the console and the other placed on the right upright.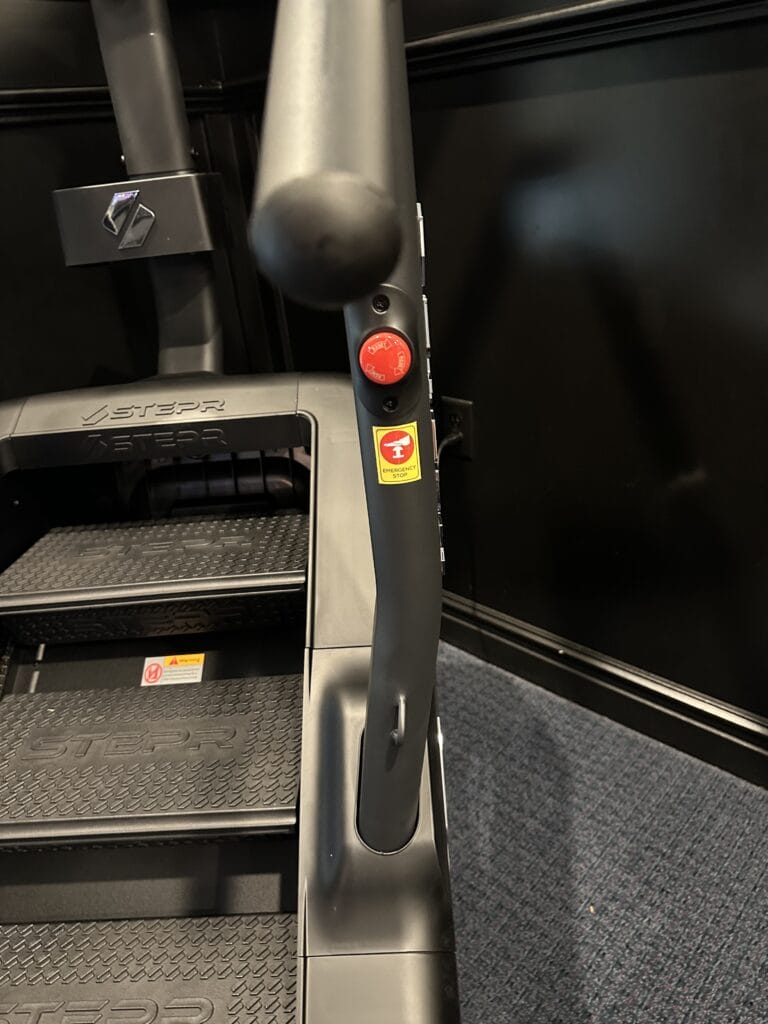 Pushing either immediately stops the machine.
Helpful tip – you have to turn the button clockwise to reset it after pushing it and the STEPR+ won't start again unless you do this; if your machine won't start after initial setup, check and make sure the emergency buttons are both reset.
As a final precaution, there's an infrared sensor located at the bottom of the frame that'll beep loudly and turn the STEPR+ off if something gets under the bottom step.
Oh, the machine also won't start unless you're standing on the steps and it turns off automatically if you step (or fall) off the stairs as well.
Overall, I think the STEPR+ is about as safe as any stair climber machine could be.
Resistance Band Anchors
If you look closely, you'll notice a bunch of little metal loops imbedded into the frame.
These are anchor points for resistance bands and they're located strategically on all sides of the STEPR+.
This gives you plenty of options to connect resistance bands, regardless if you're following the instructors or doing your own thing.
Phone Holders/Water Bottle Holder
Finally, there's a large, padded phone/tablet holder located at the top of the safety rail (given the console, I'm not sure why you'd need a tablet, but there's room for it if the need arises).
There's also a large water bottle holder located lower down on the console mast, as well as a place to store another couple of phones.
Assembly
As I mentioned earlier, STEPR was nice enough to hook me up with white glove delivery, so I didn't have to assemble this stair climber myself.
When the delivery men arrived, it was already pre-assembled, so they simply wheeled it into my basement, plugged it in, and went about their day.
Speaking of which, given the STEPR+'s compact frame, it fits easily through standard doors, so there weren't any physical gymnastics trying to get through my basement.
If you decide to purchase and want to assemble it yourself though, I don't think it will be too challenging.
The assembly manual is straightforward and you can also access 3D instructions through the free BILT app, which also offers voice and text prompts throughout.
The main base of the STEPR+ comes pre-assembled.
You would be responsible for connecting the 2 uprights, attaching the console mast, and making a couple of cable connections.
You'd also have to attach the console itself, the handrails, and several covers.
The whole process is pretty straightforward and the instructions are easy enough to follow.
I bet most somewhat handy individuals would be able to get the job done within an hour or so, but given the size and weight of the STEPR+, I'd recommend having a second person available to assist.
Warranty
The STEPR+ is covered by the following home warranty:
10 year frame
2 year parts
1 year labor
Ok, not a bad warranty here, it's actually the same guarantee we see on all of NordicTrack's equipment.
But given the price, it would be nice to see a lifetime frame warranty.
Honestly though, it's unlikely you'll have to deal with any structural frame damage, I mean this thing is made out of steel.
Two years on parts is also a little short, considering what some of the competitors are offering (StairMaster offers 3 years for parts on their 4G Stepmill and Matrix offers a 5 year parts guarantee on their Climbmill C50).
To be fair, both of those machines cost a lot more, but more on that in a second.
A year on labor is standard operating procedure, so no surprises there.
Overall, the warranty on the STEPR+ could be a little longer, but again, not awful.
That said, you can use the promo code "THEHOMEGYM" for a free 36-month extended protection plan, which covers both parts and labor for an extra 3 years after the manufacturer's warranty period ends (valued at $260). You just have to add the extended coverage to your cart and then use the promo code to see that charge disappear… pretty sweet deal.
Pricing and Comps
Alright, that about does it for everything the STEPR+ has to offer, but before I wrap things up here, I want to talk a little about price.
As I'm writing this, the STEPR+ is selling for $4999.
This is certainly a sizable investment when it comes to home fitness equipment, but based on the comps out there, I think it's actually a pretty reasonable price.
(And STEPR offers 0% financing for 12-, 24-, or 36-months through Affirm, if you qualify).
Let me show you what I mean.
The first comp that comes to mind is StairMaster's 4G Stepmill, mentioned earlier.
This is another compact (29″ x 54″), well-built machine with some great specs.
The 4G uses larger, 7″ high steps, which provides an experience that closely resembles walking up a flight of traditional stairs and with a max rate of 162 spm, it can challenge the most gifted athletes out there.
And of course StairMaster is a quality brand with a good reputation.
The only problem with the 4G is the price – going with their most basic, LCD console is going to cost you around $6k.
And if you want anything even close to resembling the STEPR+'s console, you'd have to opt for StairMaster's 15″ touchscreen hub and that'll jack the price up well over $10k.
Matrix's Climbill C50 is another great example.
The C50 is another high-end stair climber with very similar specs to the STEPR+.
It too is compact (28″ x 53″), uses lower steps (5.6″ high), and comes with a lot of the same safety features.
The C50 also offers the option to choose your console, depending on how high-tech you wanna go.
The C50 comes with a better warranty, but going with their most basic LCD console is going to cost you $4999.
And if you opt for their 22″ HD touchscreen console (which is similar in features to the STEPR+'s), that price jumps up to $6999.
And I'm not aware of any other stair climbers that come with consoles even close to what the STEPR+ has to offer.
So again, based on the above comps and what the STEPR+ comes with, I would argue the STEPR+ is well-priced.
Final Thoughts
Long-story-short, I really like the STEPR+.
It's pretty amazing you can have a fully functioning, rotating stair climber with such a compact frame.
Back in the days when I was still going to Gold's, I had a love/hate relationship with the stair climber there – I loved the results I got with it, but man did I hate getting my butt kicked on it.
As I transitioned to working out from home, I assumed my stair climber days were behind me, so I'd really like to thank STEPR for giving me the opportunity to test out their product.
It reminds me of how great a workout a stair machine can really offer.
Overall, I'm really impressed with the quality of their stair climber.
The STEPR+ is solidly built and offers smooth, quiet operation, reminding me of the workouts I used to do in the commercial gym.
But honestly it's the awesome console that really puts this machine in a league of its own.
Having access to instructor-led workouts and scenic hikes is great, but for me, it's being able to watch Netflix or play on Spotify that I like the most.
And I love that STEPR+ isn't going to make us pay a membership fee to access the entertainment apps.
The only complaints I have so far are the minor software issues mentioned above with the console, but that's really just me nitpicking (because that's my job here).
And I don't doubt the user experience with the console will continue to improve with future updates.
All things considered, I'll be greatly surprised if the STEPR+ isn't a smashing success.
So, if you're looking for a compact, connected cardio machine that can dish out effective workouts, I highly recommend the STEPR+.
And again, don't forget to use the promo code "THEHOMEGYM" for a free 36-month extended warranty – just make sure to add it to your cart and then use the promo code to see the charge disappear!