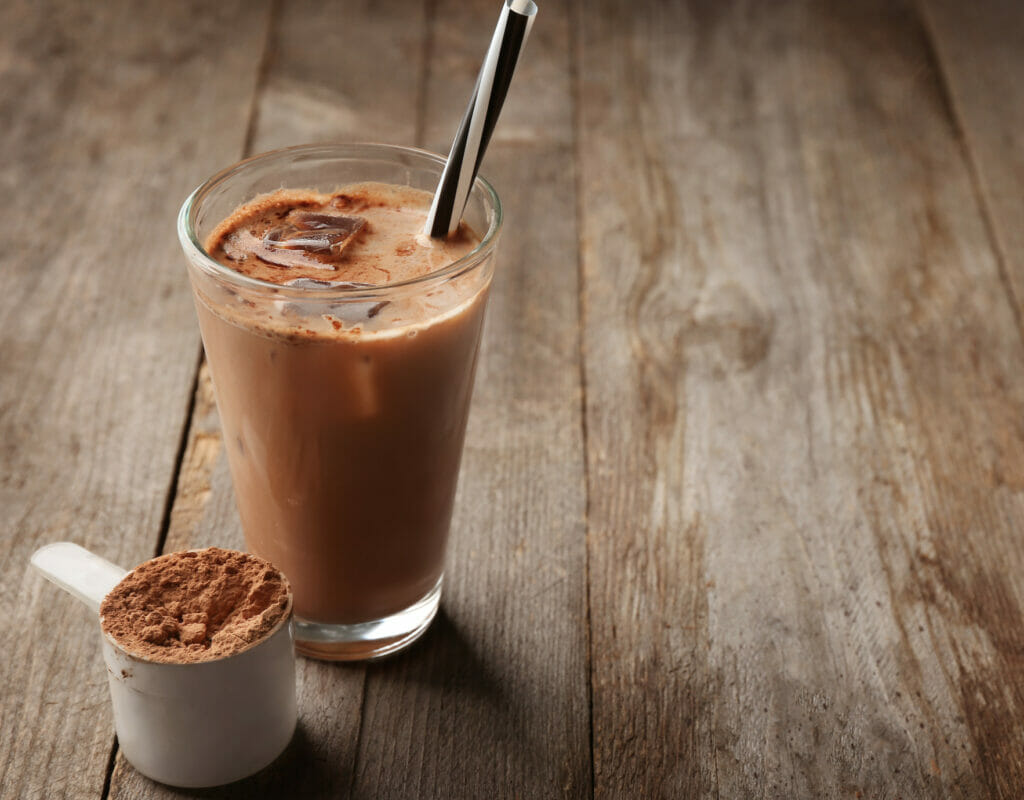 Ka'Chava is a plant-based superfood shake loaded with a dizzying array of organic fruits, vegetables, mushrooms, vitamins, enzymes, probiotics, and pretty much any other healthy nutrient you've ever heard of.
It's also free from many food allergens and contains no artificial flavors or preservatives, which is always a plus.
When it comes to the macros, each 240 calorie serving of Ka'Chava is packing 25 g of protein, 7 g of fat, and 25 g of total carbs (including a solid 9 g of fiber).
It's designed to be used as a meal replacement shake and unlike many vegan shakes I've tried, this one's actually kinda filling.
And the taste isn't bad either, but more on that later.
Long-story-short, I think Ka'Chava is a very nice product with a lot to offer in the nutrition department, especially for folks looking for a meal replacement shake.
But this stuff is pretty expensive, so before you decide, you should probably know what to expect – and that's where I can help.
In this review, I'll share my firsthand experience with Ka'Chava, as well as provide my take on the nutrition stats, taste, and overall cost.
After reading, you'll know whether or not Ka'Chava is worth trying.
Disclosure – the good people at Ka'Chava were kind enough to send me a free sample of their meal replacement shake to try for this review. I wasn't compensated in any other way and my review is based solely on my personal experience with this product.
Ka'Chava – The Tribal Superfood
According to Ka'Chava's origin story, the idea for their shake came when they were exploring the jungle on a "nutritional adventure" to find ancient superfoods.
Who knows if this is true or not, but it certainly makes for good story-telling.
The name "Ka'Chava" even comes from a Mayan word for "Earth", acting as a shout-out to South America, where a lot of the ingredients originally come from.
The bag the powder comes in has a very Mayan look to it as well, really selling the tribal feel of the whole experience.
Personally, I think the name, marketing, and design of the product is pretty genius… and how good do those shake images on their website look??
Anyway, let's get to business.
I want to start this review off with a rundown on the major ingredients, then we'll talk nutrition, taste, and finally cost.
Pros
Plant-based, vegan
Gluten/soy free
No artificial flavors
No preservatives
Full of super-foods
Surprisingly filling
25 g of protein per serving
High in fiber
Fairly low in sugar
Tastes pretty good
Thick, creamy shake
Not too sweet
Cons
Pricey
Can be hard to mix by spoon
Ingredients
Ok, so there are a lot of ingredients in Ka'Chava and looking at the back of the bag can be a little overwhelming – so there's no way I'm gonna list every ingredient in this stuff here.
But you can check out the full list on Ka'Chava's site.
Instead, I'm going to briefly go over the main points, looking primarily at the different blends included in this shake.
Protein Blend
As a vegan shake, the protein in Ka'Chava is 100% plant-based and in this case, it comes from a few different sources, including yellow pea protein, brown rice, sacha inchi, amaranth, and quinoa.
Pea protein is a popular choice for vegan protein shakes because it's high in protein content (~8 g/cup), but also because it's a complete protein, meaning it includes all 9 essential amino acids
Brown rice, amaranth, and quinoa are all grains and most generally agree that this is healthy stuff, but what about sacha inchi?
I'd never heard of this one before, but apparently it's another one of those South American foods that's been used for hundreds of years.
Sacha inchi is a nutritious seed that's pretty high in protein and other micronutrients.
Combined, each serving of Ka'Chava packs 25 g of plant-based protein, which is pretty good for any protein shake.
Fiber Blend
Ka'Chava packs 9 g, or more or less a third of your daily intake, of fiber in each serving and this comes from whole grain oat, acacia gum, chia, and flax seed.
Acacia gum is used as a thicker too and I'm guessing this helps give Ka'Chava it's surprisingly rich, thick texture.
Antioxidant Blend
This shake includes a lot of different super-fruits and you can check for yourself to see all the specifics.
We're talking all the heavy-hitters like strawberries, blueberries, raspberries, blackberries, and cherries, but there's also several a few lesser-known fruits as well.
I do want to point out that coconut flower nectar is included here and this is used as a natural sweetener.
Not only does it offer a healthier alternative to added sugars, but it also contains several minerals and vitamins that are beneficial too.
Adaptogen Blend
I feel like I'm seeing adaptogens everywhere now… must be one of the new big things in nutrition.
Anyway, adaptogens are found in plants and mushrooms primarily and they can apparently help your body respond to things like fatigue, stress, and anxiety.
The adaptogens in Ka'Chava come from a few different mushrooms, as well as ginger and maca root (aka, 'Peruvian ginseng).
Maca root's been used for a long time to remedy all kinds of conditions and some say it also helps improve energy levels, but who knows.
Adaptogen's are generally considered to be healthy, but it's hard to tell what an effective dose would be and whether or not a shake like Ka'Chava actually has enough in it to make any real difference.
Super-Greens Blend
There are like 20 or so different leafy-green and nutritious vegetables included in Ka'Chava and this is where a lot of the minerals and vitamins come from.
All the usual suspects are here, like broccoli, beet, and spinach, but there's also a lesser-known one here by the name of chlorella (a type of nutritious algae).
Probiotic/Prebiotic Blend
Probiotics contain live microorganisms that are suppose to be good for your gut health, while probiotics are foods that help support the good bacteria already living in your gut.
There's a lot of talk about probiotics these days, but there's also a lot of debate on whether or not they actually help anything.
And since there are so many different strains of probiotics, I've also heard it's kind of a shot in the dark regarding whether the supplement you're ingesting will contain one that would be beneficial for ya.
There's also not really a set dosage that's supposed to be beneficial, so I would doubt that the probiotics included in Ka'Chava would offer any real world benefit, but it might be better than nothing.
So, who knows.
Digestive Enzyme Blend
Lastly, there's a digestive enzyme blend that includes stuff like amylase, cellulase, and protease.
These enzymes help your body breakdown and digest different nutrients and including them in this shake could, theoretically, help your body absorb all the good stuff included in this shake.
Our bodies create these enzymes naturally, but if you were deficient in any of 'em, this could possibly be helpful.
Nutritional Stats
Ok, wow – I summarized big time and that was still a lot of ingredients to get through. Luckily, the nutritional stats are pretty self-explanatory, so this shouldn't take too long.
I mentioned earlier that each serving contains 25 g of protein, which is legit for any protein shake/meal replacement, so that's good.
I also like that each serving is pretty high in fiber… hmm, that's interesting…
On my bag, it states there are 9 g of fiber, but on the one above from the website it shows only 7 g…weird.
Either way, not bad (but 9 g is better, so I hope that's more accurate).
Ka'Chava is also fairly low in fat and doesn't have a ton of added sugars either, especially if you're using this as a meal replacement.
Oh, I'd also like to point out that each serving is 240 calories, so a little more than some other vegan shakes, but the extra calories are going to help keep you a little fuller.
Here's a long list of all the vitamins and minerals and I'll let you check it out and make your own conclusions.
I just want to point out that this stuff is pretty high in biotin (vitamin B7), which may help with hair/nail health, and there's also a lot of molybdenum, which is a trace mineral found in a lot of foods, which a component of different enzymes in our body.
Overall, based on this profile, drinking a Ka'Chava appears to have a lot of the qualities as taking a daily multi-vitamin.
Taste
Ok, I'm not a nutritionist or dietician, so I'm not going to speak to the possible benefits and whatnot of ingesting all the stuff listed above – but what I can speak to is how this stuff tastes.
Ka'Chava comes in several different flavors, but I was sent the chocolate flavor, so that's what I'll be talking about here.
Overall, I think it tastes pretty good.
It's not overly sweet and as someone who likes bitter flavors (dark chocolate, unsweetened tea, hoppy IPAs), I'm just fine with this.
But I could also see how other folks would want a little more sweetness here.
This is easy to remedy though, you could simply add a banana to the mix or use almond milk instead of water and this would definitely sweeten it up a notch (I highly encourage trying it with almond milk and a tablespoon of almond butter… delicious).
It's not overly chocolatey either – very subtle and again, in a good way if you ask me, but I understand why some other reviewers found it tasting bland.
To be fair, it's been my experience that plant-based protein shakes don't usually have the rich, creaminess of whey proteins – what with the lack of mild and all.
But even so, I was surprised at how rich and creamy Ka'Chava is, even when mixed with water.
Speaking of mixing, I want to point out that a serving of Ka'Chava is 2 heaping scoops, or roughly 62 g of powder, which is large compared to the 33 g serving size of other shakes (like LyfeFuel, another one of my favorites).
This is a lot of powder and it takes some serious mixing if doing it by spoon.
I tried mixing it manually by spoon and mixing it in the blender with ice water and I highly recommend using the blender with this one.
I was able to get a fairly smooth consistency with a spoon, but it took some work.
The powder itself is very fine, so you have to be careful when getting it out – it can easily go everywhere.
Overall though, I think Ka'Chava (chocolate) tastes pretty good when simply mixed with water.
Cost
Alright, this stuff tastes pretty good and it's loaded with a lot of health stuff, but let's be real – it's not cheap.
As I'm writing this, Ka'Chava is selling for ~$70/bag, which is 15 shakes worth of powder (you can get that price down to $60/bag if you subscribe for monthly refills).
So, $70/bag divided by 15 shakes/bag = $4.67/shake.
This sounds kinda high… and it is – especially considering many vegan protein shakes are more in the $2/serving range.
But keep in mind, Ka'Chava is designed to be used as a meal replacement… and how many healthy, nutrient packed meals can you think of that cost less than $5?
I can get an Egg McMuffin combo for around $5, but I'm not sure I want to compare nutrition stats with that one.
My point is, I agree Ka'Chava is a bit pricey, but if you're using it to replace meals, it isn't as expensive as it initially comes off.
Final Thoughts
I first heard about Ka'Chava a while back when one of my patients started raving about it – her and her husband where using it daily and loved everything about it.
I didn't give it much thought at the time, but now I understand what they were saying.
As vegan protein shakes go, this is easily one of the better ones I've tried.
And Ka'Chava is a lot more than a simple protein shake too, it's loaded with super-foods, vitamins, nutrients, and all the other good stuff we should be eating every day.
I'll confess, I'm not a vegan (far from it), but I still like to use plant-based protein shakes because to me, it's an easy way to include more plants in my diet.
Anyway, I really like the chocolate Ka'Chava shake and I plan on using the rest of the sample I was sent (thanks again to Ka'Chava for sending me a sample to review!)
The only downside I see is the cost, but again, I don't think it's unreasonable if you're using it as a meal replacement.
Oh, I'm not sure if I mentioned it earlier, but I was also surprised by how filling the shake is – I was able to make it to lunch fairly painlessly after drinking one.
And if you do decide to try it, do yourself a favor and pull that blender out – it's worth the extra few minutes (and if you're looking for an even more filling shake, please try it with almond milk and almond butter).