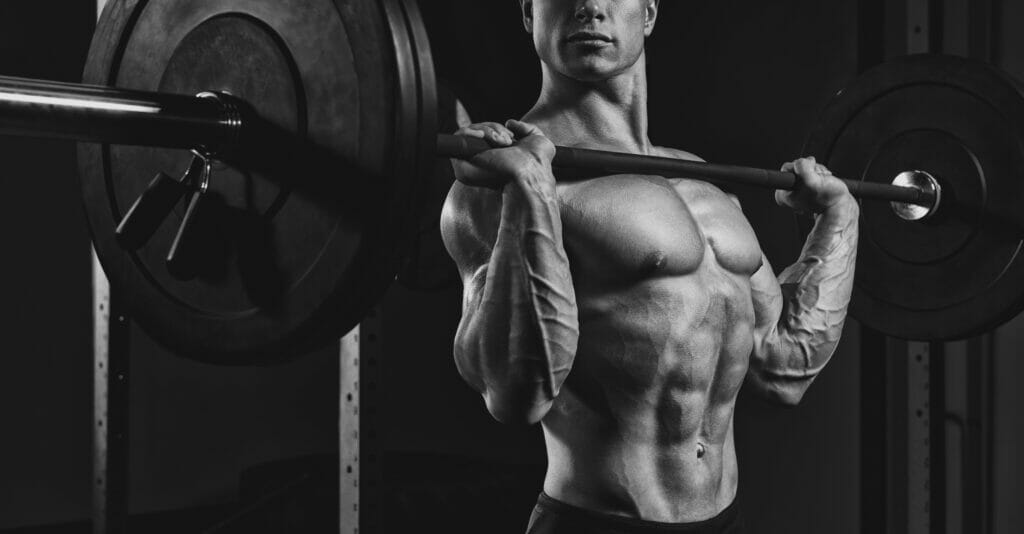 The X20 Pro is one of Force USA's newest home gym systems and I have to say, it may be one of their coolest designs yet.
And yes, I know that's saying a lot, considering this is the same Force USA that's known for their advanced, all-in-one home gym systems, but I stand by it.
With the X20 Pro, they actually simplified things quite a bit by removing the Smith machine function from the gym.
Doing this declutters things significantly and gives you access to a fully functioning power cage.
And with dual, built-in 289 lb weight stacks integrated into the sides of the cage and dual, fully adjustable pulleys, you get access to an elite functional trainer without having to give up any interior cage space.
That's my long-winded way of saying the X20 Pro Multi Trainer basically combines a functional trainer and a full size power rack into a single machine.
If you're looking for a unique home gym system that combines the best features power racks and functional trainers have to offer, I think the X20 Pro Multi Trainer could make a lot of sense, but before you decide, you have to know what you're getting into.
After all, this unit is huge, weighs a lot, and takes up a generous chunk of floor space.
In this review, I'll go over all the ins and outs the X20 Pro has to offer, as well as the areas where there's room for improvement.
After reading, you'll know everything you need to in order to decide for yourself whether or not this gym is worth investing in.
Let's do this.
The Force USA X20 Pro Multi Trainer
Force USA has a pretty large selection of equipment to choose from, ranging from leg press machines and power racks to plates and all the accessories you need to use that stuff.
But as I mentioned above, it's their all-in-one home gyms that they're most known for.
Force has an entire lineup of gyms that combine power racks, Smith machines, and functional trainers into a single piece of equipment.
These models vary mostly on the types of resistance they use for the functional trainers (plates vs weight stacks), but there are other subtle differences between rack hole spacing, pulley ratios, and things like that.
Generally speaking, Force USA is a popular brand with a respected reputation for creating high quality equipment.
The X20 Pro and the X15 Pro (half rack) are their newest models to date and I have a feeling they're going to be a hit.
At the time of writing this, the X20 Pro is going for about $6k, not including delivery, so it's certainly not a budget system.
I want to start with a few comments about the X20's frame in general and then we'll discuss the power rack and functional trainer departments separately.
Pros
Full size power rack
3″ x 3″, 11-gauge steel uprights
992 lb rackable capacity
42 bar adjustment options
Integrated functional trainer
2x 289 lb weight stacks
Dual, fully adjustable pulleys
2:1 pulley ratio
Ton of attachments included
Additional attachments available for added cost
2 pull up bars included
Lifetime frame warranty
Cons
Expensive
Takes up a lot of floor space
Frame
Ok, so one of the most obvious setbacks about the X20 Pro is how much space it takes up.
The exterior dimensions of this bad boy are as follows: 70″ W x 87″ D x 92″ H.
This means this gym has a foot print of roughly 6′ x 7′, give or take a few inches. And with a 92″ H, you're realistically gonna need at least 8′ ceilings to use it.
And keep in mind, this is just how much space the gym itself takes up – you're going to need a few extra feet in every direction to comfortably use it to its true potential.
The truth is, a lot of home/garage gyms simply aren't going to have enough space to accommodate this beast.
For the sake of comparison, power racks come in all kinds of shapes and sizes, but your typical full size rack takes up a foot print in the 4′ x 4′ to 5′ x 5′ range.
Rogue's RML-490C, for example, takes up a footprint of 53″ x 53″, which seems small in comparison.
Of course, if you do have enough room for the X20 Pro, odds are it'll be the star attraction of your home gym, around which the rest of your gym is designed.
With a full power rack and functional trainer, it should be able to satisfy all the strength training needs most home gymers could ever have.
But when considering this system, I think it's definitely a good idea to measure out these dimensions and mark it on your floor so you can get an ideas as to just how much space this thing is going to take up.
Power Rack
Ok, so it's big, moving on.
The basic design of the X20 Pro seems genius to me – you've got a full size power rack with a functional trainer sleekly built-into the sides of the rack.
This isn't Force USA's first rodeo, they've used a similar design for years on some of their other all-in-one gyms.
Their G6 and G20 Pro both have very similar designs, of course these gyms have Smith machines and half racks instead of all the open cage space.
Anyway, with the X20 Pro, Force USA ditched the Smith machine, opening up the interior space and making room for a fully functioning power rack.
The power rack portion of the X20 comes with 3″ x 3″, 11-gauge uprights, making them as heavy-duty as you can expect to find on any other home rack.
This rack also comes with a rackable weight capacity of 992 lb, allowing it to handle even the most talented lifters out there.
Each upright comes with 1″ holes that are spaced out 3″ apart near the top of the rack and 1.5″ apart within the bench zone, giving you more control over bar placement with your benches.
If I'm nitpicking, I would say it would be nice to see 2″ hole spacing at the top instead of 3″, but realistically, I don't think it's going to bother folks that much.
Same goes for the 1.5″ spacing throughout the bench zone – true Westside spacing is 1″ apart, but with such large holes to begin with, I think it would be difficult to accomplish this.
Point is, there are still 42 different places to park your barbell, so I don't think folks will have any issues with finding optimal bar placement.
Something else worth knowing, is that you get a ton of interior cage space with this gym.
The interior of this cage is 40″ W x 72″ D, which is pretty spacious even for a full rack where 40″ of depth is impressive.
Overall, I think the rack portion of the X20 Pro scores highly. I like that it's built with 3″ x 3″, 11-gauge steel and I also like how spacious the interior is.
Functional Trainer
The other main function of the X20 is as a functional trainer.
If you're unfamiliar with the term, it's basically just a fancy name for a dual pulley system.
Regardless of what you call 'em, they're awesome because they provide a ton of workout variety – there really isn't much you can't do with a functional trainer.
The X20 Pro comes with 2x 289 lb weight stacks that provide the resistance for each pulley.
This is a lot of weight for each stack, but we still need to keep in mind that this trainer utilizes a 2:1 pulley ratio.
This means that you're really working against half the weight you stack for each side.
For example, selecting 100 lb worth of resistance for each pulley would feel like lifting 50 lb on each side… and so on.
This means that the X20 comes with approximately 145 lb worth of resistance for each pulley, which will be more than enough for most mortals out there.
A 2:1 pulley ratio is common for functional trainers because it provides a smoother feel while allowing you to move the handle through a larger range of motion, while maintaining the stack within a fairly small range of motion.
There are trainers out there that come with 1:1 ratios, meaning you feel every pound you rack; others come with 4:1 ratios where you're only lifting ¼ of the racked weight.
Each pulley comes with 34 adjustment positions along each front upright, giving you a lot of control over where you place 'em.
You'll notice that the pulleys are attached to the same uprights that are used for the power rack, so you might find yourself having to remove J-cups or safety bars occasionally depending on where you want your pulleys.
Not a major inconvenience.
You might be able to avoid this altogether though, if you use the inside of the cage (and rear uprights) for your benching and squatting.
Overall, the functional trainer station scores highly. With dual 289 lb stacks and easily adjustable pulleys, the sky's the limit with what you can do here.
Attachments
The Force USA X20 Pro Multi Trainer comes with a lot of included attachments.
I don't really feel like listing them all here, but there are 17 included handles and attachments all together (you can see the full list on Force's website).
I do want to point out that all the stuff you really need to get started are included, like:
2 x J-cups
2x safety arms
2x box tube safeties
They also include all the traditional handles you'll need as well, including a short bar, a lat pulldown bar, triceps handle (V bar), triceps rope, plastic handles, and an ankle cuff.
The X20 also comes with a landmine station and 2 different pull up bars (straight and multi-grip) for added versatility.
There's also a low row plate that can be used with either pulley.
You also get a bunch of carabiners, clamps, and included plate storage horns with purchase.
Force USA is generous with the attachments and handles they include, but for the price they're asking, I think they should be.
They do offer an upgrade package that comes with even more stuff, including a pair of jammer arms, a lat pulldown seat, dip handles, a pair of metal handles, storage shelves, and a tv mount.
This upgrade packages costs an additional $800.
I don't really consider myself to be a cheap person (although my wife would probably disagree), but I don't think it would be asking too much for Force to just include everything for the $6k asking price.
I mean at this price point, do we really need to pay more for a few more handles and attachments?
To be fair, I think most of the stuff in the upgrade kit is good stuff, but come on Force, just include it with the standard purchase.
Ok, that's all the penny pinching I've got for now.
Overall, the X20 Pro comes with a lot of attachments, giving you everything you really need to get started from day 1 (minus the plates and bench of course).
And if you want even more versatility, you can always go in on the upgrade kit.
Warranty
Force USA backs their X20 Pro Multi Trainer with the following residential warranty:
Lifetime frame
2 years cables/pulleys
90 day accessories
You can't beat a lifetime frame guarantee because that's as long as it gets.
Most top brands offer lifetime structural guarantees on their power racks, so this is expected from a high-end rack in this price range.
Two years on the pulleys and cables is pretty average, some brands offer more, some less.
And 90 days on the accessories is pretty short, I'd like to see at least a year here.
With regards to the pulleys and cables, you shouldn't have much to worry about as long as you treat it properly – the cables are the same aircraft grade cables found on all elite trainers.
Overall, I think Force USA offers a good warranty on the X20, although the cable and accessory guarantees could be longer.
Final Thoughts
Well, that about does it.
I think the X20 Pro has a lot to offer and I really don't have much to complain about here.
First and foremost, you have to make sure you have enough floor space for this beast of a gym because it certainly takes up a lot of room.
But with a full size, spacious power rack and a fully integrated functional trainer, there really isn't anything you can't do with this home gym.
Especially considering how many attachments it's compatible with and that are included.
The only real complaint I have is that for the price, I'd like to see the attachments in the upgrade kit included with purchase.
That, or I'd like to see Force USA maybe drop that price a little.
All things considered though, I think the X20 Pro is a home run.
P.S. – use the promo code HOMEGYM5 for an extra 5% off.