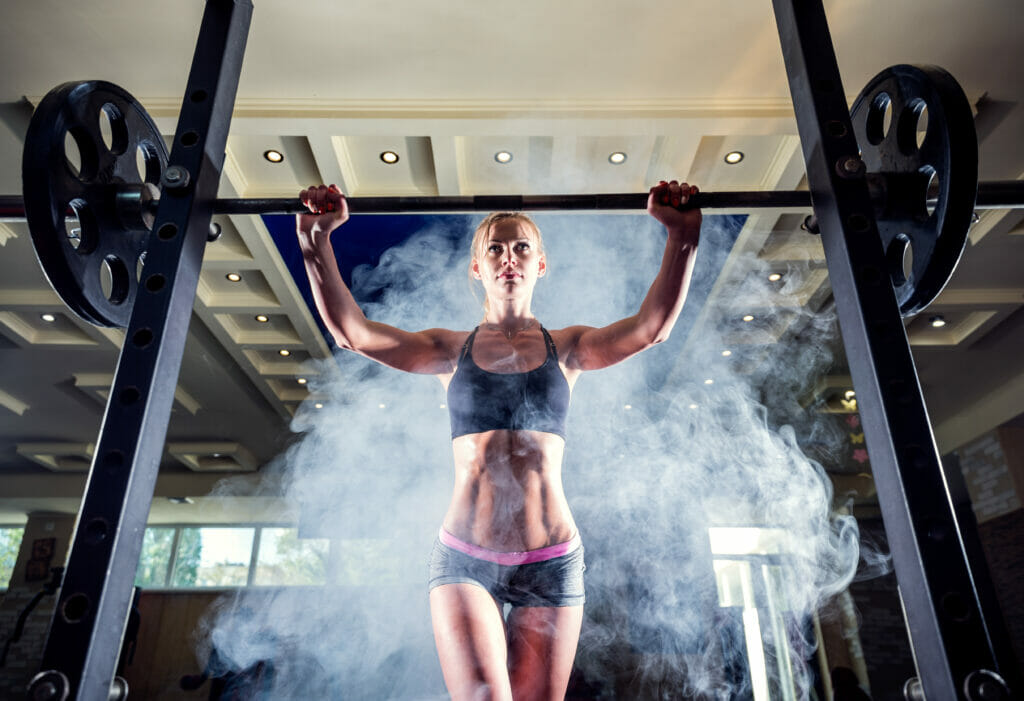 Rogue has a boatload of stellar power racks and squat racks to choose from, but I think their RML-490C 3.0 stands out as one of their best overall options.
As part of their "Monster Light" series, it's boasting robust, 3″ x 3″ 11-gauge steel uprights, but you get to save a little by still keeping the standard 5/8″ hardware.
And it comes with the same footprint and spacious interior as the standard RML-490, but gives folks the option to customize a little by choosing the color and opting for numbered uprights if the mood strikes.
And this is still Rogue we're talking about, so of course this rack is backed by a lifetime warranty.
All things considered, I think the RML-490C 3.0 might be the perfect power rack if you have the room for it, but is it really the right option for your home gym?
That's what we're here to help you figure out.
In this review, I'll go over all the specs and features this power rack has to offer, but I'll also discuss some of the considerations you should think about when looking for a rack to begin with.
After reading, you'll know whether or not the RML-490C 3.0 is worth investing in.
Let's do this.
The Rogue RML-490C Power Rack 3.0
Rogue has become the gold standard most other home racks are compared to.
They've accomplished this by creating some of the heaviest-duty, well-built racks on the market and then backing them with lifetime warranties.
Rogue has also started building more of their racks right here in the US, which significantly helps with quality control.
As I mentioned in the intro, Rogue offers a lot of racks – so many to the point where it can get a little overwhelming.
But if you keep in mind that their racks are organized into different series based on the size of their uprights and hardware, it'll make things a little easier.
Once you have an idea of what series you're interested in, it's really just a matter of choosing one that matches your size requirements and budget.
The "ML" part of the very long model name for this rack tells us that this is a "Monster Light" rack, meaning it comes with 3″x3″, 11-gauge steel uprights and 5/8″ hardware.
Knowing that this is a Monster Light rack will also help when checking out which attachments and accessories it's compatible with.
But more on that in a bit, let's start with a rundown on the performance specs for the RML-490C 3.0.
Pros
3″ x 3″, 11-gauge steel uprights
1000 lb weight capacity
43″ interior cage depth
Westside hole spacing
Pair of J-cups included
Pair of pin & pipe safety bars included
4x band pegs included
Skinny pull-up bar
Can be bolted to floor
Choice of color
Laser-cut numbers (optional)
Rogue stabilizing plate (optional)
Compatible with tons of attachments
Lifetime warranty
Cons
Have to pay extra for upright numbering and stabilizing plate
Uprights
Power racks are simple devices designed to safely hold barbells and weight plates, as well as spot you while you perform your various lifts.
And since these things are really only designed to hold weight, it's important to consider how good a rack will be at doing just that before purchasing.
And when it comes to a rack's stability or weight capacity, we're really talking about how tough its uprights are.
The uprights are the vertical posts you'll find at each corner of the rack and these are what bear the majority of weight you place on the rack.
And even though the size and shape of these uprights can vary between brands, most use either 2″ x 2″, 2″ x 3″, or 3″ x 3″ (that said, Rogue has a rack that uses ridiculously large, 4″ x 3″ uprights, but that's Rogue being Rogue).
Generally speaking, having larger uprights is a good thing because they'll make for a more stable rack.
But it's not just the size of the uprights you have to look at – there's also the gauge (or thickness).
Home racks usually come in 3 gauges: 11- gauge, 12-gauge, or 14-gauge.
And keep in mind that when it comes to steel gauges, lower numbers refer to thicker steel (so the lower the number, the better).
With all of this info in mind, the RML- 490C comes with 3″ x 3″, 11-gauge steel uprights.
These are the largest and thickest we can expect to see on a home power rack and they allow the RML-490C to safely rack up to 1,000 lb.
I'm sure this rack could safely hold quite a bit more, but that's as far up as Rogue tests 'em (plus who would be racking more than 1,000 lb anyway??)
All of Rogue's Monster Light racks come with this size and gauge of uprights and they all also use the standard 5/8″ hardware, which makes for a very stable rack.
But those who want even more strength can always opt for one of Rogue's Monster series racks, which use over-sized 1″ hardware for even more stability.
Something that stands out about the RML-490C is how spacious its interior is – just like the RML-490, this rack comes with 43″ of interior depth, giving lifters all the room they could ever need to perform any lift inside the safety of the cage.
This also gives you plenty of room for doing any type of gymnastic moves, like muscle ups or kipping pull-ups.
All of this interior room comes with a price though – this rack takes up a fair amount of floor space (footprint of 53″ x53″), so you have to make sure you have enough room for this bad boy.
Something else worth noting is that these uprights come with Westside (1″) spacing throughout the bench press zone (2″ spacing above and below).
This gives you more play on where you put the bar, as compared to a rack that only comes with 2″ or even 3″ hold spacing.
And at this point, if you're wondering what sets the RML-490C 3.0 apart from the original RML-490, it's really only the option for customization.
With this rack, you get to choose your color!
Personally, I'm a fan of the dark red, but blue or Rogue red looks great too (you can always go with traditional black of course).
You can also add laser-cut numbers to your uprights for an additional cost to make placing your bars and J-cups a little easier.
You can even add a Rogue stabilizing nameplate to the rear – it looks awesome, yes, but it also adds another layer of stability to your rack.
Speaking of stability, the RML-490C can be bolted to the floor for added security, but you'd have to purchase the hardware for that separately.
(And if you plan on throwing some serious weight on your rack, not a bad idea to bolt it down; or at least add some weight plate storage to the rear).
Overall, this rack scores highly with its large, heavy-duty uprights and multiple customization options. It's a very spacious rack, so if your floorspace is limited, you might want to opt for a more compact option.
Oh, this rack is also made in the USA, if that matters to ya.
Attachments
The RML-490C 3.0 comes with the following attachments:
2x J-cups (plastic lined)
2x pin & pipe safety bars
4x band pegs
43″ skinny pull-up bar
Ok, so this rack comes with all the basic stuff to get you started once assembled (minus the bar and plates of course).
It also comes with an included pull-up bar that adds stability to the frame, but also works as a fully-functioning pull-up bar.
The RML-490C is also compatible with all "Monster Lite" attachments, including but not limited to:
Weight storage posts
Slingers attachment (lat pulldown station)
Wall-mount kit
Bar storage
Speed bag attachment
Matador handles (dip station)
Landmine stations
Safety spotter arms
Various pull-up bars
Strap safeties
Hip thruster bench
Monolift attachments
Rope attachment
Rogue offers a large selection of compatible attachments for this rack, giving you a lot of options when it comes to expanding your rack over the years.
I would say Rogue offers more attachment options for their racks than most other brand, minus Force USA.
So, if you like the idea of growing your rack over time, I don't think the RML-490C will disappoint.
Oh, and since this rack uses standard, 3″ x 3″ uprights, it should be compatible with other brands' 3″ x 3″ attachments as well.
Warranty
Rogue backs the RML-490C 3.0 with the following residential warranty:
Yup, that didn't take long to go over.
And considering a power rack is pretty much all frame and welds, well, that means the entire rack is backed with a lifetime guarantee.
Not that I think I could hurt this rack if I wanted to, but it's still a nice insurance policy in case something arrives damaged or any malfunction occurs during use.
Just keep in mind any attachments you buy separately will likely come with their own, shorter warranties (90 days – 5 years depending on the product).
Overall though, you can't beat Rogue's warranty.
Final Thoughts
Well, I guess that about does it for this rack.
I feel like this review went by really fast, but as I always say – power racks are really simple devices, it just boils down to the quality of the steel.
And in this case, there are no concerns about that whatsoever.
Honestly, I really don't have any complaints about the RML-490C.
I like that it comes with 3″ x 3″, 11-gauge steel uprights and I like the option to customize by choosing your color.
I also like the lifetime warranty and all the options when it comes to attachments.
I guess if I had to complain about something, I would say I think Rogue should just go ahead and include the numbered uprights and the Rogue stabilizing plate and include these in the cost of the rack.
Because if you didn't want these extra features to begin with, you wouldn't really be going for this model anyway – it would make more sense to go with the original RML-490.
Overall, I think the RML-490C is probably Rogue's best overall home rack and I hope to have enough room for it in my home one day (in dark red of course). Highly recommended.