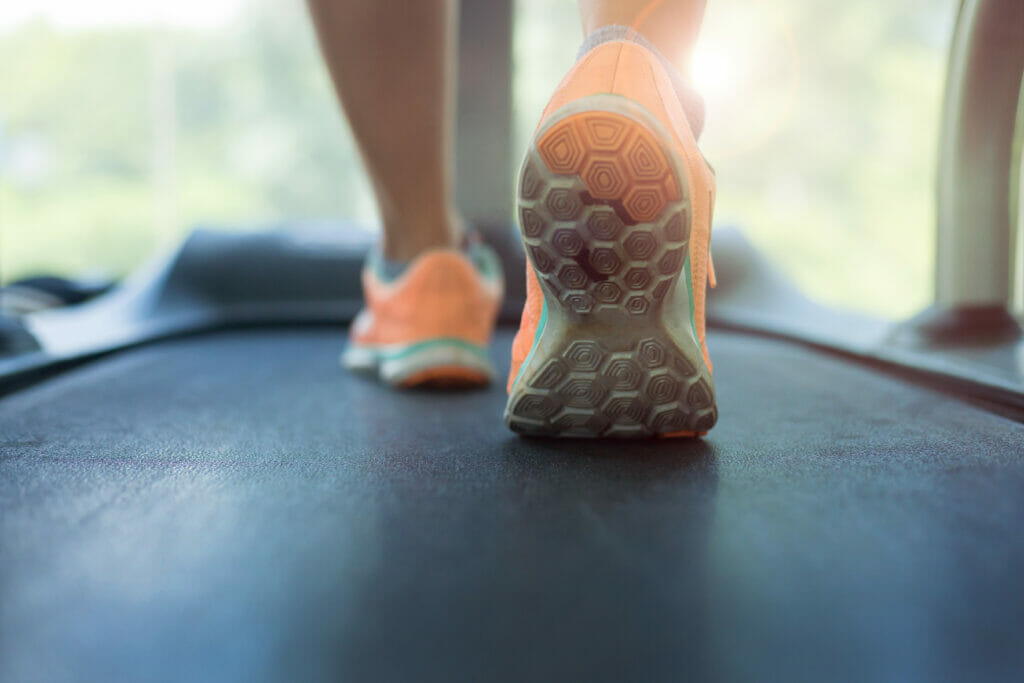 Treadmills are awesome because they allow you to get your run/walk on regardless of what the weather is doing outside, but if you're dealing with limited floor space, you might not have enough room for one.
Well, limited floor space doesn't have to be a dealbreaker anymore because now there are folding treadmills that can literally fit under you bed.
Now it won't fit under your bed if you sleep on a mattress on the floor, but otherwise you're probably good to go…
Anyway, if you're looking for a compact treadmill that can easily be stored away when not being used, I've got ya covered.
In this guide, I'll go over the different specs you should consider before deciding on one of these mightily little treadmills and then I'll present my top picks based on these specs.
After reading, you'll be more than ready to find the right compact treadmill for your home.
Well, let's get to it already.
Folded Height
Running Surface
Motor
Weight Limit
Warranty
#1 3G Cardio 80i
9.75"
18.5" x 58"
3.0 HP
11 mph top speed
325 lb
Lifetime frame/motor
5 year parts
1 year labor
#2 WalkingPad C2
5"
15.75" x 47.24"
~1.0 HP
3.7 mph top speed
220 lb
1 year
#3 SHF ASUNA 8730
5.25"
17.75" x 49"
2.5 HP
8 mph top speed
220 lb
5 year frame
6 month parts
#4 UREVO 2 in 1
5"
17" x 42.5"
2.5 HP
7.6 mph top speed
265 lb
1 year frame
90 day parts
#5 GoPlus 2 in 1
5"
16" x 40"
2.25 HP
7.5 mph top speed
265 lb
90 days
Finding The Right Under Bed Treadmill
Ok, so for the sake of this guide, we're talking about treadmills that can fit under most beds and according to the Sleep Foundation:
The typical height of a bed frame is knee-level, or about 12 – 16 inches tall.
So, that means if you want your treadmill to fit under your bed for storage, it has to be under 12″ tall when folded down.
Now keep in mind most treadmills these days fold for storage, but most full-sized models fold so that their deck comes up vertically to meet the console.
And these certainly aren't going to come anywhere close to fitting under your bed.
Nope, for this situation, we need treadmills that either have consoles that fold down to meet the deck or that have no upright consoles or safety handles to begin with.
This is the only way a treadmill is going to be able to fit under a 12″ space.
There are plenty of treadmills that fit this criteria, but you should understand that they're going to be smaller than the full-size treadmills that don't fit in such small spaces.
I say this not because I enjoy killing dreams, but because I think it's important to have realistic expectations.
Anyway, if you're looking for a bed to store under your bed, the first thing you have to do is check to see how tall it is in the folded position (and know how high your bed frame is off the ground).
After that, it's all about comparing performance specs and features.
Running Surface
And when it comes to performance specs, I think the size of the running surface is the most important one.
This spec tells you how much room you'll have when using the treadmill and it can give you a good idea as to how comfortable you'll be using the machine.
If the running surface is too small, you might feel like you're having to shorten your stride, especially during running, which will likely lower the comfort level.
This spec is measured in inches and usually written as "width x length".
Having more room is always a good thing in my book, but most treadmills that can fit under a bed are going to be smaller – meaning they have smaller running surfaces too.
If you're planning on walking, this might not be an issue because we don't need as much space to walk (any running surface at least 40″ long is usually adequate for walking).
But if you like the idea of being able to run on your treadmill (and you're taller), you should look for a machine with a larger running surface.
Motor
Motor strength is another biggie when it comes to treadmills and it's pretty easy to see why having a stronger motor would be an advantage.
Basically, stronger motors don't have to work as hard, so they can provide smoother operation than weaker ones.
Most home treadmills come with motors in the 2 – 4 HP range and most really compact models will come with motors at the bottom of that range.
But again, if you're looking for a walking treadmill, you might not need as much horsepower; if you plan on running regularly, it's a good idea to look for as close to 3 HP as you can find.
Frame
When it comes to the frame, the physical dimensions are important here because we want to make sure it'll actually fit under your bed, but there are a few other specs worth looking at too.
I like to look at the assembled weights because this spec can give you an idea as to how stable or well-built you can expect the treadmill to feel.
I generally like to see higher weights because heavier treadmills should feel more stable, but in this case, we're talking about treadmills that can easily be stored away, so having a lighter frame could be an advantage here.
You should also check out those weight capacities because you have to make sure the treadmill you're considering is able to safely hold you.
And this is especially important in this category because a lot of these really small treadmills have much lower weight limits.
Warranty
The warranty is always worth considering and longer is obviously always better.
Unfortunately though, a lot of these compact treadmills come with pretty lousy warranties – most will only offer a 12 month guarantee.
To be fair though, most of these treadmills are very affordable and affordable treadmills are affordable for good reasons.
And a short warranty just so happens to be one of those reasons.
Features
Finally, you'll want to think about what additional features you'd like to have on your treadmill.
Under bed treadmills usually come with much simpler consoles than the larger, full-size models, but the features on these treadmills can vary a lot too.
Some will come with upright consoles and handrails, others won't.
Some will come with bluetooth and heart rate monitoring capabilities, while others will not.
It's unlikely you'll find built-in workout programs, speakers, cooling fans, and other higher-end features on these little treadmills, but it is possible.
If you go with a treadmill that doesn't have an upright console, it'll come with a remote control (this is necessary so you can control your speed while using it).
Transport wheels are a must because it'll make getting the treadmill out from under your bed a lot easier, but I'm pretty sure all treadmills come with these now.
Ok, I think that about does it for the buyer's guide, so, without further ado…
The 5 Best Folding Treadmills That Will Fit Under Your Bed
#1 3G Cardio 80i Fold Flat Treadmill
When it comes to treadmills that'll fit under beds, it was a pretty easy call to give the top ranking spot to 3G Cardio's 80i because this is an advanced treadmill with a great warranty.
That said, it's not going to be the easiest treadmill to put under and get out from under a bed, so if you see yourself having to do that every time you use your treadmill, this might not be the best choice.
I say that because the 80i is a full-size treadmill that weighs a little over 200 lb and even though it comes with transport wheels, you're still gonna have to work a little to get it under that bed.
But when it comes to the specs/features, it really is lightyears ahead of any treadmill on this list.
The 80i is unique because it can fold up like a traditional treadmill, but it can also fold down flat to the ground as well.
And in the down position, it's only 9.75″ high, so it should fit under a lot of bed frames (but you should double check to make sure).
With an 18.5″ x 58″ running surface and a 3.0 HP motor, the 80i is the most spacious and powerful treadmill you're going to find that can fold flat to the ground.
It also comes with 15 levels of incline, a 325 lb weight limit, 8 workout programs, and built-in speakers.
And 3G Cardio backs it up with a great warranty too- lifetime frame/motor, 5 year parts, and 1 year labor.
Overall, if you're looking for a full-size treadmill that can fit under a lot of beds, 3G Cardio's 80i is a great choice. See full review.

#2 WalkingPad C2 Mini Foldable Treadmill
If you're looking for a compact walking treadmill that you can take anywhere, it's gonna be hard to find a more convenient option than WalkingPad's C2.
WalkingPad revolutionized the scene when they gave us the first treadmill with a folding deck and they've been killing it ever since.
Unlike any other folding treadmill I've ever seen, the WalkingPads fold in half – kinda like opening/closing a briefcase.
They have several models to choose from and they all vary a little in terms of their features, but I was able to personally try the C2 and thought it was great.
Plus, with the C2, you get to choose your color…
But let's talk specs.
As the name might imply, the C2 is designed solely for walking – and with a running surface of 15.75″ x 47.24″ it wouldn't be that fun to run on anyway.
Under the hood, it's only packing 1 horse or so, but it still offers a remarkably smooth belt feel for walking (only goes up to 3.7 mph).
There aren't any fancy features, but it does come with a simple digital display that'll track your basic metrics, a remote control, and it is compatible with a free fitness app.
It only comes with a 1 year warranty and the weight limit is only 220 lb, so this isn't the right option for larger folks.
But with a height of only about 5″ when folded in half and a weight of only 55 lb, the C2 is really easy to move around.
Overall, if you're looking for a walking treadmill you can almost literally put anywhere, the C2 is a perfect option (mine's currently in front of our tv). See full review.

#3 Sunny Health & Fitness ASUNA Space Saving Treadmill (8730)
SHF's ASUNA Space Saving Treadmill is a nice option for folks looking for a portable treadmill that can offer something for walkers and joggers alike.
Unlike the WalkingPad, the 8730 comes with safety rails and an upright console and can reach a top speed of 8.0 mph, making running possible.
That said, this machine only weighs around 95 lb and has a weight limit of only 220 lb, so it's probably not a good idea for larger individuals to run on it.
But hey, the speed is there.
The 8730 also comes with a pretty spacious running surface of 17.75″ x 49″, making it one of the larger treadmills in this class.
And with a 2.5 HP motor, it's also one of the strongest.
With this treadmill, you can fold the safety rails and console down to meet the deck for easy storage and in this position, the 8730 is only 5.25″ high, so it should easily fit under most beds.
There aren't many features to speak of on this treadmill, but it does come with a small console and built-in speakers in the handrails.
And Sunny's warranty is pretty solid here too: 5 year frame, 6 month parts.
Overall, as affordable compact treadmills go, the 8730 is easily one of the best. See full review.

#4 UREVO 2 in 1 Under Desk Treadmill
UREVO's 2 in 1 treadmill has become really popular for offering an affordable option to get your daily steps in.
And even though this is marketed as an under desk treadmill, it can really be used anywhere you like.
The UREVO comes with a folding hand rail that can easily be put up or folded down and it can be used either way – and when folded down, it's only 5″ tall, so storing under beds should be quite easy.
When the rail is up, it's in "running" mode and can reach a top speed of 7.6 mph; when down, it's in "walking"mode and can reach a speed of 3.8 mph.
And with a 2.5 HP motor, the UREVO 2 in 1 is stronger than you might expect from such a compact treadmill.
Speaking of being compact, this treadmill comes with a running surface of 17″ x 42.5", so it's much better suited for walking than running… but to each their own.
This treadmill comes with a small digital display built into the base of it and a remote control that lets you adjust your speed whether the rail is up or not.
The UREVO has a max weight limit of 265 lb and a 12 month frame, 90 day parts warranty.
Overall, the UREVO 2 in 1 is a neat little treadmill that's easy to move around your home, use with a walking desk, and store under furniture as needed. See full review.

#5 GoPlus 2 in 1 Folding Treadmill
Rounding out my list here is another very affordable treadmill that's very similar to the treadmill just mentioned above.
GoPlus' version of the 2 in 1 treadmill is a little smaller than UREVO's, coming with a running surface of only 16″ x 40″, so even though it can technically reach a top speed of 7.5 mph, I don't really see how anyone could comfortably run on something this small.
But to be fair, I'm 6'1″ and weigh around 200 lb… much smaller folks will likely fit a lot better than I would.
That said, this treadmill does come with a 265 lb weight limit.
Under the tiny hood, the GoPlus is packing a 2.25 HP motor, which is pretty average for a treadmill in this class.
This treadmill also comes with folding handrails that can be folded down to the deck or folded up to use for running and the GoPlus can be used either way.
With the rail down, it has a top speed of 2.5 mph, so walking only in that mode.
The GoPlus also has a small LCD console at the base of the treadmill and comes with a remote control, but what's more surprising is that it comes with a bluetooth speaker built-into the handrail.
This treadmill is also bluetooth compatible with a free app for metric tracking and whatnot.
GoPlus only backs this treadmill with a 90 day guarantee, so definitely the shortest warranty of any model on this list.
But with a height of only 5″ with the rails folded down, this little guy will easily fit under most beds.
Oh, and I should point out that at the time of writing this, this just so happens to be the most popular treadmill on Amazon. See full review.

Final Thoughts
Well, there ya have it.
If nothing else, I hope this list proves there are plenty of compact treadmills out there that can easily fit under most beds.
With the exception of the 3G Cardio 80i, all the treadmills mentioned above are only about 5″ high when folded, so unless you have a really low bed frame, these should be doable.
When comparing treadmills though, make sure you think about the other specs too, not just how low to the ground they are.
Running surfaces, motor strengths, weight capacities, warranties… this is all important stuff people.
You should think about how you want to use your treadmill too because not all of these treadmills can accommodate running – if that's something you're looking for, make sure you go with one with a top speed fast enough to get the job done.
Anyway, I hope you found this guide helpful and if you know of any compact treadmills that deserve a spot on this list, please leave a comment and I'll get back to you shortly.