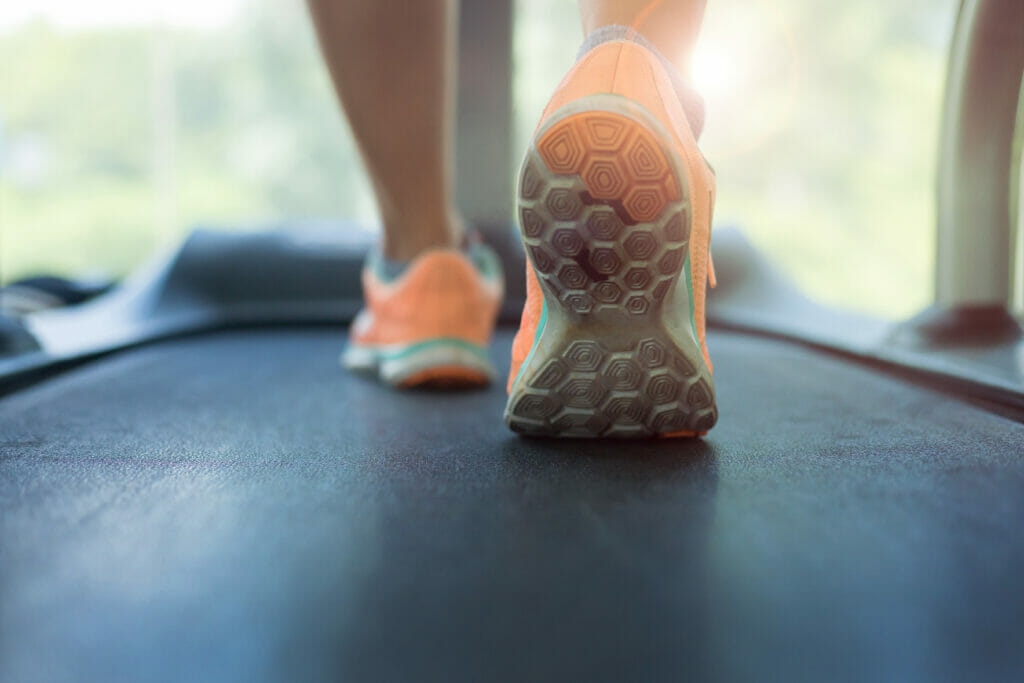 If you're looking for an affordable treadmill that can double as a standard model and an under desk walking treadmill, the GoPlus 2 in 1 Folding Treadmill is certainly worth investigating.
With handlebars that can fold away, the GoPlus can easily fit under walking desks, allowing folks to get their steps in while working.
And with the uprights up, it can reach a top speed of 7.5 mph, technically allowing folks to get their run on when they see fit.
It's also very lightweight, making it easy to move around or out from under desks.
Honestly, the performance specs for the GoPlus aren't particularly impressive, but to be fair, this is a $300 treadmill we're talking about here.
And with only a 3 month warranty, GoPlus doesn't exactly exude confidence in their buyers either.
But again, as $300 treadmills go, this one is more interesting than most.
If you're still interested in the 2 in 1 Folding Treadmill, I encourage you to keep reading – in this review, I'll be going over everything this little treadmill has to offer.
After reading, you'll know if this is the right option for your home gym (or if you should keep looking).
Alright, let's do this.
The GoPlus 2 in 1 Folding Treadmill
I'd never heard of the GoPlus brand before seeing their treadmills on Amazon, but it looks like they offer a little bit of everything from home decor to automotive tools.
Their home fitness lineup is rather limited and it looks like the folding treadmill we're here to go over now is really the star of the show.
GoPlus is obviously a budget brand, offering items that take it remarkably easy on the wallet.
But hey, whatever they're doing must be working because as I'm writing this, their 2 in 1 Folding Treadmill is sitting in the top spot as Amazon's highest selling treadmill.
And Amazon offers A LOT of treadmills.
Anyway, at the time of writing this the GoPlus 2 in 1 is selling for around $340, give or take a little depending on color.
Let's start this review off with a rundown of the most important things you should look at before buying any treadmill – the performance specs.
Pros
Very affordable
Easy to move
Basically no assembly
Can be used as traditional or under desk treadmill
Comes with remote control
Bluetooth speaker
Cons
Small running surface
Weak motor
Lightweight frame
Very short warranty
Not suitable for running
Running Surface
The running surface is the first spec I look at for any treadmill because this spec instantly gives you an idea as to how comfortable you're gonna be on that treadmill.
This spec gives you the physical dimensions of the belt, telling you exactly how much room you'll have (or not have) during workouts.
The running surface is measured in inches and usually written as "width x length" – although in this case, I believe they reverse it and display it as "length x width".
Regardless, having a larger running surface is a good thing because it means you'll have more room to stretch out your stride when walking and running at faster speeds.
To be fair, really affordable treadmills usually come with significantly smaller running surfaces – after all, there are good reasons why these treadmills cost less in the first place.
But even so, the GoPlus treadmill comes with a really small running surface.
To be more exact, we're talking a running surface of 16″ x 40″ here.
I think it's hilarious that 2 in 1 describes their treadmill as having a "spacious running area" for a "… superior running experience" – ha, I guess you can't blame 'em for trying.
In reality, is this is way too small for most people to run comfortably on.
For the sake of comparison, most real running treadmills come with running surfaces that are 55 – 60″ long.
A width of 16″ is pretty darn narrow too, although that shouldn't be a huge issue for walkers (assuming they don't sway a ton).
No, with a length of only 40″, the GoPlus treadmill is certainly better suited for walking than anything else.
This treadmill is small, but it's also very lightweight.
The 2 in 1 comes with an assembled weight of only 70 lb, which is incredibly light for a home treadmill (many full size options weigh 200 – 300 lb).
Being this light will make it a lot easier to move this treadmill around, but it isn't a good thing when it comes to the overall stability of the machine.
Having heavier-duty components is a good thing because they can withstand and handle the stresses of regular use a lot better – they also tend to feel more secure during use.
With such a low assembled weight, I would expect the 2 in 1 to be a lot more susceptible to wear and tear damage.
This treadmill's light-dutiness (I just made that word up, but it's the opposite of heavy-duty) is also apparent when we consider that it has a weight limit of only 265 lb.
And I think GoPlus is being pretty optimistic with giving it a limit this high.
Overall, this is a very lightweight treadmill with a really small running surface, making it better suited for shorter, smaller walkers.
Motor
Given the size and price of the 2 in 1, we would have to assume that it comes with a weaker motor too… and those assumptions would be correct.
More specifically, this treadmill is packing a 2.25 HP motor.
This is pretty weak if we compare it to the 3 – 4 HP motors found on many higher-end, full-sized treadmills, but to be fair, it's actually pretty good compared to the other comps in this price range.
For example, SHF's SF-T4400 comes with a 2.2 HP motor and ProForm's City L6 is only packing a 1.6 HP motor (and it costs around $600).
So again, in terms of sheer horsepower, the GoPlus is actually about as strong as we can realistically expect to find in this price range.
That said, it's still not powerful enough to support regular running (most agree at least a 3 HP motor is preferred for serious running).
The GoPlus treadmill can reach a top speed of 7.5 mph when in "running mode" (the handles in the upright position) and a max speed of 2.5 mph when in "walking mode" (handles folded down to floor).
Based on this motor's horsepower, it's safe to say it's better suited to handle the walking mode.
By the way, the handles have to be removed to fold the uprights down flat to the floor, so switching between mode will take a little longer than you might initially think.
Anyway, there's no mention of roller size anywhere I can see, but based on the size of everything else here, we know they have to be tiny.
Overall, the 2 in 1 Treadmill has a small motor that's better suited for supporting walking than running (the small running surface would also make running difficult for a lot of users).
Features
The GoPlus 2 in 1 Treadmill comes with the following included features:
Simple display- you'll notice that there isn't a console on the folding arm thingy, but there is a small LED screen at the base of the treadmill that can display basic workout metrics like time, distance, speed, and calories.
Remote control- when I first saw that this treadmill comes with a remote control I thought it was a neat feature, especially when using it as a desk treadmill. But then I realized the remote control is the only way to control the treadmill, since there isn't a console on the folding frame. Just make sure you keep those batteries fresh.
Bluetooth speakers- there are bluetooth speakers built-into the treadmill, allowing you to listen to music from your phone wirelessly through the machine.
Foldable arms- I've already mentioned this before, but one more time won't hurt anything. The frame can easily fold down to the ground, allowing you to use this treadmill as a walking or under desk treadmill. Just keep in mind you have to remove the handles manually to allow it to fold flat.
Phone holder- there's a phone holder on the foldable frame part, but it's too small to hold most tablets, which is kind of a bummer.
Assembly
One of the great things about this treadmill being so small is that there really isn't any assembly required.
The base of the treadmill comes completely pre-assembled and the folding frame/arm thingy is already attached, so you don't to mess with that.
If you're going to use it in running mode, all you have to do is fold the frame up, bolt on the handles, and screw on the phone holder (if you want).
Then just plug it in and turn it on – that's it.
The assembly process couldn't be any easier – and if you'll be using it solely as an under desk treadmill, you don't even have to do that much.
Just take it out of the box and plug it in.
Warranty
The GoPlus 2 in 1 Folding Treadmill comes with the following home warranty:
According to GoPlus, they offer a 3 month warranty on all their products and in that time, they'll cover any cost required to get your treadmill working again.
That said, some users have reported having issues trying to return products they no longer wanted within that time period.
Also, if there isn't a defect, but you still don't want to keep the treadmill, you'll likely be responsible for paying the shipping to send it back to the manufacturer (which I doubt will be cheap).
But back to the warranty itself.
90 days is a really short warranty – there's no getting around that.
Even for a $300 treadmill, this is short.
SHF's similarly priced SF-T4400 at least comes with a 3 year frame and 6 month parts guarantee.
With a warranty this short, GoPlus is basically asking you to take your chances with this treadmill.
Final Thoughts
Alright, I think that's about all I have to say about this treadmill.
When talking about a treadmill this affordable, I try to stop myself from comparing it to higher-end models that cost 3-4x more because that isn't fair.
As I often say – there are real reasons why treadmills like this cost so much less.
In this case, it's because the 2 in 1 is a small, lightweight treadmill with a weak motor and essentially no warranty.
But to be fair, that's how it goes for any treadmill in this price range.
Now that I've gotten that out of the way, I do think this treadmill is pretty interesting.
I like that you can choose to have the frame/arms (I still don't know what to call this folding part) up or down and that you could technically use it as a traditional treadmill or under a desk as a walking treadmill.
I actually think this is where the 2 in 1 would be best served – as an under desk treadmill.
I wouldn't suggest using this as a running treadmill in any situation – I don't care how small or light you are, I just don't think this treadmill will survive the stresses of running.
Long-story-short, I could see buying this treadmill if you're looking for a $300 walking treadmill to put under a desk (or in a closet, apparently that's a thing now).
But please don't run on this thing.