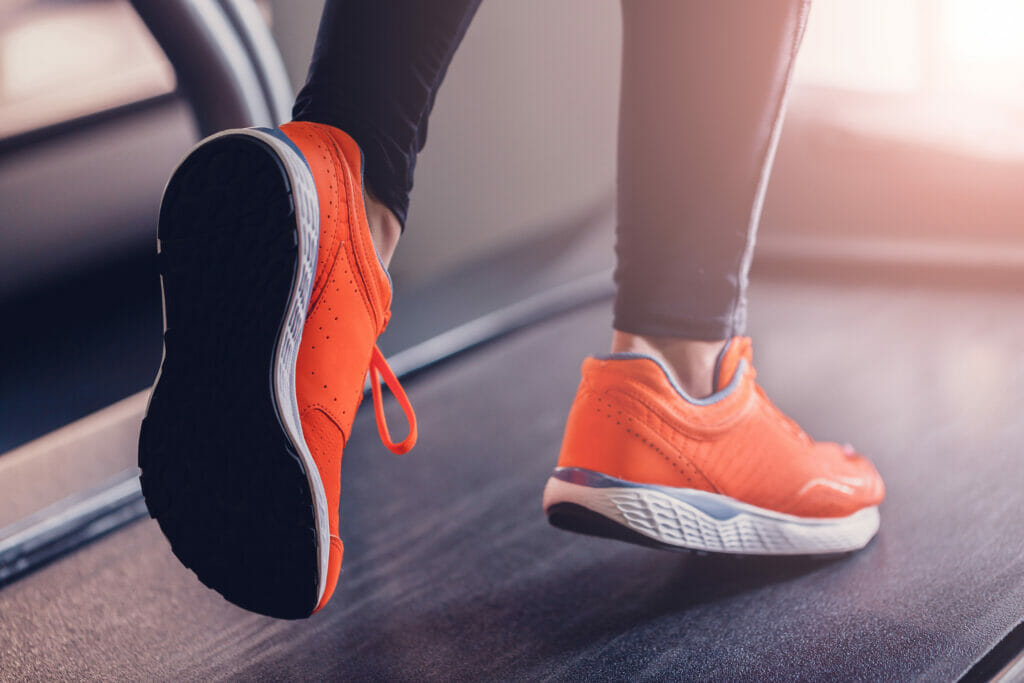 The WalkingPad C2 is a compact, portable walking treadmill that can truly be used anywhere.
Not only is it lightweight and easy to move, but it even folds in half for easy transporting and storage.
And yes, I know most treadmills fold these days, but the WalkingPad doesn't fold the way most treadmills do – this thing's deck literally folds in half.
Yeah, crazy… and I mean that in the best way possible.
This is good news for folks looking for a treadmill that can be stored under a bed or in a closet, but it's also bad news for people who like to use the ol' "I don't have room for a treadmill" excuse for not getting their steps in.
The C2 could also work wonderfully as an affordable under desk treadmill, but before you buy, there are some things you should know.
Most notably, this treadmill only has a max weight limit of 220 lb, so it's not designed for larger users and with a max speed of only 3.7 mph, it's not designed for running either.
But given how small and affordable it is, the C2 is surprisingly smooth to walk on.
But I'm getting ahead of myself – in this review, I'll be going over everything this mighty little treadmill has to offer, as well as where it falls a bit short.
And I'll be doing all of this from a firsthand perspective, as WalkingPad was gracious enough to send me one to try out for this review.
After reading, you'll know whether or not the C2 is worth investing in.
Let's roll.
Disclosure – the good folks at WalkingPad were kind enough to send me a C2 to try out for this review, but I haven't been compensated in any other way. This review is based solely on my personal experiences with this treadmill.
The WalkingPad C2 Mini Foldable Walking Treadmill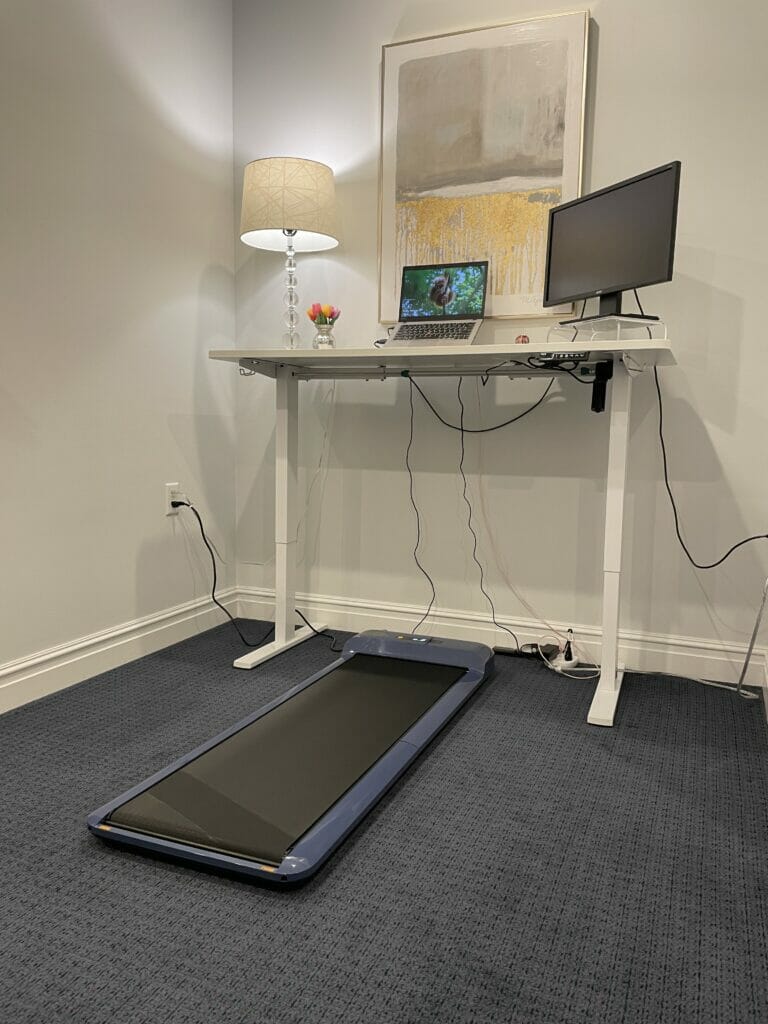 The original WalkingPad came out several years ago and was created by the Chinese brand, KingSmith.
These days, there are several WalkingPad models to choose from and even though the differences between many of them can be pretty subtle, they all have one thing in common – their decks can fold in half.
The folding deck is the real game changer here because as I mentioned in the intro, a lot of treadmills fold these days – but their decks don't.
Traditional folding treadmills have decks that fold vertically up toward their consoles and sure, this can save a few feet of floor space when not in use, but these things still take up plenty of room and are hard to move.
Well, the WalkingPads can fold in half and easily be rolled or carried to another room or even be stored under a couch or bed.
Very cool.
Anyway, the C2 we're here to talk about now is one of their mid-range models and as I'm writing this, WalkingPad has it selling for around $550.
Pros
Frame folds in half
Easy to store under furniture
Compact
Easy to move around house
Comes in different colors
Quiet during use
Smooth belt action
Comes with remote
Compatible with free app
Manual/automatic modes
No assembly
Reasonably priced
Cons
Narrow belt
Weak motor
Short warranty
Speed adjusted in 0.5 mph increments
Weight limit only 220 lb
Running Surface
The only reason I'm referring to this spec as the "running" surface is because that's what it's called for all treadmills, but don't get confused – the C2 isn't designed for running or even jogging.
As its name implies, the C2 is for walking only, so if you're looking for a treadmill that you can run on, this is not the right one for ya.
Ok, back to the running surface.
This is an important spec because it tells you large the belt is, but what it really does is tell you how much space you'll have to work with when using the treadmill.
I'm of the opinion that having a larger running surface is always a good thing because it gives you more wiggle room and makes for a more comfortable experience.
And for traditional treadmills where you could be running, it's important to have a running surface large enough that'll let you stretch out and run comfortably without having to shorten your stride.
Most full size treadmills these days come with running surfaces in the 20″ x 60″ range because at this size, folks of all heights are able to walk and run without having to worry about running out of belt.
That said, the C2 is not a traditional, full-size treadmill.
This treadmill is designed to be compact and portable and is only suited for walking, so it comes with a smaller running surface.
To be more exact, the C2 comes with a running surface of 15.75″ x 47.24″.
At 47″, the C2 is quite a bit longer than competitors like the UREVO (42″ long) and REDLIRO's Under Desk Treadmill (41″long) and is even longer than the higher-end Unsit Treadmill (40″ long).
I'm 6'1″ and I can comfortably stretch out fully while walking on the C2 without fear of stepping off the belt, so when it comes to the length, there are no issues.
But I do wish it was a hair wider.
To be fair, I'm used to my full-size treadmill that has a 22″ wide running surface, so there's that.
And yes, I am able to comfortably walk on the C2 without having to adjust my gait mechanics or anything, but with a belt that's only 15.75″ wide, there's little room for sway.
I moved the treadmill into my living room and was walking while watching a movie and almost stepped off the treadmill a couple of times because of how narrow it is.
But I tend to sway laterally on any treadmill and the more I got used to the C2, the more comfortable I got with staying within its limits.
So, long-story-short, the running surface is small on this treadmill, but it's still plenty of room for comfortable walking (just make sure you don't sway much from midline).
When it comes to the frame of the C2, the most notable feature is the folding deck.
This treadmill is easy to fold and there aren't any latches or buttons you have to mess with to do it – you simply grab the deck and fold it up or down depending on what you're doing.
You have to do it slowly and make sure you don't pinch your fingers around the hinge, but it's easy to do.
I also want to make sure everyone's aware that this treadmill has a weight limit of only 220 lb, which isn't much for a treadmill.
But considering the C2 itself only weighs around 55 lb, I think WalkingPad was being realistic when they gave this treadmill such a low weight capacity.
The C2 is a lightweight machine with a folding frame, so there's no way it's going to be able to handle the stresses larger users will be putting it through.
Personally, I'm around 200 lb and even though it's felt fine so far with me using it, I think it would be best suited for folks even smaller than that.
Being so small and lightweight though, definitely makes it easy to move around.
It has 2 built-in transport wheels that make it easy to roll around in the folded position, but I prefer to just pick it up and take it where I'm going (as a taller guy, it's not super comfortable bending forward and rolling it).
Overall though, I've been pleasantly surprised as to how well the C2 has held up and how comfortable it is to walk on.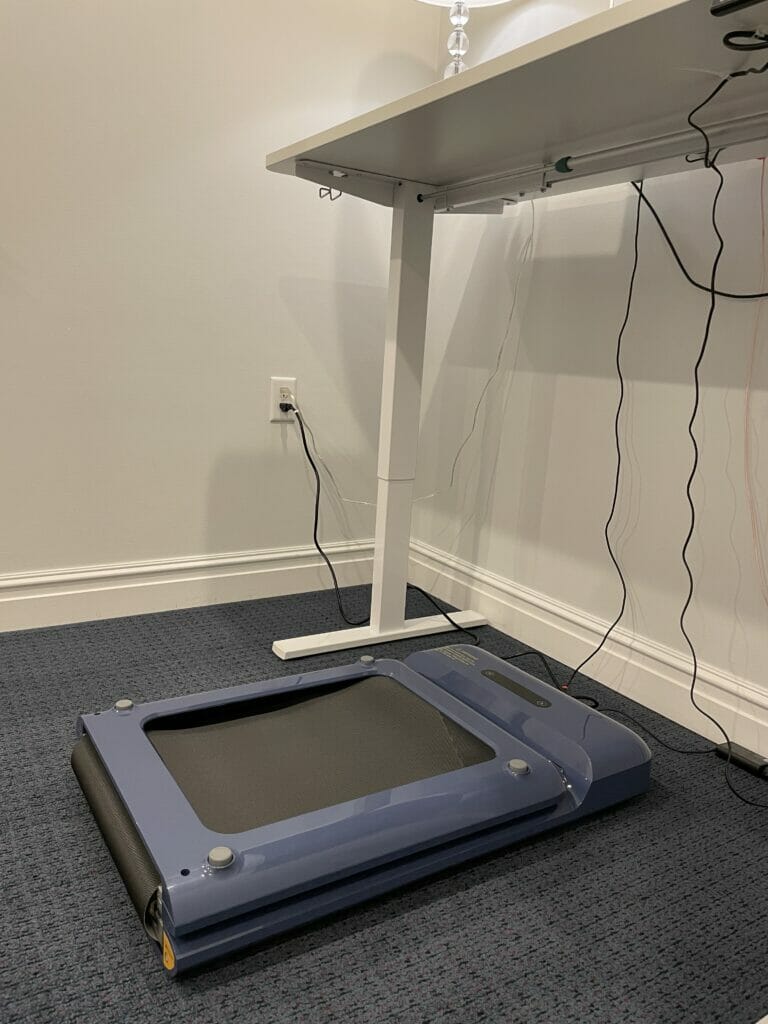 Motor
That about does it for the frame, so let's move on to the motor.
When it comes to treadmill motors, having a stronger one is never a bad thing because stronger motors tend to offer smoother and sometimes even quieter operation.
Stronger motors can also accelerate faster than weaker ones, making them better for interval training.
But most importantly, since stronger motors don't have to work as hard as weaker ones to provide the same output, they tend to not get stressed as much, which means they should theoretically last longer.
Home treadmills usually come with motors in the 2 – 4 HP range and if you're going to be running, having a motor that's at least 3.0 HP is a good idea.
With all of that in mind, WalkingPad doesn't actually tell us how many horses it's packing, but they do tell us that the C2 has a 735 W brushless motor.
And with a little Googling, I found that most 735 W motors are the equivalent of roughly a 1 HP motor.
So, I would say the C2 is packing a 1 HP motor and considering how small and light this treadmill is, I think this sounds reasonable.
Assuming I'm correct here, this is weaker than the 2 – 2.5 HP motors found on many other affordable under desk treadmills.
But to be fair, most of these treadmills come with higher top speeds and, oh yea, don't fold in half.
The C2 has a top speed of 3.7 mph and is only designed for walking, so it can get away with having a weaker motor.
Sure, it would be nice if this treadmill was packing a little more muscle under the hood, but giving it a stronger motor might also add to the overall weight of it and make it harder to move around.
Either way, I will say that I've been surprised by how smooth the C2 operates.
At 6'1″, 200 lb, I'm certainly pushing the limit of what this treadmill is designed to handle and it's providing a smooth belt action so far.
Oh, something else worth knowing is that when you first turn the treadmill on, it'll only let you go up to 1.9 mph until you clock a certain distance on it (I wanna say 1.6 km, but I could be a little off) or sign into the app and turn the safety precaution off.
I think this is a smart idea because it forces you to get used to the treadmill before it lets you go faster.
The C2 has a speed range between 0.5 mph and 3.7 mph and you can only adjust the speed in 0.5 mph increments.
This is fine if you're just walking on it or watching tv or something, but I could see it being nice to have more control while actually walking on it while working at a standing desk.
Overall though, the C2 has a pretty weak motor, but it still provides a smooth belt action for such an affordable treadmill.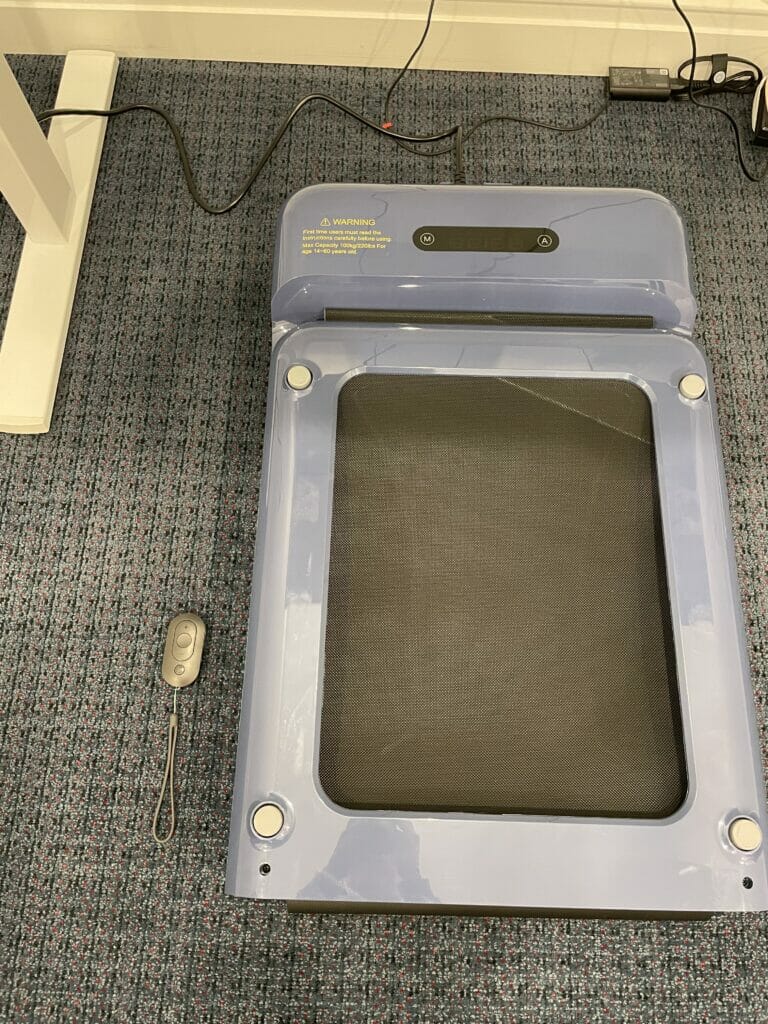 Features
The WalkingPad C2 Mini Foldable Walking Treadmill comes with the following included features:
Folding deck- the folding deck is the star of the show here and this what makes this treadmill truly unique. I've never seen any other treadmill fold like this and I'm guessing it's patent protected. The C2 is only about 5″ high when folded, so it'll easily fit under a lot of furniture and in closets, etc.
Digital display- there's a small digital display in the front of the treadmill that lets you track your speed, time, distance, calories, and steps. There's nothing fancy going on here, but I find it easy to read while walking on the C2.
Choice of color- I was happy when WalkingPad offered to send me the C2 because you get to choose between a few different colors with this model (white, black, blue, red, and yellow). I chose blue and think it looks quite snazzy.
Remote control- the C2 also comes with a small remote control that lets you change the speed and mode during use. The remote is easy to use comes with an included wrist lanyard to make sure you don't drop it while walking.
Fitness app- the C2 is bluetooth compatible with a free fitness app (KS Fit), which can be used to see your workout stats and control the treadmill as well. Personally, I found the app to be pretty basic, but it was easy enough to set up and I could see it coming in handy to track your time, etc when using the C2 under a desk (where you may not be able to view the digital display on the treadmill itself).
Two modes- this treadmill has 2 user modes, "manual" and "automatic". The "manual" mode lets you control the treadmill like any other treadmill, using the up/down buttons to control the speed at your will. The "automatic" mode is designed so that you can control the speed by adjusting where your foot hits the deck. Stepping closer to the front speeds it up, stepping off closer to the rear slows it down, and keeping your stride in the middle of the deck is supposed to maintain your speed. This is a neat idea, but I had a hard time using the "automatic" mode. I couldn't seem to maintain a speed, I always found myself alternating between speeding up or slowing down.  Maybe it's just me, but I think most folks will prefer "manual".
Transport wheels- finally, there are 2 transport wheels built-into the frame so you can roll it around easily.
Assembly
The WalkingPad C2 comes fully assembled, so all you have to do is unbox it, fold it down, plug it in, and turn it on.
Nothing to it.
Warranty
The WalkingPad C2 Mini Foldable Walking Treadmill comes with the following home warranty:
Yup, the C2 is only backed by a 1 year warranty, which is really short, but it's pretty much the norm for treadmills in this price range.
WalkingPad offers free returns and repairs within the first 30 days, but if something happens after 30 days (but still within that first year), you'll have to pay the return shipping to WalkingPad, but they'll fix and resend it without any other charges.
Final Thoughts
Ok, I think that about does it for the C2.
First things first, I'd like to thank WalkingPad again for sending me a C2 to try out for this review, very kind.
I also have to say that I'm pleasantly surprised by how well this little treadmill actually works.
For such a compact, lightweight, folding treadmill, it provides a smooth walking motion – even with the weaker motor.
The fact that this treadmill can fold in half for storage and even fit under most beds and other pieces of furniture is pretty amazing, so I could see the C2 being a great option for people with smaller homes looking to get more steps in.
That said, I think this treadmill makes the most sense for people looking for an affordable under desk treadmill or a treadmill they can move into the living room to walk on while watching tv.
Or even as a closet treadmill (because apparently closet gyms are a thing now).
The biggest downsides I see are that it can't support larger users and that you can only adjust the speed in 0.5 mph increments; the belt is also quite narrow, but as long as you can walk in a straight line you'll be ok.
You may've noticed that in the pics up above the C2 is positioned under a standing desk – well, this was just good timing.
That's my wife's office and she had just received a new standing desk a few days before I got the C2 – this wasn't planned at all, just a nice coincidence.
She might use the C2 in her office at times, but I have a feeling we'll be using the C2 in the living room more than anything else.
After all, you can't feel too bad about yourself watching tv if you're getting a little exercise in while doing it.
All things considered, I think WalkingPad has a winner here, easily one of the best treadmills in its price range. Recommended.