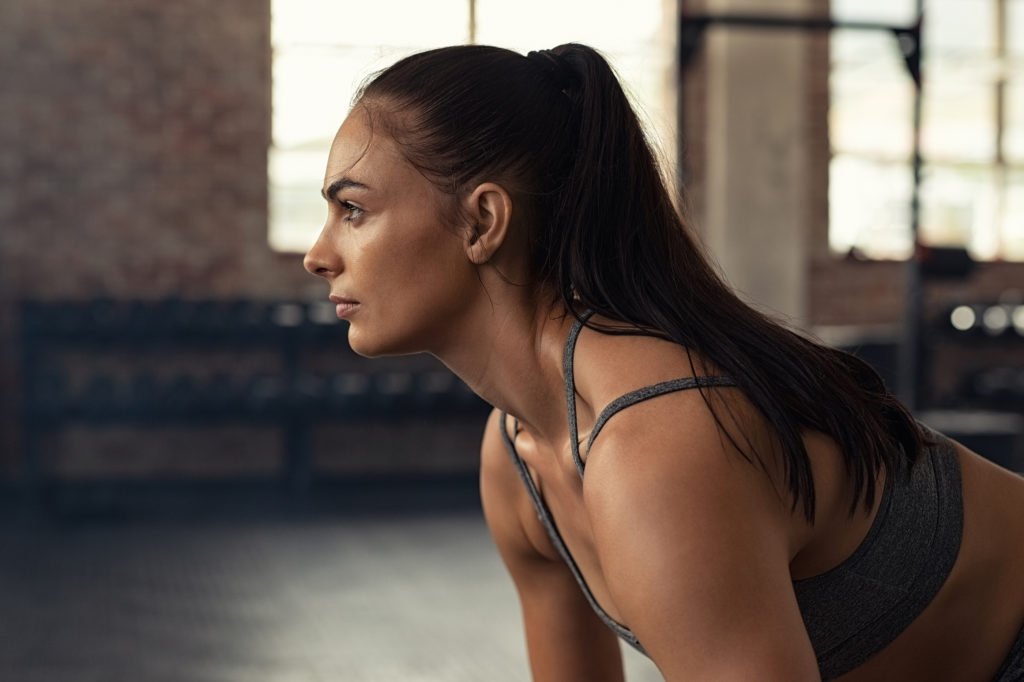 Bowflex has designed a completely new way to exercise with their lineup of LateralX trainers. Think elliptical, but with a side-to-side component for an added twist of difficulty.
Its movement has been compared to ice skating or skiing, both of which make sense when you watch this thing in action.
The LX5 is the most advanced model in the series, and as such comes with some significant improvements over the more affordable LX3.
Highlights of the LX5 include a power adjustable lateral stride, performance suspensions pedals, and huge multi-grip handlebars. It also comes with a free app with access to a library of workout videos to choose from.
If you're looking for a new and exciting cardio machine to add to your home gym, the LateralX LX5 might be a fun choice. But before you make the investment, keep reading to make sure this is the right fitness machine for you.
In this review, we'll take a close look at everything the LateralX LX5 has to offer. We're talking pros, cons, and everything else in between.
Off we go.
The Bowflex LateralX LX5
Bowflex is one of the biggest names in home fitness and they're certainly no stranger to innovation- that's kinda their MO.
Not only do they make better equipment than most of the others, but they regularly invent new and exciting products unlike anything the competitors have to offer.
The Bowflex gyms that made them famous in the first place was a brilliant innovation. But think about the other breakthrough products they've introduced us to over the years, like the Max Trainers, the TreadClimber, and the SelectTech Dumbbells.
It might be a little too early to tell whether the LateralX LX5 is going to be as popular as the products mentioned above, but it's certainly fair to say it's new and exciting.
And when it comes to home fitness, where so much of us suffer from severe boredom, I say anything that's even remotely new and exciting is a good thing.
I know I haven't seen anything else like it on the market.
As I mentioned earlier, the LX5 is the highest-end lateral trainer Bowflex currently offers. On sale, it'll cost ya a bit over $2k, which is fairly significant for a home fitness machine.
This is the same price range you'll find a lot of the best ellipticals and treadmills.
Pros
Full body workout
Low impact
Heavy-duty frame
300 lb weight capacity
7.5″ LCD screen
10 built-in workout programs
10 resistance levels
Power adjustable lateral stride length
Over-sized, adjustable pedals
Mult-grip handles
4 user profiles
Free Bowflex app with access to 30 instructor-led workout videos
Chest strap heart rate monitor included
Cons
Assembly can be challenging
Short warranty
Frame and Function
Words don't do the LX5 justice when it comes to trying to describe the movement pattern. It's like if you combined a stepper and an elliptical and added a lateral component… yeah, I know, that doesn't make a lot of sense.
In this case, a picture (or better yet, a video) is worth a thousand words. Check out the video below to see the LX5 in action, I think seeing it in use is the only way to appreciate what it does:
Regardless of how you describe that movement, I think we can all agree that there's a lot going on. I mean it does look exhausting to use- and I mean that as a compliment.
After all, this is a cardio machine and the point is to get a workout using it.
I really like the idea of adding a lateral component to an elliptical trainer. First of all, in the real world, we rarely operate in a single plane (front to back or side to side). Instead, we rotate and operate in multiple planes at the same time.
The pattern of the LX5 incorporates multiple planes of movement, which will help strengthen the stabilizing muscles that are needed during real world activities.
More specifically in this case, the hip abductors/adductors and smaller hip rotators.
The added lateral excursion should also get your core more involved, especially when grabbing the stationary handles and holding that squat position (looks brutal by the way).
Sorry, this is the therapist coming out in me. What I'm trying to say is that the LX5 is well-equipped to offer a great full-body workout.
The extra movement is going to work your legs and core more, which will lead to more calories being burned.
When it comes to the frame, Bowflex usually doesn't skimp. It doesn't appear they've done so here either. The LX5 is a heavy-duty machine, weighing roughly 258 lb fully assembled (keep this in mind when it comes time for assembly).
It's capable of safely holding users weighing up to 300 lb. A 300 lb weight capacity is pretty average for home fitness equipment, especially high-quality ones.
Often machines in this price range will have limits even as high as 350 – 400 lb (depending on what type of machine it is), but I would think the amount of movement each pedal has to achieve would limit the overall weight capacity here.
The base of the LX5 is pretty wide, which is necessary to keep everything stable during the lateral movements. The overall dimensions are as follows: 53.5″ x 46.3″ x 62.9″ (L x W x H).
Overall, most users agree the LX5 is well-built and feels sturdy during use. Few have complained about wobbling or any unwanted movement during workouts.
Features
The Bowflex LateralX LX5 comes with the following features:
7.5″ LCD screen- the display screen is pretty simple, but it's large enough to see clearly during your workouts. They've added a little color coded meter on the left of the screen that displays your effort in reference to how many calories you're burning (1 segment = 1.5 calories/min), which works as a nice motivator during workouts.
10 workout programs- the LX5 comes loaded with 10 different workouts to choose from. These consist of 4 interval programs (X-mode, lateral, thigh toner, and quad power) and 6 more traditional workouts (total body, stand squat, dual direction, fat burn, calorie goal, and manual). The X-Mode workout is a 16 min interval consisting of 8 2-min intervals designed to give you a total body workout in as little time possible.
10 levels of resistance- the LX5 comes with 10 levels of smooth resistance to choose from, giving you the ability to workout as lightly or as intensely as the mood strikes.
Adjustable lateral stride- unlike the LX3, the LX5 comes with power adjustable lateral stride length. Simply push the button on the stationary handle and set your stride. The adjustable stride length comes in especially handy when you have multiple users in your home who are different heights.
Performance Suspension Pedals- the over-sized pedals make for a comfortable, low-impact workout. You can also adjust the incline angle of each pedal for optimal comfort
Multi-grip handlebars- to say that these handles are large is a bit of an understatement. These multigrain handles give you tons of options in hand placement. Not only does this make for a more comfortable experience, but you can target different upper body muscles based on your grip.
4 user profiles- you can save up to 4 different user profiles on the LX5, making it easier and faster to keep track of all your data.
Chest strap heart rate monitor- not only is this machine compatible with heart rate monitors, but Bowflex takes it one step farther and includes a strap with purchase.
Free Bowflex App- you get 10 workouts loaded on the LX5, but if you want more you can access the free app (iOS or Android) and gain access to 30 instructor led workout videos.  You can also use the app to set fitness goals and track all workout data.
Media shelf- the built-in media shelf is conveniently located above the console, so you don't have to worry about blocking the screen if you want to watch Netflix or use the Bowflex app on your tablet.
Cooling fan- the fan can help cool ya down during those more strenuous workouts.
Speakers- jam out to your favorite music or access the Bowflex Radio and listen to motivating workout tunes with the built-in speakers.
Assembly
Putting the LateralX LX5 together is a pretty labor intensive task. This is a big, bulky cardio machine with a lot of moving parts to assemble. If you're going to assemble yourself, make sure you have a friend of family member available to assist.
Bowflex does a pretty good job with their assembly manual. The images are large and easy to see and there are written instructions for each step.
All of the hardware is clearly labeled and the required tools are provided.
The thing is there are just a lot of steps necessary to get the LX5 up and running. And it can be difficult managing given the size and weight of this unit.
The hardest part is probably snaking the electrical wires through the frame at various times, taking care not to pinch or break any connections. It would suck to put everything together just to find something has come loose.
Overall, putting the LX5 is very doable, but plan on it taking several hours (3-4 probably). If you're doubting your abilities, you can always pay extra for professional assembly.
Warranty
The Bowflex LateralX LX5 comes with the following warranty:
3 year frame
3 year parts
1 year electronics
90 day labor
I don't think this is a very impressive warranty, especially on a machine that costs this much. My biggest problem is the frame warranty- 3 years is quite short.
The parts and electronics warranties aren't that great either, but they're closer to being in the right ballpark. The labor warranty is also pretty abysmal.
Overall, a disappointing guarantee on the LX5. Given the expense, it would be comforting to see a better warranty. It would definitely offer a little more peace of mind. That said, Bowflex has a good reputation for building durable products.
Final Thoughts
Bowflex has made a name for themselves by thinking outside of the box. The innovative minds behind the brand are continuously pushing the envelope and expanding what we thought was possible in the realm of home fitness.
Their LateralX LX5 is a prime example of just this.
I think this machine would work well for people looking for something new to add to their home gym. It definitely provides a nice alternative to the same old ellipticals and treadmills a lot of people have grown bored with.
The new movement pattern Bowflex has come up with here should be quiet effective when it comes to burning calories and getting a great workout in.
I like that the LX5 is so heavy-duty. The thick frame and large components make for a more durable machine. I also like that the features are practical and not too frivolous.
Assembly can be challenging, but I don't think that's a deal breaker. My biggest concern is the short warranty, especially on the frame.
Most comparably priced ellipticals and treadmills come with lifetime frame warranties, so I'm not sure why Bowflex decided on such a short guarantee. Do they know something we don't?
Overall though, I like the LX5. I think it would be a good choice for folks looking to add a little cross-training to their routine. It would work well for athletes looking for a more sport-specific mode of training as well (skating, basketball, soccer, etc).