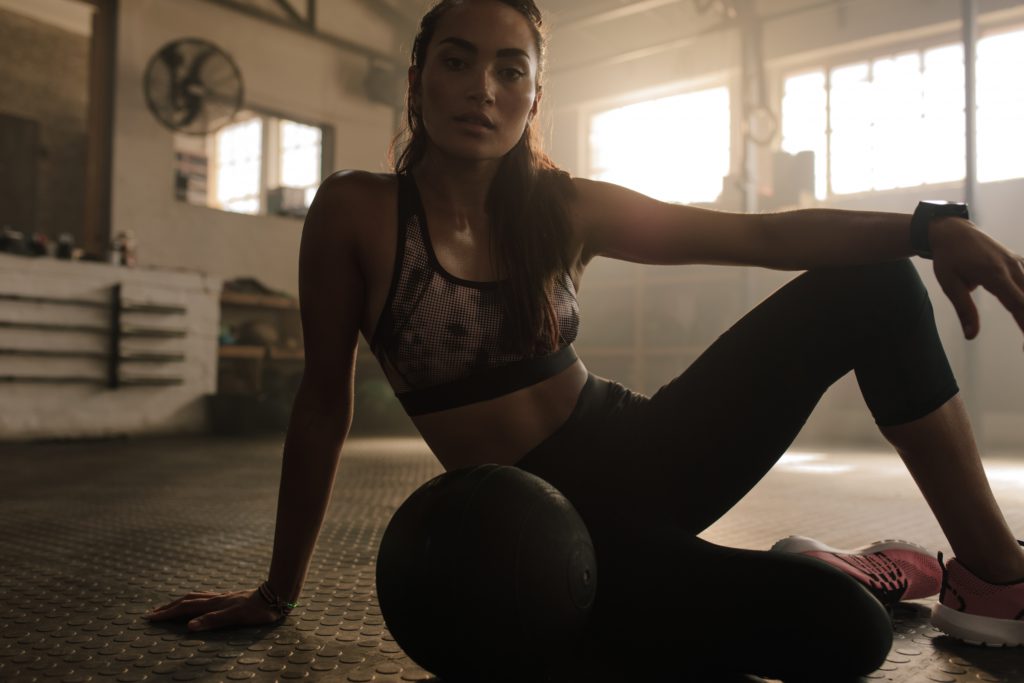 The Bowflex Max Trainer M8 is a high-end HIIT cardio machine designed to give you intense workouts that will burn more fat and calories in less time than more traditional workouts.
To accomplish this, the M8 combines the movement patterns of a stepper and an elliptical- think of it as a stair master with the moving handlebars of an elliptical.
But the machine is only part of the equation.
The M8 also comes equipped with interval style workouts designed to work you harder in less time. The result is an impressive, full-body blasting cardio machine that has what it takes to give you some of the best workouts of your life.
If you can't tell, I'm a fan of the Bowflex Max Trainers. I think they (and the M8 specifically) are well designed and work well for folks looking to switch up their exercise routine.
But is the M8 right for you?
That's the question this review is hoping to help you answer. In this article, we'll take a close look at all the specs and features this trainer has to offer. After reading, you'll know everything you need to in order to decide for yourself.
The Bowflex Max Trainer M8
High intensity interval training (or HIIT as it's commonly known as) is all about combing short, intense bouts of exercise with active rest periods.
This combination results in your heart rate spending more time at higher rates, causing your metabolism to speed up and burn more calories and fat.
HIIT has been around for some time, although it seems like it's just recently caught on. Don't be fooled though, this is no fad- HIIT is legit. This stuff really works.
You don't need a machine to perform HIIT workouts. You can turn pretty much any workout into a HIIT style workout by adjusting your work and rest times.
But a nice HIIT trainer works well for folks looking to hop on a cardio machine for their workout.
Don't quote me on this, but I'm pretty sure Bowflex came out with the first HIIT trainer. ProForm's HIIT Trainer (and HIIT Trainer Pro) came out soon after, but I think Bowflex came up with the idea.
Since they first introduced their Max Trainers, they've continued to develop them and make improvements. Their lineup currently consists of 4 different models: the M3, M6, M8, and new Max Total.
There's also the older M7 that you can still find on retail sites like Amazon.
Other than the new, hi-tech Max Total, the M8 is the most advanced HIIT trainer in their lineup.
Pros
20 levels of resistance
Compact frame
Full body workout
Multi-grip handles
7 pre-programmed workouts
Bowflex JRNY app (optional)
300 lb weight capacity
4 user profiles
USB charing port
Large media rack
Burn rate meter
Straightforward assembly
Cons
Resistance
In order to reap the benefits of HIIT workouts, you have to get your heart rate elevated to roughly 80% of your heart rate max. To accomplish this, you have to increase the resistance to a setting heavy enough to make you work.
That shouldn't be an issue on the M8. This trainer comes with 20 resistance levels, giving you a wide range of intensities to choose from. This machine has enough muscle to challenge folks of all fitness levels, including beginners and elite athletes.
I believe the resistance is a combination of magnetic and fan based. This is pretty common these days, especially in rowing machines.
The idea is that you can have the benefits of both at the same time. Magnetic resistance is great because the resistance is constant, regardless of how fast you pedal. Fan based resistance is great because the faster you pedal, the more resistance you get.
Combining them gives you a constant resistance at low speeds, but a more intense resistance the faster you push.
Another nice thing about having 20 resistance levels is that it gives you more room to fine tune your intensity. You can make smaller resistance adjustments, allowing you to gradually grow and improve.
Compared to a machine that only gives you 10 resistance levels, like the Horizon Peak Trainer HT5.0, the M8 will allow more subtle resistance adjustments.
Most users agree the M8 works smoothly and effectively and that there's more than enough resistance available to get one heck of a workout in.
Frame
The M8, like all the other max trainers, comes with a small footprint, making it a great choice for homes with limited floorspace. Fully assembled, this model has a footprint of 47.9″ x 30.8″ and weighs 148 lb.
This machine has a max weight capacity of 300 lb, which is pretty typical for quality home fitness equipment.
Like ellipticals, it's also important to consider ceiling height. Bowflex recommends a minimum ceiling height of your height + 15″ to ensure enough space for safe operation.
The max trainers are well-built, sturdy machines for the most part, all though there have been complaints in the past with faulty parts that wear down too quickly on the M7.
The longer parts warranty on the M8 should take care of that in case it comes up, but more on that in a few minutes.
The M8 comes with stationary handles that include a grip heart rate monitor as well as a pair of multi-grip moving handles that you can use to work your upper body.
The moving handles are quite large, giving you a wide range of hand positions to play with. Different hand placements will target different upper body muscles, allowing you to customize your workout anyway you like. Definitely a nice perk.
The pedals are over-sized and textured to reduce any unwanted foot movement during use. Like ellipticals, the M8 and all the other max trainers provide low impact workouts.
This means, unlike running on a treadmill, you won't experience many compact forces through your hips and knees. Most folks should be able to comfortably exercise on these max trainers (unless you're already dealing with arthritis or achy joints).
Overall, the M8 has a stable and sturdy frame. The multi-grip handles and large pedals make for a comfortable workout.
Features
The Bowflex Max Trainer M8 comes with the following features:
7 workout programs- the M8 only comes with 7 pre-programmed workouts to choose from. These include: 7 minute interval, 14 minute interval, 21 minute interval, calorie, fat burn, stairs, and manual. I think having a 7 min workout option is genius- perfect for people in a rush.
Bowflex JRNY app- I'm guessing Bowflex only included 7 workouts on the console because they really want to encourage people to use their app. The JRNY app is Bowflex's fitness app. It comes with a few workouts you can access for free, but most of the features require a paid subscription ($19.99/month). You get 2 free months with the app when you purchase the M8. The coolest part of the app is the AI guided coaching- your personal trainer can make custom workouts for you based on your prior workouts and performance. The M8 will automatically adjust your resistance levels and workouts to ensure you continue making progress toward your fitness goals.
LCD display with burn rate- the large display makes seeing all your stats a piece of cake. The burn rate meter is pretty cool, it gives you a real time indicator of how many calories you're burning per mixture. It's color coded and pretty impressive looking. It's also a great motivator during your workouts.
Bluetooth heart rate monitor compatible- the M8 is compatible with bluetooth heart rate monitors, but I don't think one comes with it.
USB charging port- you can charge your smart phone or tablet with the convenient USB charging port. Always nice knowing you won't drain your battery during your workout.
Large, magnetic media rack- the media rack is larger and more impressive than most. It's also conveniently located above the burn rate monitor, so you won't have to block that screen with your tablet.
4 user profiles- you can save up to 4 user profiles on the M8, making it faster and easier to save your data.
Water bottle holder- there's a water bottle holder in the middle of the console for easy reaching. Good thing too, because you're gonna need some hydration during these intense workouts.
The only thing really missing is a cooling fan. You might also notice that there aren't any built-in speakers, but does anyway actually use those anyway?
Assembly
I think assembly should be pretty straightforward for most people. The instructions are clearly written with large, easy to understand images throughout.
I like that Bowflex provides a chart with all the hardware, including to-scale images of each piece, before the first assembly step.
The main frame comes pre-assembled. You'll basically be responsible for attaching the base, the pedals, the handles, and the console.
There are only 11 steps to completion and the necessary tools are included.
Overall, assembly shouldn't be too bad. I bet most folks can have the M8 out of the packaging and running in 1-2 hours (depending on your level of handiness and whether or not you have assistance of course).
Warranty
The Bowflex Max Trainer M8 comes with the following warranty:
3 year frame
3 year parts
90 day labor
I think it's pretty clear to see that the warranty is the M8's biggest downside.  There's no getting around the fact that this is a short guarantee for a piece of equipment in this price range.
It would be nice to see a lifetime guarantee on the frame and at least a year on labor. The parts warranty is doable.
The M8 is designed for intense workouts, so maybe Bowflex expects it wear down after a few years? Not sure. This model does come with the best warranty of the group though (tied with the Max Total).
Final Thoughts
I like the max trainers. I think they provide an interesting mode of exercise and it's great that they are so compact compared to full size ellipticals and treadmills.
The M8 is one of their most advanced models (the biggest difference with the Total is that it comes with a touchscreen tablet for a console) and as such has a lot to offer.
With 20 levels of resistance to work with, anyone (regardless of fitness level) should be able to get an intense workout on this machine.
The large pedals, multi-grip handles, and burn rate meter all add to the comfort and enjoyment of using this device too.
The Bowflex JRNY app is a nice addition if you're ok with the monthly fee. Luckily you can still use the programmed workouts without having to subscribe.
My only real complaint is the lackluster warranty. If it were longer, the M8 would be a home run.
But even with the shorter warranty, I think this is a nice fitness machine. I think it would work great for people looking to add HIIT workouts to their routine. It would also work well for homes with limited floor space. Highly recommended.