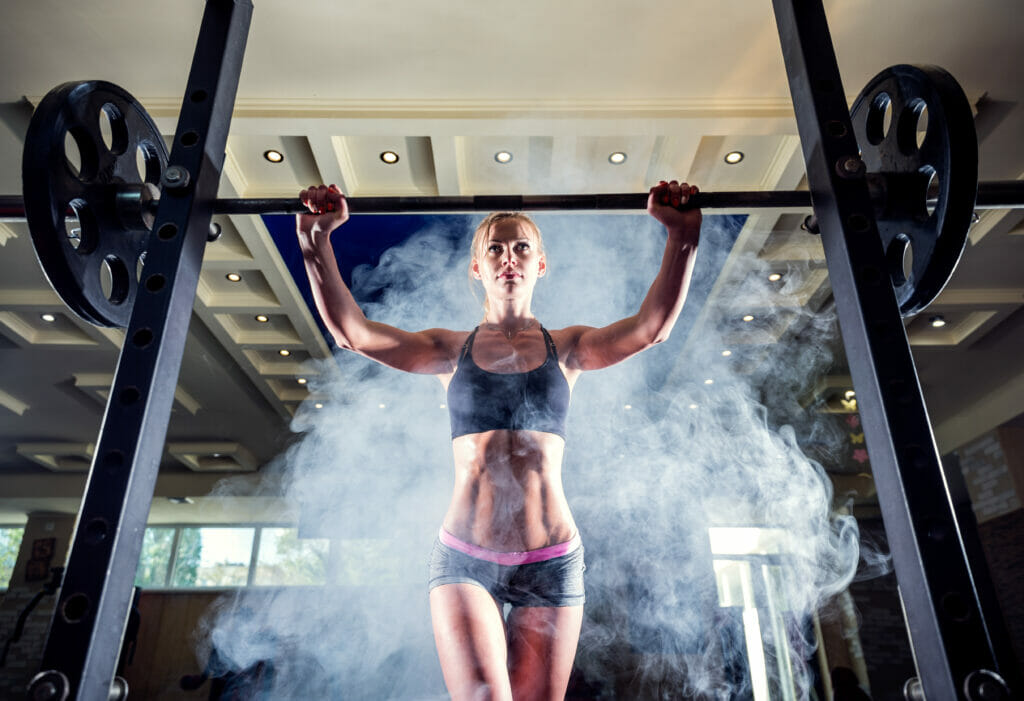 A quality power rack can instantly transform any home gym into a legit strength training space, but these gyms do tend to take up a lot of space.
A lot of power racks are also quite tall, making it tougher for folks dealing with lower ceilings to find a rack that works.
Luckily, there are some great shorter racks out there – you just have to know where to look.
But I'm here to help.
In this guide, I'll not only review the best short power racks currently available, but I'll also provide some background info regarding the stuff you should be looking for when comparing different models.
This way, even if you don't like any of the racks mentioned here, you'll still be well prepared to find a rack that fits your needs (and room).
Let's start with a quick look at the specs and features we should be looking for when searching for the right power rack, regardless of ceiling height.
For the sake of this guide, "low ceilings" will be defined as ceilings that are around 7′ high – so when choosing the racks below, I wanted to make sure they would all fit in a room with a 7′ ceiling.
How To Choose A Power Rack 101
Power racks are really pretty basic pieces of equipment – there aren't many moving parts or hi-tech features to really compare.
As their name implies, a power rack is really just a metal frame designed to hold barbells and plates.
That said, all racks are not created equal.
When deciding on a power rack, there are a few specs and considerations you should take into account. These include:
Upright Size/Gauge
The uprights are the vertical pillars at each corner of your rack and these are what bear the majority of the weight you'll be loading on your rack.
Uprights vary in size from rack to rack, but most come with one of the following dimensions: 2″ x 2″, 2″ x 3″, or 3″ x 3″.
When it comes to structural integrity, having larger uprights is beneficial because they provide more stability.
And when you're putting hundreds of pounds on a rack, it's good to know the rack is fully capable of holding that weight and more.
The best racks will often come with 3″ x 3″ uprights, but there's more to consider than just the physical dimensions of the uprights – there's also how thick they are.
All racks will come with uprights made of steel, but the thickness (gauge) will vary based on the quality.
Most racks come with 14-, 12-, or 11-gauge steel uprights and remember that with steel gauges, lower numbers indicate thicker steel.
So, for example, 11-gauge uprights would be a little thicker than 12-gauge uprights, and so on.
When going for optimal stability, 3″ x 3″, 11-gauge steel uprights is about as good as it gets for home racks.
Larger, thicker uprights should be able to hold more weight safely than racks with smaller uprights, although most brands top out at a limit of 1000 lb.
Attachments/Features
Power racks themselves are pretty basic pieces of equipment, but their capabilities can expand greatly through the addition of attachments.
Some brands offer a lot more compatible attachments than others, so this is certainly something to think about if you like the idea of adding function to your rack over time.
Rogue, Body-Solid, and Force USA, for example, are known for offering a generous selection of attachments to choose from.
There are attachments for all kinds of things, including storage, various pull up bars/handles, lat stations, leg press stations… the list goes on.
When comparing racks, I think it's a good idea to check out which attachments its compatible with before purchasing, especially if there are attachments you know you'd be interested in with time.
There are also other features you should consider too, like whether or not the rack comes with Westside (1″) hole spacing, laser cut numbers, or color options.
Some racks may also need additional stabilizer bars, weight horns, or be even bolted to the floor for added security.
The power racks on this list are all under 84″ (7′) tall, but the dimensions of racks vary greatly – which is a good thing, because regardless of your space, it's likely there's a rack that'll fit.
Warranty
This one isn't specific to power racks, but I think it's worth mentioning here anyway.
I'm of the opinion that we should strongly consider the warranty for any rack or piece of equipment we're considering.
Not only because a quality warranty provides added peace of mind, but because it also tends to tell us about the general quality of the rack or brand too.
Simply put, nicer brands usually offer better warranties.
With regards to racks, the best brands will usually offer lifetime frame/welds guarantees.
Warranties for different handles, attachments, and wear items will vary from piece to piece.
When comparing power racks, I encourage you to check out those warranties before making any final decision.
Ok, there ya have it – a quick rundown of the specs and features you should be looking at when comparing racks, regardless of size.
But without further ado, let's get to the top home racks based on the above considerations.
The 5 Best Power Racks For Rooms With Low Ceilings
#1 Body-Solid GPR400 Power Rack
Body-Solid is one of the top names in the game when it comes to home gyms, racks, and pretty much everything else weight lifting related.
They've earned a great reputation over the years for providing heavy-duty equipment that's designed to last and their GPR400 fits that mold nicely.
At only 79″ tall, this rack should easily fit in rooms with 7′ ceilings, but with a footprint of only 53″ x 52″, it doesn't take up a ton of floor space either.
The GPR400 comes with 3″ x 3″, 11-gauge steel uprights and a weight capacity of 1,000 lb, allowing it to handle pretty much anything you can throw at it.
Each upright also comes with Westside spacing in the bench zone (2″ spacing above), for optimal bar placement regardless of size.
This rack also comes with a pair of J-cups, a pair of pin & pipe safety bars, and an included straight pull up bar.
The GPR400 is compatible with several attachments as well, including a lat pulldown tower and various pull up bars and Body-Solid backs it with a lifetime guarantee.
Throw in a sales price under $1k and I think the GPR400 easily qualifies as one of the best short racks around. See full review.

#2 Body-Solid GPR378 Power Rack
Yeah, another Body-Solid rack – what can I say, they make a lot of great racks.
The GPR378 is a few steps behind the GPR400, but it still has a lot to offer, especially for folks looking for an affordable, stable rack.
This model is right at 80″ tall, so still a good 4″ under our 7′ cutoff limit and it too comes with 3″ x 3″, 11-gauge steel uprights.
The GPR378 is a little more compact than the rack above, coming with a footprint of 50″ x 46″, which could be even better with homes dealing with smaller workout areas.
You'll notice that this gym's paint job isn't quite as sleek looking, but the biggest real difference between this rack and the GPR400 has to do with the hole spacing.
The GPR378 comes with 3″ hole spacing along the entire upright, giving you less control over bar placement.
This isn't the end of the world, but folks looking for the utmost in bar positioning options may be disappointed.
The GPR378 also comes with different included attachments – instead of J-cups, this rack comes with a pair of lift offs and instead of pin & pipe safeties, it comes with higher-end safety bars.
This rack is also backed with a lifetime warranty though and priced aggressively at around $800. See full review.

#3 REP PR-4000 Build Your Own Power Rack
REP is another brand that's become highly popular by offering heavy-duty equipment that's backed by great warranties.
And unlike the 2 racks mentioned above, with their PR-4000, you get to customize pretty much everything about this rack, ensuring it's exactly what you're looking for.
The PR-4000 starts with 3″ x 3″, 11-gauge steel uprights, but everything else is up to you.
You get to choose between an 80″ and 93″ height, but only the 80″ option would qualify for this list (remember, we're talking about low ceilings here).
You also get to choose your color, your rack depth, as well as all the J-cups, stabilizer bars, safety bars, and what not you want to include with your rack.
You get to choose between a few different pull up bar options as well.
Each upright comes with Westside spacing through the bench zone and 2″ spacing above, giving folks a lot of control and where they put the bar.
The PR-4000 uses standard 5/8″hardware, but they offer 1″ hardware on their PR-5000 (kinda like Rogue with their "Monster Lite" and "Monster" series).
Anyway, this rack can easily handle loads up to 1,000 lb and is backed by a lifetime warranty on the frame and welds.
The PR-4000's price will vary depending on what sizes and attachments you opt for, but with an 80″ height, expect it to end somewhere around $900, give or take.
Overall, this is a nice rack for folks who like the idea of customizing everything from the ground up, but if you don't feel like putting that effort into it, you might want to go with one of the above options.

#4 Rogue R-3 Power Rack
Rogue's a top brand when it comes to power racks and rigs, but most of their racks are 90″ tall, so they wouldn't necessarily fit in rooms with lower ceilings.
But their R-3 comes in a "shorty" version that's 84.375″ tall – yes, I know that technically this is taller than our 7′ cutoff, but I thought it was still worth including.
I mean it's just barely over 7'… less than an inch…
Anyway, I hope you forgive me.
The R-3 is part of Rogue's most affordable Infinity R Series and it's not quite as heavy-duty as the racks we've seen so far, but this is Rogue we're talking about so it's still robust enough for a lot of home gyms.
The R-3 comes with 2″ x 3″, 11-gauge steel uprights that can hold up to 1,000 lb safely.
All uprights come with Westside spacing in the bench zone and Rogue includes a pair of J-cups and a pair of pin & pipe safety bars with purchase.
This rack also comes with 2 different pull up bars, one skinny, one fat, giving you options when it comes to your grip.
And the R-3 isn't only short, but it's very compact too – with a footprint of only 34″ x 53″, it takes up a lot less floor space than most full size racks.
Of course, you have to give up a lot of interior cage depth to do this (the R-3 only has 24″ of interior cage space, which isn't a lot).
Rogue also recommends bolting the R-3 down for optimal security.
And of course the R-3 is backed by Rogue's lifetime guarantee.
Overall, if you're looking for a compact rack that can hang with the best of 'em, Rogue's R-3 could make a lot of sense. See full review.

#5 Titan X-3 Series Flat Foot Power Rack
Rounding out our list is an affordable rack by Titan.
Titan's a more budget-friendly brand that offers some solid racks for their price ranges, although to be honest, they've had some issues with quality control in the past.
Plus their warranties kinda suck.
To be more specific, the X-3 only comes with a 1 year warranty, which is nothing compared to the lifetime guarantees seen above, but with 3″ x 3″, 11-gauge steel uprights and an asking price under $700, it could be worth the risk.
The X-3 comes in 2 heights, with the shorter version measuring in at 82″.
This rack does come with Westside spacing in the bench zone, as well as dual pull up bars and 2x J-cups.
Something worth considering though, is that Titan doesn't include the safety bars, so purchasing these separately would add a little to the overall cost.
Titan also offers several compatible attachments for the X-3, allowing for expansion over time.
Overall, if you're looking for a more affordable rack, the X-3 is a solid choice. See full review.

Final Thoughts
Well, there ya have it.
I hope the above list shows that there are plenty of legit short racks out there.
When comparing racks, it's a good idea to start by looking at the size and gauge of the uprights and then considering the compatible attachments and warranties.
Of course you have to find a rack that fits your floor space too – luckily, these racks come in a bunch of different sizes and as the R-3 demonstrates, there are really compact racks out there too.
I hope you found this guide helpful and as always, if you have any questions or comments (or know of any racks that deserve a spot on this list), leave a comment and I'll get right back to ya.
Happy lifting!