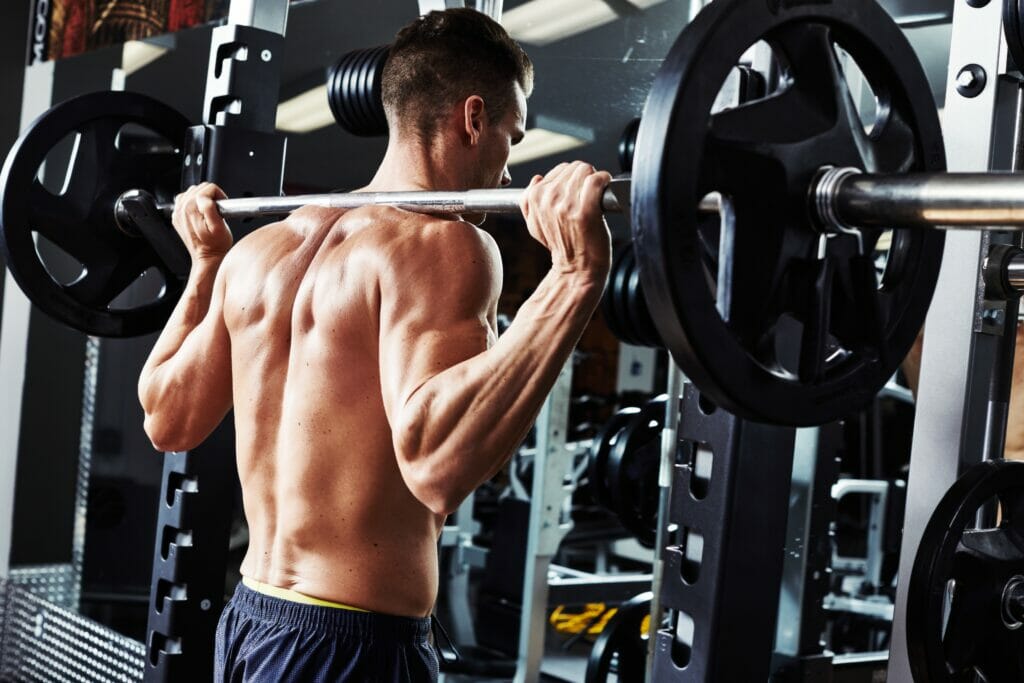 Folks looking for a heavy-duty, affordable power rack should take a close look at Body-Solid's GPR400.
With 3″ x 3″, 11-gauge steel uprights and a weight capacity of 1000 lb, the GPR400 is tough enough to easily handle the loads most of us mortals will ever be putting on it.
And with a height of only 79″, this rack is shorter than most competitors, allowing it to fit in basements and other rooms with lower than normal ceilings.
Add in the facts that Body-Solid backs it with a lifetime guarantee and that it comes with a sales price under $1k and I think one could make a pretty solid argument that the GPR400 is a very good deal.
And I'm here to make just that argument.
If you're looking for an affordable home power rack, I think the GPR400 could be a great fit, but it all depends on what you're looking for – this rack won't be for everyone.
In this review, I'll go over everything this rack does and doesn't have going for it.
I'll also offer my opinion on who I think this gym would work best for (and who it wouldn't).
After reading, you'll know whether or not the GPR400 is the right power rack for your home gym.
Let's do this.
The Body-Solid GPR400 Power Rack
Body-Solid is a powerhouse in the world of home fitness.
You might not hear their name that often or see their commercials on tv, but they casually offer some of the best fitness equipment around.
The do offer some cardio machines, but they specialize in home gyms and lifting equipment.
And they've got a boatload of products to choose from – like literally, I'm pretty sure their catalog could fill up a moderately-sized boat.
They offer a little bit of everything from single and double stack gyms to power racks, functional trainers, and more complicated rig systems.
One of their most popular gyms is the EXM2500S, which is likely one of the most well-known home gyms on the market.
When it comes to racks, they've probably got 20 or so power racks and squat racks to choose from.
The GPR400 is one of their more affordable models and comes with an MSRP of $1185 at the time of writing this (although FitnessFactory usually sells it for about $200 cheaper).
Pros
11-gauge steel
3″ x 3″ uprights
1000 lb weight limit
Westside spacing
Only 79″ tall, fits in rooms with low ceilings
Pull up bar included
Includes 2x J-cups
Includes 2x safety bars
Can be bolted down
Compatible with several attachments
Great warranty
Well-priced
Cons
Taller folks might be too tall for squatting
Uprights
Power racks are very simple devices – there isn't a lot of complicated machinery to talk about and compare between models.
A power rack is really just a series of metal posts and bars designed to hold a barbell.
But as simple as these racks are, the devil is in the details – all racks are not designed equal.
Since a rack's only real purpose is to hold weight, when comparing models, we should focus on the rack's ability to do just that.
And it's the uprights that largely affect how proficient a rack is at holding weight.
The uprights are the vertical posts at each corner that make contact with the floor and these are what really determine how secure and stable your rack is going to be.
Sure, the horizontal bars and hardware play a role too of course, but the uprights are what bear the brunt of the weight you'll be putting on the rack.
And when it comes to uprights, bigger is better in terms of strength.
When thinking about the size of the uprights, we have to look at the physical dimensions of each upright, as well as the thickness (gauge) of the steel used.
Home power racks come with uprights varying in size, but we commonly see 2″ x 2″, 2″ x 3″, and 3″ x 3″.
And it terms of thickness, most racks are either 11-gauge, 12-gauge, or 14-gauge.
And the tricky part you have to remember is that when it comes to gauges, smaller numbers are better because they indicate thicker steel.
With all of this info in mind, Body-Solid's GPR400 comes with 11-gauge, 3″ x 3″ uprights
This is the best of both worlds – they're as thick as we can expect to see and also as large as we'd expect to see.
This is a potent combination, allowing the GPR400 to safely hold up to 1,000 lb, which is more than enough to accommodate even serious lifters.
The uprights score highly on this rack, but to be fair, there are a lot of power racks with similar upright specs.
But unlike most racks this heavy-duty, the GPR400 is only 79″ tall – which is only 6′ 7″.
This means this rack will be able to fit in rooms with 7′ ceilings, something most full size racks (~92″ tall) can't do.
This is a huge perk if you're looking for a rack to fit in a basement or other room with really low ceilings, but it could also be a disadvantage for the taller users out there.
Folks well over 6′ tall might have issues with the rack being too short to place the bar where they want it for squats.
Not to mention doing pull ups.
Overall, the GPR400 scores highly with its large, heavy-duty uprights and the shorter height will be a perk for some folks, but it also means this rack will be too short for some users.
Attachments
Ok, so the GPR400 scores highly when it comes to the frame, but how versatile can it be through the use of attachments?
Well, let's find out.
The GPR400 comes with the following attachments included:
1.25″ pull up bar
2x pin and pipe safeties
2x J-cups
So this rack doesn't come with a ton of included attachments, certainly nothing too fancy going on here.
But it does come with everything you need to start lifting from day 1, minus the barbell and weights of course.
Let's take a look at what other attachments this rack is compatible with:
Weight horns
Multi-grip pull up bar
Landmine station
Band pegs
Lat pulldown attachment (with/without weight stack)
Dip handles
U-link attachment (lets you attach ropes)
The GPR400 is compatible with a fair amount of attachments, allowing you to customize and grow your gym with time.
When compared to other racks, the GPR400 is pretty average in terms of available attachments. Some, like the Force USA racks, offer a lot more versatility.
Overall though, I think this rack offers the most essential attachments.
Warranty
Body-Solid offers the following residential warranty on their GPR400 power rack:
Yup, short and sweet, right to the point – no room for BS here.
You can't beat a lifetime frame and welds guarantee on a power rack because a power rack is all frame and welds.
This means everything on this rack is guaranteed, minus the safeties and attachments.
The GPR400 is also rated for a lifetime light commercial warranty too, which is pretty impressive for such an affordable rack.
Overall, there's really nothing to complain about when it comes to the warranty department – lifetime is as long as it gets.
Final Thoughts
I feel like this review went by really fast, but there just isn't a lot of stuff to look at and compare when talking about power racks.
It's really all about the structural integrity of the uprights, which attachments the rack comes with/is compatible with, and the warranty.
And I think the GPR400 scores pretty highly in all 3 departments.
With 3″ x 3″, 11-gauge steel uprights, this rack is heavy-duty enough to handle lifters of all skill levels.
I didn't mention hardware size earlier, but I'm guessing this rack uses bolts somewhere around the 5/8″ size, which is fairly standard for quality racks.
Some of Rogue's Monster Series rack use 1″ hardware for even more stability, but that's Rogue being Rogue.
When it comes to attachments, this isn't the most versatile rack in the world, but it' compatible with all the basics.
And that warranty speaks for itself.
The biggest selling factor for the GPR400 though, is likely its shorter frame.
Low ceilings can make finding high-end fitness equipment more challenging, but at only 79″ tall, this rack will easily fit in homes with 7′ ceilings.
Of course this rack's low height can also be a deficit, depending on your height and needs.
Taller folks will probably find the GPR400 too low for squatting, not to mention having to do pull ups from a bent knee position.
Overall though, I think this is a great rack for shorter folks and homes with lower ceilings and I think it's a steal at under $1k.