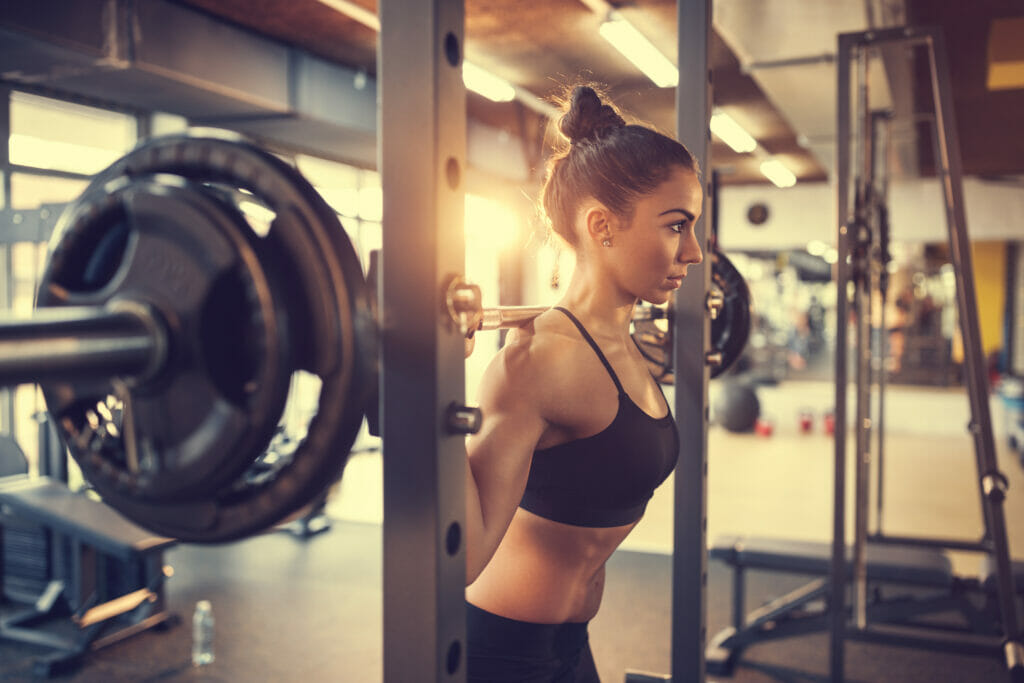 With a compact footprint and choice of height, it's not too difficult to see why Rogue's R-3 Power Rack has become so popular over the years.
It probably doesn't hurt that the R-3 comes with 2″ x 3″, 11-gauge steel uprights, 2 pull up bars, and a reasonable price either.
And of course the fact that's it's sporting the Rogue brand name (and a lifetime warranty) never hurts.
All things considered, I think the R-3 is a great compact power rack and a great option for folks dealing with lower ceiling heights.
But is it the right rack for you?
Well, that's what I'm here to help you decide.
In this review, I'll go over everything this rack has to offer, as well as where there's room for improvement.
After reading, you should know everything you need to in order to decide whether or not the R-3 is worth investing in.
Let's begin.
The Rogue R-3 Power Rack
I don't really have any data to back this up, but I think it's pretty safe to say that Rogue has become one of the most popular brands when it comes to racks, rigs, and pretty much everything else when it comes to lifting weights from home.
And it's really no mystery why – Rogue offers some of the heaviest-duty equipment around and their warranties are great.
And not that it should matter that much (but let's be real, it does), but Rogue gear looks great too.
There are plenty of decent power racks out there that cost a lot less, but I would argue that Rogue racks are still priced fairly, considering how much more robust these racks tend to be.
Anyway, when it comes to power racks, Rogue has a lot to choose from – so much that it can become a little overwhelming when trying to compare 'em.
To make things a little simpler, Rogue has 3 rack lineups to choose from: the Infinity Series, the Monster Lite series, and the Monster series.
There are several different racks in each lineup, with each varying a little in terms of shape, size, and features, but the size of the uprights and size of the hardware for each rack is the same within each series.
For example, all racks in the Infinity series use 2″ x 3″, 11-gauge steel uprights and 5/8″ hardware.
The Monster Lite series uses larger uprights and Rogue's highest-end Monster series uses bigger uprights and bigger hardware.
The R-3 we're here to discuss now is part of Rogue's Infinity series and comes with an asking price of around $825.
Pros
2″ x 3″ uprights
11-gauge steel uprights
1,000 lb weight limit
Compact footprint
Comes in 2 heights (90″ and 84″)
Westside spacing
5/8″ hardware
Includes dual pull-up bars
2x J-cups included
2x pin & pipe safety bars included
4x band pegs included
Compatible with a lot of attachments
Lifetime warranty
Cons
Only 24″ interior cage depth
Uprights
There aren't that many different components to consider when comparing traditional power racks – I mean, these things are pretty simple devices.
They're basically just frames designed to hold weight.
And it's the job of the uprights (the vertical posts in each corner) to bear the majority of the weight you load on it.
As the primary weight bearers, it's the job of the uprights to provide stability to you rack. And since bearing weight is a rack's primary job, I would argue the uprights are the most important part.
You'll notice that uprights vary in size, shape, and thickness amongst racks.
Many power racks come with square uprights, but some (like the R-3) come with rectangular ones.
The shape itself of each upright doesn't make a ton of difference, but larger is better when it comes to stability and the ability to hold more weight.
Home racks often come with upright dimensions of 2″ x 2″, 2″ x 3″, or 3″ x 3″.
3″ x 3″ is as big as you usually see, although Rogue now offers an insanely heavy-duty rack with 4″ x 3″ uprights (the Rogue RM-43).
That's crazy.
Anyway, the physical size of the uprights is important, but so is their thickness.
As you'd expect, thicker uprights are also more stable and also mean a higher weight limit for the rack.
The gauge of the steel refers to its thickness and lower gauges refer to thicker metal (12-gauge steel is thicker than 14-gauge steel).
With all of this in mind, the R-3 comes with 2″ x 3″, 11-gauge steel uprights.
The 11-gauge steel is as thick as you can expect to find in a home rack, so that's awesome.
At 2″ x 3″, the uprights fall in the mid-range in terms of size – they're bigger than some, but smaller than some too.
In this price range, there are plenty of racks offering 3″ x 3″, 11-gauge steel uprights (like Body-Solid's GPR400).
But the R-3 is still rated to safely hold 1,000 lb, so there shouldn't be any issues with this rack being strong enough to get the job done.
What's worth considering though, is that the R-3 only comes with 24″ of interior cage depth, which is small for a power rack.
But this is the point of the R-3.
Keep in mind this rack is designed to be small on purpose, allowing it to fit in smaller workout spaces.
More specifically, the R-3 only takes up a footprint of 53″ x 34″ (L x W).
It also comes in 2 heights, 90.375″ (standard) or 84.375″ (shorty), allowing it to fit in rooms with lower ceilings too.
This rack also comes with large, 5/8″ hardware (many use 3/8″ hardware) for added stability and convenient 1″ (Westside) spacing throughout the bench zone for extra control over bar placement (2″ hole spacing above and below bench zone).
Overall, the R-3 scores when it comes to the uprights.
At 2″ x 3″, they're a little smaller than some, but with 11-gauge steel and a 1,000 lb weight capacity, the R-3 should be tough enough to handle lifters of all skill levels.
Oh, almost forgot – the R-3 can be bolted to the floor for added stability.
Attachments
Some racks are compatible with a lot of attachments (like Force USA's MyRack), others not so much.
If you don't care much about adding attachments to your rack, this isn't a big deal. But if you like the idea of a rack that can grow and expand over time, the types of attachments it's compatible with is more important.
The R-3 comes with the following attachments included:
Dual pull-up bars (1.25″ and 2″ diameters)
2x J-cups
2x pin & pipe safety bars
4x band pegs
Ok, some good stuff going on here.
I like that the R-3 comes with 2 pull-up bars, giving folks the option to use the skinny or fat bar depending on mood (most racks come with a single, straight pull-up bar).
Most racks include a pair of J-cups and safety bars, although some include lift-off bars instead of J-cups (most prefer J-cups).
The band pegs are another nice perk that a lot of racks don't come with as well.
The R-3 is also compatible with all Infinity series attachments, which include:
Dip handles (Matador)
Vertical barbell holder
Multi-grip Crossmember pull-up bar
Plate horns
Safety spotter arms
Rope attachment anchor
Multiple curl-up/pull up bars
Landmine stations
Speed bag platform
So, the R-3 is compatible with several different attachments here, especially when it comes to different pull-up bars and pull-up handles.
There are also several different weight plate/barbell storage options.
The Matador dip handles and landmine stations are also a simple way to add a lot of extra exercise variety to your rack.
Overall, I think the R-3 scores pretty highly in terms of attachment compatibility (when checking Rogue's attachments out, keep in mind the R-3 is only compatible with Infinity series attachments).
Warranty
Rogue backs the R-3 Power Rack with the following home warranty:
Yeah, not much to complain about here – a lifetime warranty's as good as it gets.
Especially considering a power rack is like all frame and welds to begin with.
For the sake of comparison, a lot of the top rack brands also offer lifetime warranties (Body-Solid, Force USA, REP Fitness), but not everyone does.
I think a lifetime warranty says a lot in itself.
Final Thoughts
Alrighty, that about does it for Rogue's R-3.
I always feel like my power rack reviews are too short and that I missed something, but in reality I think it's just that racks are pretty simple devices to begin with.
It's really all about the size of the uprights, the compatible attachments, and the warranties.
And I think the R-3 scores pretty highly in all 3 categories.
With 2″ x 3″, 11-gauge steel uprights, this rack is capable of safely holding 1,000 lb, allowing this rack to accommodate even the most gifted weight lifters.
I also like that it comes with Westside hold spacing because there are a lot of racks (especially more affordable ones) that don't.
The R-3 is also compatible with a generous selection of compatible attachments and backed by a great warranty.
All that said, I think this rack makes the most sense for folks with smaller workout areas or lower ceilings because it's the R-3's compact size that sets it apart.
The R-3 is designed to fit in spaces other racks can't.
If you aren't dealing with limited floorspace, you might want to consider a slightly larger rack because 24″ of interior depth isn't a lot.
And if you do opt for the R-3, you'll likely want to either bolt it down or throw some plate storage on it to help stabilize it even more – especially for the folks out there who plan on throwing some serious weight on it.
Overall though, I think the R-3 is a very nice, compact power rack and easily one of the best short racks out there.