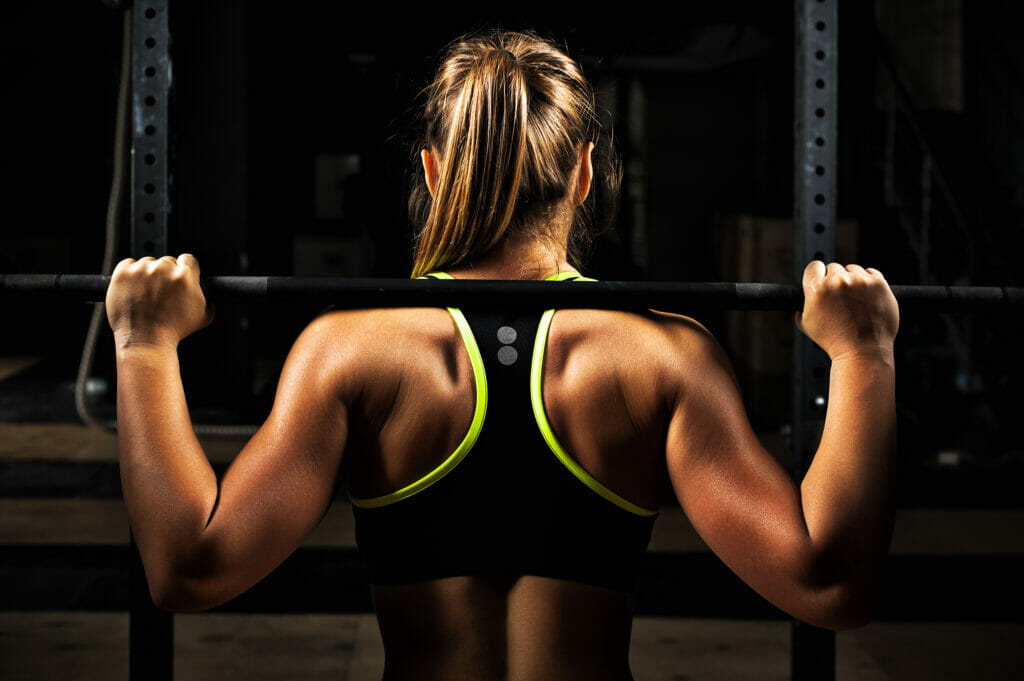 Many of Body-Solid's power racks look similar at first glance, which can make it a little difficult to tell them apart. Only in closely examining their specs and dimensions do we see where they differ.
Case in point, their GPR378.
The GPR378 is one of Body-Solid's mid-range racks and at first glance, it looks a whole lot like their popular GPR400 – actually, even after close examination it still looks a lot like that model.
But there are a few key downgrades, justifying the lower cost of the GPR378 (but more on that in a bit).
But this rack is still packing 11-gauge, 3″ x 3″ steel uprights and is backed by a lifetime residential/commercial warranty, feats that impressive for any power rack costing under $1k.
Long-story-short, I think the GPR378 is a pretty impressive rack, especially for homes with low ceilings, but I don't really think it makes that much sense to invest in it.
If you're interested in the longer story, keep reading.
In this review, I'll go over everything the GPR378 does and doesn't have going for it. I'll also discuss why I think there are better racks in this price range.
Let's get to it already.
The Body-Solid GPR378 Power Rack
Body-Solid's a respected fitness brand with a great reputation for providing well-built equipment that's reasonably priced.
They also have one of the largest lineups of racks, home gyms, and weight systems around – they kinda do it all when it comes to weight lifting.
When it comes to power racks and squat racks, they have several models to choose from and as I mentioned in the intro, sometimes you have to really pay attention to the find details to tell 'em apart.
The GPR378 falls somewhere in the middle of their lineup with regards to specs and features.
It's heavier-duty than all of their Powerline racks, but not quite as impressive as Body-Solid's higher-end GPR400 and SPR1000.
At the time of writing this, Body-Solid has the GPR378 listed with a MSRP of $1,057, but you can find it for a lot cheaper through sites like Fitness Factory.
Pros
3″ x 3″ uprights
11-gauge steel
Weight limit of 800 lb
Low height, can fit in rooms with low ceilings
Spacious cage interior
1.5″ pull-up bar
2x lift-offs included
2x safety bars included
Great warranty
Cons
3″ hole spacing for lift-offs and safety bars
Not compatible with a lot of attachments
Not compatible with weight storage horns
Uprights
The most important thing to look at when comparing power racks is the size and gauge of the uprights, so we should start here.
After all, power racks are simply metal racks designed for holding weight, so structural integrity should be of the utmost priority.
And just to make sure we're all talking about the same thing – the uprights are the 4 vertical posts in each corner of the rack.
Power rack uprights come in various shapes and sizes, but the most commonly used variety are square in shape and come with one of the following dimensions: 2″ x 2″, 2″ x 3″, or 3″ x 3″.
As you might expect, having uprights of larger physical dimensions makes for a more structurally sound rack, which is often reflected in the rack's weight limit.
Bigger uprights usually means higher weight limit.
But it also usually means an overall heavier rack – which is a good thing when it comes to rack stability during workouts.
Lighter-weight racks tend to move or wiggle a little more when racking or lifting off a barbell – doesn't mean they're going to necessarily fall over or fail, but less movement is always a good thing.
The GPR378 comes with 3″ x 3″ uprights, which are as large as we can expect to see from a home rack, so that's awesome.
But there's also the gauge (or thickness) of the uprights to consider.
All home racks are built out of steel, but the gauge of the steel used varies from rack to rack.
More affordable racks tend to use 12- or 14-gauge steel because it's thinner, which means less material, which is less expensive to produce.
Hence the cheaper price.
Nicer racks often use 11-gauge steel because it's a bit thicker, which makes for a heavier-duty, more stable rack.
The GPR378 uses 11-gauge steel in its uprights, so no concerns there either.
With 3″ x 3″, 11-gauge steel uprights, the GPR378 is rated to safely rack up to 800 lb, which is pretty solid for a rack in this price range and more than enough weight to satisfy even the most gifted lifters out there.
Assembled, this rack comes with the following dimensions: 50″ x 46″ x 80″ (L x W x H).
A couple of things here.
First, with a height of only 80″, the GPR378 is quite short, which is a good thing if you're dealing with a shorter ceiling (this rack could easily fit in a room with an 8′ ceiling).
Of course, if you're not workin' with low ceilings, the low height could be annoying for taller users, especially when it comes time to do pull ups.
Second, this rack comes with a generous depth, giving folks extra space inside for doing squats (40″ x 34″ inside cage), which is great because a lot of affordable racks only offer about 24″ of interior depth.
So far, this all sounds pretty good, but the adjustment holes on the uprights are spaced 3″ apart, giving you less control over bar placement.
For the sake of comparison, many racks offer 2″ hole spacing and most of the nicer racks offer 1″ (Westside) spacing near the bottom of the rack, giving you a lot more control over bar placement for benching.
The 3″ spacing on the GPR378 might not be that big a deal when it comes to squatting, but some folks might find it hard to get the right fit for shoulder presses or bench pressing.
Overall, I like that this rack uses 11-gauge, 3″ x 3″ uprights, comes with such a spacious cage, and can handle up to 800 lb, but with 3″ hole spacing, this rack doesn't offer as much control over bar placement as other racks.
Attachments
That about does for this rack when it comes to performance specs, so let's switch gears and talk about which attachments it comes with which attachments it's compatible with.
The GPR378 Power Rack comes with the following attachments included:
1.5″ pull-up bar
Pair of lift-offs
Pair of heavy-duty safety bars
Ok, so this rack doesn't include a ton of extras, but it does come with all the basics you'll need to get started from day one.
You'll notice that this rack comes with "lift offs" instead of J-cups; they do the same thing, just a slightly different shape to 'em.
You'll also notice that the safety bars on this rack are a little meatier than the pin & pipe safety bars found on some other budget-friendly racks.
The GPR378 is compatible with the following attachments (sold separately):
Lat attachment (GLA378)
Landmine station
Dip handles (GPR378)
Cannonball pull up grips
Dog bone pull up grip
Nun chuck grips
This rack isn't compatible with a ton of speciality attachments, but it is compatible with all the traditional accessories.
The lat attachment for this rack uses a 200 lb weight stack, which is an upgrade over the PPR1000′s lat attachment that's plate loaded.
Also, note that this rack isn't compatible with any weight horns for plate storage – you might be able to jerry-rig something, but it isn't designed to be pair with any of Body-Solid's weight storage options.
Overall, the GPR378 is a pretty straightforward power rack that isn't compatible with a ton of attachments, but everything about it is heavy-duty and stable.
Folks looking for more attachment options might want to check out Force USA's MyRack Modular system.
Warranty
Body-Solid backs the GPR378 Power Rack with the following residential/commercial warranty:
Lifetime frame/welds
3 year parts
Not much to complain about here, this is a great warranty.
The fact that Body-Solid is cool backing this rack up with a commercial warranty says a lot in the first place, but you can't beat a lifetime frame guarantee, especially at this price range.
And let's be real, power racks are all frame and welds to begin with.
3 years on parts is pretty good too (by the way, the safety bars and lift-offs would be considered parts).
Overall, I think this is a fantastic warranty.
Final Thoughts
If you're reading this review and wondering why I said in the intro that I don't think the GPR378 makes much sense, you're probably not alone.
And this is understandable, considering I've spent the majority of this review talking about how heavy-duty this rack is and how it's backed by a great warranty.
This is all true.
The only problem I have is the fact that the GPR400 exists.
Body-Solid's GPR400 only costs about $100 more than the GPR378 and it also comes with 3″ x 3″, 11-gauge uprights, but it weighs a bit more, giving it the ability to hold up to 1000 lb statically.
The GPR400 also comes with 4 more inches of interior cage width, 2″ spacing for the J-cups (1″ safety bar spacing), and is backed by the same great warranty.
These are significant upgrades for minimal cost.
And if the low ceiling this is a real issue, the GPR400 is even an inch shorter than the GPR378, so it works well with low ceilings too.
Basically, I'm saying there's nothing wrong with the GPR378 – it's a straightforward, heavy-duty rack that's pretty well priced.
I just think the GPR400 makes a lot more sense since these 2 racks are so close in price.