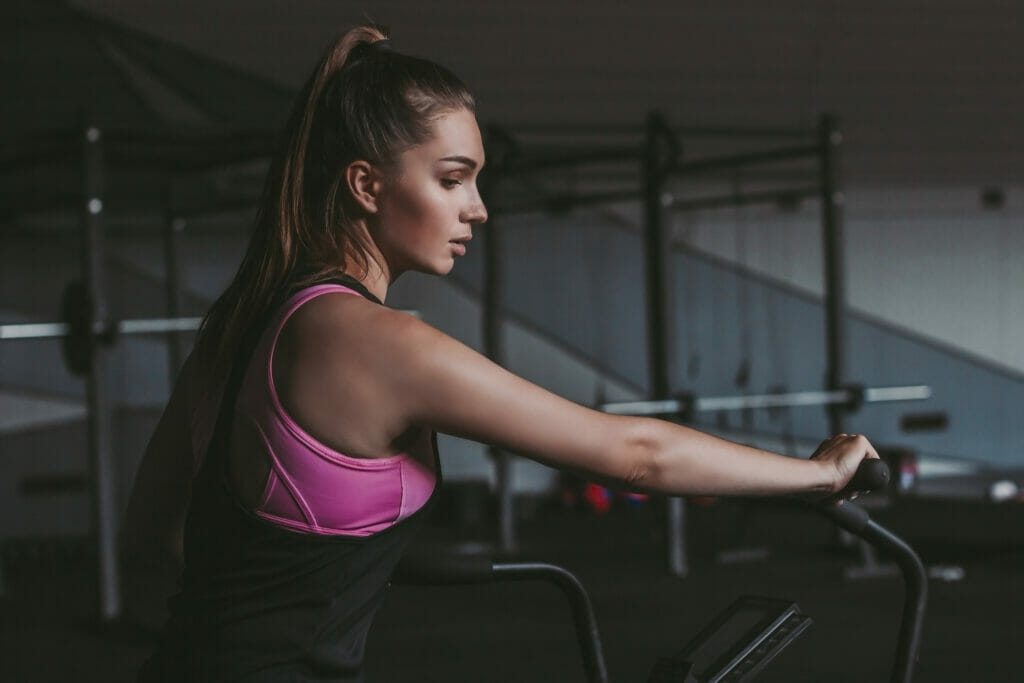 There are a ton of great exercise bikes out there, but it seems like we see the same usual suspects year in and year out at the top of everyone's "best of" lists.
I bet you know what I'm talking about too.
If you look up the best bikes of the year, you know there are some names that are just guaranteed to be there, like Peloton, NordicTrack, Bowflex, Sole, etc.
And I have to admit, I'm guilty of this myself.
It's easy to get comfortable with the brands we know and recognize and ignore some of the outliers that might not have the same brand recognition.
Not to say those brands don't deserve to be on these lists, I just think us fitness bloggers tend to get a little close minded sometimes.
Well, today I say no more.
In this article, I'm giving a shout out to some of the top rated exercise bikes that don't get the attention they deserve.
Alright, let's do this.
P.S. – I tried to include bikes of all varietals (indoor cycles, recumbents, fan bikes, etc), not just one style.
5 Top Rated Exercise Bikes You've Probably Never Heard Of
#1 The ICG Ride CX
ICG's Ride CX is the newest addition to their elite indoor cycling lineup, so it wouldn't be surprising if you haven't heard of this one yet.
But I have a feeling the Ride CX is going to become one of the most popular indoor cycles around.
ICG is a well-known German brand, but they've recently been purchased by the same company that owns Life Fitness, one of the most well-known fitness brands in the world.
This merger means that Life Fitness now gets to use ICG's products to fill out their indoor cycling lineup.
Which I think is great news for us Americans who may not be as familiar with ICG.
Anyway, the Ride CX is ICG's most affordable bike to date, costing around $1500 at the time of writing this (making it a good $500 or so cheaper than ICG's next model, the IC4).
The Ride CX utilizes a fast-spinning, lightweight rear-mounted flywheel design, much like the one made famous by Keiser's M3i.
To be more specific, this bike comes with a 7.6 lb flywheel and a 1:10 gear ratio.
This basically means the flywheel spins 10x for every complete rotation of the pedals.
The result is a very fast-spinning flywheel which provide a smooth pedaling motion and since the flywheel is light, it doesn't put quite as much pressure through your knees.
The Ride CX comes with 100 levels of magnetic resistance, a commercial-grade belt drive, and ICG's popular WattRate LCD console that use a coach by color system that makes it easy to determine which training zone you're in.
Which is actually a big deal, because the more expensive IC4 doesn't come with a console.
Other highlights include a fully adjustable seat, fully adjustable handlebars (including drop handles), and access to all kinds of features through ICG's free fitness app.
The warranty could be longer, but it's pretty average as home cycles go.
Overall, if you're looking for a more affordable approach to fast-spinning indoor cycles, I think ICG's Ride CX is about as good as it gets. See full review.

#2 The Concept2 BikeErg
This bike's been around for awhile, but I feel like you don't hear much about it.
I was actually called out a while ago by a reader asking why this bike wasn't included on my best air bike guide and to be honest, I didn't have a good answer.
I simply forgot that it exists.
Anyway, I'm trying to make up for my oversight and give this bike the proper respect it deserves.
If the Concept2 brand name sounds familiar, it's because it's the same Concept2 that provides those world class air rowers.
Well, their air based resistance works so great on their rowers, they decided to take that same design and place it on an exercise bike.
The end result is the BikeErg.
The BikeErg is interesting because it's designed like an indoor cycle, but instead of using a weighted flywheel and magnetic resistance system, it uses a fan based resistance.
This means the harder you pedal, the more resistance you feel.
It also means you don't have to mess with adjusting resistance levels, although the BikeErg does come with adjustable damper settings that kind of act like changing gears on a road bike.
The air based resistance system on the BikeErg is its most unique feature, but there are a few other highlights worth mentioning too.
Like the easy to move lightweight frame, the belt drive, and the fully adjustable handlebars that include the rarely seen drop handle position.
The BikeErg also comes with Concept2's popular PM5 monitor that became loved by rowers around the world.
The PM5 comes with several workouts, all kinds of metric tracking, bluetooth/ANT+ compatibility, and loads more.
The warranty on this bike could be longer, but like the Ride CX's, it's pretty average.
Overall, if you're looking for an elite air bike that can mimic the feel of riding outdoors, Concept's BikeErg is a fabulous choice (and it's priced fairly too). See full review.

#3 The Star Trac 4 Series Recumbent Bike
Star Trac is another brand we don't see a lot of marketing for (or at least I don't).
They're a very well-established commercial brand and you can find their machines in club gyms around the world, but they also a pretty extensive home lineup to choose from.
And unlike some commercial brand home lineups, Star Trac offers some cardio machines that won't completely break the budget.
Like their 4 Series Recumbent Bike.
Recumbent bikes are great because they offer a more comfortable way to exercise and the 4 Series easily checks that box.
This bike comes with a heavy-duty, walk-through frame, making it easy to access from either side (and by heavy-duty, I mean this bike has a weight limit of 450 lb, which is crazy for any bike).
The seat is easily adjustable and comes with built-in lumbar support and a mesh back for added comfort.
When it comes to performance, the 4 Series comes with 40 levels of magnetic resistance, giving you a ton of control over the intensity of each workout.
Additional features include a USB charging port, telemetry heart rate monitoring, built-in cooling fan, and the option to choose between 3 consoles – 10″ LCD, 10″ touchscreen, and 15″touchscreen.
And if you go with the 10″ LCD option, the console and bike are completely self-powered, so no need to worry about plugging it in.
The 4 Series also comes with a rather generous warranty for added peace of mind.
Overall, if you're looking for an affordable commercial-grade recumbent bike, Star Traces 4 Series is a great option.

#4 The MYX II Indoor Cycle
If you're looking for a more affordable take on streaming, the MYX II is certainly worth checking out.
Like the Peloton, the MYX consists of a high-end indoor cycle topped with a 21.5″ HD touchscreen console designed for streaming instructor-led workouts.
But there are a few key differences with this cycle.
The bike itself is actually a Star Trac cycle, which is a good start.
This cycle comes with a 41 lb flywheel, which is massive by anyone's standards and the frame is heavier-duty than most competitors (assembled weight of 150 lb).
It also comes with a fully adjustable seat, fully adjustable handlebars, and dual-compatible pedals that work with both sneakers and SPD compatible cleats.
The MYX is bluetooth compatible and comes with an included Polar chest strap heart rate monitor, which is key because all of the MYX workouts are heart rate guided.
Instead of focusing on metrics like resistance, cadence, and watt output, the MYX focusing on heart rate and heart rate zones to guide you through your workouts.
Honestly, this is probably the most effective way to gauge you workout intensity, but it's certainly different.
Not that being different is a bad thing, especially if you're looking for real results.
Another big difference is that this bike uses a friction brake resistance system, as opposed to a magnetic system.
Personally, I prefer magnetic systems because I find them a little smoother and they don't require maintenance, but friction brakes can work great too.
Especially when you've got Star Trac on your side.
The streaming subscription for MYX is a little cheaper than some of the other competitors too, which is nice (~$29/mont).
Overall, if you're looking for a streaming bike that's a little easier on the budget, the MYX II might be a good fit.

#5 The Titan Fan Bike
Rounding out our list is a more traditional fan bike.
When it comes to fan bikes, there are 3 top names that tend to get most of the attention – Assault Fitness, Rogue, and Schwinn.
These brands always find themselves at the top of everyone's favs lists and to be fair, it's for good reason – these brands and their air bikes are all great (and no, I'm not putting them in any particular order right now).
But there are other awesome air bikes out there that deserve some recognition.
Like the Titan Fan Bike.
Titan is a budget-friendlier fitness brand that specializes in racks and strength training gear and if I'm being completely honest, they don't have the best reputation.
Folks tend to love 'em or hate 'em.
The people that hate 'em usually complain that their gear isn't as heavy-duty as competitors or that their quality control isn't what it should be.
All of this is likely true, but I did mention that they're a more budget-friendly alternative right?
And there are legit reasons why some brands cost less than others.
Anyway, I'm getting beside the point.
Regardless of what people think about Titan's racks, most agree that their Fan Bike is legit. And at a couple hundred bucks cheaper than the top competitors mentioned above, it could make good sense to check it out.
The Titan Bike is a traditional fan bike, meaning that the harder you push, the more resistance you get.
This bike comes with the same 27″ fan the other top competitors come with and it also comes with a fairly heavy-duty frame (assembled weight 111 lb) that can hold users weighing up to 330 lb.
It comes with a fully adjustable seat, an LCD console for tracking metrics, and standard pedals for use with sneakers.
Unlike any other air bike I've seen though, the Titan Bike also comes with large turf tires designed for making it a lot easier to transport this bike outside.
Titan was smart enough to include a handle built-into the frame too, for added convenience.
It's also worth mentioning that this bike comes standard with a fan guard, water bottle holder, and phone holder (stuff some other brands make you pay extra for).
The biggest downside I see here is that Titan only warrants this bike with a 1 year warranty, but these bikes are pretty basic machines so there isn't a lot that can go wrong anyway.
Overall, if you're looking for an affordable air bike that can hang with the big dogs, Titan's Fan Bike is a great option. See full review.

Final Thoughts
Ok, that about does it.
If nothing else, I hope this guide proves that there are plenty of great bikes out there that may not be getting the attention they deserve.
I know we tend to get used to considering the same ol' brands every time we need a new piece of fitness equipment, but it's a good idea to look around and consider new possibilities.
You never know, you might find something you like even better.
I hope you found this guide helpful.
As always, if you have any questions or comments, or know of any awesome lesser known bikes that should've made this list, please leave a comment below and I'll get right back to ya.
My readers are often introducing me to new and impressive fitness products, as well as giving me great ideas for future content, which is greatly appreciated!