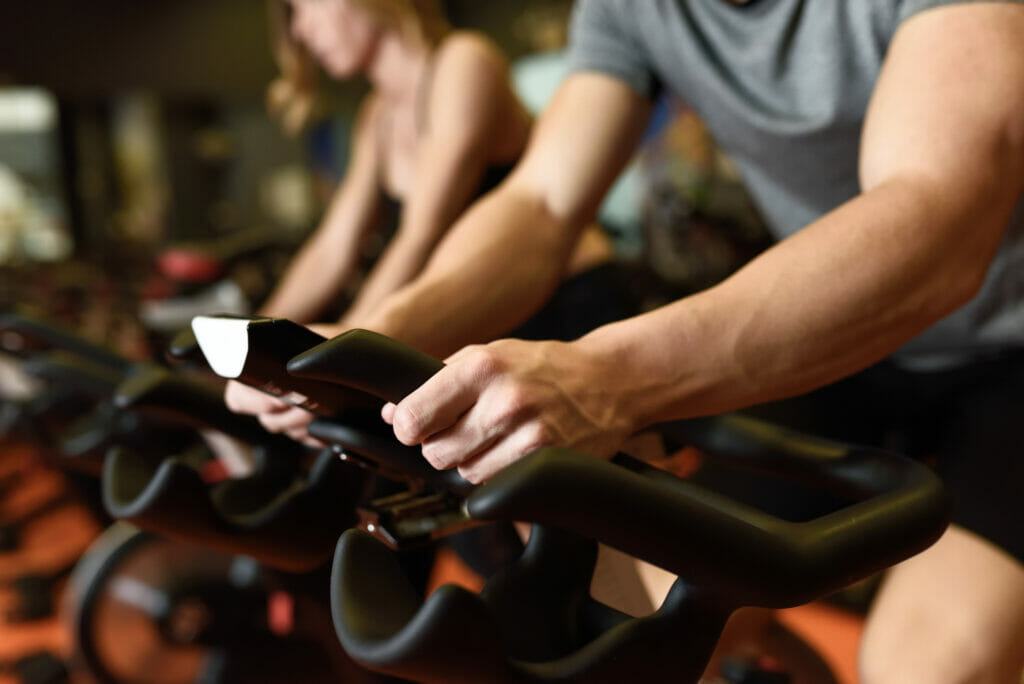 The sleek looking Ride CX is one of Life Fitness' newest ICG designed cycles and I have a feeling it's going to become one of their more popular models.
Not only is the Ride CX more affordable than most of the other ICG cycles, but it also comes with a great combination of specs and features.
Highlights of this elite cycle include a light weight flywheel with a very high gear-ratio, 100 levels of magnetic resistance, and a sophisticated ICG compatible console.
The Ride CX also comes with a heavy-duty frame, dual compatible pedals, and drop handles (something you don't see on many indoor cycles these days).
Overall, I think the Ride CX has what it takes to become one of the best indoor cycles around, but is it really the right bike for your home gym?
Well, that's what we're here to help you decide.
In this review, I'll go over everything the indoor cycle has to offer – I'll also try to compare it to some of the other top cycles around to see how it compares.
After reading, you'll know everything you need to in order to decide for yourself whether or not the Ride CX is worth investing in.
Let's roll.
The ICG Ride CX Indoor Cycle
ICG, short for "Indoor Cycling Group" is a German brand that's been specializing in creating advanced indoor cycles for a few decades now.
They became one of the premier cycling brands in Europe and their popularity continues to spread across the planet.
ICG was purchased by Life Fitness a few years ago (or by whatever parent company owns Life Fitness that is) and they now constitute Life Fitness' entire indoor cycle lineup.
Which I'm sure instantly upped Life Fitness' popularity.
Anyway, there are several ICG cycles to choose from and they all vary a little in terms of features and specs.
The Ride CX is one of their newer cycles and will cost ya around $1500, making it one of the most affordable ICG bikes to date.
Pros
1:10 gear ratio
Fast spinning, light flywheel
100 levels of magnetic resistance
Belt drive
Heavy-duty frame
Fully adjustable seat
Fully adjustable handlebars
Drop handles
WattRate console
Access to free app
ANT+/bluetooth compatible
Dual-compatible pedals
Easy assembly
Dual water bottle holders
Gorgeous design
Well priced
Cons
Resistance
Indoor cycles (aka spin bikes) have become popular for their ability to replicate outdoor riding and provide great workouts while taking up very little floor space.
Of course in order for an indoor cycle to be able to do this, it has to have a quality resistance system.
All indoor cycles create their resistance through the use of weighted flywheels and some type of resistance mechanism (friction brake or magnetic).
There's a lot of debate regarding flywheel weight these days, as we see more and more cycles packing heavier and heavier flywheels.
The reality is, you don't need a heavy flywheel to create a smooth pedal motion – it's just the easiest way to achieve it.
It's all about momentum.
Heavy flywheels gain more momentum through their extra weight, which helps reduce any lag between pedal strokes.
Well, turns out light flywheels can gain just as much momentum (and even more)- as long as they're spinning faster.
An exercise bike's gear-ratio tells you how many times the flywheel is going to spin around for every complete rotation of the pedals.
This spec isn't given for most indoor cycles that use heavy flywheels because they rely on the extra weight, but for bikes that utilize light flywheels (on purpose), it's crucial.
With all of this background info in mind, the Ride CX comes with a very lightweight, 7.6 lb flywheel.
This is tiny compared to the 40 lb flywheels found on a lot of bikes that cost a whole lot less, but unlike those bikes, the Ride CX comes with a 1:10 gear ratio.
This means that that 7.6 lb flywheel is spinning 10x for every time you pedal 1 complete stroke.
All this flywheel speed is how the Ride CX creates the momentum necessary to provide a smooth feel.
This is the same theory behind the insanely popular Keiser M3i as well (I believe the M3i has a 1:11 gear ratio, so that flywheel spins even faster).
Some folks prefer the light flywheel design as well because it can put less stress on your joints and its easier to get moving at the beginning.
Either way, there's no denying the smooth pedal motion the Ride CX offers.
That fast spinning flywheel is paired with 100 levels of magnetic resistance, giving you a ton of control over the intensity of your workouts.
As a Peloton owner, I've fallen in love with the 100 level system because it allows you to make very small changes to intensity.
The Ride CX, much like the Peloton, uses a turn dial to adjust the resistance.
And since the Ride CX uses a Poly-V belt drivetrain, expect your workouts on this cycle to be nearly silent.
Overall, this bike scores very highly with it's fast spinning, light flywheel and 100 levels of magnetic resistance.
Frame
The first thing that stands out to me when I see this bike is just how sleek and cool looking it is.
Not that looks should matter in the slightest, but let's be real – looks kinda matter.
All other things equal, if I'm choosing between an ugly bike and a cool looking bike, you know which one I'm buying.
Anyway, looks aside, the Ride CX is packing a rear-mounted flywheel, which does look pretty cool, but it does nothing for performance.
More importantly, this cycle comes with a heavy-duty frame.
This bike comes with an assembled weight of 112 lb and a max weight limit of 330 lb, both of which are impressive for an indoor cycle.
And when thinking about that assembled weight, keep in mind this bike doesn't have a massive flywheel jacking that number up – it's all bulk.
For the sake of comparison, that same Keiser M3i mentioned above has an assembled weight of about 85 lb.
Personally, I like the idea of having a heavier, more robust frame because it makes for a more stable feel during workouts (not that I'm saying the Keiser isn't stable or anything).
Overall, yes, the frame on this bike is badass looking, but more importantly it's heavy-duty enough to provide stable workouts for folks of all sizes.
Seat & Handlebars
Honestly, I don't usually have that much to say when it comes to the seat and handlebars, but in this case I do have a few points I want to make.
The seat on the Ride CX is a standard road saddle. It's padded, but like pretty much every other standard saddle, it can feel pretty firm to folks who aren't used to riding.
More importantly, the seat is fully adjustable, meaning you can adjust both the height and fore/aft position easily.
Pretty much all indoor cycles come with fully adjustable seats these days, but it's still something worth checking.
The handlebars on this cycle are nice because they come with a PVC coating, giving them a softer, higher-end feel.
They're also multi-grip, allowing riders to choose between all the standard grips, even including drop handles which aren't that common.
With drop handles, elite riders can more closely mimic the positions used during road races.
The handlebars on the Ride CX are also fully adjustable, making it easy to find a comfortable riding position.
Overall, the seat is pretty standard, but the handlebars on this cycle come with some nice upgrades over most competitors.
Pedals
The pedals on the Ride CX are dual compatible, meaning they come with a classic toe cage on one side and SPD compatible clips on the other.
This is nice because folks who don't want to mess with riding cleats can use sneakers, while others can use cleats.
P.S. – if you've never used riding cleats, you should consider it – they certainly make your pedal motion more efficient, allowing you to reach and maintain those faster cadences a little easier.
Overall, with dual-compatible pedals, you can pretty much wear any shoe you like during workouts.
And if you have some other type of cleat, you could always swap 'em out.
Features
The ICG Ride CX comes with these additional features as well:
WattRate LCD console- the console on this bike makes it easy to track all metrics during workouts and it's especially well-known for it's accurate watt output measurements. ICG also uses a color coded system to make it easy to follow along or track your performance (based on heart rate or power zones). The console is battery powered.
ICG app- ICG's fitness app is free and gives you access to over 130 different workouts. You can also get access to scenic rides, metric tracking, and all kinds of performance driven data.
Heart rate monitoring- the Ride CX is compatible with ANT+ and bluetooth heart rate straps for accurate readings during workouts.
Device holder- the conveniently located tablet holder makes it easy to connect with the ICG app and still view your console.
Dual water bottle holders- hey, you gotta stay hydrated!
Assembly
If you do decide to purchase the Ride CX, you shouldn't worry about assembly – it's a straightforward process.
The main frame of the cycle comes pre-assembled, so you won't be messing with anything internal.
You'll be responsible for attaching the stabilizers, the seat, the handlebars, the tablet holder, and the pedals – that's about it.
You'll have to put some batteries in the console and make sure everything adjusts the way it should, but there's really not that much to it.
ICG does a nice job with their assembly manual – it's easy to follow and the images make it easy to figure out where everything goes.
Overall, I bet most folks could easily have this cycle unboxed and operational within an hour.
Warranty
The ICG Ride CX Indoor Cycle comes with the following residential warranty:
5 year frame
3 year mechanical parts
1 year other parts
1 year labor
Based on the comps, this warranty is pretty average.
Many high-end cycles (Peloton included) only offer 5 years on the frame – I'm not sure why.
Some brands, like Sole, do offer lifetime frame guarantees, but there aren't that many that do.
Three years on the parts is also pretty average compared to what the other brands offer. And the year warranty on the "other parts" would include the wear items, like the seat, handlebar coverings, and whatnot.
A year on labor is also pretty standard operating procedure.
Overall, this isn't a bad warranty, but it isn't a particularly good one either.
It's pretty average all around.
Final Thoughts
Ok, that about does it for the Ride CX.
I gotta say, I really like this cycle.
From a design standpoint, I think this bike is gorgeous, but it can also perform with the best of 'em.
That fast spinning light flywheel is well-equipped to provide a smooth pedal motion and I love that this bike comes with 100 resistance levels.
I also appreciate the heavy-duty frame, belt drive, and sophisticated console.
And did everyone notice that the app is free? And yes, it does included instructor-led workouts.
The only real complaint I have (and it's a minor one) is that the warranty could be longer.
Otherwise, I think the Ride CX is a home run. Highly recommended.
I tell ya, when it comes time to replace my Peloton, an ICG cycle may be at the top of my list.