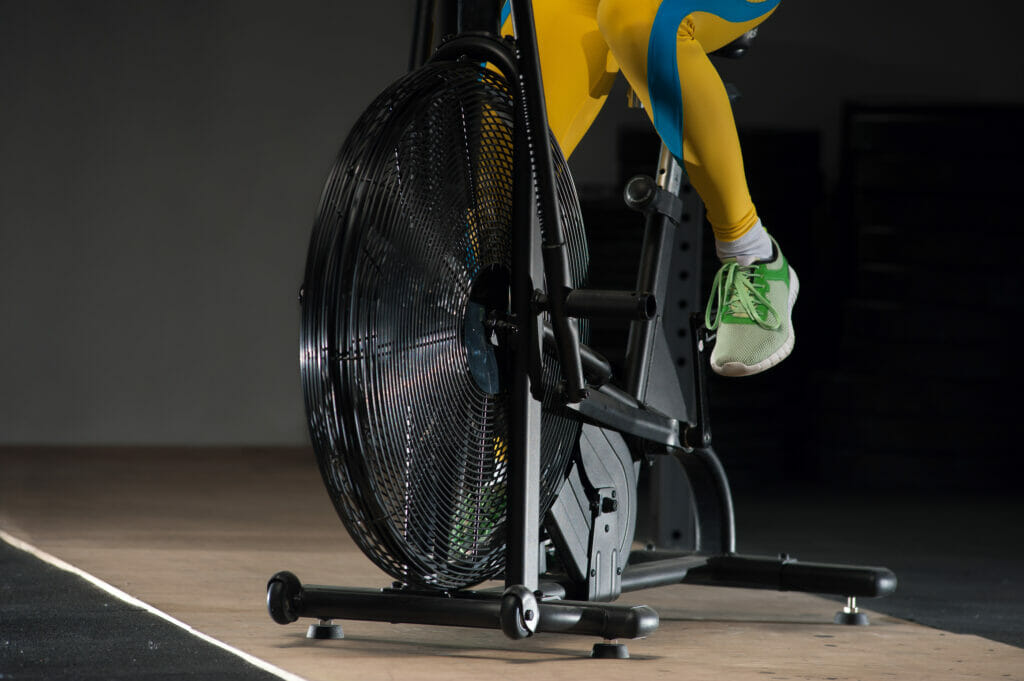 If you're in the market for a more affordable fan bike that can still hang with the elite, Titan might have just what you're looking for.
Titan's Fan Bike comes standard with a large fan, a heavy-duty frame, and all the accessories the other big brands make ya pay extra for.
And it also offers a few features the other competitors don't – like large turf tires and a built-in handle that make rolling the bike around a lot easier.
But this fan bike has it's downsides too – most notably, a very short warranty.
Overall, if you're looking to save a little cash, I think Titan's Fan Bike is a pretty safe bet, but it's a good idea to learn as much as you can before you decide.
And that's where I can help.
In this review, I'll go over all the specs and features this fan bike has to offer. I'll also compare it to some of the other popular fan bikes to see how it holds up.
After reading, you'll know whether or not Titan's Fan Bike is the best option for your home gym.
The Titan Fitness Fan Bike
If you're not familiar with Titan, you're probably not alone. I don't think this brand has the kind of recognition that some of the other popular fan bike brands have.
They're certainly not as well-known as Schwinn (who is?) or Assault Fitness.
That may be because they're more of a budget-friendly, strength training brand than anything else.
They've earned mixed reviews over the years, but I think their power racks are pretty solid for the price.
Titan also provides all the accessories you'd need for strength training – think bars, plates, benches, etc, as well as storage racks, plyo boxes, and kettlebells.
They've actually got a really big inventory to choose from.
Anyway, the aptly named Titan Fan Bike is the only real piece of cardio equipment in their lineup. I think they had a magnetic rower too at one point, but at the time of writing this they were out of stock.
This fan bike goes for around $699, which is a bit more affordable than most of the other big competitors, but more on that later.
Pros
Affordable
Large fan
Heavy-duty frame
330 lb weight capacity
LCD console for tracking metrics
Bluetooth heart rate monitor compatible
7 workout programs
Fully adjustable seat
Turf tires
Built-in handle
Fan guard
Water bottle holder
Phone holder
Cons
Very short warranty
Chain drive
Resistance
So, as you probably guessed, Titan's Fan Bike is a … fan bike.
Also known as an air bike, this means that the bike uses rotating fan blades cutting through the air to create the resistance you work against.
There are no resistance levels or weighted flywheels or anything of that stuff to worry about.
Good ol' fashioned air bikes are very simple, but they're also highly effective because there aren't any resistance levels limiting how much total resistance the bike can provide.
The resistance you feel is directly related to how hard you pedal.
Pedaling faster/hard gives you more resistance, slowing down gives you less resistance.
Now all fan bikes operate under this same principle, so there aren't a lot of factors to compare in terms of the resistance system, but there are a couple of things to consider.
Like the size of the fan and the type of drive system.
And even though all fan bikes work the same way (pedal harder get more resistance), having a larger fan means more overall resistance: bigger fan = more air = more resistance.
The top air bikes come with 27″ fans, which are the largest I've seen on any bike yet.
Cheaper models tend to come with smaller fans, like the Sunny Health & Fitness Zephyr Air Bike that's only packing an 18″ fan.
Titan doesn't disclose the size of the fan on their bike, but based on the dimensions of the bike, I'm guessing it's around 27″.
What is known, is that this fan bike uses a chain drive to connect the pedals to the fan.
Belt drives are generally preferred because they're a little quieter and don't usually require as much maintenance, but air bikes are pretty loud to begin with so I'm not sure it makes that much difference.
All of the popular AssaultBikes also use chain drives, fyi, and folks still love these bikes to death.
Rogue's Echo and Schwinn's AirDyne AD7 both use belt drives, but they're also a little more expensive.
Overall, Titan's Fan Bike scores highly with a large fan that can provide as much resistance as you can handle.
Frame
A quality air bike needs a heavy-duty, sturdy frame that's going to feel stable during the type of high-intensity workouts these bikes are known for.
Every bike on the planet claims they come with a "heavy-duty" frame, so it can be hard to tell which ones actually do.
I think the best way to do just that is to look at the assembled weight.
Seeing a higher weight is a good sign that the bike is going to feel more secure during workouts.
And in the case of exercise bikes, I think 100 lb is a good benchmark to use – most bikes over 100 lb should feel nice and secure during use.
With this in mind, the Titan Fan Bike comes with an assembled weight of 111 lb.
This is easily over our 100 lb mark, but it's also quite a bit heavier than the AssaultBike Classic's 96 lb assembled weight.
It's also very comparable to the AD7, which weighs in at 113 lb assembled (it falls short of the Echo's massive 127 lb assembled weight, but most do).
So, I feel like it's fair to call the Titan Fan Bike heavy-duty because it holds its own well against the other most popular air bikes.
It also comes with an impressive weight capacity of 330 lb, allowing folks of all sizes to safely use it.
Like all fan bikes, the frame is made out of steel and it comes with a black powder coating to help protect it from dings and scratches.
In terms of size, the Titan is very similar to the AssaultBike Classic and takes up a footprint of about 50″ x 20″, however it's quite a bit smaller than both the AD7 and the Echo.
Overall, the Titan Fan Bike is heavy enough to provide a stable base during workouts and it's at least as heavy-duty as most of the competition.
And homes with limited workout space might appreciate how compact it is.
Features
The Titan Fan Bike comes with the following included features:
LCD console- it seems like all the top air bikes decided to use the same console design (which I'm guessing came from Assault). Anyway, the console on this bike is small and fairly simple, but it can track all the key metrics you'd be interested in, including watts. After each workout, it also provides a nice summary that includes your total time/distance/calories, as well as average watt output and high/low RPM.
7 workout programs- this air bike comes with all the standard workout programs you'd expect. These include 2 different set interval programs, a custom interval program, and 4 goal-oriented programs (time, distance, calories, and heart rate).
Heart rate monitoring- the Titan Fan Bike is compatible with bluetooth strap heart rate monitors for accurate readings during workouts, however one isn't included with purchase.
Fully adjustable seat- you can adjust both the height and fore/aft position of the seat, so finding a comfortable riding position shouldn't be an issue.
Standard pedals- the pedals on this bike are designed for sneakers, so no messing around with riding cleats.
Water bottle holder- believe it or not, not all air bikes come with water bottle holders; and the ones that don't, often ask you to pay extra to get one. Crazy. The inclusion of a water bottle holder is a small perk this fan bike has over many.
Fan guard- Titan also includes a fan guard with purchase, something several other brands ask you to pay a little extra for. This guard helps keep the air out of your face during workouts.
Turf tires- these large tires make it easier to roll the Fan Bike outside or somewhere else within your house. They could certainly come in handy if you want switch things up a little.
Built-in handle- there's a built-in knurled handle in the back to make rolling this thing around a little more comfortable.
Phone holder- Titan also includes a small phone shelf that you can use to store your phone during workouts.
Assembly
The assembly process for the Titan Fan Bike is a little more involved than most, but that's because this bike comes with a few more accessories than most.
That said, it's a pretty straightforward procedure.
You're basically just bolting different components to the main frame, including the front/rear stabilizers, the turf tires, the water bottle holder, the console mast, and the console.
You also have to attach the seat, pedals, and handlebars of course.
Titan includes all the hardware and tools you need to get the job done and their assembly manual is easy to follow.
Overall, I don't think most people will have any issues with assembly this bike. I'd expect to spend an hour or so getting the job done.
Warranty
Titan Fitness backs their Fan Bike with the following residential warranty:
Yup, not much to talk about here.
A year on the frame/parts is pretty short when compared to what the other big names are offering.
Schwinn offers a 10 year frame/2 year parts guarantee on their AD7 and Assault offers a 5 year frame/2 year parts guarantee on their AssaultBike Classic.
Rogue surprisingly only offers a 2 year warranty on their Echo Bike.
Overall, Titan's warranty is the lowest of the bunch, but it's also more affordable than all the bikes just mentioned – definitely something to consider.
Final Thoughts
Ok, I think it's about time to wrap things up here.
All things considered, I'm pretty impressed with Titan's Fan Bike. I think it has a lot going for it, especially for the price.
Speaking of which, I should probably compare numbers a little.
I've referred to the Fan Bike as being budget-friendly and so forth, but it's only about $50 cheaper than the AssaultBike Classic.
It's also about $100 cheaper than the Rogue Echo and about $300 cheaper than the Airdyne AD7.
Honestly, I think all 3 of those bikes are nicer models, but it's really all about your budget.
I like that the Fan Bike has a large fan and that it's packing a surprisingly heavy-duty frame.
It does have a chain drive, which some people might not like, but that doesn't bother me.
And not that all the little accessories are going to make or break anything, but it's nice to see a brand include all these things that should be a given anyway.
The biggest downside I see is the short warranty – there's no getting around it, it's really short.
But as simple as these bikes are, there isn't a lot that can go wrong anyway.
Overall, if you're looking to save a little cash, I think the Titan Fan Bike is a pretty safe bet.