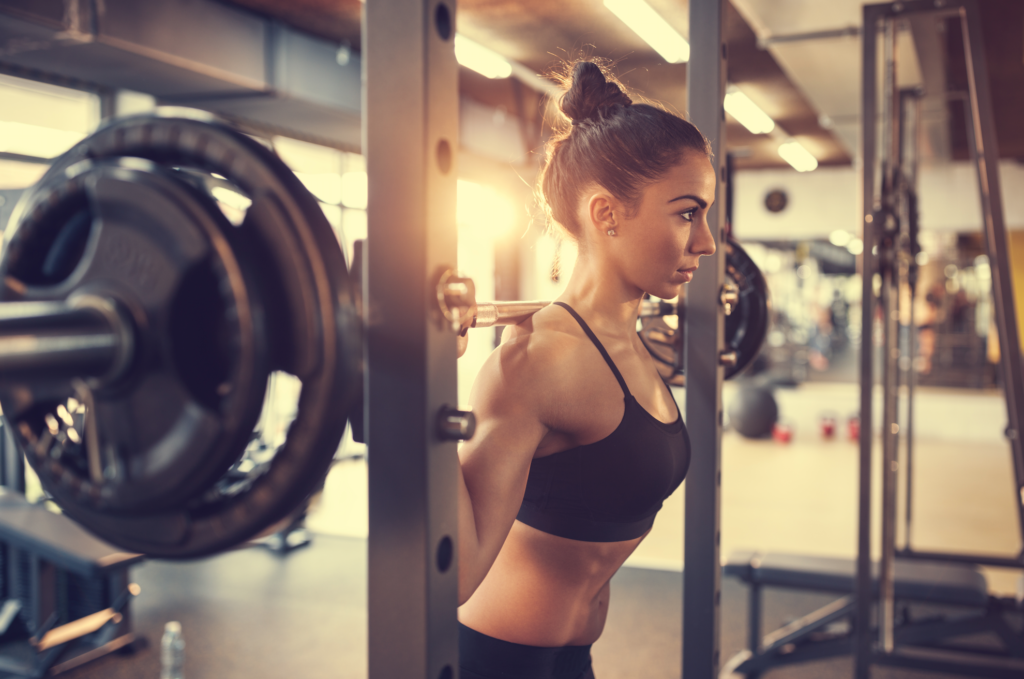 If you're in the market for an affordable, space-saving squat rack, Titan Fitness might have what you're looking for.
Their X-3 Fold Back Wall Mounted Rack is a compact rig that can fold against the wall for storage, opening up precious garage space for things like a car or lawn mower.
And with a sales price of well under $400, the T-3 definitely falls in the "budget friendly" category. Which can be a good thing and a bad thing.
Good, because it's awesome to save money.
Bad, because we usually get what we pay for.
And when we're talking about racks that could be holding hundreds of pounds over our bodies, the peace of mind that comes with paying more for a more structurally sound piece of equipment might be worth it.
So, that brings us to the real question: is the T-3 Folding Rack a good deal (or piece of junk)?
If you're interested in the answer, you'll have to keep reading. This review will take ya through everything you should know about this squat rack before you a make a purchasing decision.
The Titan X-3 Fold Back Wall Mounted Rack
I wasn't that familiar with Titan Fitness as a brand prior to researching this rack of theirs. I had come across their name when working on my best pull up bars list (spoiler alert, they made it on the list), but that was about it.
Titan specializes in affordable lifting gear- primarily stuff like weight benches, cages, barbells, and all the weight plates and accessories you need to use that equipment.
Titan has earned a pretty solid reputation as a fitness brand, especially for folks looking to create a garage gym without having to take out a second mortgage.
I can't say they're known for making the highest-end equipment (they aren't Rogue Fitness), but their products are usually pretty impressive for the price.
They offer a few folding squat racks in their T-3 and X-3 lineups.
The differences between the different models are subtle, but they pertain to the dimensions of the supporting beams and the depth of the racks themselves.
The X-3 is the highest-end of their folding racks (and they also offer non-folding versions of the X-3 Series Power Rack).
Pros
11 guage, 3″x3″ steel columns
Folding frame
Laser cut holes
Westside spacing
4 J-hooks included
1000 lb+ weight capacity
Pull up bar included
Great price
Cons
Assembly can be difficult
Short warranty
Frame
Squat racks are basically nothing but frame, so it's probably a good place to start. When comparing racks, folding or non-folding, the first thing you should look at is the gauge and size of the steel columns.
It should be a given that they are made out of steel- if you find a squat rack made out of some other material, you should probably turn and run away in the opposite direction as fast as you can.
When talking steel, gauge refers to how thick the pieces are. And thicker is better, because it makes for a more structurally sound piece (less likely to bend under stress).
The numbers are a little misleading, because the lower the gauge number, the thicker the steel actually is.
Most high-quality squat racks are made out of 11-gauge steel, but some more affordable models will use 12-gauge instead. I think I've even seen some using 14-gauge steel, which isn't a good idea for anyone lifting any substantial amount of weight.
So, 11-gauge is the best in terms of thickness, but we also want to look at the dimensions of the columns used- these are usually measured in inches.
The dimensions of the upright columns can vary based on brand and model, but we usually see measurements like: 2″x2″, 2″x3″, or even 3″ x 3″ (which is the biggest you'll find).
Again, bigger is better because it makes for a stronger frame.
Titan's X-3 uses 11-gauge, 3″x3″ steel columns- the best of both worlds. This is surprising (in a good way), considering the low price.
Most budget racks save money by either using thinner steel (higher gauge) or smaller columns. It's awesome to see the highest-end steel columns on a budget rack.
With these larger columns, the X-3 Fold Back has a weight capacity of 1000+ lb, making it usable for both beginner and elite weight lifters.
The columns have laser cut holes to make adjusting the J-hooks easy. Titan even included Westside spacing (holes closer together toward the bottom) for more precise adjustments.
The entire frame is powder coated, making it more resistance to scratches and corrosion over time.
We talked a lot about the steel the frame is made out of, but it's a good idea to take a peek at the hardware too. The X-3 uses 5/8″ bolts, which is standard and heavy-duty enough to hold up under regular use.
Rogue's Monster Series racks take it to a whole new level with their 1″ hardware, but that isn't necessary for most non-professional lifters.
The X-3 has a very strong frame, but it also has the ability to fold against the wall when not in use (hence the name). Like most folding racks, the X-3 uses a 4 pin and hinge system.
Simply lift all 4 pins, and each column can swing inward or outward to rest along the wall. You do have to remove the pull up bar before you fold, fyi.
The PRx Profile is the only folding squat rack I've seen that doesn't use this system. Instead, it folds vertically (which is faster and more convenient).
I couldn't find the exact distance the rack comes out from the wall when folded, but based on similar models it has to be around 5″.
Unfolded, the X-3 has the following dimensions: 91″ x 21.5″ x 51″ (H x D x W).
Note the 21.5″ depth- this is how much room you have from the wall when using the rack. This should be enough room for most moves, but you may have to be careful with some kipping moves on the pull up bar.
Overall, the Titan X-3 Fold Back rack has a very solid frame. I like that it comes with 11-gauge, 3″x3″ beams and the folding mechanism works effectively.
Features
The Titan X-3 Fold Back Wall Mounted Rack comes with the following features:
Standard pull up bar- the quick attach pull up bar comes and goes rapidly using the 2 included pull pins. Nothing too fancy going on here, but it'll work effectively for any pull up moves (kipping or non-kipping) you want to add to your workouts.
4 J-hooks- these are the hooks you attach to each column that hold the barbell in place. Most racks come with 2 J-hooks, it's nice that Titan throws in an extra pair- it might save you from having to make extra adjustments during your workouts.
Westside spacing- I mentioned the Westside spacing briefly above. Having the holes a little closer together (50 mm as opposed to 100 mm) near the bottom of the rack comes in handy for bench press, especially when lifting weights that are nearing your max. You can precisely position the bar so that your elbows are in an optimal position for push off.
That's about it when it comes to features. Squat racks are pretty simple pieces of equipment. It's all about the frame.
Assembly
The "manual" I was able to get my hands on for the X-3 was really just a parts diagram, showing you the general idea of how the rack is assembled.
There weren't any instructions provided on how to safely attach the rig to the wall or any spacing instructions, etc.
I also read a user review complaining that there weren't any instructions included with their X-3, so they ended up finding an assembly video online. Others have mentioned the instructions are a bit bare boned as well.
Putting these racks together can be a little confusing. The most challenging part is getting every thing level and measured up on the wall.
Assembling the rack is pretty straightforward- you simply bolt the swinging arms to the upright columns with the included hardware.
The trick is measuring out precisely so that the wall mounts are attached to studs. You also need to make sure they are level so the columns will swing smoothly.
The biggest downside to Titan's assembly process here is that they don't use stringers. Stringers are plates with pre-drilled holes in them that you can bolt to the wall, making everything else a lot easier.
Stringers also add another level of structural integrity to the system.
Your best bet would be to make your own stringers with a couple of 2×8's from Home Depot.
Overall, installing the X-3 can be kind of a pain in the you know where. If you're fairly handy, you should be able to figure it out. Otherwise, you should find a friend or family member for assistance.
Warranty
Titan's X-3 Fold Back rack comes with the following warranty:
Yup, that's it. Titan guarantees their rack will be free of any damage or defects for a whole year. I hope you can sense my sarcasm because that's an awful warranty.
Most high-end racks offer lifetime guarantees. Honestly, assuming everything arrives in good shape, it would be difficult to damage a rack like this, but still- it's nice to have a little peace of mind.
Overall, the X-3 comes with a very short guarantee. And if something does go wrong in the first year, you have to fill out a a warranty claim form including uploaded photos of the damage.
Final Thoughts
Folding squat racks offer a clever solution to garages with limited workout space. When not in use, you can fold them against the wall, allowing enough room for your garage to perform its other functions.
Titan's X-3 Fold Back Wall Mounted Rack is one of the most affordable rigs I've come across. Surprisingly though, it comes with 11-gauge, 3″x3″ steel columns that can compete with the more expensive brands.
I also like that it comes with an extra pair of J-hooks for convenience.
There are only 2 downsides I see with this model: assembly and the warranty.
Titan doesn't give you any favors when it comes to installing this rack- the manual is limited and they don't provide any stringers. The 1-year warranty is also very short, even for a budget rack.
That said, the odds of you damaging the X-3 are pretty low.
Overall, I think the X-3 is a pretty good buy for the price. It's far from being the nicest rig out there, but if you're on a tight budget, it's a pretty good deal.