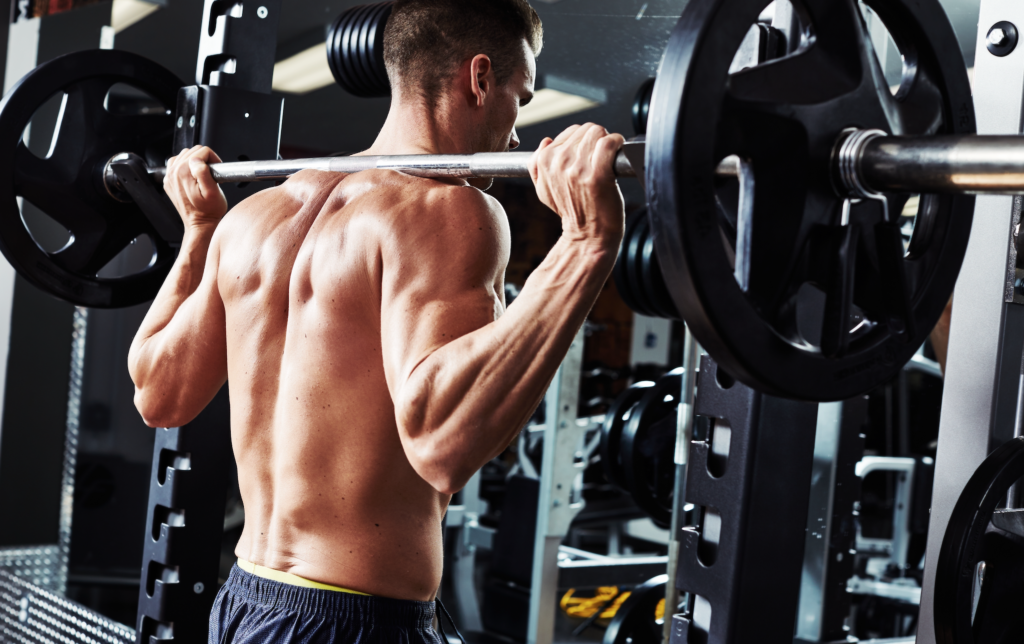 PRx's Profile Squat Rack (with kipping bar) is a wall-mounted, folding rack system designed to save a ton of space when not in use. And with a vertical folding mechanism, you can fold/unfold the entire rig in seconds.
The idea being that you can turn your garage into a fully functioning gym and still actually park your vehicle in it when not hitting the iron.
Sounds great in theory, but can a folding rack really hold up?
Long-story-short: yup, sure can.
But if you're interested in hearing the whole story (and I hope you are), keep reading.
In this review, we'll take an up close and personal look at everything the PRx Profile Squat Rack has to offer. We'll look at all the key specs and features, including price, to see how this folding rack stacks up against the competition.
After reading, you'll have a good idea as to whether or not this is the right squat rack for your home gym.
Let's start from the beginning.
The PRx Profile Squat Rack (With Kipping Bar)
If you're a fan of the tv show "Shark Tank", you may be familiar with this product. I'm a fan of the show, although I'll admit I don't watch it on a regular basis.
I missed this episode, but my wife saw it and suggested I check it out. So check it out I did.
Anyway, PRx Performance got their big start when Mr. Wonderful (Kevin O'Leary) made a deal with them and joined as a partner.
The North Dakota based company was started by a couple of CrossFit enthusiasts by the names of Erik and Brian. The goal was to create home lifting equipment that didn't take up a ton of space.
Or as PRx likes to say- "lift big in a small space".
They started with folding squat racks, but have expanded to provide all kinds of lifting attachments and gear. They even offer lifting packages, that come with plates, bars, and benches (and a rack of course).
PRx currently offers Profile and PRO racks with different combinations of pull up bars or kipping bars. The PRO racks are upgraded versions of their Profile models. Upgrades include laser cut numbers, powder coatings, and different color options.
I'll be discussing the Profile Squat Rack with the kipping bar option, but know you can also get this rack with a standard pull up bar, a multi-grip bar, or no bar.
Pros
2″ x 3″ 11-gauge, solid steel columns
4 gas shocks for easy folding/unfolding
Wall-mounted design extends less than 4″ from wall when folded
1000 lb weight capacity
Solid steel kipping bar
Pair of J-cups included
Plastic foot plates included
All mounting hardware included
Compatible with several attachments
Lifetime warranty
Cons
Price
Can be challenging to install
Frame
I want to make sure we all know what we're talking about here before we get too deep into this review. A squat rack is a piece of weight lifting equipment used to hold a barbell.
As the name implies, it's a rack often used to perform squats. But you can do a lot of other exercises with it too- add a bench and you got bench presses, shoulder presses, bent over rows, etc.
You know, pretty much any exercise you'd do with a barbell.
They also make a great anchor for resistance bands or a TRX. With a nice squat rack, you can rapidly turn any space into a full functioning gym.
I like to differentiate between squat racks and the larger power racks (or cages) that consist of 4 vertical columns and include horizontal safety bars- essentially creating a cage for you to exercise in.
Squat racks are sometimes referred to as "half racks" or "half cages" because they usually only have 2 vertical columns. They're smaller than full size power racks, but still pretty versatile.
Well, PRx has designed a wall-mounted, folding squat rack here. That'a a bit of a mouth full so let's break it down a little. There aren't that many folding squat racks to begin with, but there are even fewer that attach to the wall.
Most squat racks are free standing, on either 2 or 4 feet. The Profile only requires 2 feet (or support columns) since it's attached to  a wall in the back.
When not in use, the frame can fold up vertically, sticking less than 4″ out from the wall. Grab a ruler and see how small 4″ is- pretty incredible to think this is how much space this rack takes up when not being used.
There aren't many folding squat racks on the market, but of the other models available, I don't think any of them fold vertically- they fold horizontally, which takes more time (and takes up a little more space too).
PRx added 4 100 lb gas shocks to the hinges to make folding up and down much easier. There are 2 locking pins (1 on each side) that keep the rack locked in place against the wall.
This safety feature ensures a youngster couldn't walk by and accidentally bring the whole system down.
When it's time to unfold, simply pull out the pins and use said pins as the handles to lower your rack to the ground. Users agree the folding mechanism is smooth and easy to use, most likely due in large part to the hydraulic lifts added (smart idea PRx).
The rack itself is built out of 2″x 3″ 11-gauge solid steel columns. The kipping bar is also solid steel, making for a sturdy system.
P.S.- "kipping" movements are ones that use your hips and shoulders to build momentum, like when doing pull ups, to knock out reps more rapidly. Kipping exercises are popular with CrossFit athletes and gymnasts, who are often trying to perform more reps in less time.
The materials used for this system are high-end and heavy-duty, both of which are important when you could be placing hundreds of pounds on them.
The 2″ x 3″ columns are pretty robust, but for comparison's sake, the Rogue RML-3W folding rack system uses larger, 3″ x 3″ columns.
The PRx Profile rack comes with a 1000 lb weight capacity. Not only is this more than enough to handle most of us mortals, but it's a good indicator of the quality of construction of this rack.
Overall, when it comes to frame integrity, the Profile rack scores highly with its heavy-duty steel components and high weight capacity. The folding mechanism is also easy to use and smooth acting.
Features
The PRx Profile Squat Rack comes with the following features:
Kipping bar- the 42″ kipping bar gives you 3 full feet of space between you and the wall. This gives you enough room to do all the CrossFit classics, like kipping pull ups, butterfly pull ups, toes to bar, and maybe even muscle ups if you have a high enough ceiling.
4 100 lb gas shocks- with 4 hydraulic assists located at the hinges, folding this squat rack up and down becomes much easier.
Pair of J-cups- the J-cups are the brackets that hold the barbell. They are 2″x3″ to fit the columns perfectly. The can be adjusted up and down the column easily.
Heavy-duty plastic feet- the thick plastic plugs on the bottom of the columns will protect you floor as well provide a sturdy platform for the columns to rest on.
Wall brackets- the 2 necessary wall brackets for installation are included.
5/8″ hardware- all necessary bolts and hardware for installation are included. These 5/8″ (0.625″ diameter) bolts are heavy-duty enough to hold up a lifetime.
Assembly
This squat rack is easy to use, but that doesn't mean it's easy to install. Most users actually report the opposite. There are definitely some precise measurements that go into installing this bad boy, especially if you want it to fold up correctly.
First of all, you have to make sure you have at least a 9′ ceiling in your garage. If your ceiling is any lower, you probably won't be able to do any kipping moves (and you may want to consider a different system).
Second, PRx stresses the importance of making sure the distance between the 2 mounting brackets is exactly 69″- they say this is the most important measurement of the bunch. If you mess this one up, it can screw up the folding mechanism.
You'll need several tools to get this job done, including a drill, stud finder, level, and a few socket wrenches. You'll also need a plumb line to ensure precise lineup of the 2 brackets.
The Profile squat racks are designed to line up with studs that are evenly spaced (16″ or 24″), but if your garage has unevenly spaced studs, PRx might still be doable. They ask that you email them and they will figure out what can be done.
They also recommend professional installation for garages that have concrete or block walls.
It's also smart to have a second set of hands around to help with holding stuff while you measure and tighten. I read a few statements from users who said they were able to assemble by themselves, but that would make things more difficult than necessary.
Several users complained that the assembly manual was a little confusing and hard to follow. Reading through it, it seems to make pretty good sense to me, but luckily PRx has some helpful assembly videos on youtube.
Overall, installing this rig can be quite the task, but with some careful measuring and a helper, it should be pretty doable (don't forget to check out those assembly videos if necessary).
Warranty
PRx Performance backs their Profile squat rack with the following guarantee:
PRx agrees to repair or replace any malfunctioning piece for as long as you own it- can't beat that. If something does need to be repaired or replaced, they also pay the shipping cost for you to send it back to them.
It can be a huge pain in the you know where when you have to return something you've already opened and put together, but it's even worse when the company makes you pay for their mistake.
So it's nice to see that PRx doesn't make you pay for shipping if something is wrong.
Overall, this is a great warranty. And as I always say, warranties are one of the best indicators of product quality.
Final Thoughts
Squat racks make great additions to home gyms, but they can take up a lot of room- especially if you workout in a shared space like a garage.
PRx's Performance has come up with a genius solution to this dilemma with their wall-mounted, folding rack systems.
There are similar systems on the market, but I haven't seen any that fold up as easily as the Profile Squat Rack (with kipping bar).
The vertical folding mechanism is more convenient than the horizontal movements other folding racks use and the addition of the gas shocks makes lifting and folding a lot smoother.
In terms of frame integrity, the Profile rack is solid with its 2″x3″ columns and 1000 lb weight limit. I also love to see the lifetime warranty on the entire rig.
The only real downside to this squat rack is the price. When you compare it to other similar products on the market, you see that the Profile is significantly more expensive.
PRx's biggest competitor in this category is probably the Rogue RML-3W, which uses larger, 3″x3″ columns and costs roughly $300 less.
That's a significant difference. The RML-3W is a tougher rack, but it does take a little longer to fold/unfold and sticks out an extra inch from the wall.
Overall, I think PRx has a winner here. Although this rack isn't quite as heavy-duty as the Rogue, it's tough enough to handle the weights most non-professional athletes are working with.
And if you're a fan of convenience, the extra cash is probably worth the time you're gonna save.