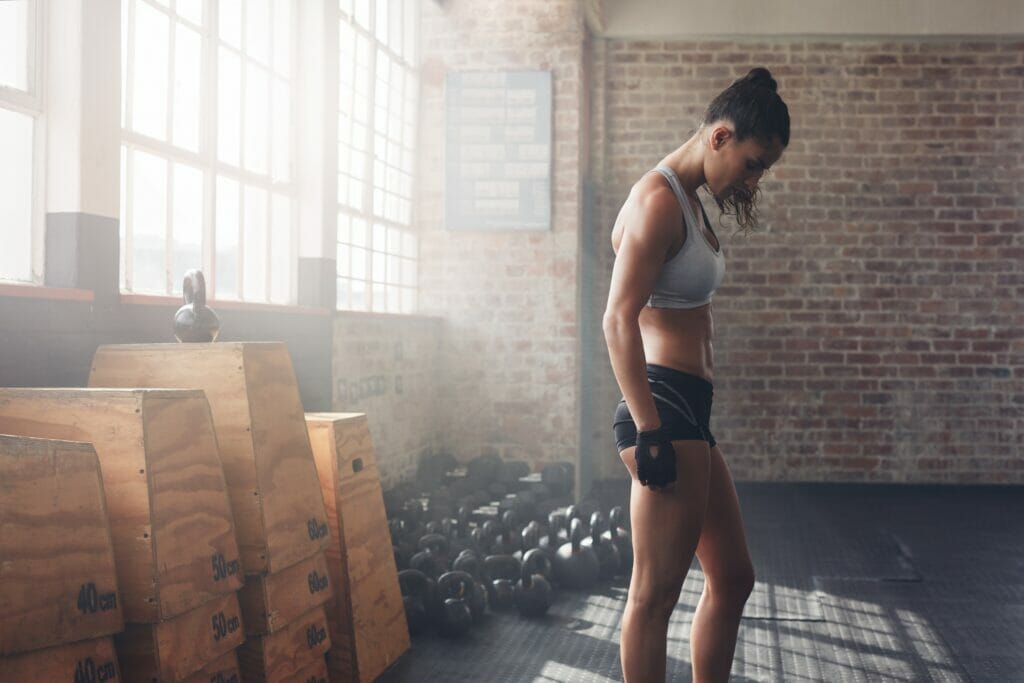 Fitness Reality's 810XLT is one of the most popular power racks on Amazon and it's pretty easy to see why. Besides having an awesome name, the 810XLT is one of the most affordable cages you'll find.
And as affordable power racks go, it can hold its own against the best of 'em.
With an 800 lb weight limit, a multi-grip pull up bar, and included J-hooks and safety bars, this mighty little rack has everything you could want from a $300 power cage.
Overall, if you're looking for an affordable rack to add to your gym, I think the 810XLT is a solid choice, but it's far from perfect- it's lightweight and a little lacking in the warranty department.
Is it the right option for your home gym?
Well, that's what I'm here to help you figure out.
In this review, I'll go over everything this rack has to offer, including the areas where it falls a bit short.
After reading, you'll know whether or not it's worth investing in.
The Fitness Reality 810XLT Super Max Power Cage
If you aren't familiar with the Fitness Reality brand, you probably aren't alone.
I mean they certainly aren't packing the same kind of brand recognition as a Schwinn or Bowflex and I doubt you've seen them on tv before.
But they've actually been around for awhile- well over a decade.
They're part of the Paradigm Health & Wellness group that includes a bunch of other brands you probably haven't heard of either, as well as a few you might've heard of (like Exerpeutic and Ironman).
Anyway, Fitness Reality is a budget brand offering a little bit of everything home fitness related.
They offer several power racks/cages to choose from and the 810XLT is one of their most affordable models.
I want to give Fitness Reality one more shout out for the awesome name they gave this rack… "Super Max Power Cage", that's just great.
Ha, ok, without further ado, let's get to the good stuff.
Pros
Great price
800 lb weight capacity
J-hooks included
Safety bars included
Multi-grip pull up bar
Included stability bars
Compatible with additional attachments
Cons
Small, lightweight uprights
3″ spacing on uprights
Low-end J-hooks
Short warranty
No plate storage included
Uprights
A traditional power rack like the 810XLT is actually a really simple device when you think about it.
It's really just 4 uprights and a few connecting bars- that's it.
Not a lot to really talk about.
But the small details make all the difference.
Oh, I should mention that a "power rack" and a "power cage" are the same thing in my book. Both describe a rack with at least 4 uprights.
These are different from a "squat rack" which only comes with 2 uprights.
Some people don't discriminate between squat racks and power racks, but I like to because they're different pieces of equipment.
Anyway, semantics aside, let's move on.
When comparing power racks, you really should consider the details of the uprights. More specifically, how big they are and how thick the steel they're made of is.
Larger, thicker uprights will give you a heavier-duty, more stable rack.
This might not necessarily increase the amount of weight they can hold, but it'll definitely give you a rack that feels more stable and that won't wobble or rock as much during use.
The 810XLT comes with 2″ x 2″, 14-gauge uprights.
The above dimensions refer to the size of the uprights. Pretty much all home power racks come with uprights somewhere between 2″ x 2″ and 3″ x 3″.
I've haven't come across any racks packing uprights smaller than 2″ x 2″ yet anyway (and I don't think I'd recommend buying one that did).
So, the 810XLT comes with small uprights, but to be fair- that's expected from a rack in this price range.
And with them being 14-gauge, they're also thinner than the heavier-duty, more expensive racks out there that are made from 11- or 12-gauge steel.
(Remember that higher gauges indicate thinner steel: 12-gauge steel is thicker than 14-gauge steel, etc).
Even with smaller, thinner uprights, the 810XLT still comes with a max weight capacity of 800 lb, which is impressive for a budget rack (and a lot more than most of us mortals will ever need).
This rack weighs about 137 lb assembled, which is pretty light for a power rack (compared to the best power racks that weigh 200 lb+).
The lighter weight means you could expect some movement when racking/un-racking your barbell, but most users agree the frame feels pretty secure during workouts.
Lastly, each upright comes with 19 1″ holes that are used to adjust the position of the J-hooks/safety bars and the holes are about 3″ apart from each other.
This is a little farther apart than the 2″ spacing many racks come with (and a lot farther apart than the 1″ Westside spacing found on nicer racks), but it shouldn't stop most folks from being able to find a comfortable squatting position.
But it certainly gives you less control over bar placement for moves like bench press and shoulder press.
Overall, the 810XLT is a lot lighter-duty than the more expensive racks out there, but it's pretty par for the course for racks in this price range.
Accessories
One of the great things about a power rack is how versatile it can be (well, good ones anyway).
The rack itself allows you to perform all the classic barbell moves you'd want to do, but you can grow and expand your exercise possibilities with the addition of accessories and attachments.
Different brands come with differing amounts of compatible accessories, so if you like the idea of being able to expand your rack with time, this is definitely something to consider.
For example, Force USA is known for having a ton of compatible accessories/attachment options.
Anyway, the 810XLT Power Cage comes with the following accessories included:
Multi-grip pull up bar
2 J-hooks
2 safety bars
2 stability bars (non-weight bearing)
I like that the pull up bar is located over the middle of the rack- I think this was a good choice because it'll prevent the frame from tipping forward when larger users are doing pull ups.
Something I don't like is the look of the J-hooks.
If you look closely, you'll see that they aren't in the shape of a traditional "J" hook- instead it's just a straight bar with a larger end.
These are still capable of holding the barbell of course, you just have to be a little more careful when re-racking to make sure the bar doesn't pop off.
The safety bars extend a few inches from the cage, allowing you to rack your barbell there too if you wanted.
Overall, the 810XLT doesn't come with a lot of accessories, but it does come with the basics you need to get started.
You'll notice it doesn't include a bench, a barbell, or any weights; it also doesn't include any plate storage.
But it is compatible with the following additional accessories, sold separately:
Lat pulldown/row attachment
Dip handles
Landmine station
Weight plate storage
Warranty
Fitness Reality backs their 810XLT Super Max Power Cage with the following residential warranty:
Yeah, that's not much of a warranty, but Fitness Reality might bump it up to 6 years if you contact them (they say they add 5 years if you purchase directly through them, but I bet they would too if you purchase through Amazon).
Unfortunately, a short warranty is one of the costs of going with a budget rack.
That said, REP's PR-1000 Power Rack is in the same price range and comes with a lifetime frame warranty… just sayin'.
Final Thoughts
Alrighty, that about does it for the 810XLT Super Max Power Cage (sorry, I just had to type that full name out one more time).
Overall, I'm not surprised this rack has become so popular with home gymers.
It's lighter-weight than the more expensive racks, but this is to be expected – and it can still hold up to 800 lb safely, which is more than most of us will ever need.
I also like that it comes with a nice pull up bar and all the J-hooks and safety bars you need to get started (although you should probably look into upgrading those J-hooks).
The 3″ spacing and the warranty kinda suck, as does the fact that there isn't any included weight plate storage.
But realistically, it's still one of the best power racks in this price range.