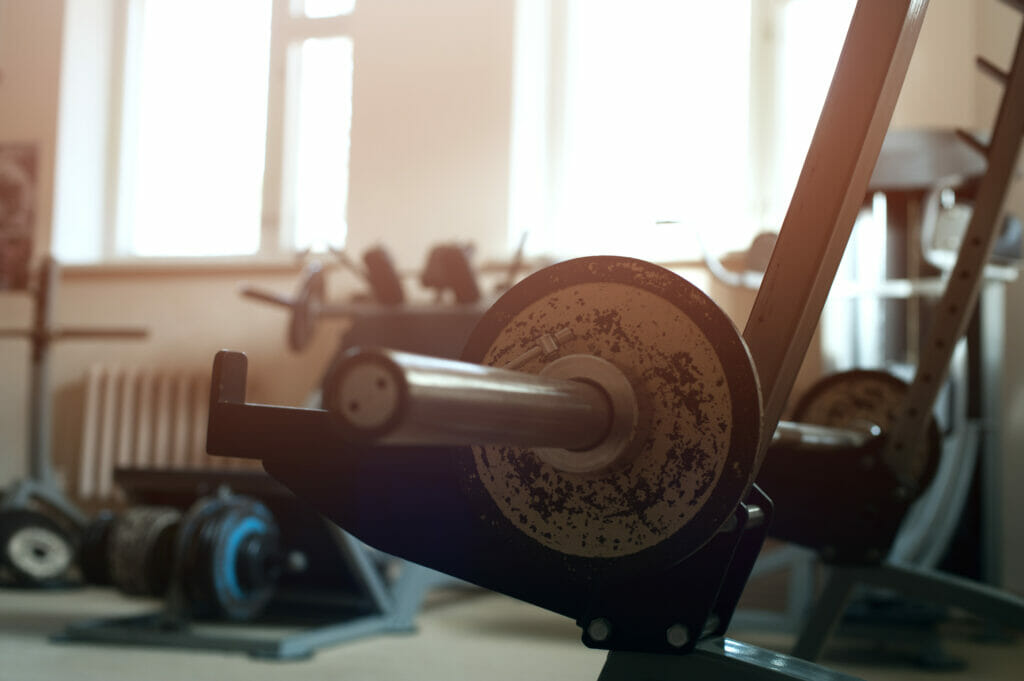 The PR-1000 is one of REP Fitness' most affordable home power racks to date. With a sales price under $400, it's actually one of the most affordable power racks period.
Affordability aside, the PR-1000 has plenty of other redeeming qualities as well.
Like a 700 lb weight capacity, dual pull up bars, and included J-cups/safety bars.
And at only 83″ tall, the PR-1000 should be able to fit in homes with low ceilings too (although if your ceiling is really low, pull ups might be out of the question).
Overall, the PR-1000 is a solid choice for folks looking for a budget power rack, but it's certainly not designed for more advanced lifters.
Because this power rack has its fair share of flaws.
In this review, I'll go over everything the PR-1000 does and doesn't have going for it.
After reading, you'll know whether or not this is the right rack for your home gym.
Off we go.
The REP Fitness PR-1000 Home Gym Power Rack
REP Fitness is a legit home fitness brand with a stellar reputation for providing excellent fitness gear.
They've only been around for a decade or so, but in that time they've expanded rapidly and earned a dedicated following of happy customers.
As a brand, they remind me a little of Rogue Fitness, although Rogue has been around a little longer and is quite a bit bigger.
Like Rogue, REP specializes in weight lifting equipment- think racks, barbells, plates, dumbbells, and pretty much any accessory you'd need to use that stuff.
They have a few home gym machines to choose from, like their impressive functional trainers, but that's about it when it comes to that stuff.
They have a lot of power racks to choose from and they come in a large range of sizes and prices to choose from.
The PR-1000 is definitely one of their most affordable models, but they have 2 more racks in their 1000 series that are even more affordable (the PR-1050 and the PR-1100).
Pros
Affordable
Fits in rooms with low ceilings
700 lb weight capacity
Pair of J-cups included
Pair of safety bars included
Dual pull up bars
Straightforward assembly
Great warranty
Cons
Smaller uprights (2″ x 2″)
14-gauge steel
Lightweight
No Westside spacing
Not compatible with that many attachments
Uprights
When you think about it, power racks are very simple devices – they're basically just a steel frame that are designed to hold a barbell.
And personally, I consider power racks and squat stands to be different.
For me, power racks come with at least 4 uprights (making a complete cage), while squat stands come with 2 (half cage).
Sorry, I wanted to get that out because I know a lot of sites that combine them and call both designs "power racks".
Anyway, power racks are simple, so there aren't that many features to look at when comparing different models, but there are still a few things we should consider.
The most important of which are the size and thickness of the uprights.
As I briefly mentioned above, the uprights are the vertical bars of the rack. These provide the majority of the structural integrity for the rack since these are the bars responsible for bearing the weight you apply to the system.
The J-cups and safety bars also bear this weight, but more on them later.
Rack uprights come in a few sizes, but most are square with measurements like 2″ x 2″ or 3″ x 3″, etc (Force's MyRack comes with an odd 2.4″ x 2.4″ measurement).
Larger is always better because it adds to the strength and stability of the rack – larger uprights can usually hold more weight too.
The PR-1000 comes with 2″ x 2″ uprights, which are on the small side when compared to more expensive, heavier-duty racks (where 3″ x 3″ is standard), but it's to be expected for a rack in this price range.
But it's important to look at the thickness, or gauge, of the steel as well.
When it comes to steel thickness, lower gauges indicate thicker steel.
For example, 12-gauge steel is thicker than 14-gauge steel, and so on.
Higher-end racks often come with 11-gauge steel, while cheaper racks come with 12-gauge or 14-gauge steel.
The uprights on the PR-1000 are made out of 14-gauge steel.
So, the uprights on this rack are pretty small and thin when compared to more expensive racks, but again- there are reasons why budget racks are "budget" in the first place.
And the size and gauge of the uprights is the biggest reason.
Even though the PR-1000 comes with smaller uprights, it can still safely hold up to 700 lb, which is pretty good for a rack in this price range.
Something else worth mentioning is that the PR-1000 only weighs about 140 lb fully assembled and it can't be bolted down to the floor for extra stability.
This means you could have some issues with the rack tilting if you're doing pull ups or if you had a heavy barbell placed outside of the cage.
There are 2 weight plate storage pegs located near the base at the rear of the rack- while these allow for "storage" of your weights, I think their primary purpose is to help stabilize the rack and prevent it from tilting forward on ya.
So it's highly recommended that you keep a few plates on those pegs when doing pull ups, dips, squats, etc.
Otherwise, the PR-1000 comes with a working area of 26″ x 44″ (depth x width) inside the cage and an assembled height of 83″, meaning it could technically fit in a room with a 7′ ceiling.
Which is nice for a power rack.
Overall, the PR-1000 is a lightweight rack with light-duty uprights, but with a 700 lb weight capacity, it can still hold more than enough weight for most home lifters.
Oh, almost forgot- the holes on the uprights are spaced 2″ apart, which is pretty standard. Some nicer racks come with Westside spacing (1″ apart) which is helpful for benching, but the PR-1000 doesn't.
Attachments
One of the great things about power racks (or good ones any way) is that they can be super versatile and expand over time through the addition of attachments.
As I said, the rack itself is pretty basic, but through the addition of attachments, your rack can provide all kinds of different moves and exercises.
Different brands offer different attachments and the versatility of them can vary greatly.
The PR-1000 comes with the following included attachments:
Dual pull up bars: 1.25″ and 2″ thickness, each has a max weight limit of 400 lb
Pair of J-cups: plastic lined, weight limit of 700 lb
Pair of safety bars: extend in front of the rack as well allowing for barbell racking, weight limit of 700 lb
Pair of weight storage pegs: I already mentioned these above, used for storing weight plates and stabilizing the rack
That's about it with regards to the included accessories. You'll notice this rack doesn't come with a bench, a barbell, or any weights, so you'd have to purchase those separately.
The PR-1000 is also compatible with a  few additional accessories which can be purchased separately if you so choose:
Lat pulldown/row attachment
Dip handles
Landmine station
Additional weight plate storage
Overall, the PR-1000 comes with everything you'd expect a budget rack to come with, nothing more. It isn't compatible with a ton of attachments, but it does allow for some expansion.
Warranty
REP Fitness backs their PR-1000 Power Rack with the following residential warranty:
Yeah, that it was easy- there aren't really any moving parts or anything else that would need a warranty on a rack like this.
Although, I think I saw that REP also backs their J-cups with a 1 year warranty (for the plastic coating on them anyway).
Otherwise, I'm not sure I could damage a J-cup or safety bar if I wanted to, so you shouldn't have to worry about these parts malfunctioning.
But anyway, a lifetime guarantee for the frame on a rack this affordable is pretty amazing.
For the sake of comparison, other budget racks tend to offer 1-5 years on the frame.
Overall, I think the extended warranty on the PR-1000 is one of its most redeeming qualities.
Final Thoughts
Well, that about does it for the REP PR-1000.
Hey, I told ya these power racks were simple machines, just not that much stuff to talk about on 'em.
But that's ok.
Overall, I think the PR-1000 is a pretty nice rack for the price.
With 14-gauge, 2″ x 2″ uprights, it's safe to say this isn't the heaviest-duty rack out there. It's also safe to say this isn't the right rack for advanced lifter that'll be racking up serious weight.
But with a compact frame and the ability to hold 700 lb, the PR-1000 could make a great option for beginning-moderate level lifters looking for an affordable rack.
There are plenty of comparable racks in this price range, but few will be able to match the lifetime guarantee offered by REP.
Few other brands come with REP's reputation either.
All things considered, I think the PR-1000 is easily one of the best power racks under $500.
If you have a little more budget available, you might want to check out Force's MyRack Modular System– it's heavier duty, comes with Westside spacing, and is compatible with a whole lot more attachments.