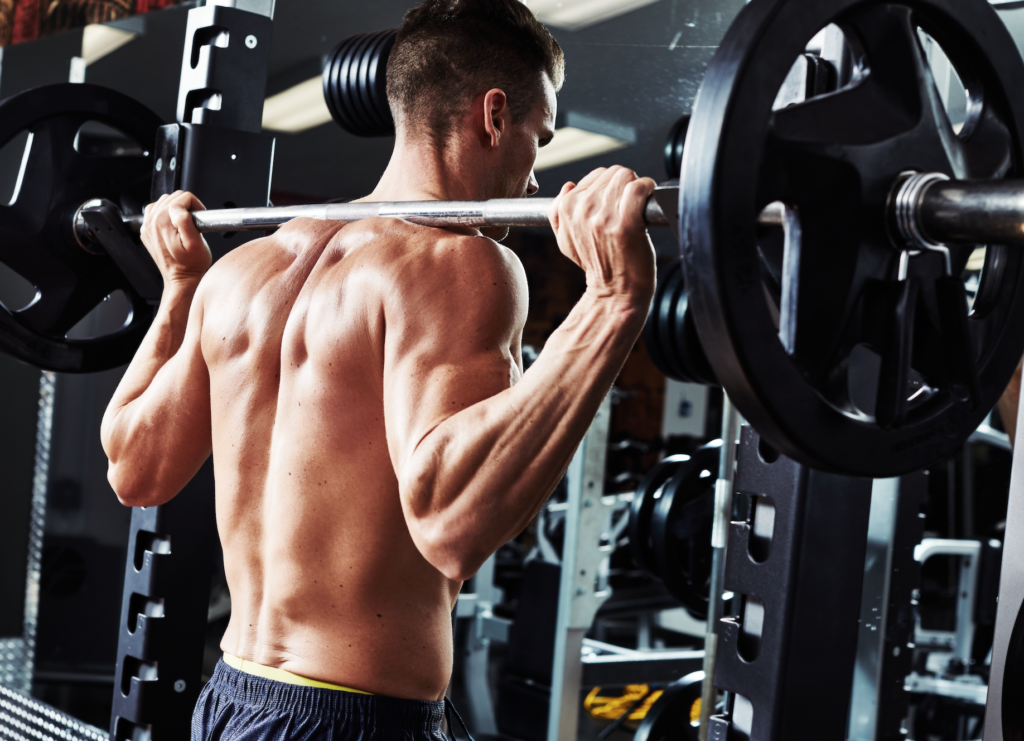 The Caribou III Smith Machine by Yukon Fitness is a popular home unit that often finds itself on bloggers' "best of" lists. Although at first glance it may look a little bare bones, what it lacks in bells and whistles it makes up for in budget friendliness.
If you're looking for a well functioning Smith machine and don't need all the extra pulleys and attachments, this may be a good buy.
But if you've looked recently, you know the market is pretty swamped with affordable home Smith machines. Does the Caribou III offer enough to stand out from the pack?
That's what we're here to help you decide.
This review will take a close look at what the Caribou III has to offer in an attempt to help you figure out whether or not this is the right system for your home gym.
Choosing A Home Smith Machine
I want to start off with a few pointers about home Smith machines because I think it's a good idea to have a standard by which we can compare different models. If we don't have certain criteria we are looking for, how can we compare different units to each other fairly?
Linear Bearings
Linear bearings (and whether the machine has them or not) come up a lot when discussing home Smith machines and it's something you should definitely consider when deciding on a unit.
In case you aren't a mechanical engineer, linear bearings (in this case) are little sleeves with ball bearings inside them that help the barbell move smoothly in its vertical motion.
Not all home Smith machines have them. Machines with linear bearings will operate more smoothly than machines without them.
If you're stuck between 2 Smith machines and one has linear bearings and the other doesn't, do yourself a favor and go with the one with them. Especially if you're looking to mimic the smooth feel of commercial systems.
Attachments
Smith machines come in all shapes and sizes. Some are simply the Smith mechanism (the attached barbell system) and others have multiple attachments that turn it into a fully functioning home gym. Knowing how many or how few attachments you want will help you in your decision making.
Common Smith machine attachments include: upper pulleys (lat pulldown), pec dec station, lower pulleys (rows), weight stacks, adjustable benches, and pull up bars.
Usually the more attachments you have, the higher the price.
Weight Capacity
It's a good idea to know how much weight your unit can safely hold before purchasing. This can be difficult to find sometimes, although you'd think the owner's manual would state it in the safety section (but not all of them do).
A lot of the budget friendly machines have weight capacities around 300 lb or so. That is, you can't load the bar with any more than 300 lb at any given time.
Stronger, more expensive machines can hold upwards of 1000-2000 lb.
If you're a power lifter and are regularly squatting or benching more than 300 lb, you should go with a more robust machine.
Warranty
Finally, warranty should always be considered when purchasing any type of home fitness equipment. Longer is always better obviously. Warranties will vary greatly on these units and they usually correlate with price: more expensive machines come with longer warranties.
Smith machines can come with anywhere from a 2 year warranty on the frame to a lifetime warranty on everything.
The Yukon Fitness Caribou III Smith Machine
Yukon Fitness has been providing home fitness equipment since the early '90s. They offer a little bit of everything fitness related (and even some commercial grade stuff) but their concentration is in home strength training equipment. They offer several power racks and Smith machine packages, as well as weight stack systems.
Their Caribou III system comes in a few different shapes depending on what (if any) attachments you want included. I'm reviewing the base package with a couple of extra attachments included because this is one of their most popular combinations.
Pros
Sturdy, heavy gauge steel frame
Includes adjustable bench
Includes chin up bar, and mounts for additional attachments
Compatible with standard and Olympic weight plates
Smith mechanism as well as free barbell rack
Adjustable safeties included
Affordable price
Cons
Linear bearing not included
Questionable warranty
Construction/Features
The Caribou III frame is constructed out of 2″ x 2″ heavy gauge rolled steel tubing. This is pretty good for a home unit that is designed to be used by a couple users at most. For comparison, commercial grade machines usually have frames with 3″ x 3″ steel tubing.
All of the cables used on this Smith machine are 3/16″ nylon coated aircraft cables that have been tested to hold 2000 lb of strain. The entire frame also has a high gloss powder coating to help resist scratches and surface damage during use.
I couldn't find any concrete info on weight capacity for this system, sorry. But users report the cage feels sturdy and some have stated putting upwards of 500 lb on it without any problems.
Yukon markets that the Caribou III has "self-oiling" bushings. This is the glide system that comes standard with this Smith machine and it's used instead of the linear bearing system discussed above.
I think this is the Caribou's biggest flaw. Users have complained that the Smith machine doesn't operate smoothly without the bearing system. The "piston-like" action of their bushings can't provide the same feel of a smooth linear bearing system.
Luckily, you can purchase the bearing system separately and install yourself. Users report it's a pretty simple procedure and it significantly improves the smoothness of the Smith mechanism. Unfortunately, this adds about $200 to your purchase price.
I'm not sure why Yukon didn't just bump the original asking price up a little and include the ball bearings. It would make everybody a lot happier.
The attached barbell can be locked in place by rotating the bar until the locks are engaged. With 14 different locking positions, the bar can be safely locked in pretty much any point during your exercise range.
On the outside of the frame you have the free weight barbell supports (gunrack) as well as the safeties that can catch the bar in case you lose control.
Overall, the frame is durable and feels secure during use. It comes with all the standard features you'd expect from a Smith machine.
The assembled dimensions are 85″ (H) x 48″ (W) x 68″ (D), making this fairly compact for a Smith machine. If space is a concern, this might come in handy.
Included Attachments
The following attachments are included with purchase of this package (remember, you can more attachments separately if you want more exercise options):
Chin Up Bar: a straight pull up bar can be found in the front of the frame. Nothing fancy here, but pull ups make a great addition to any workout regimen.
Adjustable Bench: the included bench can incline, decline, and lay flat for all the bench press variations.
Dual Lat Station: this package comes with both an upper and lower pulley system that can be used to perform lat pulldowns and low rows. Of course you'll have to pay extra for the weight stack if you want to take advantage of them.
Olympic Adaptors (for Smith bar): the adaptors necessary to use Olympic size weight plates (2″ diameter hole). Standard weight plates have a 1″ hole. With these adaptors, you can use both standard and Olympic weight plates on the Smith machine.
Leg developer: the attachment that allows you to perform leg extensions and hamstring curls is included. Keep in mind an Olympic adaptor for this attachment is not included- so if you plan on using Olympic plates for leg extensions, you'll need another adaptor.
Additional attachments can be purchased and added separately, turning the Caribou III into a fully functioning home gym system. Other available attachments include: cable crossover, pec deck, preacher curl, and dip station.
Assembly
Most users agree assembly on this machine is pretty straightforward. Most folks seem to be able to put it together in a few hours. It can be done by one person (depending on your handiness), but it would be easier with a helper.
The biggest thing to consider here is the fact that this machine weighs about 450 lb and is shipped in several, heavy boxes. It would definitely be nice to have someone help you carry the parts to wherever assembly will take place.
Warranty
I've never come across a warranty quite like Yukon's before. Instead of clearly stating a time frame for how long their products are under warranty, they state their welded parts are under warranty "by the discretion of Yukon Fitness". And only if there are no signs of misuse by the customer.
This could mean that Yukon backs their frames up for the lifetime of the machine, but who knows. There's also no mention of the Smith mechanism or any moving parts.
If you're thinking of purchasing, I would definitely contact Yukon beforehand and get more specific warranty info.
That said, Yukon does have a good customer service reputation.
Final Thoughts
Overall, the Yukon Caribou III is a pretty solid Smith machine. Most users agree it's built strong and of higher quality than you might expect from a machine in this price range.
The Caribou III is a fairly basic machine. The package presented here doesn't come with a lot of extra features, but you have the option of adding extra attachments to customize your system any way you like.
Which isn't necessarily a bad thing. If you only need the Smith mechanism, you can save a lot of money by skipping out on the extra attachments.
At roughly $1000, the Caribou III Smith machine is a pretty good buy. It's a little more expensive than the Marcy Diamond Elite (especially if you get some of the extra attachments) and a little cheaper than the Body Solid Series 7– both of which are top names in the home Smith machine racket.
But if you want a smooth running Smith machine (and don't we all), I highly recommend you upgrade to the linear bearings- you'll be glad you did.