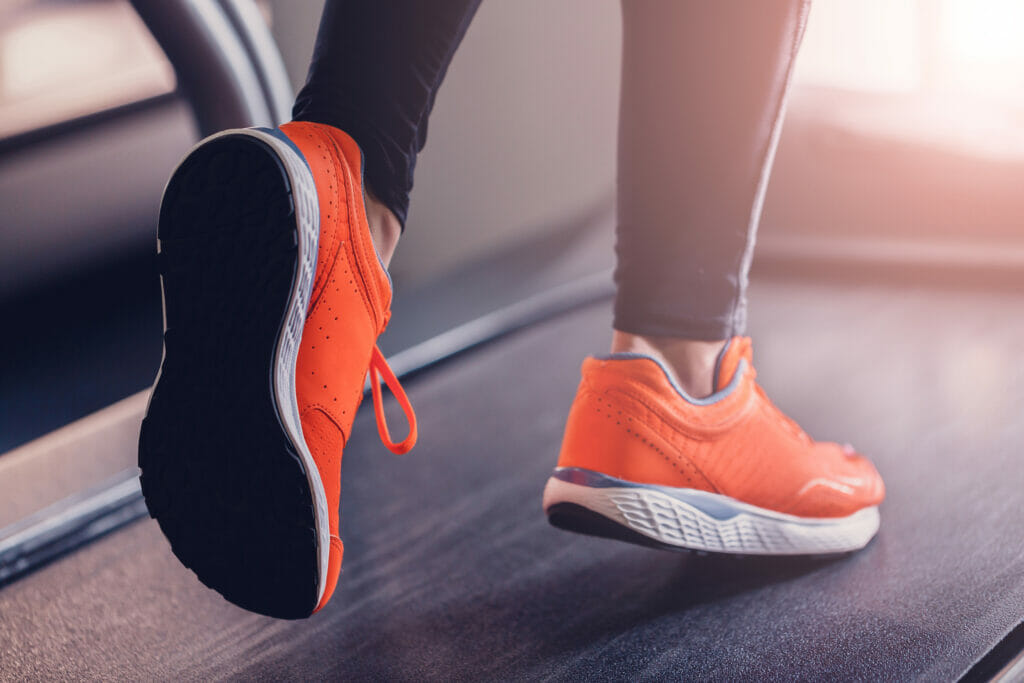 Sole is a great home fitness brand and pretty much all of their treadmills are best in class for their respective price ranges, but some of their models are so similar it can be hard to tell the difference between them.
And even if you can spot the differences, it can be tough to decide which model is the smarter buy- after all, subtle upgrades aren't always worth the extra cash.
As is the case with Sole's F80 and F85 treadmills.
These 2 elite treadmills are similarly priced and both come with stellar performance specs and features.
The F85 has a few upgrades over the F80, but are these upgrades worth the higher asking price?
Well, that's what I'm here to help you figure out.
In this head to head comparison, I'll go over the key differences between the F80 and F85. I'll also throw my 2 cents into the mix regarding which is the smarter buy.
After reading, you should have a better understanding regarding what these 2 treadmills are all about.
Let's get started.
Sole F80
Sole F85
Running Surface
22" x 60"
22" x 60"
Motor
3.5 HP
2.5" rollers
4.0 HP
2.75" front / 2.36" rear rollers
Weight Capacity
375 lb
400 lb
Features
9" LCD console
Bluetooth
Chest strap included
Standard workout programs
10.1" touchscreen display
Bluetooth
WiFi
Included chest strap
Standard workouts + more custom programs / fitness tests
Entertainment apps
Warranty
Lifetime frame/deck/motor
5 year parts
2 year labor
Lifetime frame/deck/motor
5 year parts
2 year labor
Price
$1599
$1999
Sole's F80 vs The F85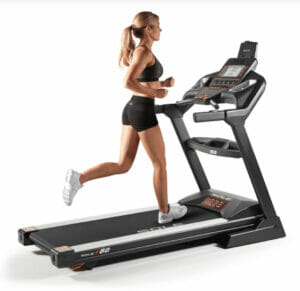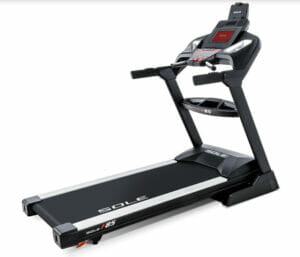 *Images courtesy of Sole Fitness
I want to preface this comparison with a few quick notes on Sole in general. Personally, I think Sole is one of the best home fitness brands around these days.
I like them so much because their machines are heavier-duty than most and they back all of their products with great warranties.
I also think as a brand, they're pretty fairly priced.
All of their products are high-end, but it's probably their treadmills that stand out the most.
Sole actually started out as a provider of treadmills to hotel chains for their fitness rooms and whatnot.
They became popular, so they did the next logical thing and expanded into home fitness.
The F80 and the F85 are 2 of their most popular models and both are priced effectively for home use (both under $2000, although with tax, the F85 would be slightly above this mark).
I want to compare these 2 treadmills based on the key performance specs and features each has to offer- I think this will be the easiest way to illustrate the differences between them.
And ultimately make your decision easier regarding which one is right for you.
You might notice that there aren't nearly as many categories below as there are in my normal treadmill reviews.
This is mostly due to how similar these 2 treadmills are.
The F80 and the F85 both come with the same great warranty and the assembly process will be similar for both since they're both Sole products.
P.S.- if you're interested in other Sole models, check out my complete Sole treadmill guide, where I go over their entire lineup.
Motor
Since both of these treadmills have the same running surface dimensions (a roomy 22″ x 60″), let's dive right in with the motors.
One of the most easily recognized differences between these 2 models is found in the strength of the motors.
The F80 comes with a 3.5 HP motor and the F85 comes with a 4.0 HP motor.
When it comes to treadmills, having a stronger motor is always nice, especially if you're a serious runner or your home has multiple family members that'll be using the treadmill.
A stronger motor doesn't have to work as hard as a weaker one, meaning it can provide a smoother, quieter experience.
That said, a 3.5 HP motor is pretty strong.
Even though the F85 is a bit stronger, both treadmills come with the same top speed of 12 mph and both models come with the same 15 levels of incline.
If you're an elite runner, looking for a treadmill that can handle serious mileage week in and week out, I think it makes sense to go with the F85 and its stronger motor.
But the rest of us should do just fine with the muscle the F80 is packing.
Something else worth noting is that the roller sizes for these 2 treadmills are a little different too.
Like motors, when it comes to treadmill rollers, larger is better.
Larger rollers make more contact with the belt as it slides- this makes for smoother belt action, but it also puts less stress on the belt, the rollers, and even the motor.
The F80 comes with 2.5″ rollers (which are large) and the F85 comes with 2.75″ front and 2.36″ rear rollers.
The front rollers on the F85 are larger, but the rear are smaller, so I think these kind of null each other out.
So, when it comes to the motor, the F85 is packing more horsepower and the front rollers are a little larger.
Weight Capacity
The other performance spec you'll notice a difference in with these 2 models is the weight capacity each can handle.
The F80 comes with a weight capacity of 375 lb, while the F85 comes with a weight capacity of 400 lb.
When it comes to weight limits, seeing a higher number is a good thing because it indicates a heavier-duty machine.
This isn't a real issue when it comes to these 2 treadmills because both are quite heavy-duty, but technically speaking, the F85 is a little bigger and heavier than the F80.
This is also evident when you look at the machine weight of each: the F80 weighs 278 lb assembled and the F85 weighs 308 lb assembled.
Again, both of these machines are quite heavy, but the F85 is heavier.
Having a heavy treadmill is a good thing, because it makes for a more stable base during your workouts.
A heavy machine isn't going to shake or wobble as much as a lighter model would. That said, the F80 is heavy enough that this shouldn't really be an issue for that treadmill either.
If you're looking for the better treadmill, I would obviously go with the F85 because a higher weight limit is always a good thing.
But is this alone enough to justify the extra $400?
No, I don't think so.
Features
Ok, that's about it for the differences in performance- there really aren't many. The F85 has a slightly stronger motor and a slightly higher weight capacity.
That's it.
But when we look at the features, there are some pretty significant differences between these 2 treadmills- especially since Sole upgraded the console on the F85.
The following table will help display all the key differences in features between the F80 and F85:
Sole F80
Sole F85
Console screen
9" LCD
White back-lit
10.1" touch screen
Workout programs
6 standard
2 custom
2 heart rate
6 standard
12 custom
7 fitness tests
Bluetooth (apps)
Yes
Yes
Bluetooth speakers
Yes
Yes
USB charging
Yes
Yes
Heart rate monitoring
Grip and telemetric
Grip and telemetric
Chest strap included
Yes
Yes
WiFi
No
Yes
Entertainment apps
No
Yes
Screen mirroring
No
Yes
So, the F85 basically has all the standard features the F80 comes with, but it also comes with an Android based touchscreen with some extra features.
These include access to entertainment apps, like YouTube and Netflix, as well as screen mirroring from your phone.
I didn't mention this is the table above, but both treadmills also come with cooling fans and water bottle holders (because we all know that a quality water bottle holder can make or break a treadmill).
You'll also notice there's quite a bit of difference in the workout programs department.
The F85 comes with all the standard programs the F80 comes with, but it comes with a lot more custom workouts.
These are pretty cool- if you like a workout that you did, you can save it to do another day.
There are also several military based fitness tests included with the F85.
Overall, I think the differences between these 2 treadmills' features are more substantial than the differences seen in their performance specs.
Final Thoughts
Alrighty guys, that's about it for the F80 and the F85.
Before I wrap this up, I'd like to put everyone at ease by saying this: if you're stuck between Sole's F80 and their F85, there is no wrong answer.
Both of these treadmills are awesome.
So if you're staying up late, not eating, losing hair, or otherwise stressing yourself completely out about this decision, just take a deep breath and relax- I got you.
The performance specs are very similar for both models.
The F85 has a few subtle upgrades, like the 4.0 HP motor and the 400 lb weight capacity, which do make it a little heavier-duty than the F80.
But I don't think these upgrades are significant enough for the average home gymer to necessarily notice that much of a difference.
More advanced runners (or homes with multiple runners) might want to pick the F85 for the stronger motor alone.
But I think it's the console that really differentiates these 2 treadmills from each other.
Simply put- if you want access to entertainment apps from your treadmill, go with the F85.
In fact, the F85 is Sole's only treadmill with this feature (I wonder if they'll upgrade other models' consoles in the future?), so if this is something you want, it makes sense to go with this model.
Is the upgraded console enough to justify the $400 price difference between these 2 treadmills?
I guess that depends on much you want those extra features, but generally speaking, I'd say yes it is.
The touchscreen on the F85 is significantly more advanced than the simple LCD screen on the F80.
If you don't care about the touchscreen and being able to access the entertainment apps from the console, I think you'd be just fine with the F80.
In other words, I'd use the console as your decision making factor.
Ok, I got a little long-winded there, but I'm all done.
I hope you found this comparison helpful.
If you'd like any more info on either treadmill, you can read my full reviews for each by clicking on the following links: Sole F80 review, Sole F85 review.