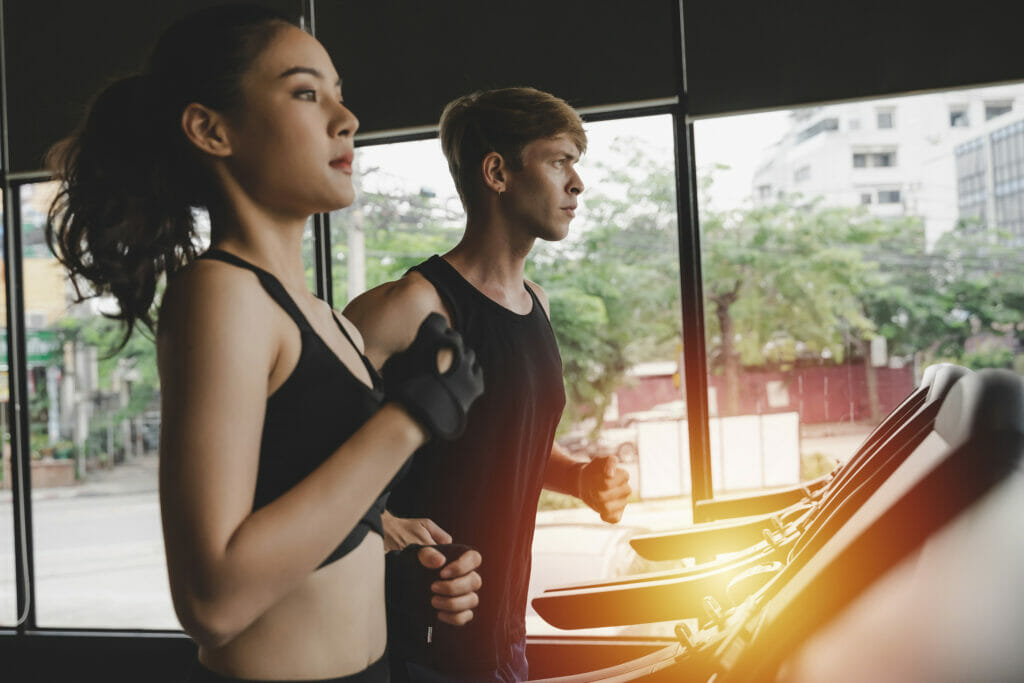 Sole's F63 and Horizon's 7.0 AT are easily 2 of the best home treadmills in their price range. Both models come with strong motors, spacious running surfaces, and great warranties.
If you're looking for a great treadmill that won't break your budget, either model would be a safe bet.
But which model is better?
This is a tough question to answer because these 2 treadmills are very evenly matched- but that's not gonna stop me from trying anyway.
(And don't worry- I'm not lame enough to have it end in a tie).
In this article, I'll provide a head-to-head comparison of these 2 popular budget treadmills. We'll take a close look at all the most important performance specs and features to see how these models stack up to each other.
After reading, you'll know everything you need to to decide which of these treadmills (if either) is the best fit for your home gym.
The Sole F63 Treadmill vs Horizon's 7.0 AT Treadmill
When comparing fitness machines to each other, I try to be as objective as possible. You know, it helps to have specific features or specs to compare between them instead of simply saying "I like this one better because it's better".
What makes one treadmill better than another?
That's a really subjective question because we all have our preferences, but for me, I think it makes sense to compare the key performance specs.
And it the case that the performance specs are similar, it makes sense to take into account console features.
When it comes to these 2 treadmills, the key performance specs I'll be using to compare them are:
Running surface
Motor strength
Roller size
Weight capacity
Warranty
Sole F63
Horizon 7.0 AT
Running Surface
20" x 60"
20" x 60"
Motor
3.0 HP
3.0 HP
Rollers
2.5"
60mm/46mm tapered
Weight Capacity
325 lb
325 lb
Warranty
Lifetime frame/motor
3 year deck/parts/electronics
1 year labor
Lifetime frame/motor
3 year parts
1 year labor
Console Features
Bluetooth, USB charging, chest strap included
Bluetooth, USB charging, QuickDial speed/incline settings
Price
~ $999
~ $999
I'll also discuss their console features a little too, because the F63 the 7.0 AT are very similar when it comes to performance (they're also priced identically).
If you're interested in learning about any of these specs in more detail, you might want to check out my complete treadmill guide, where I go into a little more detail.
If not, then let's move right along and start with Sole.
The Sole F63
It's no secret that I love Sole as a brand. I'm certainly not shy about it – Sole's treadmills, ellipticals, and bikes are always near the top of my "best of" lists in their respective categories.
I like Sole products so much for a few reasons. First of all, they work well and are priced fairly, which is plenty reason to like them already.
But I like that they emphasize performance over hi-tech features too.
Most Sole machines come with simple consoles that are easy to navigate (I say "most" because Sole is starting to play with touchscreens and more advanced consoles like the one found on their F85).
And I also love that Sole backs their products with some of the best warranties on the market.
Even though Sole offers all of the cardio equipment mentioned above, I think it's their treadmills that they're still most known for.
Which makes sense when we consider that the brand started out as a treadmill provider for hotel chains.
The F63 is Sole's most affordable treadmill and comes with a sales price of $999 (don't worry, it's always on sale). When we look at the performance specs, this budget machine scores very highly.
With a 20″ x 60″ running surface, the F63 is big enough to comfortably hold pretty much any user. With a 60″ long belt, it's unlikely you'll run out of space (pun intended), regardless of how fast you go.
The F63 is also packing a 3.0 HP motor that can reach a top speed of 12 mph and a top incline of 15%. It's going to be hard to find a stronger motor in this price range, although the 7.0 AT matches it step for step.
You don't always see the roller size mentioned (especially if they're small), but Sole always does, which I like.
The F63 comes with 2.5″ rollers, which is large for any price range.
The combination of the strong motor and large rollers allows this model to provide smooth belt action while reducing stress on the motor, belt, and rollers.
The F63 comes with a heavy-duty frame with an assembled weight of 254 lb, allowing this treadmill to safely hold users weighing up to 325 lb.
This is great for a budget treadmill-  and seeing a weight limit this high is a good sign of overall build quality.
When it comes to the warranty, Sole never disappoints.
The F63 is backed by one of the best guarantees you'll see on a treadmill in this price range: lifetime frame/motor, 3 year deck/electronics/parts, 1 year labor.
When you look at the console on the F63, it doesn't look special, but it actually comes with some nice surprises for this price range.
It comes with a USB charging port, bluetooth speakers, and an included chest strap heart rate monitor.
The F63 only comes with 6 standard workout programs, but there are also a few custom and heart rate guided workouts available.
Overall, the F63 is a great performance treadmill for the price.
For more info, check out my full review on the Sole F63.
The Horizon 7.0 AT
I don't gush over Horizon as a brand as much as I do Sole, but Horizon is easily one of the best home fitness brands around. And they have a lot in common with Sole.
Horizon also builds high-quality machines that are well priced and their warranties can hang with the best of 'em (including Sole).
Compared to Sole, Horizon has a larger selection of budget treadmills to choose from, and fewer higher-end models.
The 7.0 AT is the most affordable model in Horizon's Studios Series lineup, but they have a few more models that are even more affordable (like their T101 and T202).
The 7.0 AT is priced identically to the F63 with a sales price of $999 (also always on sale).
When it comes to performance, this treadmill is almost identical to the F63.
The 7.0 AT comes with a 20″ x 60″ running surface and a 3.0 HP motor. This treadmill can also reach a top speed of 12 mph and a top incline of 15%.
One area we do see a difference is in roller size.
The 7.0 AT comes with 60 mm/46 mm (2.36 in/1.8 in) tapered rollers (which means the roller is 2.36 in in the middle, and then tapers down to 1.8 in on the sides).
This is a little smaller than the 2.5″ rollers seen on the F63.
Is the .14 in difference enough to make a difference? Maybe, maybe not- but when it comes to rollers, bigger is always better.
So the rollers on this model are a little smaller, but when it comes to frame integrity, the 7.0 AT matches the F63 nicely.
This model weighs just as much (253 lb) and comes with an identical weight limit of 325 lb.
The 7.0 AT also comes with the same great warranty as the F63: lifetime frame/motor, 3 year parts, 1 year labor (Horizon doesn't mention the deck in their warranty, but I think it's covered under the parts guarantee).
So, the only real difference between these 2 models in terms of performance, is the slightly smaller rollers found on the 7.0 AT.
The console on the 7.0 AT is pretty similar too. Like the F63, this model comes with bluetooth (including speakers), a USB charging port, and pretty much the same amount of built-in workout programs.
Unlike the F63 however, the 7.0 AT doesn't include a chest strap (although it's compatible with them).
Something this treadmill has over the F63 though, is the dial control used for the speed and incline. You can rapidly set your speed/incline settings by rolling the dial forward or backward.
I speak from experience when I say this feature is awesome (I own a Horizon 7.8 AT and it has the same feature)- super convenient, making it really easy to rapidly make selections.
Overall, the 7.0 AT is another great treadmill and it's really similar to the F63 in every category.
For more info, check out my full review on Horizon's 7.0 AT.
Final Thoughts
Ok, we've come to the end here and so far, I've basically presented that both treadmills are awesome and both treadmills are very similar.
But let's be real- this isn't what you came here for.
You want to know which one of these awesome treadmills is better than the other.
So, without further adieu…
In a head to head showdown between the Sole F63 and the Horizon 7.0 AT, the winner is:
Sole's F63.
It's a really close call, but ultimately it came down to the fact that the F63 has slightly larger rollers and comes with a chest strap (although those dial controls are almost enough to give Horizon the edge).
Seriously though, there aren't any losers here – these are easily 2 of the best budget treadmills around.
Something else to consider though, is wait time. With fluctuating demand, sometimes you might have to wait longer than normal for the F63 to be delivered (I've seen upwards of 60 days).
If you don't want to wait, I could see going with the 7.0 AT.
Well, that about does it. I hope you enjoyed reading and if you have any questions or comments, please leave 'em below and I'll get right back to ya.