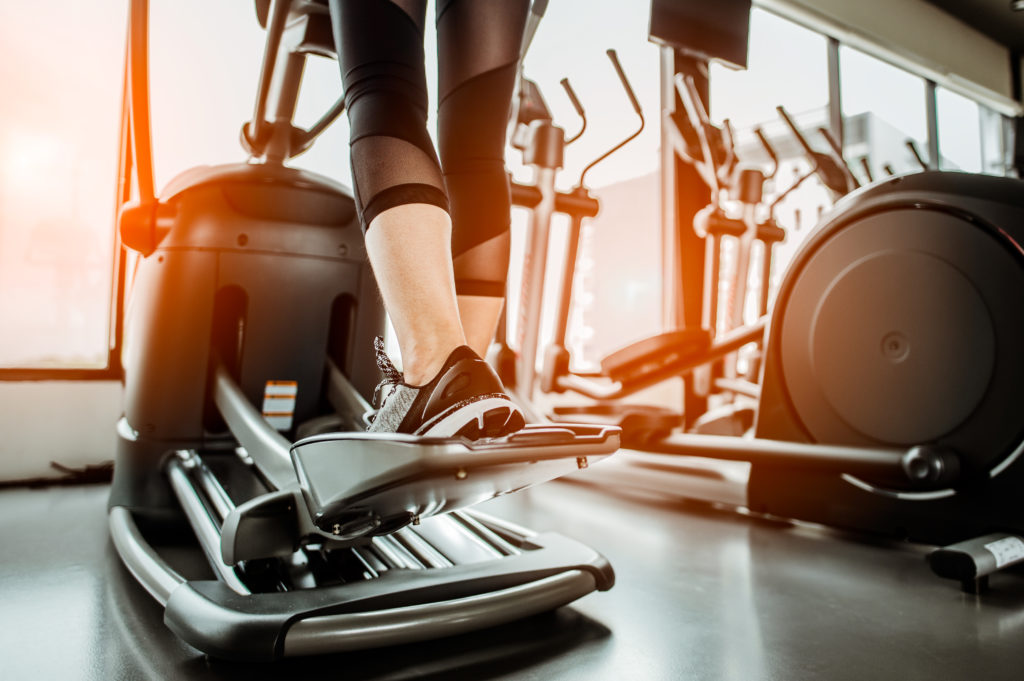 The E616 is Nautilus's mid-range elliptical trainer. As such, it comes with a nice combination of performance specs and features for the asking price.
Highlights include a 20″ stride length, a motorized incline up to 10°, and 29 workout programs to choose from. It's also backed by a pretty solid warranty for the price range.
If you ask me, you often find the best deals in the middle of the pack (but as a middle child myself, I might be a little bias).
And that's usually because there aren't that many performance differences between the mid-range and high-end models: the extra cost, more times than not, is due to technology upgrades.
That said, is the E616 a good buy?
Long-story-short: yeah, it's a pretty good buy for folks in the beginner to moderate fitness levels looking for an affordable elliptical.
If you'd like to hear the longer version, keep reading.
The Nautilus E616 Elliptical Trainer
Nautilus is a pretty well-respected home fitness brand that's been around for over 4 decades. The Nautilus brand is just part of what makes up the larger company known as Nautilus, Inc.
Nautilus, Inc. owns several fitness brands, several of which I'm sure you've heard of: Bowflex, Schwinn, and Octane Fitness.
The Nautilus brand focuses on budget to moderately priced fitness equipment. Even though the E616 is the mid-range model in their elliptical lineup, it's still priced as a budget machine (well under $1000 on sale).
Speaking of their lineup, Nautilus only offers 3 ellipticals: the E614, the E616, and the E618.
As you'd expect, as you work your way up the lineup, you see upgraded features like longer stride lengths, more workout programs, and longer warranties.
The E616 costs about $200 more than the E614 and comes with some pretty substantial upgrades.
Pros
20″ stride length
25 levels of magnetic resistance
29 workout programs
Up to 10° of motorized incline
Bluetooth compatibility
Chest strap heart rate monitor included
USB charging port
300 lb weight capacity
Straightforward assembly
Cons
Only 10 years on frame warranty
Stride Length
Personally, I think an elliptical's stride length is the first (and most important) feature you should consider, especially when comparing budget machines.
Just in case, the stride length is the distance the 2 pedals move front to back during use and it's measured in inches.
This spec is so important because it relates directly to how comfortable the machine is going to feel during your workouts. Simply put, if the stride length is too short, the elliptical isn't going to feel as comfortable as it should.
If the stride length is too short, you're going to feel like you're marching in place during your workouts- something I doubt many of us are looking to do.
How long is long enough?
The gold standard for home ellipticals is 20″. And that's because a stride length of 20″ can comfortably accommodate people of most heights.
The Nautilus E616 comes with a 20″ stride length, which is nice because it isn't always a given in this price range. At this length, most people should feel like they can stretch out naturally during use (and don't have to significantly shorten their stride).
I haven't come across any ellipticals in this price range that offer an adjustable stride length, that's only found on more expensive models.
The E616 comes with a stable frame that can hold users weighing up to 300 lb. I always like to look at weight capacity as an indicator of frame integrity- heavier is always better.
At 300 lb, the E616 is pretty standard for home ellipticals and better than some in this price range. This elliptical only weighs 173 lb fully assembled, making it relatively easy to move if necessary.
Overall, this elliptical scores highly with a 20″ stride length and 300 lb weight capacity.
Flywheel
The flywheel is the part of the elliptical that spins as you pedal. Just like on spin bikes, the flywheel is responsible for creating the resistance you work against.
Most ellipticals in this price range use magnetic resistance systems- there are magnets on each side of the metal flywheel and the resistance can be increased or decreased by moving these magnets closer to or farther away from the spinning flywheel.
Heavier flywheels are often preferred because they tend to provide a smoother feel and more overall resistance.
In the realm of home elliptical trainers, 20 lb or more is usually considered a "heavy flywheel". Although heavy flywheels are preferred, that doesn't mean you can't get a smooth and effective workout with a lighter one.
It just means if I had to choose between a lighter flywheel and a heavier flywheel, all other things being equal I'm going with the heavier option.
The E616 comes with a 17 lb flywheel, according to the Nautilus customer service.
This is a little lighter than I'd like to see, but it's pretty average for ellipticals in this price range. It's not bad compared to the 13-15 lb flywheels a lot of other budget ellipticals are using (but not as impressive as the 20 lb flywheel on the Sole E25).
This elliptical comes with 25 levels of magnetic resistance, giving you complete control over that flywheel. With this many levels to choose from, it gives you a lot of wiggle room when it comes to adjusting your workout intensity.
The E616 also comes with power incline up to 10° for added intensity. There are ellipticals that offer more incline than this, but the price range, this is pretty solid.
Overall, the flywheel is a little light on this model, but the 25 levels of resistance and incline options are nice perks.
Features
The Nautilus E616 comes with the following features included:
29 workout programs- these include 12 standard programs (hills, fat burn, etc), 9 heart rate options, 4 custom, 2 fitness tests, and a quick start (manual). This is a ton of workouts for any price range and definitely a great feature for those looking for exercise variety.
DualTrack LCD console- 2 blue, backlit display screens allow you to view all your workout data at once without having to wait for your metrics to scroll across. You can also easily view the workout profile on the larger screen, giving you a heads up of what each workout program has in store for ya.
Bluetooth compatibility- this elliptical is bluetooth friendly, meaning you can sync up with the free Nautilus Trainer 2 app and track all your workout data. The Nautilus app is compatible with other popular fitness apps, making it easier to consolidate all your data.
RunSocial app- you can also use bluetooth to sync up with the free RunSocial app, allowing you to virtually run though different scenic routes around the world.
Chest strap compatible- this elliptical is compatible with chest strap monitors and even includes one. You can also grab the handles and monitor your heart rate through the grip monitors.
USB charging port- you can hook your smart phone or tablet and charge it up during your workout.
Built-in speakers- hook your mp3 player or smart phone up to the elliptical and jam out to your favorite music through the console speakers.
Fan- there's a 3 speed fan built-in to help keep you cool during those more strenuous workouts.
Tablet holder- there's a media shelf built-into the console, allowing you to read or watch your tablet during your workouts. You will block the larger LCD screen while doing this though.
Assembly
Assembly shouldn't be too difficult with the E616. Nautilus does a very nice job with their assembly manual- large, easy to read images paired with clearly written instructions.
I especially appreciate how they include enlarged images of all the hardware for each step- makes it a lot easier to see what bolt/nut goes where.
They also include a to-scale image of each piece of hardware at the beginning of the instructions, making it easy to go back to identify any piece if necessary.
All of the tools necessary are included, though it's always more comfortable to use your own, full size screwdrivers and wrenches if you ask me.
Overall, I think most folks should be able to get this elliptical put together without professional assistance. Most users agree assembly is straightforward.
I'd expect to spend 1-2 hrs getting the job done, depending on your level of handiness and whether or not you have a second pair of hands to assist.
Warranty
Nautilus backs the E616 with the following warranty:
10 year frame
3 year parts and electronics
1 year labor
Given the price, this isn't a bad guarantee. I'd like to see a lifetime warranty on the frame, but otherwise I think this warranty is pretty fair.
Three years on parts is good for a budget elliptical and a year on labor is pretty standard operating procedure.
The warranty department is where we see some significant differences between the E616 and the other 2 models. For comparison's sake, the E614 only comes with 2 years on parts and 3 months on labor.
The E618 comes with 15 years on the frame, 5 years on parts, and 2 years on labor (actually a pretty awesome warranty).
Final Thoughts
The Nautilus E616 is sporting some respectable numbers. The ones that stand out most to me are the 20″ stride length, the 29 workout programs, and the solid warranty.
This model reminds me a lot of the Schwinn 470– almost identical in terms of specs and price, although the 470 has a heavier flywheel and a shorter warranty.
I think the E616 would work well for people in the beginner to moderate fitness levels. More advanced users, or homes with multiple users should consider a heavier-duty elliptical.
There are more robust models with heavier flywheels and lifetime frame warranties in this price range (check out my guide on best budget ellipticals for more info).
That said, I think the Nautilus E616 is a good buy, but there are better.