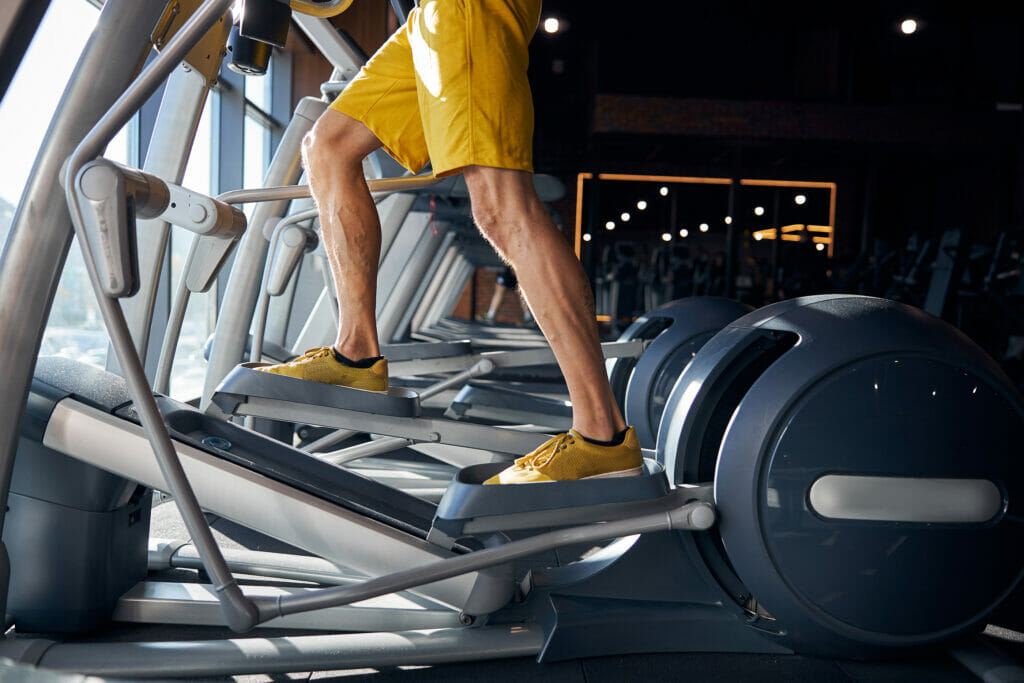 Ellipticals with adjustable stride length offer an advantage typical home models can't- the ability to adapt to the size requirements of users of different heights.
An elliptical's stride length is arguably the most important spec to consider because it relates most directly to how comfortable you're going to be during use.
And with an adjustable stride length, you can control said important spec to either change the feel of your own workouts or to fit the needs of other users.
If you're in a home where multiple family members (of differing heights) will be using the same elliptical, going with an adjustable stride length model is a smart idea.
But before you start buying, it's a good idea to know what you're looking for.
And that's where this guide comes in.
In this article, not only will I provide my 3 top picks, but I'll also go over all the background info you'll need when comparing different ellipticals.
After reading, you'll know everything you need to in order to find the best option for your home gym.
Stride Length
Flywheel
Weight Capacity
Warranty
Features
Sole E95S
18-24" power adjustable
30 lb
400 lb
Lifetime frame
5 year parts
2 year labor
10 workouts
15 levels of resistance
Bluetooth
Diamondback 1280ef
17" or 22" manual adjustable
n/a
350 lb
5 year frame
3 year parts
1 year labor
12 workouts
16 levels of resistance
Touchscreen console with apps
Diamondback 1060ef
18", 20", or 23" manual adjustable
n/a
300 lb
5 year frame
3 year parts
1 year labor
12 workouts
16 levels of resistance
Compact frame
A True "Adjustable Stride Length"
Ok, so you'll see a lot of ellipticals advertising that they have an adjustable stride length, when in fact most don't (there really aren't that many that do).
Many home ellipticals will count the adjustable incline setting as an adjustable stride length- but I don't.
It's true, the stride length might change (a little) by adjusting the incline setting, but I don't think you should have to go uphill to change the stride.
Well, if you're saying that you offer "adjustable stride length" anyway.
And if you look at how much the stride is actually changing by adjusting the incline, a lot of times it's only an inch or so.
When I think adjustable stride length, I'm talking about an elliptical that allows you to change it without messing the incline setting.
In fact, most ellipticals that offer this feature do so instead of an incline setting.
With true adjustable stride length ellipticals, you change how far apart the pedals are moving during your workouts without having to go uphill.
The stride length can be adjusted with the push of a button (as in the case of the Sole E95S) or manually by changing the length of pedal supports (as in the case with the Diamondback models).
With these adjustable ellipticals, you get a much larger range to choose from when it comes to the stride length.
We're talking 17-18″ to 23-24″, depending on the model.
These adjustable ellipticals come with longer stride options, making them smart choices for taller folks as well.
And they make a lot of sense if you've got family members who vary significantly in height- like a 5'4″ wife and a 6'2″ husband (or any other combination of tall and shorter people you might find in your household).
Overall, if you see an elliptical reporting they have an adjustable stride length, look at the specifics- most are only talking about the incline function that doesn't change the stride length that much.
P.S.- I have nothing against incline settings, they can add great variety to elliptical workouts, I just don't think they're the same as adjustable stride lengths.
What Else To Look For In An Elliptical
Ok, now that we're all on the same page in terms of what an adjustable stride length elliptical is, I think it's a good idea to briefly go over what else we should be considering when picking the best option.
Flywheel
You'll see a lot of home ellipticals referring to the weight of their flywheels. Just like spin bikes, most home models are designed to use heavy flywheels in order to create a smooth feel.
The flywheel is attached to the pedals- as you pedal (and use the handlebars), the flywheel spins.
The heavier the flywheel, the more momentum it builds as you pedal, which makes for smoother pedal operation (the extra momentum reduces any unwanted lag between pedal strokes).
Personally, I consider anything over 20 lb to be "heavy", but some ellipticals will come with 25 lb + flywheels and heavier.
Flywheel weight is the only thing you should consider when comparing different models, but when in doubt, it's not a bad practice to go with the one with the heavier flywheel.
That said, not all ellipticals use a weighted flywheel resistance system.
Some, like the Diamondback models below, don't use heavy flywheels. Instead, they depend on the sophistication of their magnetic resistance systems to provide the smooth operation everyone is looking for.
And based on user reviews, it seems to be working just fine.
And it's not unheard of for ellipticals to do this- commercial grade ellipticals don't use weighted flywheels either and they work exceptionally well.
So, flywheel weight is definitely something to look at, but it's certainly not the end all be all of what makes a quality elliptical.
Warranty
This is an easy one- longer warranties are always better than shorter warranties.
When comparing ellipticals, it's a good idea to check out the warranty offered because it gives you a good idea of the quality of that machine.
Nicer models generally come with longer warranties, but this rule isn't written in stone.
Ellipticals usually come with warranties that are broken down into a few parts: frame, parts, and labor.
The frame warranty will be the longest of the 3 and a lot of high-end warranties will offer lifetime guarantees on the frame. The parts warranty covers all moving parts and most respectable ellipticals offer 2-5 years here.
Electronics are often included with parts, but sometimes brands offer a separate guarantee on the monitors.
The labor guarantee is always the shortest of the bunch. One year is industry standard, although more generous brands will offer 2 years.
Overall, the warranty an elliptical offers can give you a good idea as to how well-built it is and should be considered in the decision making process.
Frame
I want to point out that I'm not really putting these features in any particular order- I'm not saying you should consider flywheel weight and warranty before the size and integrity of the frame.
In reality, this one is more important than the warranty; this is just the way my brain is organizing things today.
Anyway, the size and weight of the elliptical are crucial specs that need to be considered.
For one thing, you have to make sure you have enough floor space to fit your elliptical. Most traditional ellipticals need a floor space of roughly 7′ x 3′ (L x W) to safely operate.
Others (like the Diamondbacks) are more compact and take up less space.
Other than the footprint, I like to look at the actual assembled weight of the machine, as well as its weight limit, to get an idea of how "heavy-duty" it is.
Heavier machines and higher weight limits indicate tougher ellipticals, which are less likely to wobble during use and less likely to breakdown with use.
A full size elliptical can easily weigh over 200 lb and most high-end machines will have a weight capacity of at least 300 lb.
Most ellipticals are pretty large and heavy- something to consider when it comes to assembly and moving these things around your home.
Overall, when it comes to the frame, check out the dimensions, the assembled weight, and the weight capacity- larger is always better in my book (except for the dimensions, compact machines can be very well-built as well).
Ok, now that we've got a little background info under out belt, let's get to the adjustable stride length ellipticals.
If you'd like to learn more about what to look for in ellipticals in general, check out my full elliptical guide.
The 3 Best Ellipticals With Adjustable Stride Length
#1 Sole E95S
I'm a big fan of Sole as a brand, so it was a pretty easy decision to rank their E95S in the top spot here- and when you look at the specs, there's really no doubt.
As a brand, Sole is well-known for their no-BS approach to home fitness.
All of their fitness machines are well-built, easy to use, and backed by great warranties. This makes them a great option if you're looking for a nice machine without all the fancy fuss.
The E95S is one of their highest-end elliptical to date and it's the only adjustable stride length model they offer.
And unlike any other elliptical I've come across, the E95S comes with a power adjustable stride. This means you can push a button on the handle during your workout to instantly change the length of your stride.
The stride can be set between 18″ and 24″.
This is a wide range, allowing for users of a lot of different heights to use this machine comfortably- especially taller users.
The option to set such a long stride is great, but this elliptical's got it going on it pretty much every other category too.
The E95S is boasting a 30 lb flywheel, 10 built-in workouts, and 15 levels of magnetic resistance to work with. And even though Sole isn't know for their tech, this model comes with a 10″ screen, bluetooth speakers, and an included heart rate strap.
It also has a 400 lb weight limit and an amazing warranty (lifetime frame, 5 year parts, 2 year labor).
Put all this together, and you don't only have the best adjustable stride length elliptical, but you have one of the best overall home ellipticals in its class. See full review.

#2 Diamondback 1280ef
Diamondback is another well-known brand, although I wouldn't say they're quite as popular as Sole yet. This is likely in part due to the fact that Diamondback specializes in exercise bikes and that their lineup is considerably smaller.
That said, the products they do have are top notch.
Although this brand is most recognized for their high-end spin cycles, they do offer 2 elliptical models, both of which found their way on this list.
The 1280ef is their highest-end elliptical to date and it's also the most technologically advanced machine they've ever came out with.
This elliptical comes with a manually adjustable stride length and you can choose between either a 17″ or a 22″ stride.
The stride is selected by unscrewing a pull pin on each pedal support and adjusting it to your preferred length.
I like that Diamondback brought the minimum stride on the 1280ef back down to 17″ because it makes this model more approachable for shorter folks (something the 1060ef struggles with a little).
Unlike the E95S, the 1280ef doesn't utilize a weighted flywheel. Instead, it depends entirely on its sophisticated magnetic resistance system.
The result is a lighter machine that's easier to move.
And this elliptical isn't only lighter than most, it's also more compact. With a footprint of only 50″ x 36″ (L x W), the 1280ef can fit in smaller spaces more traditionally sized ellipticals can't.
Other notable features of this elliptical include the 10″ touchscreen display with 6 built-in apps (including Netflix and Spotify), 12 built-in workout programs, and a USB charging port.
Overall, if you're looking for an adjustable stride elliptical with more tech options in the console, the Diamondback 1280ef is a smart choice. See full review.

#3 Diamondback 1060ef
I think it's pretty cool that Diamondback only offers 2 ellipticals and they both come with an adjustable stride length. The 1060ef isn't nearly as tech-savvy as the 1280ef, but it actually comes with more stride options.
On this elliptical, you can choose between 3 different strides: 18″, 20″, or 23″.
With 18″ being the shortest stride available, smaller folks (under 5'3″ or so) might find themselves stretching out a little farther than they'd like.
But taller users will appreciate the 23″ option.
You set the stride manually on this model just like you do on the 1280ef mentioned above (just make sure you set each side to the same length!)
The 1060ef also provides a smooth resistance without using a heavy flywheel and this model is even a little more compact than the 1280ef (footprint: 49″ x 29.5″).
And even though this elliptical doesn't come with a fancy touchscreen console, it does come with 12 built-in workouts, 16 levels of magnetic resistance, and is Polar chest strap compatible.
The warranty on this model is the same as the 1280ef- 5 year frame, 3 year parts, 1 year labor. I'd prefer to see a lifetime frame guarantee, but I highly doubt you'll have issues with Diamondback's frames breaking down.
Overall, the 1060ef has a lot to offer. And with a sales price just over $1000, it's the most affordable adjustable stride length elliptical I've come across. See full review.

Final Thoughts
A true adjustable stride length elliptical gives you the option to change your stride significantly without altering your movement pattern.
When comparing these types of ellipticals, I think it's a good idea to consider not only the strides available, but the weight of the flywheel, the heavy-dustiness of the frame, and of course the warranty offered.
Looking at these other performance specs will give you a good idea as to how well-built an elliptical is, as well as give you clear data to compare amongst different models.
I think these 3 ellipticals all have excellent specs and they all have a little something different to offer.
The Sole E95S is advanced with its power adjustable stride and heavy flywheel, while the 1280ef comes with a more advanced console.
The 1060ef comes with 3 different strides to choose from and is contained in a very compact frame.
Overall, it's all about considering which stride lengths will fit your family the best and which features are most important.
Well, that about does it. I hope you found this guide helpful. As always, if there are any questions or comments, leave 'em below and I'll get right back to ya.