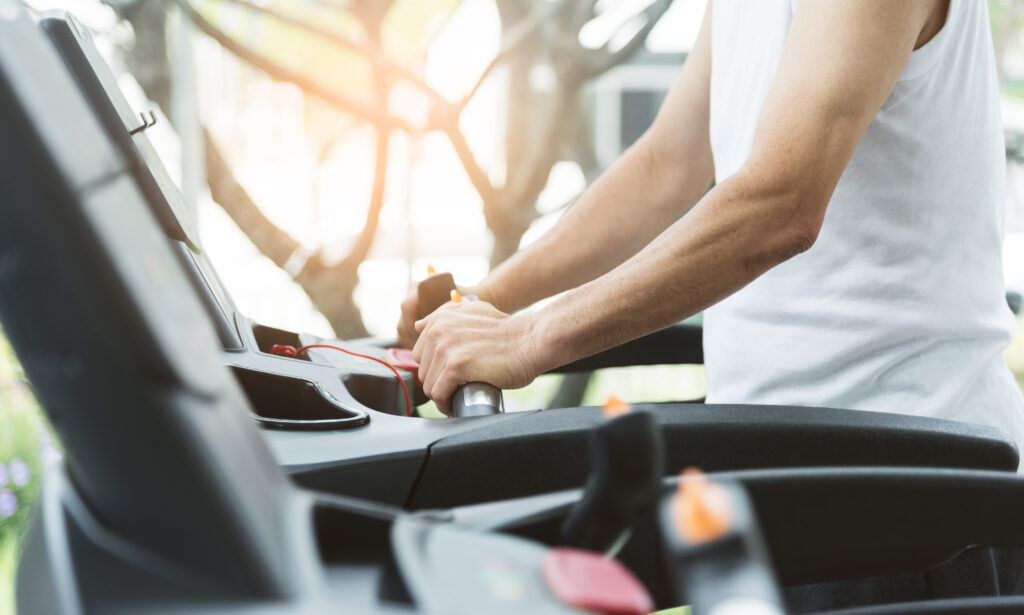 Spirit's XT285 is a moderately priced home treadmill with a lot to offer- especially for the folks out there that love a generous warranty.
And by 'generous', I mean the longest warranty you're going to find on a treadmill in this price range (or any for that matter).
Warranties aside, the XT285 is built for performance too.
With a 20″ x 60″ running surface, a 3.0 HP motor, large rollers, and 12 levels of power incline, this treadmill has all the means necessary to kick your butt on a daily basis.
It also comes with a heavy-duty frame that can safely hold folks of all sizes without feeling wobbly or insecure.
If you ask me, I think the XT285 is one of the better buys in this price range, but before you start pulling out credit cards, it's important to do your homework.
And that's where I come in.
In this review, I'll discuss everything the XT285 does and doesn't have going for it.
We're talking specs, features, price, and everything else in between.
After reading, you'll know everything you need to in order to decide whether or not this is the right treadmill for your home gym.
The Spirit Fitness XT285 Treadmill
Spirit is a great brand that offers a wide selection of both residential and commercial grade machines to choose from.
I'd even go as far as to say Spirit is one of my favorite brands around.
Their products are well-made (and simple to use), but it's their warranties that really set 'em apart from any other brand.
I'll go into more detail below, but generally speaking, Spirit offers the longest warranties I've ever seen.
As a brand, they remind me a lot of Sole (another brand I love). Sole tends to be just a little more affordable, but Spirit offers better warranties.
Anyway, Spirit offers several different home treadmills to choose from. All of their residential models are labeled with the "XT" and the number indicates how high up the food chain each model is.
The XT285 is their 2nd most affordable model to date, with only the XT185 costing less.
Speaking of price, the XT285 comes with a full retail price of about $2300 (which I think is a bit high), but you can find it on sale for well under $2000 on sites like Fitness Factory.
Pros
20″ x 60″ running surface
3.0 HP motor
2.5″ / 2.0″ rollers
350 lb weight capacity
8 workout programs
12 levels of power incline
Bluetooth compatibility with apps
Chest strap heart rate monitor included
Handlebar speed/incline buttons
Amazing warranty
Cons
Motor could be stronger for this price range
Running surface could be wider for this price range
Running Surface
If you've read any of my other treadmill reviews before, you know I always like to start off by going over the running surface dimensions.
I do this not only because this helps me organize the flow of my reviews, but because I think this is the single most important spec to consider when researching a treadmill.
And that's because I think the running surface dictates overall comfort during use more than any other spec or feature.
As the name implies, this spec refers to the dimensions of the belt.
Having a larger running surface is beneficial regardless of your height and size, but it's especially important for the really tall folks out there.
If your treadmill is too short, you could find yourself having to shorten your stride when running at faster speeds.
Treadmill width isn't usually as much a concern, but exercising on a really narrow treadmill can make you feel like you're walking on a tightrope- which is something I doubt many of us are looking for.
The XT285 comes with a running surface that measures 20″ x 60″.
This is the gold standard for quality home treadmills because people of most heights can hop on a treadmill this large and use it comfortably without having to worry about running out of room (pun intended).
A lot of treadmills these days, especially in this price range, are offering widths of 22″. The extra room is nice of course, but it's not going to make or break your workout experience.
That said, if all other things were equal, I'd go with a treadmill that had a 22″ x 60″ running surface over one that had a 20″ x 60″ surface.
The running surface on this treadmill is big enough to comfortably hold most folks running as fast as they can, so size shouldn't be an issue.
When we look at the frame, we see that the XT285 is built pretty solidly as well.
The best way to get an idea as to how heavy-duty a treadmill is is to look at the assembled weight and the weight capacity- higher numbers in both specs is a good thing.
The XT285 comes with an assembled weight of 235 lb, which sounds heavy, but is actually a bit light compared to many of the other elite treadmills in this price range that weigh around 300 lb or more.
The weight capacity is really good though- at 350 lb, this treadmill can safely hold larger folks too.
Overall, the XT285 comes with a running surface and weight capacity that allow it to hold individuals of all sizes safely. In terms of weight though, there are significantly heavier-duty treadmills out there.
Motor
Alrighty, let's talk horsepower.
I think it makes sense that having a stronger motor is beneficial if you plan on doing a lot of running at faster speeds, but it's really beneficial for any workout.
Stronger motors don't have to work as hard as weaker motors to provide the same output.
This means stronger motors should run more smoothly, and usually a little more quietly.
The XT285 comes with a 3.0 HP motor.
With this many horses under the hood, the XT285 should be able to accommodate walkers and joggers effectively, but it's actually a bit weak compared to the other elite treadmills in this price range.
For the sake of comparison, most higher-end models in this price range are packing 3.5 – 4.0 HP (like Horizon's 7.8 AT).
If you're a serious runner (or looking to become a serious runner), I'd suggest going with a stronger treadmill to ensure smooth operation while maintaining those higher speeds.
The XT285 can reach a top speed of 12 mph, which is standard for home treadmills, and it comes with 12 levels of power incline which is nice.
When thinking about motor strength, I also like to take a look at the size of a treadmill's rollers.
The rollers are the parts that allow the belt to slide across the deck- larger is better, because it makes for smoother operation.
Larger rollers also tend to put less stress on the belt, the motor, and the rollers themselves.
Quality treadmills tend to come with rollers in the 2.0″ – 3.0″ range and I consider anything 2″ or bigger to be considered "large".
With this in mind, the XT285 comes with a 2.5″ front roller and a 2.0″ rear crowned roller- this is pretty good given our expected range mentioned above.
FYI- the crowned roller is a good thing, because it'll help keep the belt centered on the deck, reducing the need to adjust the belt position manually.
Overall, I think the motor on this treadmill could be a little more powerful given the price range, but it should be strong enough for walkers and joggers. I like that the rollers are large and crowned.
Features
7.5″ display- the screen on this treadmill is pretty simple, but it's blue backlit and large enough to see clearly during use. It tracks all the typical workout metrics you'd expect. There's also a small medial shelf built-into it (but you'll block the screen if you use it with a tablet).
8 workout programs- this treadmill comes with several workout programs to choose from. These include manual mode, hill, fat burn, cardio, strength, interval, and 2 heart rate guided workouts.
Bluetooth- you can connect this treadmill to the free Spirit Fit app for fitness tracking and whatnot. You can also connect with the Zwift app if you like.
Chest strap- not only is this treadmill compatible with chest strap heart rate monitors, but Spirit includes one with purchase, so you can start using those heart rate guided workouts from day one.
Folding frame- this treadmill can fold vertically for storage, which essentially cuts its footprint in half. The hydraulic lift makes it easy to handle and ensures a slow decline when lowering it back to the floor.
Audio jack- you can hook your mp3 player up to it and listen to your workout jams through the built-in speakers.
Cooling fan- there's a swivel fan that can help keep ya more comfortable during those harder workouts.
Dual storage areas- these large storage areas on each side of the console can be used for storing water bottles, keys, phones, remotes, or pretty much any other small thing that might need storing during a workout.
Direct access buttons- you can set the speed or incline instantly with the push of one of the preset buttons.
Handrail controls- you can also control the speed and incline from the conveniently located handrail buttons.
Assembly
Putting the XT285 together shouldn't be that bad.
Spirit does a pretty solid job with their assembly manual- there are written instructions and images available for each step along the way, making it pretty easy to tell what hardware goes where.
And there are only a handful of steps to get the job done in the first place.
If you purchase the XT285 and decide to assemble yourself, you'll be responsible for attaching the console masts to the main frame, attaching the console to the masts, and then basically just attaching a few covers.
As with all treadmills, take care not to pinch any of the wires when attaching the console- it would suck to find that something isn't working right after you finish putting it together.
Given the size and weight of the treadmill, it's a good idea to have at least 2 people available to get this treadmill assembled.
Otherwise, this is pretty straightforward stuff. If you have access to able-bodied friends or family, you shouldn't have any problems with assembly.
Warranty
Spirit Fitness backs their XT285 Treadmill with the following warranty:
Lifetime frame
Lifetime motor
Lifetime deck
10 year parts
1 year labor
Ah, the warranty, this is where Spirit really shines.
This is, without exaggeration, as good as a treadmill warranty gets.
You can't beat a lifetime guarantee on the frame/motor/deck and 10 years on parts is 2x as long as the 5 year warranty most other high-end brands are offering.
One year on labor is pretty standard stuff.
Overall, I think this generous warranty is the most redeeming feature this treadmill has to offer, but more on that below.
Final Thoughts
Ok, time to wrap things up here for the XT285.
I think it's pretty safe to say the XT285 is a nice treadmill- it's well constructed and comes with adequate specs in all the major categories you'd expect.
Basically, it checks all the boxes it needs to for a quality machine.
But honestly, with the exception of the warranty, I don't see anything that really stands out from any of the several other top options in this price range.
Now that warranty is really good and if you're a real stickler for a good warranty, I could see choosing the XT285.
But I think there are better options in this price range.
Personally, I like the Horizon 7.8 AT and Sole's F85 better because they both come with stronger motors, larger running surfaces, and heavier-duty frames.
If you're in love with that warranty (I do admit I kinda am), you might want to consider Spirit's XT385– the extra $200 gets you a stronger motor, an extra 2″ in belt width, and an extra 50 lb or so worth of frame.
Overall, there's nothing wrong with this model, but I kinda think it's in a no-man's land between the XT185 and the XT385.