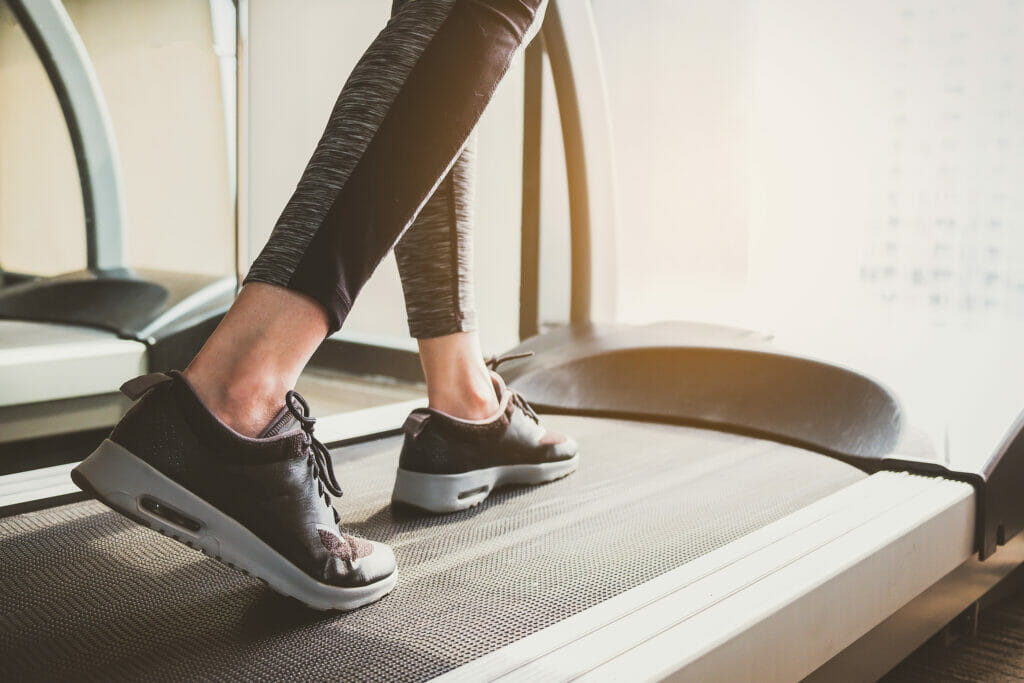 The XT185 is Spirit's entry-level treadmill and as such, it isn't packing quite as much heat as their more expensive models.
But as entry-level treadmills go, the XT185 is still pretty impressive.
A quick look at the stats show that this machine comes with a 2.75 HP motor, a 20″ x 55″ running surface, and a max weight limit of 275 lb.
It also comes with a top speed of 10 mph, 10 levels of power incline, and 6 workout programs.
And this is a Spirit treadmill we're talking about here, so of course it's backed by the best warranty you're going to find in this price range.
Long-story-short: I think the XT185 is a nice entry-level treadmill, but I think there are better options in this price range.
If you're interested in the longer story, keep reading.
The Spirit Fitness XT185 Treadmill
As a brand, Spirit Fitness is awesome – I think they're easily one of the best home fitness brands in business today.
They offer a large selection of cardio machines to choose from (including a strength trainer or 2) and all of their products are well-built and dependable.
When it comes to treadmills, at the time of writing this they have 5 to choose from (well, 6 if you count the XT485 and XT485ENT separately, but the ENT just refers to the upgraded console).
Semantics aside, Spirit does good work.
The XT185 is the lowest model on the treadmill totem pole. As such, it comes with the least impressive performance specs, but also the lowest price.
Speaking of price, the full retail asking price of the XT185 is $1899 (which is way too high)- luckily you can find it for about $1399 through sites like Amazon.
Pros
Large rollers
Folding frame
Direct speed/incline buttons
Cooling fan
Large storage areas
Easy assembly
Dependable brand
Amazing warranty
Cons
Running surface could be larger
Motor could be stronger
Not bluetooth compatible
Not chest strap compatible
Only a 275 lb weight limit
Running Surface
The XT185 comes with a running surface that measures 20″ x 55″, which is a bit short when compared to other similarly priced treadmills.
For a treadmill in this price range, I would expect a 60″ length and maybe even a 22″ width.
The gold standard for home treadmills is a running surface of 20″ x 60″. At this size, pretty much all users of all heights can comfortably use it.
The faster we run, the longer our stride gets (until you reach your max stride).
With a length of only 55″, taller folks might find themselves having to shorten their stride a little when running at faster speeds on the XT185.
Shorter and average height users will likely fit fine without noticing the shorter belt.
You also probably wouldn't notice the shorter belt when walking or jogging at slower speeds (even taller folks should be fine jogging on a 55″ belt).
The shorter running surface means the XT185 is better suited for shorter runners (or walkers of any height).
When we look at the weight limit of this treadmill, it's obvious that this model was designed with smaller individuals in mind too.
With a weight capacity of only 275 lb, larger users will be better off with a heavier-duty model.
For the sake of comparison, other treadmills in this price range come with weight capacities in the 300 lb – 350 lb range (like Sole's F65).
When thinking about "heavy-dutiness", I also like to examine the total assembled weight of a treadmill. Again, seeing higher numbers is a good thing because the extra weight will make for a more stable surface to run/walk on.
The XT185 weighs about 229 lb fully assembled, which isn't bad, but again there are heavier machines out there in this price range (Horzon's 7.0 AT weighs in at 253 lb).
Overall, I think the XT185 is better suited for joggers and walkers based on the size of the running surface. The smaller weight limit also means larger folks will have to opt for a different machine.
Motor
The running surface makes me think this treadmill is better for walkers/joggers, and the strength of the motor does too.
The XT185 comes with a 2.75 HP motor that can reach a top speed of 10 mph.
This is a bit weak compared to the other top models in this price range that are packing 3.0 – 3.5 HP under the hood.
If you're planning on running often, this is something you need to consider- I'd suggest a motor that's at least 3.0 HP if you're interested in running at faster speeds.
A stronger motor is able to reach the same output as a weaker motor without working quite as hard.
This means a stronger motor will feel smoother, and likely more quiet as well.
With a motor under 3 HP, the XT185 is better suited for walking and jogging at slower speeds.
This treadmill also comes with 10 levels of power incline, which is fine, but again, many other top models come with 12-15 incline levels.
The top speed of 10 mph is also a little underwhelming when compared to the 12 mph top speed most home treadmills can reach.
The motor on the XT185 is a little weak, but Spirit paired it with some large rollers, which is great.
By the way, the rollers are the parts that allow the belt to glide across the deck. Large rollers are preferred because they make more surface contact with the belt, which makes for smoother operation.
It also puts less stress on the motor, the belt, and the rollers.
The XT185 comes with a 2.5″ roller in the front and a crowned 2.0″ roller in the back.
When it comes to rollers, anything over 2″ is pretty good, but high-end models usually come with rollers in the 2.5″ – 3″ range.
Being "crowned" is also a good thing, because it helps keep the belt centered along the deck- which means less maintenance on your end.
Overall, I think the motor on the XT185 is a bit weak for this price range, but I like that it comes with large rollers.
Features
The Spirit XT185 Treadmill comes with the following features:
7.5″ display- the console on this treadmill comes with a blue backlit, LCD screen that's big enough to see clearly in any lighting situation. The screen is pretty basic, but it displays all your workout metrics clearly and it is big enough so that you can see them all at the same time without having to wait for them to scan through. There's also a small media shelf that could be used to hold a tablet, but you'd be blocking your view of the screen if you did so.
6 workout programs- this treadmill only comes with 6 workout options, but if you're like me and rarely use them, you won't mind. These workouts include all the standard profiles you might expect: manual, fat burn, hill, cardio, strength, and interval.
Grip heart rate monitor- this treadmill isn't compatible with chest straps, but you can grab onto the sensors built-into the handles if you want to get an idea of what your heart rate is.
Folding frame- this is a folding treadmill, so you can fold the deck vertically for storage when not using. This essentially cuts the footprint in half, which is handy for homes with limited floorspace to begin with. This treadmill uses a hydraulic lift, making it easy to lift and lower without having it crash to the floor.
Direct access speed/incline buttons- you can instantly set the speed and incline on this treadmill with a push of one of the direct access buttons. This is a nice feature most treadmills offer and it works great for making your own interval workouts.
Cooling fan- the XT185 comes with a built-in swivel fan that can help keep ya comfortable during workouts.
Dual storage trays- there's also 2 large storage areas on each side of the console that can be used to hold any small objects you might have to during your workouts, including water bottles.
Assembly
I think Spirit does a nice job with their assembly manuals- generally speaking, they're easy to follow and the images are large enough to see what's going on.
The assembly process for all of Spirit's treadmills are pretty much the same and it's a pretty straightforward procedure, so I think most folks will be ok with self assembly.
That's assuming you have access to able-bodied individuals who are ok with some heavy lifting.
The main deck of the XT185 comes pre-assembled. If you assemble yourself you would be responsible for attaching the 2 console uprights, the console, and a few covers.
That's it- there's only 5 steps.
All of the necessary hardware and tools are included too, which is nice.
Even though I said the XT185 isn't as heavy as other models, keep in mind it still weighs well over 200 lb, so it's a good idea to have at least 2 people around for assembly.
This comes in especially handy when it's time to connect the console- it's nice to have someone hole the console while someone else connects the cables before attaching.
And as always, take care not to pinch those cables!
Overall, assembly on the XT185 should be very doable for most folks, making paying for professional assistance unnecessary.
Warranty
The Spirit XT185 comes with the following residential warranty:
Lifetime frame
Lifetime motor
Lifetime deck
5 year parts
1 year labor
Good luck finding a better warranty than that on a $1400 treadmill- that's as good as they come.
You obviously can't beat a lifetime guarantee on the frame, motor, and deck, but 5 years on parts is also awesome. Actually, 5 years on parts is what most of the luxury treadmills offer.
Spirit offers 10 year parts warranties on their other models, starting with the XT285.
This is my favorite thing about Spirit as a brand- these warranties are amazing.
A year on labor is pretty standard regardless of price range, although some brands will offer 2 years on their higher-end models.
Over all, this generous warranty is the XT185's most redeeming feature if you ask me.
Final Thoughts
That's all she wrote for the XT185.
Like I said in my intro at the top- the XT185 is a solid treadmill, but I think there are better options in this price range.
For this price, you can get treadmills with stronger motors and larger running surfaces, as well consoles that are bluetooth friendly and chest strap compatible.
Personally, in this price range I like both the Sole F65 and the Horizon 7.0 AT better, especially considering the latter is $400 cheaper than the XT185.
If you're looking for the best warranty around, I could see opting for this model, especially if you're more interested in walking and jogging.
Overall, I love Spirit as a brand, but I think there are better options out there for this price.