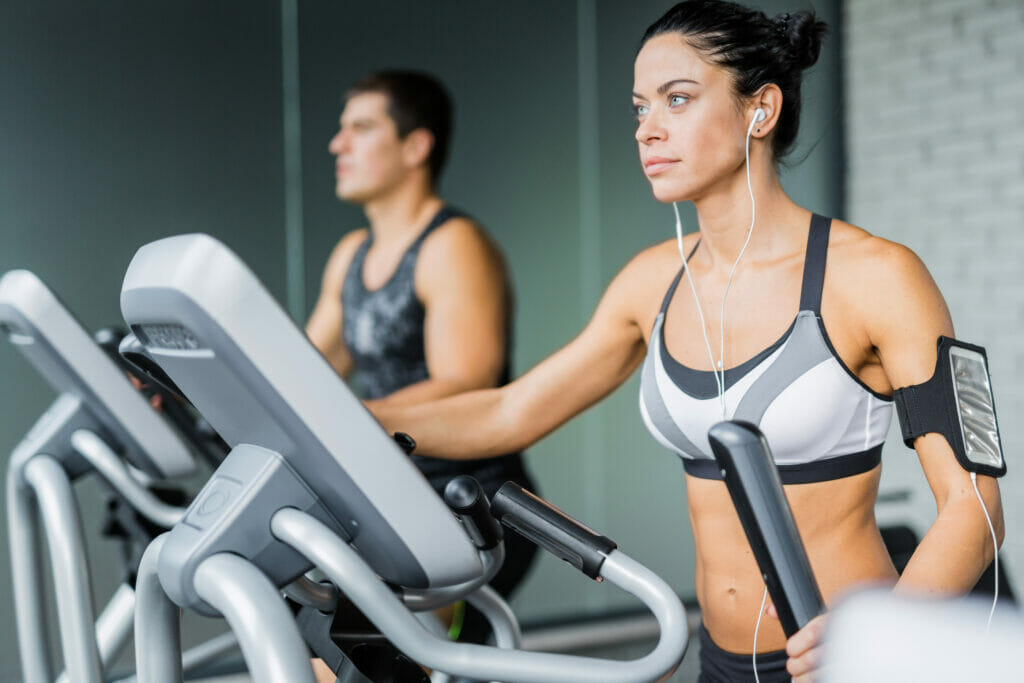 With the ability to mimic the feel of using a stepper, an elliptical, and even a treadmill (kinda), NordicTrack's FS14i FreeStride Trainer might be one of the most versatile cardio machines out there.
It also doesn't hurt that it comes with a 14″ HD touchscreen console, giving you access to all the good stuff iFit has to offer.
And with the ability to reach an astounding 32″ stride length, the FS14i is well-equipped to accommodate users of all heights too.
Additional highlights include a 20 lb flywheel, a power incline range from -10% – 10%, Automatic Trainer Control, and a really heavy-duty frame.
That said, that huge stride length comes with a downside too – you need a lot of room to use this machine safely, so homes with limited workout space probably aren't gonna be able to fit this bad boy.
But if you're looking for a versatile elliptical trainer, the FS14i could still be a great option.
In this review, I'll go over all the specs and features this trainer has to offer – I'll also compare it to some of the other top options in this price range to see how it stacks up.
After reading, you'll know whether or not the FS14i is the right fit for your home gym.
Let's begin.
The NordicTrack FS14i FreeStride Trainer
NordicTrack, like all brands, has their pros and cons, but generally speaking, they're a very well-respected brand with a long history of providing quality products.
These days, they've gone all-in with iFit and streaming workouts, so if you're looking for a cardio machine with streaming capabilities, NordicTrack is certainly a good brand to check out.
They have a pretty extensive lineup of home fitness machines to choose from and they all come with streaming capabilities.
And they've really doubled down on their streaming game lately, as you'll notice even larger HD screens on some of their newer products (we're talking 32″ large on their Commercial X32i Incline Trainer).
Impressive.
When it comes to ellipticals, they've got several to choose from and their divided into 3 different lineups.
The FS14i we're here to discuss now is part of their FreeStride series (which also contains the FS10i), but they've also got several front drive and rear drive models to choose from too.
The FS14i is their highest-end elliptical to date and at the time of writing this goes costs around $2500 (although it goes on sale occasionally for a few hundred less).
Pros
3 different movement patterns
32″ max stride length
14″ HD touchscreen console
20 lb flywheel
Heavy-duty frame
375 lb weight limit
iFit ready
Automatic Trainer Control (iFit)
Unlimited instructor led workouts (iFit)
Scenic routes (iFit)
Handle controls
Bluetooth compatible
Cooling fan
Cons
Takes a lot of room to use
No stationary handles
Warranty could be longer
Stride Length
An elliptical's stride length is an important spec to consider before purchasing because right off the bat, it tells you a lot about how comfortable your experiences are going to be.
I dare say it's the most important spec to consider.
Regardless, this spec tells you how far apart your legs will be able to move with each step and if the stride is too short for your comfort, your workouts might suffer for it.
It's kinda like the difference between marching in place and jogging – ellipticals with really small stride lengths are going to feel like you're marching in place, while larger strides will fee more like a jogging experience.
Most home ellipticals come with stride lengths somewhere in the 16 – 20″ range, with more expensive models usually coming with longer strides.
Your optimal stride length depends largely on your height and leg length, but personal preference plays into it as well.
Well, some ellipticals, like the FS14i, offer an adjustable stride length, meaning you can choose how far your legs move with each stride.
The FS14i even takes this idea a step farther and allows different movement patterns, hence the "FreeStride" part of the name.
With this elliptical, you can really choose between 3 different movement patterns: a straight linear pattern that's suppose to mimic a treadmill (but reminds me more of cross-country skiing), a vertical pattern that mimics a stepper, and a combination of the 2 that mimics the feel of a typical elliptical machine.
You can switch between these patterns as you please throughout your workouts, which is cool because it gives you a lot of workout variety.
It also allows you to target different muscle groups (you can really crush your glutes by cranking the resistance up and using the stepping motion).
But back to stride lengths.
The max stride length on the FS14i is 32″, which is huge compared to traditional elliptical machines where the stride usually tops out at 22 – 24″.
This is nice because you can stretch out as far as you like and with so much room to work with, even taller users should be able to find a comfortable stride.
On the other hand, all this stride comes with a downside – it takes a lot of space to use this elliptical.
The way this elliptical is designed, each pedal extends far out in the front (where the hanging attachment from the handles connects).
This means you need a lot of open floor space in front and behind you (at least a few feet) to safely operate this machine.
Which is interesting, because the actual footprint of the FS14i is fairly compact (59″ x 30″).
You also have to be careful that children or pets don't accidentally walk in front (or behind) of you during workouts.
Something else worth noting is how heavy-duty this elliptical is – and I mean that quite literally.
With an in-box weight of 287 lb, this elliptical likely weighs somewhere in the 250 lb range, which is pretty darn heavy for a home elliptical (Sole's E98 only weighs in at around 249 lb).
I see this weight as a good thing because it's going to make for a more stable machine, meaning you won't have to worry about it feeling wobbly or shaky during workouts.
And with a weight limit of 375 lb, folks of all sizes will be able to use this elliptical safely.
Overall, I think the FS14i scores highly with such a long stride length and the ability to choose your movement pattern; I also like how heavy-duty the frame is.
Resistance
Most ellipticals actually operate very similarly to exercise bikes in the fact that they use weighted flywheels and magnetic systems to create your resistance.
And just like most exercise bikes, having a heavier flywheel is usually a good thing.
Mostly because the extra weight builds more momentum as it spins, which in turn creates a smoother pedaling motion.
That said, elliptical flywheels don't usually go as heavy as indoor cycles do, but you'll still notice big differences in the sizes of elliptical flywheels.
The FS14i comes with a 20 lb flywheel, which should be heavy enough to ensure a smooth pedaling motion (and most users would agree that the FS14i offers a nice feel).
There are plenty of ellipticals in this price range with flywheels in the 30 lb range but again, 20 lb is enough to get the job done.
Something else worth knowing is that the FS14i is a center-drive elliptical, meaning the flywheel is in the middle of the elliptical (as opposed to a front or rear-drive elliptical).
This design allows the FS14i to offer a wide range of movement patterns, but it also helps keep the user in a more neutral position (some front-drive ellipticals force you to lean forward or always be going a little up hill).
Basically, most folks find center-drive ellipticals quite comfortable to use and maybe even a little easier on the joints than traditional ellipticals.
NordicTrack pairs that 20 lb flywheel with 26 resistance levels, giving you a lot of control over the intensity of your workouts.
But you can also adjust the incline angle for even more variety.
The FS14i comes with a power adjustable incline that can go down to -10% or up to 10% and when combined with the different movement patterns, you can really target any leg muscle group you want.
Overall, the flywheel on this elliptical isn't the heaviest around, but it still has enough weight behind it to offer a smooth feel.
And with 26 resistance levels and power incline settings to play with, you shouldn't have any trouble finding a challenging workout.
Features
The NordicTrack FS14i FreeStride Trainer comes with the following features:
14″ HD touchscreen console- it's hard to miss the large, HD display mounted on the console. Not only does this make it easy to make all selections, but it makes it really easy to view all your workouts and stats whether you're on the elliptical or doing a floor workout.
iFit- that large screen is meant to pair with iFit, NordicTrack (and ProForm's) streaming service. Through iFit, you can get access to unlimited workouts, metric tracking, scenic routes, and more. You get a free month of iFit with purchase, then it'll cost ya $39/month.
Automatic Trainer Control- with iFit, you can also take advantage of this feature that automatically adjusts your resistance and incline level to match what the instructors are saying during their workouts. You can always adjust things manually too if you prefer.
Bluetooth- the console is compatible with bluetooth headphones and heart rate straps, although neither is included with purchase.
Handlebar controls- you can control the resistance and incline settings with the conveniently located handle buttons, so you don't have to interrupt your flow to make adjustments.
Cooling fan- the built-in fan will help you stay cool during tougher workouts.
Water bottle holder- this handy device gives you a place to store your beverage of choice during workouts.
Assembly
If you decide to purchase the FS14i and assemble yourself, it's a good idea to have another person (or 2) to assist with putting this elliptical together.
The procedure itself isn't super complicated, but it is a bit more involved than many other home ellipticals.
Mostly because you have to attach everything to the main base: pedals, uprights, handles, console, covers, media tray, etc.
You even have to attach the transport wheels manually.
Luckily, NordicTrack's instructions are pretty easy to follow – the images could be a little larger, but still quite doable.
Also, keep in mind this is a heavy machine, so having a few friends or family members around will make moving it around a lot easier.
Overall, I think most fairly handy people will be able to get this machine assembled fairly painlessly, but I could see it taking a couple of hours.
Warranty
NordicTrack backs the FS14i FreeStride Trainer with the following warranty:
10 year frame
2 year parts
1 year labor
Ok, it's a little tough to compare NordicTrack's warranty here to other home ellipticals because there aren't many (if any) center drive ellipticals in this price range.
I mean, you could easily drop $5k on a Precor center drive elliptical, so I don't think it's fair to compare this warranty to theirs.
So I guess we should just use the other top ellipticals in this price range to compare.
Considering Sole offers a lifetime frame guarantee on their similarly priced E98, I would say NordicTrack's 10 year guarantee is a bit short.
Two years on parts isn't bad, but again, Sole offers 5 years, so there is room for improvement.
A year on labor is pretty standard, so no issues there.
Overall, NordicTrack's warranty here isn't awful (and it's better than some), but for this price range, it could definitely be longer.
Final Thoughts
That about does it when it comes to the FS14i.
All things considered, I think this elliptical has a lot to offer.
I like that it comes with a pretty heavy flywheel and I really like that it comes with a max stride length of 32″.
And with a 14″ HD console and iFit streaming capabilities, this elliptical certainly scores highly in the tech department.
The only real downside I see is that the warranty could be longer, but honestly, I'm not aware of any other comparable, center drive ellipticals in this price range.
Oh, something else worth mentioning is that there aren't any stationary handles – the only handles are the moving ones, so your arms will always have to be involved.
Some users have noted that it can be a little challenging to get on/off of this elliptical without stationary handles to hold onto, but with a little practice most get the hang of it.
There are several commercial grade, comparable free stride trainer type ellipticals, but those machines cost 2 – 3x what the FS14i does.
So, if you're looking for an elliptical that gives you the ability to switch movement patterns, there aren't really many to choose from in this price range.
Luckily, you're in pretty good hands with NordicTrack.