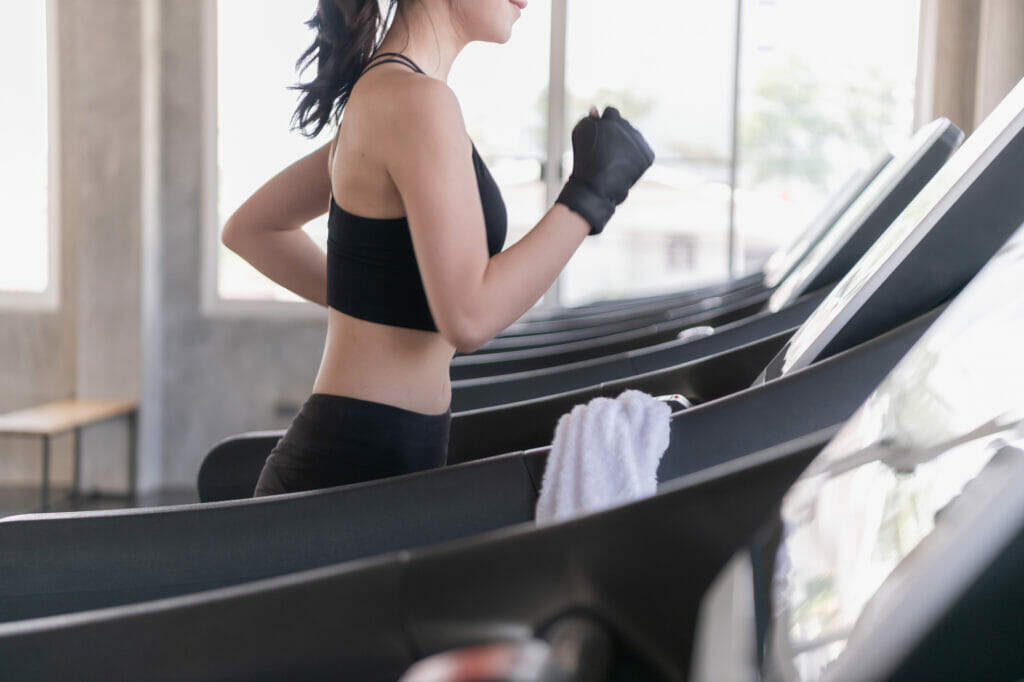 It's no secret I'm a fan of Sole Fitness and that I think they offer some of the best home treadmills in their respective price ranges.
I mean, heavy duty frames, powerful motors, long warranties… what's not to like?
But some of their treadmills fall in the same price range, making it hard to decide which one is the better buy – case in point, the F63 and the F65.
With only a $200 difference in asking price, these two models are priced very similarly and when you check out their stats, it's not that easy to spot the differences either.
Basically, the F65 has a slightly larger running surface and a slightly stronger motor, but everything else is pretty darn identical.
So, does it make sense to spend the extra cash and get the F65 or is it better to save your money and go with the F63?
Well, that's what I'm hoping to help you answer.
In this article, I'll be comparing all the specs and features Sole's F63 and F65 have head-to-head to see how they compare; I'll also offer my 2 cents regarding which treadmill I think is the better buy.
After reading, you'll know which treadmill is the better option for your home.
Alright, let's do this.
Sole F63
Sole F65
Running Surface
20" x 60"
22" x 60"
Motor
3.0 HP
3.25 HP
Weight limit
325 lb
350 lb
Assembled weight
254 lb
262 lb
Features
6.5" LCD console
10 workout programs
Bluetooth speakers
USB charging port
Cooling fan
Included chest strap
7.5" LCD console
10 workout programs
Bluetooth speakers
USB charging port
Cooling fan
Included chest strap
Warranty
Lifetime frame/motor
3 year deck/parts
1 year labor
Lifetime frame/motor
3 year deck/parts
1 year labor
Price*
$1,199
$1,399
*price at the time of writing this anyway
The Sole F63 vs The F65
If you're familiar with my work (and as I mentioned up above), you probably know that I'm a Sole fan.
I'm fond of this brand because their cardio machines are usually the heaviest-duty in their price ranges and they're usually backed by the longest warranties.
And when it comes to treadmills, their motors and running surfaces are usually more impressive than the majority of the competitors.
That said, Sole's tech features aren't as impressive – most of their equipment comes with pretty simple consoles with limited workout programs.
So, if you're looking for workout streaming and lots of workout options to choose from, Sole probably isn't the best brand, but if you're looking for an easy to use treadmill that's built to last, they're a great brand to explore.
As I'm writing this, the F63 and the F65 are their two most affordable treadmills to choose from, but we'll talk price a little more in a bit.
Let's start with the important stuff first.
Running Surface
I always check out a treadmill's running surface first because I think this is one of the most important specs to consider before buying any treadmill.
And that's because the running surface tells you exactly how much room you'll have when using said treadmill.
And if it's too small, you aren't going to feel comfortable using the treadmill for long.
Luckily, neither the F63 or F65 have that issue – both come with pretty spacious running surfaces.
To be a little more specific, the F63 comes with a running surface of 20″ x 60″ and the F65 comes with a running surface of 22″ x 60″.
So, the F65 is 2″ wider than the F63.
As a guy who's used to a 22″ wide treadmill (I currently own Horizon's 7.8 AT and love it), I'd have a hard time dropping down to a more narrow belt.
But at the same time, would it really effect the quality of my workouts?
No, not really.
The 22″ wide belt on the F65 will offer a slightly more luxurious feel, but at the end of the day, both treadmills are easily large enough for folks of all sizes to safely use.
So, I don't think this difference alone would necessarily be enough to warrant the extra $200, but let's keep moving along.
I also like to compare assembled weights because I feel like this spec gives us an objective way to compare "heavy-dutiness" between machines.
With heavier treadmills being preferred because they'll be less likely to wobble, wiggle, or really move in any other unwanted fashion during workouts.
Well, the F63 comes with an assembled weight of 254 lb and the F65 comes with an assembled weight of 262 lb.
First of all, I'd like to point out that both of these treadmills are remarkably heavy for their price range (your average similarly priced treadmill is gonna weigh somewhere around 200 lb).
And even though, technically speaking, the F65 is a little heavier, I don't think 8 lb is going to make any real noticeable difference during use.
Both treadmills are heavy enough to offer a secure feeling during workouts.
Now somewhere we do see a little bigger difference is when we look at the weight capacities for each treadmill – with a limit of 350 lb, the F65 can hold larger users than the F63 and it's 325 lb limit.
This alone could be reason enough for larger folks to opt for the F65 over the F63.
Overall, the F65 comes with a wider running surface and a higher weight limit when compared to the F63; it's also a little heavier, but I don't think that would be very noticeable during use.
Motor
Ok, time to talk motors.
The motor is the heart of a treadmill and it's probably easy to understand how having a strong motor would be beneficial for any treadmill.
Basically, stronger motors don't have to work as hard to provide the same output.
You'll notice that most home treadmills offer the same max speed (12 mph) and the same max incline (15%), but that the motor strengths can vary quite a bit.
It's true, a lot of motors can provide similar workout conditions, but again, the stronger ones can do it with less effort – which means a smoother workout for you.
Anyway, back to the treadmills at hand.
The F63 comes with a 3.0 HP motor and the F65 comes with a 3.25 HP motor, so the F65 is packing 0.25 more horses than the F63.
Is this a noticeable difference?
Maybe.
Walkers and joggers (especially lighter ones) might not notice much difference here, but the extra horsepower will likely come in handy for larger folks and people who spend more time running at higher speeds.
Most agree runners should go with a treadmill with at least a 3.0 HP motor to ensure smooth operation.
Well, the F63 does hit this mark, but just barely.
Having the extra power the F65's motor offers would make it more capable of reaching and maintaining higher speeds smoothly.
Something else to consider – stronger motors can usually accelerate faster than weaker ones.
This means the F65 might also be a better option if you like to do interval workouts, where you continuously switching between slower walking speeds and faster running speeds.
When it comes to the rollers, both treadmills use the same 2.5″ rollers, so there's no difference to consider there (fyi, 2.5″ rollers is great for both prices).
Oh, and both treadmills can reach the same top speed of 12 mph and the same top incline of 15%, so again, no differences.
Nope, the only real difference here is that the F65 comes with a slightly stronger motor.
Features
When it comes to the features found on these two treadmills, there aren't many differences.
Sole tends to use more or less the same console design for a lot of their treadmills and this happens to be the case when it comes to the F63 and F65.
Both treadmills come with the same 10 workout programs, which includes 6 preset profiles, 2 heart rate guided workouts, and 2 customer user workouts.
Speaking of heart rates, both treadmills are compatible with strap monitors and both even come with included chest straps.
Both treadmills also come with bluetooth speakers, USB charging, built-in cooling fans, and included tablet holders.
Both treadmills come with quick-touch speed/incline buttons as well, making for more convenient selections.
Each treadmill also comes with 2 water bottle holders, so there's no reason to get dehydrated with either model.
The only real difference I can see between these two treadmills and their included features is that the LCD console on the F65 is 1″ larger than the one found on the F63 (7.5″ vs 6.5″).
I don't think this 1″ would make any difference whatsoever in terms of visibility or workout quality, but bigger is always better I guess.
Warranty
Sole offers the same home warranty for the F63 and the F65 and it's as follows:
Lifetime frame
Lifetime motor
3 year deck/electronics/parts
1 year labor
Both treadmills come with the same warranty, so there's nothing you have to really think about here when comparing the two, but I'd still like to point out that this is a great guarantee.
The F63 is a little more affordable than the F65, so I guess it's an even better warranty for the F63, but it's going to be hard to find a better treadmill warranty at either price.
You can't beat a lifetime frame/motor guarantee and they aren't that common at either price point.
Three years on parts is also generous for the respective prices; a year on labor is pretty standard stuff.
Overall, the F63 and the F65 are both backed by the same awesome warranty.
Price
Alright, let's talk dollars now.
At the time of writing this, Sole has these treadmills listed at the following prices:
Sole F63 – $1,199
Sole F65 – $1,399
I remember when the F63 was priced at $999 and at that price, choosing between these two treadmills would be a lot easier – but alas, the times do change…
The reality is that inflation is a b**** and most things get more expensive with time… hey, what can ya do?
Regardless, these days, the F65 is about $200 more than the F63 and that makes choosing between 'em quite a bit more difficult.
Considering how similar these treadmills are, does it make sense to save the cash and go with the F63 or are the subtle upgrades worth the extra $200?
Final Thoughts
Tough call… but if it were an easy call, you probably wouldn't be reading this article.
Personally, I think the wider running surface, the stronger motor, and the higher weight capacity, when all added together , warrant the $200 price difference.
That said, I don't think the F65 is necessarily the better buy.
Smaller folks and people who don't plan on running at faster speeds may benefit from saving the extra money and going with the F63 because I don't think they'd necessarily notice all that much difference.
But larger users (over 250 lb) and more serious runners would likely benefit from the higher weight limit and stronger motor and should probably go with the F65.
If you're on a tighter budget and are stretching just to make the F63 work, I wouldn't worry about going for the F65.
But if both treadmills are within your price range and you want the best option possible, the F65 is likely worth it (mostly for the wider running surface).
Speaking of which, at $1399, the F65 is one of the most affordable treadmills around that's packing a 22″ wide belt (LifeSpan might have one too, but there aren't many).
Long-story-short: the F65 has a wider belt, a stronger motor, and a higher weight capacity, but in terms of features, there are really no differences.
Both treadmills are awesome for their price range and I think the better buy depends entirely on your size and how you plan on using your treadmill.