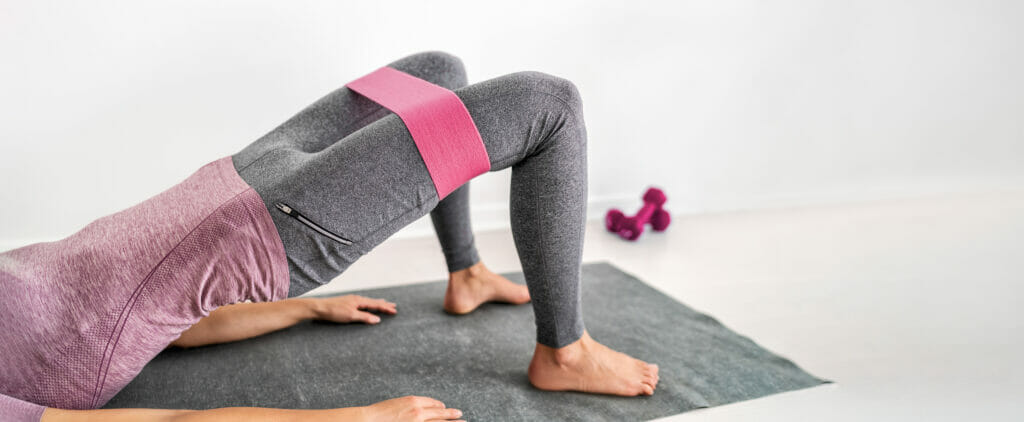 Home gyms come in all shapes and sizes and let's face it, most of us don't have room for a comprehensive, club caliber exercise room.
And that's ok, but kudos to the ballers out there that do have those kinds of home gyms.
Luckily, these days we have access to all kinds of different fitness machines and gym paraphernalia, so regardless of how small your workout space may be, I guarantee you can still put together a space to help you meet your fitness goals.
That said, when dealing with smaller areas, having a game plan certainly helps maximize the functionality of your space.
And that's exactly what we're here to discuss right now.
In this article, I'll go over some helpful tips to help you make the most of your gym space, regardless of how small it may be.
Well, let's get to it.
6 Small Home Gym Design Ideas To Help You Maximize Your Space
My family and I recently moved to a new home.
Yes, it's been very exciting, but it's also been quite exhausting.
Last time my wife and I moved, it was just the 2 of us and a very small toddler – this time it was my wife and I, plus 2 much larger kids.
I knew my kids had a lot of stuff, but I don't think I really appreciated just how much crap they had until we started packing up their rooms…crazy.
Anyway, long story short, the move went about as well as could be expected and we're happy in our new home.
And I'm fortunate to share that our new home has a dedicated space in the basement that'll be used for our home gym area.
I had been working out in my attic home gym for the last several years, but now I've got a basement gym – I'm moving up in the world people!
Jokes aside, the new home gym area is great, but it's a little tight for what I had envisioned.
I'm really hoping to eventually get a power rack (possibly Rogue's RML-490C) or maybe go all out and invest in Force USA's X15 if we can make it fit.
I'm just not sure either's going to fit comfortably.
But I can't complain, at least in our new workout area we should be able to fit our treadmill, indoor cycle, and dumbbells all in the same room (in the last house, our treadmill was in a different room than everything else – plus my wife had all her workout stuff in the garage…)
Anyway, I've been trying out a few different design ideas for our new workout room and it got me thinking about different ways to make the most out of our space.
#1 Utilize Corners
You can do a lot with corner space and a lot of home racks and gyms are designed to kind of mimic the shape of a corner in the first place.
Backing a rack or home gym into a corner is a great way to open up the rest of the room for usable workout space too, but there are certainly other ways to utilize corners.
You could try anchoring a suspension trainer on a wall or ceiling near a corner.
You could always throw an indoor cycle against a wall in a corner (like how I have my Peloton currently) because you really only need to be able to access it from one side.
Just make sure you have enough room to actually cycle comfortably.
Indoor cycles often make great options for small gyms because they only take up about 4′ x 2′ of space, even while being used.
A lot of functional trainers fit nicely into corners too, giving you all kinds of workout options.
Of course, you can always use corners for storage options too.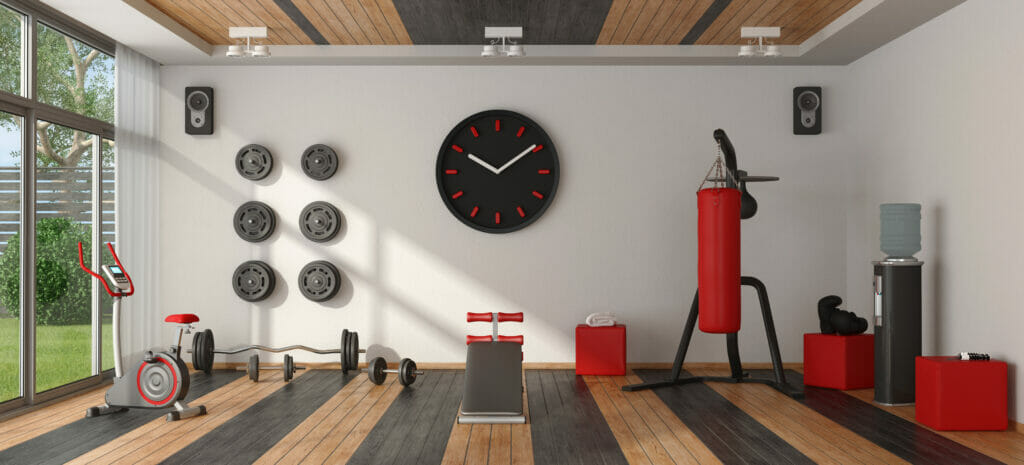 #2 Make The Most of Wall Space
Most of us probably focus on the usable floor space our gym area has, but don't discredit the benefits of bare walls.
These days, you can get a lot done with an empty wall and a few feet for floor space.
There are a lot of wall mounted gym machines these days and we're talkin' everything from wall mounted racks and power cages to smart mirrors.
There's something I never though I'd say: "smart mirror".
Of course, there's also wall mounted gym systems like the Tonal, which offer instructor lead workouts without taking up much floor space.
(Speaking of which, my brother recently purchased a Tonal and I look forward to trying it out once he gets it set up…)
You can also opt for older school options too though, like pull up bars, dip stations, or suspension trainer anchors.
You can also use wall space for things like bar and plate storage too, which also save valuable floor space for exercising.
#3 Don't Forget To Fold
This one kinda goes with the wall mounted idea, but there are also a lot of folding racks and gyms out there that can save a lot of space when not being used.
Brands like Rogue, PRx, and Titan have squat racks that mount to the wall and fold away for storage, literally taking up inches of space when not in use.
Some gym machines that aren't attached to the wall can also fold away after use.
Think of the Total Gyms.
A Total Gym offers a ton of workout variety, is easy to move around, and can then fold away after your workout.
The benefit of folding also applies to your accessories too – you can always save a little space by folding/rolling up your workout or yoga matts and stacking them out of sight.
#4 Put Those Ceilings To Work
This one won't work for everyone, but if you've got the infrastructure and the know-how, you can even utilize ceiling space to add a little more function to a small home gym.
I've mentioned suspension trainers a few times already, but I'll do it again because they're so versatile and they take up very little room.
You can try attaching a suspension trainer to the ceiling and as long as you've got it in a stud, you should be able to perform all of your favorite suspension exercises.
You can also hang things like pull up bars and heavy bags from the ceiling, adding all kinds of variety to your gym.
#5 Stay Organized
The smaller your gym area is, the more you'll benefit from being organized.
Regardless of whether you're using resistance bands, dumbbells, plates, or some other type of equipment, keeping it neat and organized will ultimately give you more usable space.
When it comes to dumbbells, if you've got more than a few sets, going with a stand is always a good idea.
I know it sucks investing in something boring like a rack, but getting those dumbbells off the floor and organized is going to make your life easier.
It's also going to make your workout space look a lot better.
Baskets can really help with smaller items like bands, rollers, or yoga blocks and they can be pushed underneath benches or behind racks to save space.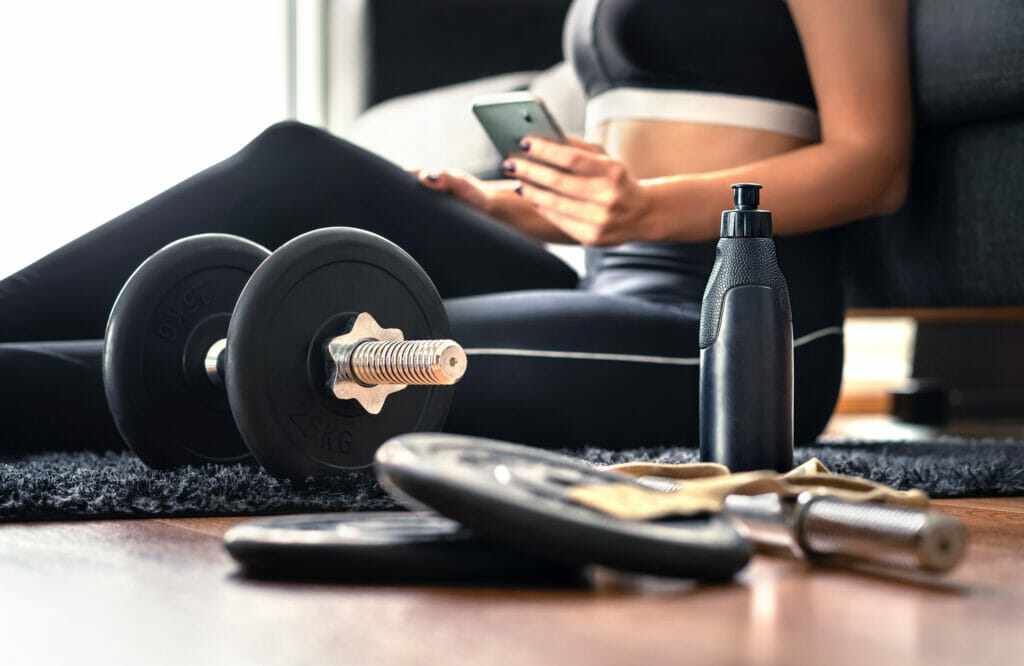 #6 Footprint vs Usable Space
This one is less a design tip and more a matter of perspective I guess, but it's still worth mentioning I think.
Instead of getting too caught up on how much floor space your gym has, instead try to focus on how much usable space it has.
Using some of the tips mentioned above, like hanging racks from a wall or ceiling or making the most of a corner can really enhance the types of exercises you can do in even a small area.
Depending on your home, your "gym area" could simply be a workout mat and an indoor cycle placed in the living room – but that doesn't mean you can't still kick some serious butt.
Remember you can always get a great workout in with bodyweight exercises alone.
Think push ups, squats, sit ups… you know, the classics.
My point is, with the right state of mind and a little imagination, you can get a lot done in a little bit of space.
Final Thoughts
Alrighty, that about does it for now.
I hope you found the above ideas helpful; if not, my apologies, I'll try harder next time.
With regards to my home gym, for the moment I've got my Peloton in one corner, up against the wall and I've got my treadmill across the room from it against another wall.
My dumbbell rack is against the wall in the front of the room and my bench is in the middle of the room.
Another corner is being used for mat storage and small things like gloves, resistance bands, and foam rollers.
Me and my wife are still playing with the idea of getting a rack system, but we're still measuring and really making sure we'll have enough usable space in the room if we do that.
I'm pretty sure it'll fit, but I don't want to get claustrophobic in there either.
Anyway, as always, if you have and questions or comments, please leave 'em below and I'll get back to you shortly.
And if you have any other great design ideas for small home gyms, I'd love to hear them.