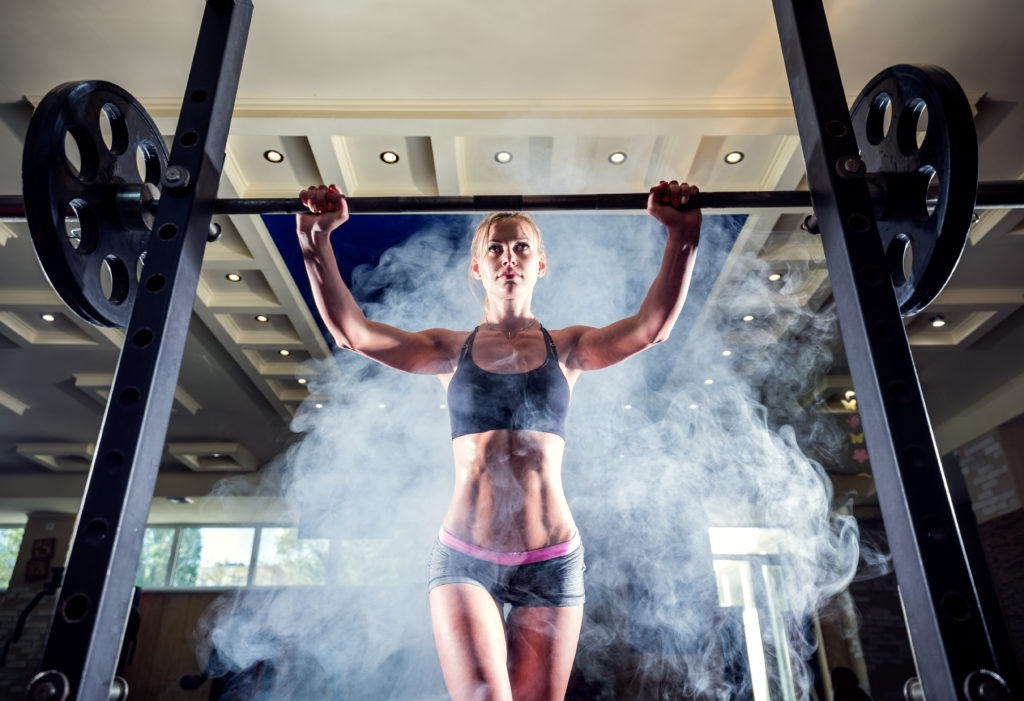 A quality squat rack is one of the most important pieces in a weight lifter's home gym – unfortunately though, if your home or garage is a little space challenged, fitting in a full size rack can seem undoable.
Fortunately, home fitness companies have heard your cries and are now offering folding squat racks.
These rigs can act as fully functioning squat racks and then fold away for storage after your workouts, making room in your garage for other important things, like cars.
As the popularity of these units continues to rise, more and more companies are trying to get in on the action. But buyers beware- all folding racks are not equal.
In order to find the best folding squat racks, you have to know what to look for – and that's where I come in.
In this guide, we'll discuss all the key specs and features you should consider when comparing folding squat racks.
I'll also offer my 2 cents on which racks I think outperform the rest.
After reading this article, you'll know everything you need to in order to find the best folding squat rack for your home gym.
Let's start from the beginning.
If you'd like to skip the guide and go directly to my top picks, I understand, no hard feelings.
How To Choose A Folding Squat Rack
Like anything else in life, it's a good idea to know what you're looking for before you start looking.
Luckily, folding squat racks are pretty simple devices- there's not that much to them.
The most important thing to consider is frame quality, so let's start there:
Structural Integrity
All squat racks, whether they fold or not, should be constructed out of steel.
If you find a "squat rack" somewhere that's made out of something else, don't panic – casually stop what you're doing, excuse yourself, and run in the opposite direction.
And maybe even alert the authorities.
Anyway, the structural integrity of your rack is largely determined by 2 factors: the thickness of the steel used, and the size of the upright columns.
Gauge
The gauge of steel refers to how thick it is.
As you might expect, thicker steel is stronger than thinner steel. For this reason, racks using thicker steel are preferred.
Metal gauges work opposite of what you'd expect- lower numbers mean thicker metal.
Most high-quality home squat racks use 11-gauge steel (meaning the steel is approximately 1/8″ thick).
Some racks use 12-gauge, and depending on how much weight you plan on lifting, this could still be ok.
High-end commercial grade racks can use as thick as 7-gauge steel to stand up to extended use and multiple users a day.
It's not recommended to go with anything thinner than 12-gauge, there's no guarantee it's gonna hold up.
I've seen racks using 14-gauge steel and I know we all have to do what our budget allows, but if you're going with a 14-gauge steel, I wouldn't plan on loading it up with heavy weights.
It's usually easy to tell the gauge of steel a rack is using because it will be advertised. Well, if it's 11 or 12-gauge it probably will be.
If you don't see the gauge listed, it's not a good sign.
Column Size
The upright columns refer to the large steel poles that make up the bulk of the squat rack.
Both folding and non-folding racks use upright columns, although wall-mounted folding racks will only have 2 (true power cages have 4).
The columns have the job of holding up the majority of the weight you're placing on the rack, so it's important for them to be as structurally sound as possible.
The gauge of the steel they're made of contributes to their strength, as does the size of the column itself.
These upright columns are measured in inches and the bigger they are, the better. The columns can be square, with measurements like 2″x2″ or rectangular, with measurements like 2″x3″.
The largest and most structurally sound columns will be 3″x3″. A squat rack with columns this large is pretty much guaranteed to be strong enough to handle any workout you can throw at it.
Although 3″x3″ columns are preferred, most users will do just fine with 2″x3″ columns too.
Structurally, most agree there isn't a big difference between the two, assuming both have the same gauge steel.
More affordable racks may use 2″x2″ columns.
Even this could be safe depending on how much weight you're using. Moderate to advanced lifters should probably go with at least 2″x3″ though.
The highest-end folding squat racks will use 11-gauge, 3″x3″ steel upright columns for a heavy-duty frame capable of holding up to 1000 lb + safely.
Space Considerations
Even folding racks take up some space, so it's important to consider how much room you have to work with in your garage.
Squat racks can fold either horizontally (most) or vertically (PRx only) depending on the brand and both have their advantages.
Most wall mounted folding racks fold horizontally- you remove the pull up bar, pull out 4 pins, and swing the columns up against the wall.
These units usually stick out about 5″ or so from the wall when folded, which is pretty good considering they usually stick out at least 21.5″ during use.
These horizontally folding rigs can fold outward, with each column going in the opposite direction, or inward with the columns meeting together in the middle.
You could even fold one inward and one outward depending on your garage's availability of wall space.
These horizontally folding racks work great, but you have to have the open wall space around it if you plan on folding outward.
The PRx racks have a vertical folding mechanism, which is faster and more convenient, but you have to make sure you have high enough ceilings- at least 9′ of available wall space.
Speaking of dimensions, most of these racks have comparable specs.
All are roughly: 90″ x 50-52″ x 21.5″ (or 41.5″) – H x W x D.
Most wall mounted racks give the option of getting 21.5″ or 41.5″ of depth, or distance away from the wall.
Most folks should do just fine with 21.5″, but if you plan on doing a lot of kipping movements or gymnastic stuff with rings, you might want to opt for the larger depth.
Features
It's always a good idea to consider what features a rack comes with or is compatible with before purchasing.
After all, it's not all about structural integrity… just mostly.
These squat racks are basically just steel frames, so there aren't a lot of features to talk about, but there are a couple I want to mention.
Pull Up Bars
Most respectable folding racks will come with a quick-attach pull up bar.
This is a straight bar that can attach to the top of the rack with the use of push pins.
Some will come with a kipping bar- this is a pull up bar that extends a little farther out from the rack, allowing for kipping moves that require more space.
Westside Spacing
A lot of squat racks these days come with Westside spacing, which refers to the holes near the bottom of the rack being spaced closer together than the holes at the top (1″ vs 2-3″)
This feature comes in handy for bench press moves, where you may need more precise positioning of the J-hooks (especially if you'll be maxing out).
J-hooks
J-hooks are the hooks used on squat racks to hold the barbell in place.
Most j-hooks are compatible across multiple racks and can easily be attached using the laser cut holes on each column.
Most nice racks will include a pair of J-hooks to get ya started.
Accessories
Most folding racks are compatible with all the accessories you can use on full size racks and cages. These can include:
Safety arms
Safety straps
Dip station
Folding bench (may also be wall mounted)
Plate storage (wall mounted?)
Barbells
That about does it for the guide, so let's change gears and check out the best folding squat racks the market has to offer.
The 5 Best Folding Squat Racks
#1 Rogue RML-3W Fold Back Wall Mounted Rack
Rogue Fitness has kinda become the gold standard when it comes to home racks, cages, and pretty much everything else weight lifting related.
And they did this by offering heavy-duty equipment that looks great and lasts forever – it probably doesn't hurt that they have a badass name either.
So, if you're familiar with the Rogue brand, it probably won't surprise you to hear that this rack, even though it folds, is built like a tank.
Because that's how Rogue rolls.
They consistently put out some of the toughest, heaviest-duty lifting rigs on the market. They also price them competitively and back them up with lifetime warranties.
The RML-3W is a traditional folding, wall-mounted squat rack, meaning it folds horizontally.
You have to detach the pull up bar before you fold each column inward or outward against the wall. It takes a little longer, but it's still highly effective.
And folded up, this rack only sticks about 5″ out from the wall.
Rogue uses 11-gauge, 3″x3″ uprights for a rock solid frame on this bad boy, which is superior to the Profile below with its 2″x3″ columns.
So, if you're looking for a heavier-duty rack, you found it.
The RML-3W comes with Westside spacing, a pair of J-hooks, and your choice of depth (21.5″ or 41.5″). It's also backed by Rogue's lifetime guarantee.
Even though they aren't required, Rogue recommends purchasing a stringer set to make installation a lot easier.
The stringers have all the holes pre-drilled in the right place, making mounting a lot more straightforward.
The stringers are also black powder coated and made out of 11-gauge steel, so they're tough and don't take away anything from the look of your rack.
I actually think they make the whole system look better.
Overall, the RML-3W is the  best horizontally folding squat rack on the market. If you don't mind taking the few extra steps to fold and unfold each time, this rack is a no-brainer. Highly recommended. See full review.

#2 PRx Profile ONE Squat Rack (With Kipping Bar)
The PRx Profile ONE isn't quite as heavy-duty as the Rogue rack mentioned above, but it's still tough enough to handle what 99% of us can throw at it.
And what it lacks in upright heavy-dutiness, it makes up for with ingenuity.
This rack's vertical folding technology is by the far the fastest and most convenient way to store any of the racks I've seen.
And it's probably going to be the only vertical folding rack for some time I'm guessing, because they invented the technology and have a patent pending on it.
If you watch Shark Tank often enough, you may have seen PRx on it.
They actually scored a deal with Mr. Wonderful (Kevin O'Leary), which I'm sure has done wonders for their business.
Anyway, PRx offers a few different variations on their folding racks, all at different price points depending on what type of pull up bar you choose.
I like this Profile Squat Rack with the kipping bar because it will work with most CrossFit moves (even with the 21.5″ depth).
This PRx Profile Rack uses 11-gauge steel and comes with 2″ x 3″ upright columns.
Even though these columns aren't the largest around, they really should be strong enough to hold the amount of weight most users will throwing on it.
P.S.- the PRx Pro Racks come with 3″x3″ columns, but cost even more.
With 2″x3″ columns the Profile is still capable of holding 1000 lb safely, so like I said, should be plenty for the majority of us. The kipping bar is also solid steel.
This rig folds vertically, using 4 gas shocks that make lifting and dropping smooth and easy.
In its folded position, this rack extends only 4″ from the wall, making it the most compact model of the bunch.
Oh, another nice thing about the way this rack folds- you don't have to remove the pull up bar before folding.
The only downside of the vertical fold is that it requires higher ceilings- at least 9′ worth of open wall space.
The Profile is also backed by a lifetime warranty. The chances of something breaking down is rare, but it's nice to know you're covered in case something does.
The only real downside to this rack is the price- this is by far the most expensive folding rack around. But it's also the only one that folds vertically in seconds (innovation is gonna cost ya).
If you agree time is precious, the convenience may warrant the extra cost. If you decide on the PRx Profile, I doubt you'll be disappointed.  See full review.

#3 Titan X-3 Fold Back Wall Mounted Rack
Rounding out our list is the X-3 Fold Back by Titan Fitness. If you like the idea of the Rogue rack above, but are on a tighter budget, the X-3 is the way to go.
This squat rack is modeled after the RML-3W in pretty much every way. And on paper, they look really similar. The only thing missing is the Rogue name (which counts for a lot).
But to be clear, Titan is a budget friendly home fitness equipment provider.
They certainly don't have the same reputation Rogue has earned, but their racks and gear are generally well received.
The X-3 is their most heavy-duty folding squat rack. It too comes with 11-gauge, 3″x3″ upright columns and has a weight capacity north of 1000 lb.
This rack folds horizontally like the RML-3W, using 4 pins to release the hinges.
It too has a quick-release pull up bar that can easily be removed or installed using pins. Like the rack above, you have to remove the pull up bar before folding.
The X-3 also comes with laser drilled holes and Westside spacing. Titan even throws in an extra pair of J-hooks, giving you 4 total to work with right out of the box.
This is convenient because it means you can set up one pair for squatting and another pair for benching- should cut down on the amount of adjusting you have to do.
Titan doesn't offer any stringers like Rogue does, so assembly can be challenging. But you can make your own stringers with 2×8's and a trip to your local Home Depot.
The biggest downside to this rack is the warranty: Titan only guarantees it for 12 months.
There's no doubt this is a short warranty, but with 11-gauge steel and 3″x3″ uprights, this rack should be able to last a lifetime and then some.
So if you're looking for a heavy-duty folding rack at a bargain price, the X-3 is your best bet. The fact that it's $200 cheaper than the RML-3W might help you get over that warranty. See full review.

#4 REP PR-4100 Folding Squat Rack
REP is another up and coming brand with a great reputation for offering quality gear.
I get the impression they're trying real hard to mimic what Rogue does (given the name and look of their equipment), but who can blame 'em – who better to imitate?
The PR-4100 has a lot going for it and it all starts with 3″ x 3″, 11-gauge steel uprights.
Each upright comes with Westside spacing throughout the bench zone and this rack has a weight capacity of 1000 lb.
It's also available in both a 21.5″ and 41″ depth, giving folks the option to choose how much interior space they get.
The 21.5″ depth can fold into itself, taking up only 6″ worth of space from the wall (the 41″ depth has to be folded away from each other).
The PR-4100 is also backed by a lifetime structural warranty and compatible with plenty of attachments.
The only real downside I see is that REP doesn't offer a set of stringers, so assembly won't be quite as convenient as it is with Rogue and their stringers.
But if you're looking for a slightly more affordable folding rack, the PR-4100 could make a lot of sense.

#5 Force USA MyRack Folding Power Rack
Technically, the Folding MyRack is a power rack and not a squat stand, but that's just semantics.
The MyRack isn't nearly as convenient as the wall-mounted racks mentioned above, but what it lacks in convenience, it try's to make up for with function.
As a folding power rack, the MyRack offers users more interior cage space for lifting.
And since this rack doesn't attach to a wall, you may have more options on where you place it.
The Folding MyRack isn't quite as heavy-duty as the racks listed above either. This rack comes with 2.4″ x 2.4″, 12-gauge steel uprights, but it's still rated to statically hold up to 2,000 lb safely.
Each upright comes with Westside spacing, giving you tons of options for bar placement and a multi-grip pull up bar is included with purchase.
This rack is also backed by a lifetime guarantee, which always adds a little extra peace of mind.
The MyRack folds away by using pull pins, allowing each side of the rack to fold inward (after removing the pull up bar of course).
This is also a modular rack, meaning you get to pick and choose which attachments and accessories you add, giving you plenty of room to expand your rack over time.
Attachments include dip handles, landmine stations, safety bars/straps, etc.
The only bad thing is that the MyRack doesn't come with any included J-cups or anything, but this also allows you to customize everything from the get go.
If you're looking for a folding power rack with plenty of room to grow, Force's Folding MyRack is a smart bet.

Final Thoughts
Folding squat racks, especially the ones that are wall mounted, offer a great solution for garage gyms that are tight on space.
You get all of the advantages of a fully functioning rack during use and then get to store it out of the way until next time.
Win win.
There aren't a ton of these racks on the market yet, but as their popularity grows, I'll bet we'll be seeing more and more.
Just keep in mind what you should be looking out for when comparing new models.
Always start with structural integrity by assessing the gauge and size of the steel columns used- 11-gauage, 3″x3″ is the best. Then consider space requirements and included features.
And of course you should always consider warranties too.
More affordable racks tend to come with shorter guarantees (as Titan's X-3 demonstrates perfectly), but we're talking about steel frames here, so there shouldn't be much breakdown that occurs.
Well, that about does it.
If you have any questions or comments, please leave them and I'll get back to ya soon.