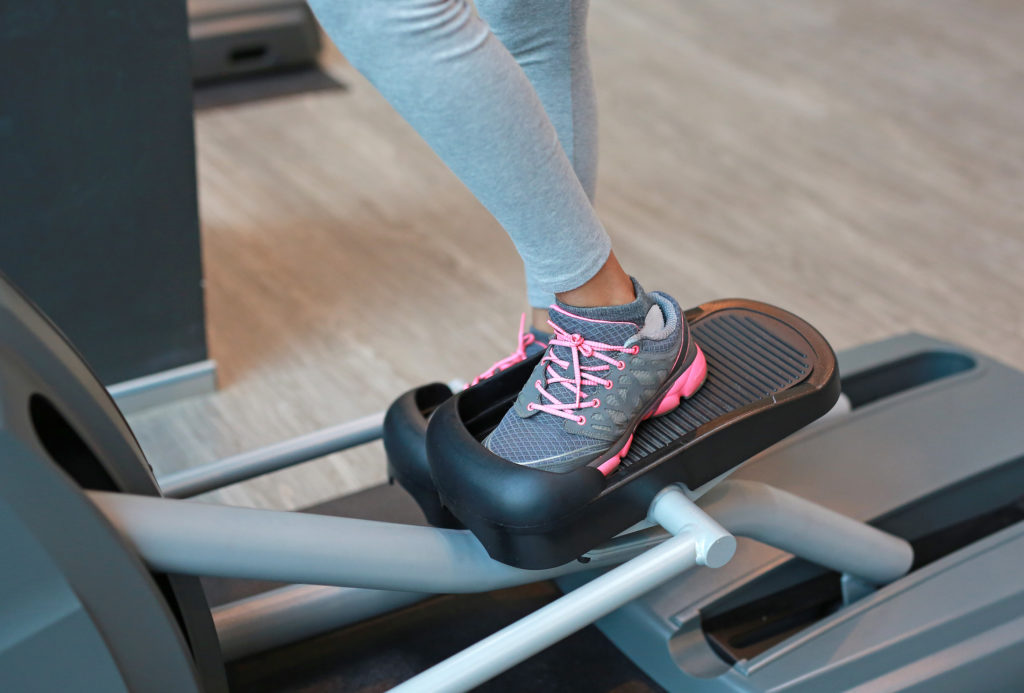 The 470 is Schwinn's most advanced elliptical machine and for the price, it comes with some very pleasant surprises.
Like a 20″ stride length, 20 lb flywheel, and adjustable power incline. It's also loaded with enough workout programs to keep anyone busy for some time.
The only real department the 470 falls short in is the warranty- but we'll get to that in a little bit.
If you're looking for a budget elliptical that doesn't feel "budget", the 470 might be a smart choice. But this review is here to help you figure that out.
Throughout this article, we'll discuss everything this elliptical has going for it (and what it's lacking) in order to help you decide whether or not this is the right choice for your home gym.
Let's start off with a quick word on Schwinn.
Schwinn: An American Icon
I often start my reviews with a quick intro to the brand name. Some brands are more well-known than others and I think it's a good idea to be familiar with a brand before you decide to purchase any of their products.
Companies get good or bad reputations for good reason…because their products don't lie. And people talk. Most of us are more likely to review something if we had a really good or a really bad experience with it.
Same goes with any service. If we received really good (or exceptionally bad) services, we want to share with others- either to recommend or discourage future users.
As this goes on, companies earn their reputation. Through word of mouth and experiences folks have with their products.
Schwinn has definitely earned their reputation as one of the world leaders in fitness equipment. I know you are familiar with the Schwinn name, it's synonymous with bicycle.
They started as a bike company in 1895…yeah, that's not a typo. They have existed for well over 100 years. That type of duration should say enough, you don't last for over 100 years by producing less than desirable products.
They started producing fitness equipment in the 1960's and have been a leader in the fitness equipment world ever since.
They are actually part of the Nautilus group now (as is Bowflex). Nautilus is another huge name in the fitness industry know for producing durable, high-quality machines.
So even though they are well known for their bikes, as they diverged into fitness equipment, their line of products quickly expanded.
Over the last 15 years or so, Schwinn has been producing high quality ellipticals, treadmills, and recumbent bikes as well.
Oh, ever heard of the Airdyne bikes? Yeah, that's Schwinn too. See, told ya they were impressive.
So, my point with this little history lesson is that Schwinn is a very trusted manufacturer who has been around for a really long time.
Their products are always highly rated because Schwinn makes it their business to produce some of the best fitness products on the market. That's kinda their thing.
Price Range
Prices on ellipticals can vary big time. As do prices on any home fitness equipment really. Ellipticals are no different. The more money you are willing to spend, the nicer machine you are going to get.
That is not to say that you have to break the bank to get a quality product.
When talking price ranges for home equipment, you could break down it several ways. For this post, let's split price into 3 groups: budget, moderately priced, and high-end.
A budget elliptical is going to be anything for under $1000. You really have to do your research if buying something in this product because you really never know what you're going to get.
These machines typically are less durable, have less features, weak (if any) warranties, and are less comfortable to use.
The moderately priced group for ellipticals is going to be any machine with a price between $1000 and $2000.
In this price range you are going to get a lot more features, a much better warranty, and a much more durable product. These machines should be able to withstand multiple users without fear of rapid wear down.
Anything over $2000 is going to be considered high-end. These machines are designed for heavy use by multiple users. They are more comfortable, more durable, and come with better technologies.
Ellipticals in this price range should look and feel like commercial grade products.
The Schwinn 470 falls in the budget group price range.
The Schwinn 470 Elliptical Machine
The 470 is Schwinn's latest model of elliptical. It includes several upgrades from its little brother the 430 and many upgrades over their most affordable 411.
Primary differences include: motorized incline ramp, 5 additional levels of resistance, backlit console which is a little easier on the eyes, and  more workout programs.
Pros
20″ stride length
20 lb flywheel
25 resistance levels
29 built-in workout programs
4 user profiles
Two blue back-lit LCD display screens
Blue tooth connectivity for data transfer to fitness apps
Large, comfortable foot plates
USB charging port
Contact heart rate monitor (chest strap compatible, but not included)
3 speed fan
Speakers
300 lb max user weight limit
Cons
Stride Length
I always like to start my elliptical reviews by going over the stride length. The stride length is a measurement of how far your feet move front to back during the elliptical's motion.
If the stride length is too small, it's going to feel like you're marching in place.
The optimal stride length for most users is 20″. The 470 has a 20″ stride length, which is great because in this price range, it isn't a given.
A lot of budget ellipticals come with stride lengths in the 13-18 in range. Seeing a tiny stride length is a great way to spot a sub-par elliptical a mile away.
The 470 has a steel frame with stabilizers to ensure a stable, durable workout. This steel frame can handle users up to 300 lb, which is pretty standard for any decent home elliptical.
There are some budget treadmills that can handle more weight (and a lot that handle a lot less).
Overall though, the 470 scores pretty highly with a 20″ stride length and a 300 lb weight capacity.
Flywheel
The flywheel is another important spec to consider when checking out ellipticals. Heavier is usually considered to be better.
The 470 comes with a 20 lb flywheel, which is very respectable for a machine in this price range. Comparably priced ellipticals often come with flywheels in the 14-18 lb range.
Twenty pounds and higher should be plenty to give you a smooth, comfortable feel during use.
With 25 levels of resistance, you will have a lot of control over the intensity of your workouts. If you ask me, more control is a good thing.
The 470 also comes with 10° of available incline to add a little extra intensity to your routine. It's rare to see power incline on an elliptical this affordable (though it should be a given on higher-end models).
Schwinn added quick touch buttons to the console, allowing you to instantly adjust the incline and resistance settings with the push of a button. Very convenient feature.
Overall, the 470 also scores highly with a 20 lb flywheel, power incline, and 25 levels of resistance- impressive features for a budget model.
Features
The Schwinn 470 comes with the following features:
29 workout programs- this is a boat load of workouts to choose from. Having this many options should ensure your workouts stay fresh.
USB charging port- this charging port allows you to keep your phone or tablet fully charged while you workout. It's nice knowing you won't have to drain your battery to listen to your workout music.
4 user profiles- up to 4 people can save their data for more accurate workout metrics.
Dualtrack blue backlit LCD screen- the double screens allow you to see all of your workout data at the same time during your workouts. Nothing too fancy here, but very effective.
Bluetooth compatible- connect with your favorite workout apps, or use Schwinn's free app to track and save all your workout data
Built-in fan- the 3 speed fan will help keep you comfortable during your strenuous workouts
Grip heart rate monitor- the built-in grip heart rate monitor allows you to track your heart rate during your workouts. The 470 is also compatible with chest strap monitors.
Built-in speakers- connect our mp3 player or phone to the 470 and jam out to your workout tunes through the console speakers
Assembly
Schwinn does a great job of organizing their assembly manual. All of the illustrations are large and easy to see. Each step specifically tells you what hardware and pieces you will need, as well as which tools you'll need.
Speaking of tools, the necessary wrenches and screwdrivers are included (although using your own full size screwdriver will be more comfortable).
Overall, putting the 470 together shouldn't be that bad. Might be helpful to have a second pair of hands during the process. I bet most users can have this machine up and running within 1-2 hrs.
Warranty
The Schwinn 470 comes with the following warranty:
10 year frame
2 year parts (1 year electronics)
90 days labor
I warned you Schwinn falls a little short in the warranty department.
This warranty isn't awful, but there's definitely room for improvement.
I'd like to see a lifetime guarantee on the frame and 1 year on labor. Three years on parts would be better, but 2 years is decent for an elliptical in this price range.
Overall, this warranty could be much better.
Final Thoughts
Schwinn is one of the most well respected fitness equipment manufacturers out there because they take pride in their products. They've become well known for providing great products that won't break the bank.
Their 470 elliptical fits their mold nicely.
It scores highly with the heavy flywheel and long stride length. I also love the fact that this elliptical has power incline options because this isn't a give for machines this affordable.
This elliptical also scores very highly when it comes to workout options- this thing is packed with them.
The only problem I have with the 470  is the lackluster warranty. If Schwinn would bump up that guarantee a little, this would be a grand slam.
Even with the shorter warranty though, the Schwinn 470 is still one of my favorite budget ellipticals. If you're looking for an affordable elliptical that is loaded with features, this is a smart choice.