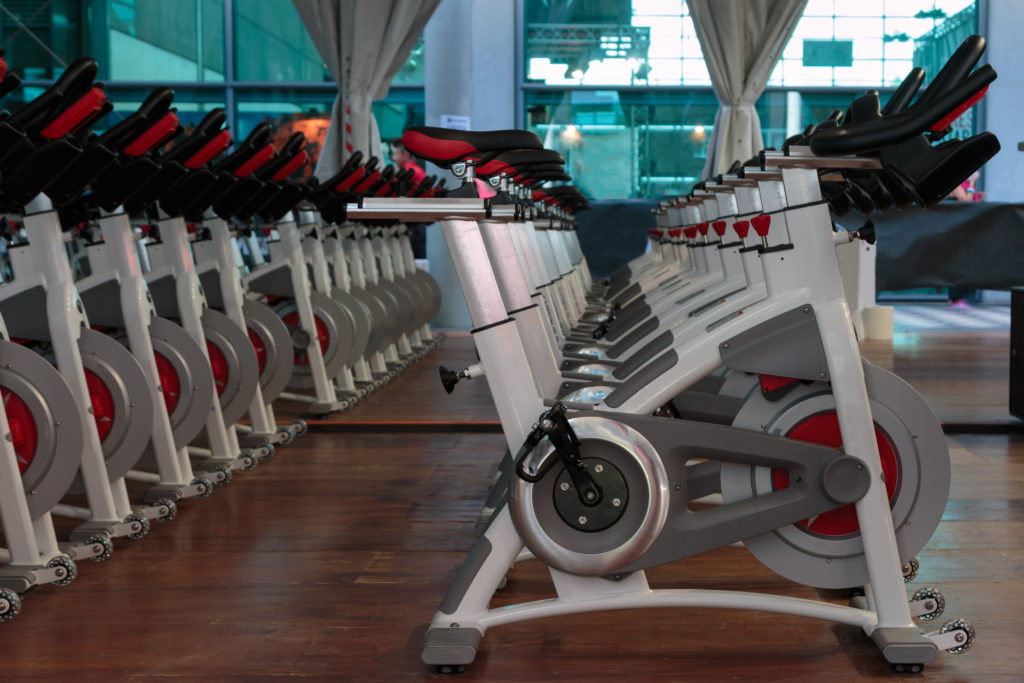 The Schwinn AC Performance Plus Indoor Cycle is one of the most well-known, high-end spin bikes on the market. Often found in small gyms and spin studios alike, the AC Performance Plus is a home fitness bike that can stand toe to toe with most commercial grade machines. But with a name like Schwinn (and the considerable asking price), expectations should be high.
Can Schwinn's premiere spin cycle hold up under pressure? Is it worthy of all the hype?
I'm hoping this review will answer these questions and more, as well as help you determine whether or not this bike is worth the investment.
A Quick Word On Schwinn
Everyone is familiar with the Schwinn brand. The name is practically synonymous with "bike" the way Kleenex is with "tissue". The company has been around since the late 1800's, when they started making a name for themselves when their bikes started winning more races than the rest of the competition.
Long story short, they got into the home fitness bracket in the '60's with their "Deluxe Exerciser" and they've been a premiere home fitness brand ever since.
Schwinn is now part of Nautilus, Inc., which also owns brands like Bowflex, Universal, and Octane Fitness.
Schwinn had it's fair share of ups and downs before becoming part of the Nautilus family, but the brand and its exercise bikes are generally well received these days. They're known for quality craftsmanship and generous warranties, even with their more budget friendly products.
Schwinn currently produces 3 different indoor cycles, with the AC Performance Plus being their highest-end model. The IC2 and the popular IC3 are also generally well reviewed for their respective price ranges.
The Schwinn AC Performance Plus Indoor Cycle
The "AC" part of this bike's name stands for "authentic cycling", as Schwinn's goal here is to create a cycle that closely resembles the feel of riding a bike outside. This is really how indoor cycles (or spin bikes as they're commonly known, although technically that's a trademarked term by Mad Dogg Athletics) came to be in general- providing cyclists a way to train indoors when riding outside wasn't possible.
At first glance, the AC Performance Plus is a sleek looking cycle with its white and gray exterior. The pops of red accent on the flywheel, pedals, and seat act nicely to add a little contrast.
Flywheel
When it comes to indoor cycles, the flywheel weight is usually the first thing people ask about, so we should probably start here. The general consensus is that heavier flywheels are preferred because they provide a smoother ride experience. It takes a little more energy to get them moving, but the momentum that builds up behind them feels more authentic.
Oh, just in case, the flywheel is the part of the bike that spins as you pedal- it's the "wheel" you see at the front of the indoor cycle.
Flywheel weights can vary anywhere from 8 lb to 50 lb and more expensive models tend to have heavier flywheels. Although this isn't always the case- the famous Keiser M3i, considered by most to be one of the top spin bikes in the world, only uses an 8 lb flywheel.
Personally, I think if the bike is utilizing a sophisticated magnetic resistance system (as the M3i does) then flywheel weight is less important.
Regardless, most nicer indoor cycles will have a flywheel that weighs at least 30 lb. The AC Performance Plus uses a 37 lb perimeter weighted flywheel. If you're of the school of thought that heavier is better, this should be heavy enough to keep you satisfied.
Schwinn uses a magnetic resistance system that consists of 6 different magnets, combined with this flywheel to provide all the resistance for the bike. The great thing about magnetic resistance is that it's remarkably smooth and virtually maintenance free. Since the moving parts aren't actually touching each other, there's less chance for breakdown.
Magnetic resistance is something we should expect from a high-end cycle and Schwinn doesn't disappoint. Users agree the resistance system on this bike works very well. You conveniently increase or decrease it by simply turning the dial in front of you as you ride.
Seat
Seats on indoor cycles, just like seats on road bikes, are notoriously uncomfortable. With time you get used to it, but beginners are often surprised by how uncomfortable it can be to use spin bikes, especially for longer rides. Unfortunately, that's just the way it is.
The seat provided on the AC Performance Plus is a standard bicycle seat. If you're uncomfortable on other indoor cycles or road bikes, you'll likely find this one uncomfortable as well. You can switch it out for another bike seat easily though, if you have a favorite seat you've used in the past.
The important thing to note here is that the seat is fully adjustable. This means you can adjust the height of course, but also the horizontal (fore/aft) position. This is paramount in ensuring you get the right fit. And as any experienced cyclist will tell you, having the right fit is important for your comfort and your safety during your ride.
If you are too close or too far away from the pedals and handlebars, unwanted strain is going to occur in your back, hips, and knees. With time, this can lead to injury and discomfort. Having the fully adjustable seat will make sure you get a proper fit and reduce your chances of injury.
Adjustments are made easily by turning the appropriate dials and selecting your height and horizontal position.
Handlebars
The handlebars on this bike are also fully adjustable, allowing you to change the height and horizontal position to fit your needs. The handles are also multi-grip, giving you plenty of variety on your hand placement during your workouts. This comes in handy depending on what type of workout you're doing- for example, when standing you'll likely want to use a farther, wider grip.
Something else notable about these handlebars is how thick the padding is around them. A big difference we see between mid-grade and high-end bikes is the thickness of the padding. Thicker is better because it's more comfortable for your hands and arms. And believe it or not, a lot of stress goes through your upper body while riding.
I own a high-end (Peloton) and a mid-grade (Diamondback) indoor cycle and the difference between the comfort of the handlebars is significant. I can ride longer and more comfortably on the high-end bike because of the thicker padding used.
The thicker handlebars used on the AC Performance Plus will give you the more comfortable experience you'd expect from a commercial grade bike.
The positioning and shape of the handlebars also makes room for a nice tablet holder in case you want to workout to music or watch an online spinning class. This is nice considering this bike doesn't come with a monitor (one can be purchased separately for additional cost).
Frame
The frame on this bike is made out of rust free aluminum. This is nice because you don't have to worry as much about sweat damage. It's also nice because it's lighter than your traditional steel frame, which keeps the total weight of this machine down. The seat slider and all hardware are also aluminum.
This bike has a total assembled weight of about 106 lb. Similar bikes have total weights between 120 -130 lb, so the aluminum construction does make a difference. The lighter weight (and transport wheels) makes this bike a little easier to move around.
The AC Performance Plus has a max weight capacity of 300 lb, which is pretty standard for spin bikes. Some heavy-duty cycles can hold users up to 350 lb, but 300 lb is pretty much the industry standard. Smaller, more affordable bikes tend to run in the 250 lb range. At 300 lb, this bike is capable of holding most users.
Assembly for this machine is pretty simple and straightforward. Most users have no problem with it and should be able to have it up and running within 45 minutes. The instructions are easy to follow and the necessary tools are included.
Pedals
Higher-end indoor cycles usually give you the option of using cleats if you prefer. Using cleats attaches you to the pedal, making you more efficient and letting you pedal faster than you probably could otherwise. This bike comes standard with Schwinn's double link pedals which include a cage for use with sneakers and SPD compatibility.
SPD is a style of clipless pedals to be used with compatible cleats. If you are an avid cyclist and already have a set of favorite pedals, you can swap these out for yours easily.
Schwinn also has a triple link pedal (sold separately) that is compatible with sneakers, SPD cleats, and LOOK Delta cleats.
Warranty
I mentioned earlier that Schwinn is known for having generous warranties. The AC Performance Plus comes with the following guarantees:
10 year frame
2 year mechanical parts
1 year labor
6 month wear items
This is a very impressive warranty when compared to the other top indoor cycles, like Peloton and Keiser, who only offer 5 and 3 year frame warranties respectively.
Having a longer warranty like this may add a little peace of mind, especially considering the investment here.
Chain vs Belt Drive
The AC Performance Pro comes with 2 drive options: chain or belt. The standard Pro comes with a chain drive- it works great, but you do hear a little extra noise from the gears grabbing the chain links. This is identical to the sound that comes from riding a bike outside. The housing that covers the chain will actually dampen the sound a little, so it's probably a little quieter than a road bike.
The other option is the blue carbon belt drive. Schwinn has designed their own belt for this bike with tooth-like ridges and a carbon fiber frame that provides the feel of a chain drive without the noise or maintenance.
If you like to jam out to music while you ride, you could probably save a little money and go with the standard chain drive because you aren't gonna be hearing the noise anyway. Belt drives are considered the nicer option though, so if you want the best riding experience possible, the blue carbon belt drive is your answer.
It'll cost you about $350 to upgrade to the belt drive.
Pros
Smooth, magnetic resistance system
37 lb flywheel
Fully adjustable seat
Fully adjustable, multi-grip handlebars
Rust resistant aluminum frame
Double link pedals, compatible with cleats and sneakers
Belt drive option available
Great warranty
Cons
Final Thoughts
All things considered, the AC Performance Plus has definitely earned its way to the top of the indoor cycle category. With a smooth magnetic resistance system, light-weight aluminum frame, and fully adjustable seat and handlebars it has all the components to stand toe-to-toe with any other spin bike on the market today.
It also earned its way onto my best spin bikes of the year list.
Considering it's also backed by one of the best warranties around, I think it's safe to say the hype is real.
Now is this the right exercise bike for you? If you're an avid cyclist looking to train indoors or simply someone looking for a commercial grade spin bike to use at home, then I'd say yes- this is a smart buy.
If you've never used a spin bike before or aren't confident you're going to ride it regularly, you may want to start with a less expensive model- it would be a real shame to have a beast of a bike like this collecting dust in your attic.