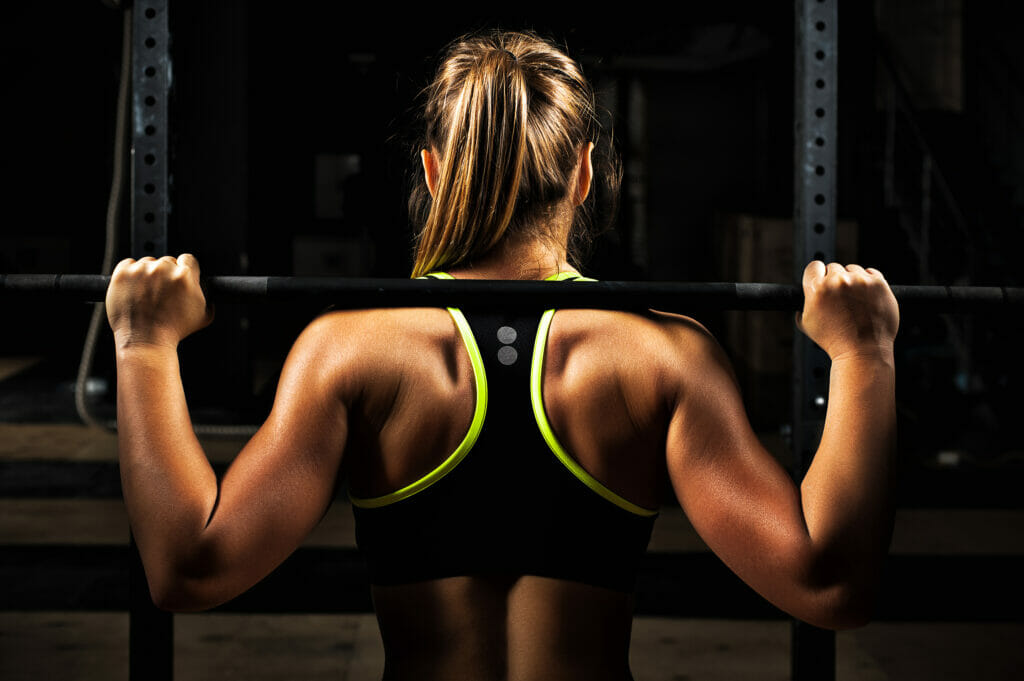 With the R-4, Rogue took their insanely popular R-3 rack and simply made it bigger, giving folks significantly more room inside the cage for all their lifting needs.
Like the R-3, the R-4 also comes with 2″ x 3″, 11-gauge uprights and it also uses the same 5/8″ hardware throughout.
But with a bigger footprint, the R-4 offers an extra 19″ worth of interior cage space, allowing for quite a bit more wiggle room during squats, deadlifts, and any other move you might be doing in there.
And this is still Rogue we're talking about, so of course the R-4 is backed by their lifetime guarantee.
Long-story-short, if you're looking for a spacious rack that won't destroy your budget, I think Rogue's R-4 is a fine choice, but there might be a better option out there…
If you're interested in the longer story, keep reading.
In this review, I'll go over everything this rack has to offer – we're talking specs, features, cost, and pretty much anything else you can think of.
After reading, you'll know whether or not this is the right power rack for your home gym.
The Rogue R-4 Power Rack
The general consensus is that Rogue makes the best power racks and lifting equipment around – well, when it comes to home fitness anyway.
Rogue really has become the gold standard most other racks are compared to and that's because they pride themselves in making the heaviest-duty equipment.
The sizes and shapes of the uprights and components may vary, but all Rogue racks use 11-gauge steel (something most brands can't claim).
Rogue also makes a lot of their racks right here in the USA too, which certainly helps with regards to quality control.
And not that this should matter that much, but Rogue racks tend to look better than most too – very sleek.
I also like that Rogue has such an extensive lineup to choose from. They've got racks and rigs in various shapes and sizes, including smaller squat stands and even wall-mounted options (like the R-3W).
The R-4 we're here to look over now is part of their Infinity series, which also inches the original R-3 and the larger R-6.
At the time of writing this, the R-4 is going for around $1100 before adding any extra accessories.
Pros
2″ x 3″, 11-gauge steel uprights
1,000 lb weight limit
40″ interior cage depth
Westside spacing in bench zone
Durable black powder coat finish
5/8″ hardware
Skinny/fat pull-up bars included
2x J-cups included
2x pin & pipe safety bars included
4x band pegs included
Compatible with plenty of attachments
Lifetime warranty
Cons
Little more expensive than some competitors
Uprights
The most important thing to consider when looking at a power rack is how stable and secure the rack is gonna feel during use.
These racks are really designed to only do one thing, hold weight, so why wouldn't we want to get a rack that's the most capable of doing that safely?
I'm not naive, of course budget and available space ultimately dictate what rack we go with, but my point is performance specs are crucial to consider when comparing power racks.
And when it comes to performance specs, it's all about the size and thickness of the uprights used.
The uprights bear the majority of the weight placed on these racks, so having larger, thicker uprights is always a good thing (especially for those who plan on putting a lot of weight on their rack).
The uprights used on home racks come in various sizes and gauges (thicknesses), but the most common sizes are 2″ x 2″, 2″ x 3″, and 3″ x 3″.
And the most common gauges are 11-gauge, 12-gauge, and 14-gauge.
Keep in mind, that when it comes to steel gauges, a lower number refers to thicker metal.
With all of this in mind, the R-4, like all of Rogue's other Infinity series racks, comes with 2″ x 3″, 11-gauge steel uprights.
The 11-gaugeness (I'm pretty sure I just made that word up) of this rack is awesome – that's about as thick a steel as you'll find on any home rack.
But the 2″ x 3″ dimensions of the uprights is right in the middle of what we expect to see – bigger than 2″ x 2″, but not quite as large as the heavier-duty 3″ x 3″ uprights found on other racks.
Even though the 2″ x 3″ uprights aren't quite as robust as some other racks, when combines with 11-gauge steel, this rack is still able to safely hold up to 1,000 lb.
Which is still a lot of weight.
Something else worth knowing is that the front uprights come with Westside (1″) spacing throughout the bench zone (2″ spacing everywhere else), which gives you a lot more control over bar placement than 2″ or even 3″ hole spacing as found on some other racks.
Assembled, the R-4 takes up a footprint of 53″ x 53″, making it a full-size power rack.
It also comes with a spacious, 43″ of interior cage depth, giving folks plenty of workout space inside the cage.
This is the only real different between the R-4 and the R-3, which is a smaller, more compact rack.
The R-4 also only comes in one size, which is 90″ tall (the R-3 also comes in an 84″ height).
This rack can be bolted to a concrete floor for added stability if you so choose and Rogue sells concrete anchors separately (not a bad idea to anchor, especially if you don't plan on putting any weight storage in the rear).
Overall, the R-4 isn't the heaviest-duty rack, but with 2″ x 3″, 11-gauge steel uprights, it's still heavy-duty enough to accommodate the needs of most lifters.
And with a spacious interior, you'll be able to perform any move inside the cage you want to.
Attachments
The Rogue R-4 comes with the following attachments included:
Skinny pull-up bar in front
Skinny/fat pull- up bars in rear
2x J-cups
2x pin and pine safety bars
4x band pegs
Ok, so you get plenty of pull-up options with this rack, having bars in both the front and rear of it.
Rogue also includes everything you really need to get started, minus the barbell and plates of course.
The R-4 is also compatible with all Infinity series attachments, including:
Matador (dip handles)
Landmine station
Barbell storage
Safety spotter arms
Plate storage
Rope attachment anchor
Multiple pull-up bar options
Monolift attachment
Speed bag platform
Overall, Rogue has a pretty generous selection of attachments to choose from with their Infinity series racks.
Nothing too crazy or fancy going on here, but definitely all the traditional attachments most folks would be interested in adding to their racks over time.
And if you found an attachment from another brand that you really like, as long as it fits a 2″ x 3″ upright, it would most likely be compatible with the R-4.
Warranty
Rogue backs their R-4 Power Rack with the following home warranty:
Lifetime frame/structural welds
Yeah, that's like the whole rack, because power racks are kinda all frame and welds.
There's nothing to complain about when it comes to Rogue's warranties because lifetime is as long as it gets.
With 11-gauge steel, you shouldn't really have to worry about anything breaking down anyway, but it's always good to know that if something does fail (or arrives bent or damaged) that Rogue has got ya covered.
Final Thoughts
Ok, I think that about does it for the R-4, I don't think I've missed anything here.
I'm always amazed at how fast these power rack reviews go by, but in reality, most of these things are very simple devices.
There aren't a lot of moving parts and features to go over, it's really all about the size and gauge of the steel used and the dimensions of the rack.
The attachments and warranty are important too of course.
With 2″ x 3″, 11-gauge uprights, the R-4 is strong enough to hold some serious loads, making it a great choice for folks looking for a full-size rack.
It's also backed by a great warranty and is compatible with plenty of additional attachments.
So, I think the R-4 is a great rack in itself, but…
At the time of writing this, Rogue's RML-490 Power Rack is priced identically to the R-4 and it comes with larger, 3″ x 3″, 11-gauge steel uprights.
It also takes up the same foot print as the R-4 and as far as I can tell, is damn near identical in every other aspect.
So, if you can get the RML-490 with it's 3″ x 3″ uprights for the same price, I think it makes a lot more sense to go with the RML-490 (if these prices change by the time you read this, I apologize).
Regardless of which rack you go with, you can't go wrong with a Rogue. Both are highly recommended.