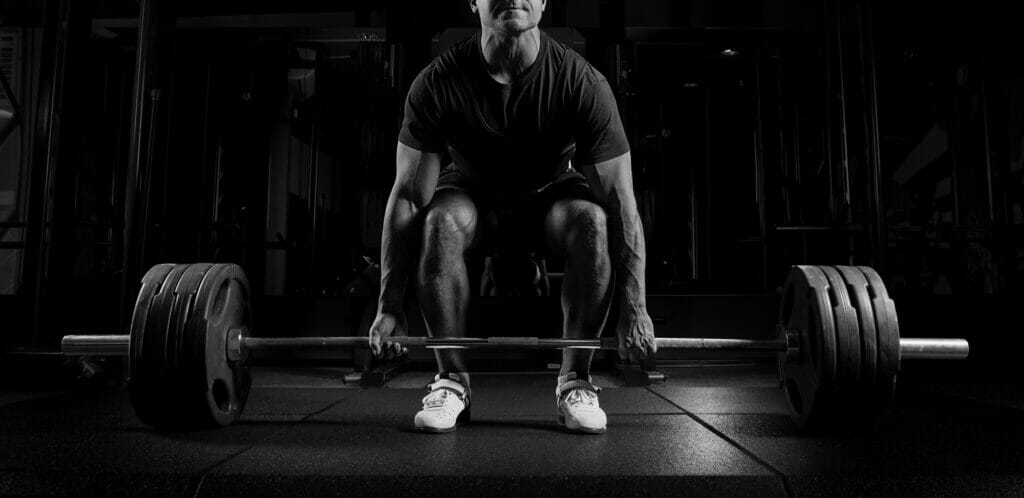 Rogue has a lot of power racks to choose from, but I think their RML-490 is probably their best all around rack for most home-gymers.
There, I said it.
True, it isn't Rogue's heaviest-duty rack, but with 3″ x 3″, 11-gauge steel uprights and 43″ or interior cage depth at your disposal, there really isn't much this rack can't handle.
It's also compatible with all of Rogue's Monster Lite attachments, making it a versatile rack that can grow over time.
And this being Rogue, of course the RML-490 is backed by a lifetime warranty.
All things considered, the RML-490 is easily one of the best home power racks on the planet, but it does take up a lot of real estate.
If you're looking for a quality home rack, the RML-490 is a great choice, but before you decide, you should know what to expect.
And that's where I can help.
In this review, I'll go over everything this power rack has to offer, including specs, dimensions, compatible attachments, and pretty much everything else in between.
After reading, you'll know whether or not the RML-490 is the right rack for your home gym.
Let's begin.
The Rogue RML-490 Power Rack
Rogue is generally considered the top dog when it comes to home weight lifting equipment.
They've developed a stellar reputation for providing high-end gear and their lineup is quite extensive – they offer all kinds of racks, rigs, stands, and pretty much any type of accessory you'd ever need to use 'em.
At first glance, Rogue's expansive selection can be a bit overwhelming.
But their stands/racks are divided into 3 different series (Infinity R, Monster Lite, Monster), which can make them a little easier to differentiate.
The size of the uprights and hardware used varies from one series to the other, but all racks within the same series share these common specs.
For example, all Infinity R series racks (such as the popular R-3) come with 2″ x 3″, 11-gauge uprights.
The RML-490 we're here to discuss now is part of their "Monster Lite" series, their mid-range tier of racks (second only to the "Monster" series, which comes with over-sized hardware for even more stability).
At the time of writing this, the RML-490 goes for around $1100.
Pros
3″ x 3″, 11-gauge steel uprights
43″ interior cage depth
1000 lb rackable capacity
Laser cut holes
Powder coated finish
5/8″ hardware
Westside spacing in bench zone (2″ everywhere else)
Multiple pull-up bars included
2x J-cups included
2x pin & pipe safety bars included
Compatible with tons of attachments (all Monster Lite attachments)
Can be bolted to floor
Lifetime warranty
Cons
Stabilizer bar not included
Uprights
Power racks are all about holding weight and staying stable while doing so and it's the uprights that are largely responsible for determining how well a rack does this.
And to make sure we're all on the same page here – the uprights are the vertical posts at each corner of the rack.
Uprights can come in different shapes and sizes, but most these days come in one of 3 sizes: 2″ x 2″, 2″ x 3″, and 3″ x 3″.
That said, Rogue does offer a ridiculously heavy-duty rack that comes with 4″ x 3″ uprights, but generally speaking, most home racks come in the above sizes.
Anyway, when it comes to uprights, larger is better because larger uprights will provide a more stable frame (and hold more weight).
But it's not all about the physical dimensions of the uprights, you have to consider their thickness (gauge) too.
And thicker uprights are also preferred because more steel makes for a more secure post.
When it comes to the thickness of the uprights, most home racks use 11-gauge, 12-gauge, or 14-gauge steel (keep in mind that lower numbers actually refer to thicker metal).
With all of this in mind, the RML-490 comes with 11-gauge, 3″ x 3″ uprights.
This means this rack basically comes with the largest and thickest uprights you can expect to find on a home power rack, allowing it to easily hold up to 1000 lb safely.
In other words, you won't have to worry about the RML-490 being heavy-duty enough to handle your workouts.
Now this is a full-size rack, so it takes up a fair amount of floor space.
More specifically, this rack takes up the following dimensions: 53″ x 53″ x 90.375″ (L x W x H) and I believe the interior depth is around 43″.
Folks looking for ample space to perform any move they like inside the cage will appreciate how roomy it is, but folks with limited floorspace may want to opt for a more compact model (Rogue offers several).
And at 90″ tall, you're gonna want to have at least 8′ ceilings to ensure a comfortable fit (and maybe even a little higher if you want to do pull-ups care free).
These large, thick uprights add a lot of weight to this rack, which is a good thing, but with an assembled weight of 336 lb, I'd make sure I had it in its final resting place before assembling.
Something else worth noting is that each upright comes with Westside hole spacing (1″) around the bench zone and 2″ hole spacing above and below.
This is a nice feature and gives you a lot of options when it comes to bar placement.
And like all other Monster Lite racks, the RML-490 uses standard, 5/8″ hardware, which is plenty large to ensure a secure attachment between components.
Overall, when it comes to rack integrity, the RML-490 scores highly with 3″ x 3″, 11-gauge steel uprights. It's also a full-size rack, offering plenty of space within the cage for all exercises.
Attachments
Your basic power rack is a pretty simple device, but through the addition of accessories and attachments, you can significantly expand the types of exercises you can do with it.
Some racks are compatible with tons of attachments (like Force USA's MyRack), others, not so much.
Rogue falls somewhere at the top of this spectrum, offering tons of compatible attachments, but let's go over the included stuff first.
The RML-490 comes with the following attachments included:
43″ single skinny pull-up bar
43″ skinny/fat pull-up bar combo
2x J-cups (UHMW plastic lined)
2x pin & pipe safety bars
4x band pegs
Ok, so all the basics you need to get started are included here, plus you get plenty of pull up options with both a skinny and fat bar included.
Now Rogue highly recommends either bolting this rack to the floor or purchasing the optional rear stabilizer bar to make this rack more stable.
The rear stabilizer costs another $95 or so; the concrete anchor kit is around $27 I think.
Given the price of this rack, I think it would be nice if Rogue included the rear stabilizer bar with purchase.
Anyway, let's move on and take a look at some of the attachments the RML-490 is compatible with. This rack works with all Monster Lite attachments, including:
Matador (dip handles)
Plate storage
Landmine stations
Barbell storage
Slinger (Lat pulldown station)
Safety spotter arms
Rope anchor
Safety straps
Hip thruster bench
Multiple pull up bar options
Monolifts
Multiple handles
Rig mounted speed bag
Overall, Rogue offers a lot of compatible attachments for the RML-490; it should really be compatible with every Monster Lite compatible attachment they offer.
Warranty
Rogue backs their RML-490 Power Rack with the following residential warranty:
Yup, not too much to complain about here, you can't beat a lifetime guarantee.
And since a power rack is nothing but frame and welds, the entire rack should fall under Rogue's lifetime warranty.
Any attachments you may purchase separately will likely come with their own warranties, especially stuff with cables or wear items.
But the rack itself, good for a lifetime.
Final Thoughts
Ok, I think that about does it for the RML-490.
This rack kinda has it all – it's heavy-duty, compatible with a ton of attachments, and backed by a lifetime warranty.
With 11-gauge, 3″ x 3″ uprights and a 1000 lb capacity, this rack has the muscle to handle even the most gifted weight lifters out there.
And with laser cut, Westside spacing, it offers a wide range when it comes to bar placement, so folks of all heights should be able to perform all lifts comfortably.
The only real downside I see, and it's a minor one, is that Rogue asks us to pay extra for the rear stabilizer bar – for this price, why not just include it?
Speaking of price, Rogue tends to be a little more expensive than some other comparable brands, but their quality is superior.
Titan's X-3 costs a few hundred bucks less and also comes with 3″ x 3″, 11-gauge uprights, but it's only backed by a 1 year warranty (and Titan's had issues with quality control in the past).
REP's PR-4000 let's you customize your rack, picking which attachments and accessories you get, but the base consists of 3″ x 3″, 11-gauge uprights.
And by the time you add all the stuff you need to to make it comparable to the RML-490, it's only about $200 or so cheaper than the RML-490.
REP also offers a lifetime warranty, which is awesome (actually, REP Fitness is probably the closest competitor to Rogue…well, maybe Body-Solid..)
Speaking of which, Body-Solid's SPR1000 is a close competitor as well – same size uprights, same great warranty, but it's lacking Westside spacing…and it costs about $200 more.
My point is, based on the comps, I think Rogue's price for the RML-490 is fair.
Long-story-short, if you're looking for a legit, full size power rack, I think Rogue's RML-490 is a great option.