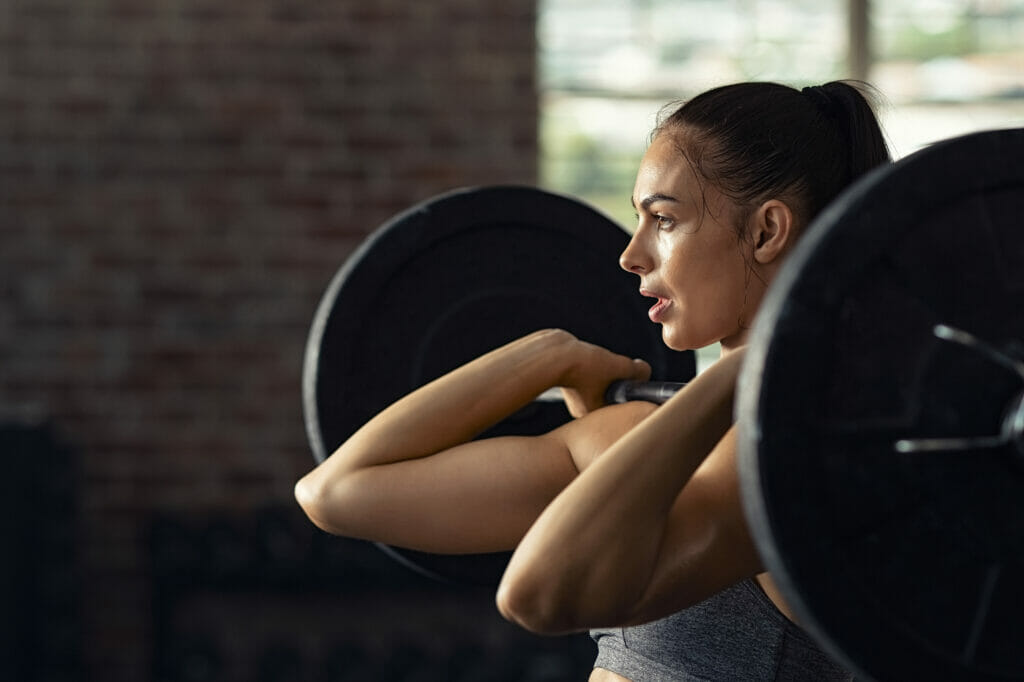 Rogue's R-3W is the folding, wall mounted version of their highly popular R-3 Power Rack and comes with all of the same high-end specs and features.
Only this bad boy folds away for storage, allowing you to still park your car in your garage after your workout.
Folded up, the R-3W only comes 5″ off the wall, allowing this rack to fit in smaller spaces traditional racks would never fit.
And like the original R-3, the R-3W's sportin' the same 2″ x 3″, 11-gauge steel uprights and 5/8″ hardware.
This wall mounted rack also comes in 2 depths (20.5″ and 40.5″), giving you options in how much interior space you want.
The only real downside I see is that Rogue doesn't recommend using safety spotter arms with the R-3W, in fear of it putting too much torque on the rack and pulling the upper brackets off your wall.
Otherwise, I think this is a great option for garage gymers with limited space.
But before you decide, you need to know what you're getting into – and that's where I can help.
In this review, I'll go over all the ins and outs you should be aware of before purchasing this rack. After reading, you'll know whether or not the R-3W is the right rack for your home gym.
Let's roll.
The Rogue R-3W Fold Back Wall Mount Rack
Rogue is the leader when it comes to home power racks and rigs.
Not only do they have an extensive lineup of racks to choose from, but their equipment is heavier-duty and better built than pretty much any other brand in the game.
Plus their racks just look great.
Rogue racks tend to be a little more expensive than some of their competitors, but you what they say – you get what you pay for.
Personally, I think their equipment is fairly priced considering the quality, but to each their own.
If you check out Rogue's catalog, you'll notice they sell A LOT of racks – so much that it can get a little overwhelming.
Luckily, grouping them into 3 series can make it a little easier to understand the key differences between them.
There's the Infinity series (entry-level), the Monster Lite Series (mid-range), and their Monster series (heaviest-duty).
All racks in each series share the same size uprights and same size hardware. This means the biggest differences between models within each series is their size and shape.
The R-3W is Rogue's folding equivalent of their original R-3 Power Rack, which falls in their Infinity series.
At the time of writing this, the R-3W starts at around $495 (depending on depth), making it one of Rogue's most affordable racks.
Pros
2″ x 3″, 11-gauge steel uprights
Easily folds away for storage
Only pushes out 5″ from wall when folded
5/8″ hardware
Heavy black powder coating
Pull-up bar included
Westside spacing
Choice of rack depth (20.5″ or 40.5″)
2x J-cups
Plastic foot plates
Compatible with Infinity attachments
Lifetime warranty
Cons
Stringers not included
Shouldn't use spotter arms
Uprights
A power rack's primary job is to safely hold barbells, so I think it makes sense to start by going over the size and specs of the R-3W's uprights (since these are what mostly determine how good a rack is at holding weight).
The uprights are the vertical posts that bear the majority of the weight we place on 'em and they come in varying shapes and sizes.
Traditional power racks come with 4 uprights, but the R-3W only comes with 2, with the wall acting to stabilize the rear (technically making it more of a squat rack, since there really isn't a usable "cage" here).
Semantics aside, the uprights on the R-3W are 11-gauge and measure 2″ x 3″.
The 11-gauge part refers to the thickness of the steel used and the lower the number, the thicker the metal.
Rogue uses 11-gauge steel on all their racks and it's as thick a metal as you're going to find on any home rack.
At 2″ x 3″, the physical size of these uprights are larger than the 2″ x 2″ uprights found on many affordable racks, but smaller than the 3″ x 3″ uprights found on higher-end models.
In other words, they're somewhere in the middle.
Most racks max out at 3″ x 3″ by the way (although Rogue now has a ridiculously heavy-duty rack with 4″ x 3″ uprights).
Which is more important when it comes to uprights, size or gauge?
I'm not an engineer or a mechanic, so I can't honestly say for certain, but I think it makes most sense to consider these 2 specs together.
Personally, I'd rather go with 2″ x 3″, 11-gauge uprights than 3″ x 3″ 12-gauge uprights because I like the idea of having thicker metal.
But it really all comes down to how stable the racks feel and how much weight they can safely hold and I don't think either will be an issue with the R-3W.
Rogue doesn't specify a max weight limit for this rack, but it would have to upwards of 1000 lb based on similar comps (PRx Profile, Titan T-3).
So, the uprights on the R-3W are the same as those found on the R-3, but this rack is special because it's mounted to the wall and is able to fold flat against the wall.
You can fold this rack a few different ways: both sides coming together toward the middle, both sides going to right/left, or 1 side going right, the other left.
You also get to choose between 2 rack depths: 20.5″ and 40.5″.
If you go with the 20.5″ depth, the rack will only come off the wall 5″ when folded away, which is pretty awesome.
If you opt for the larger, 40.5″ depth, there will be some overlap if you fold them toward the middle, pushing them out a little farther from the wall.
Keep in mind, you aren't using the interior space of this rack for lifts like you can with a traditional power rack – there aren't any safety bars or anything inside because there isn't a true "cage" here.
So it really only makes sense to go with the 40.5″ size if you need additional space from the wall to do swinging style moves from the pull up bar (kipping pull ups, muscle ups, etc).
Otherwise, I'd think the smaller depth would work better for most garages.
The uprights are locked and unlocked through the use of pins (2 for each upright), making it easy to move them in/out of place.
Each upright comes with 1″ hole spacing (Westside) in the bench zone and 2″ hole spacing throughout the rest of upright, giving you a lot of control over J-cup placement.
Overall, the R-3W scores highly with its 2″ x 3″, 11-gauge steel uprights and folding design.
There are certainly heavier-duty folding racks out there that use 3″ x 3″ uprights, but this rack can still hold enough weight to satisfy most home gymers.
Attachments
The Rogue R-3W Fold Back Rack comes with the following attachments included:
Quick attach pull-up bar
2x Infinity J-cups
4x mounting brackets (with hardware)
4x plastic base caps
Ok, so this rack comes with all the basic stuff you need to install it to your wall and start lifting (minus the barbell and plates of course).
Although not necessary, Rogue recommends opting for their stringers, which are metal brackets with pre-cut holes that attach to your walls, that make installation easier and provide a more stable wall connection.
The stringers are 11-gauge steel as well and will certainly make installation easier with their pre-cut holes – takes some of the stress out of getting those brackets lined-up correctly.
The stringers come with the necessary hardware to be mounted on studs, but if you have concrete walls or some other material you'll have to find your own hardware.
But they do add some additional cost ($90/pair).
The R-3W is also compatible with most Infinity series attachments, including various plate holders, J-cups, rope anchors, landmine stations, and so forth.
Just keep in mind this is a folding rack, so if you add a bunch of weight horns and attachments, it'll become more difficult to fold away (and may stick farther out from the wall).
Rogue makes an effort to point out that they don't recommend using safety spotter arms with the R-3W, in fear that it could put too much torque on the rack and pull your upper brackets from the wall.
Think about it – the safety spotter arms push out around 20″ from the upright, so if you dropped a loaded barbell on them, it would be a large rotational force on the rack, which would stress the rack's attachment to your wall – not a great idea, even with stringers.
Otherwise, since this rack uses the same 2″ x 3″ uprights as all the other Infinity racks, it should be compatible with other Infinity attachments (when in doubt, you can always reach out to Rogue with questions).
Warranty
Rogue back's their R-3W Fold Back Wall Mount Rack with the following home warranty:
That about says it all.
I mean, this rack is like 100% frame and welds, so there's really nothing else to cover here.
You can't beat a lifetime guarantee, although with 11-gauge steel, you shouldn't have to worry about this thing breaking down anyway.
But it's still nice to know you're covered if something does fail.
Final Thoughts
Alrighty, that about does it for the R-3W.
Like all Rogue racks, there's not much to complain about here, just another straightforward, heavy-duty rack that's backed with a lifetime warranty.
With the R-3W, I think Rogue has done a great job of transforming their popular R-3 into a space-saving, wall-mounted design.
With 2″ x 3″, 11-gauge steel uprights, this rack should make a good option for folks looking for plenty of rack stability without breaking the budget.
And with only a 5″ clearance from the walls when folded, it can make a lot of sense for garages with less space.
If you decide to go with this rack, it's a good idea to go all-in with the stringers because it'll add an extra layer of stability to your systems – plus it'll make installation a lot easier.
If you're looking for an even more stable rack, you might want to check out Rogue's RML-3W, which comes with larger, 3″ x 3″ uprights, but still folds away flat against the wall.
All things considered though, I think the R-3W is a great folding rack.