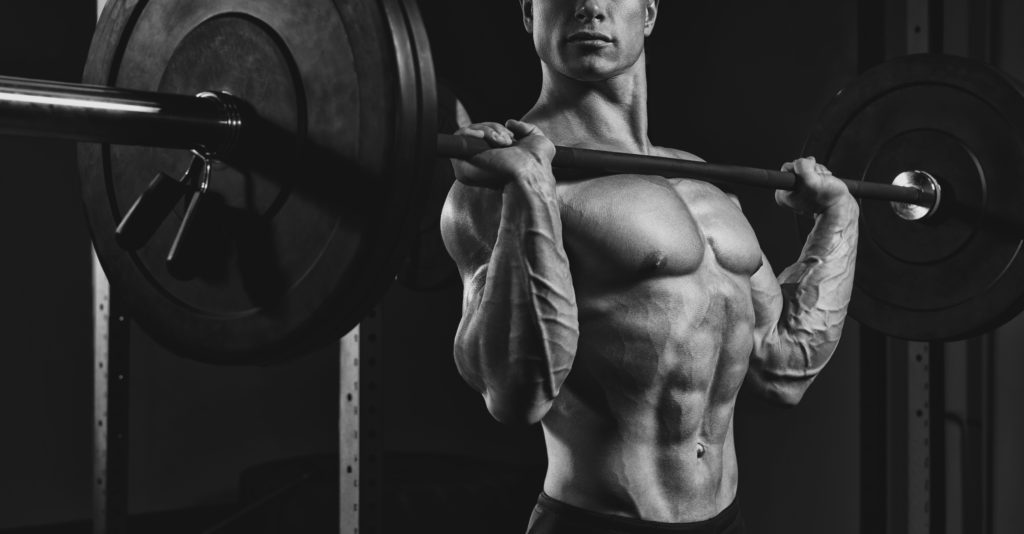 Heavy lifters and CrossFit athletes know a quality rack is essential to any proper home gym. Unfortunately, these rigs can take up a lot of floor space- and spouse's aren't always cool with having to give up their garage.
Rogue Fitness has solved this problem with their RML-3W folding rack. This wall-mounted, folding squat rack is designed to turn any garage into a power lifter's dream gym.
And after your workout, you can simply fold it up against the wall, allowing the garage to fulfill its primary duty as a car holder.
Highlights of the rack include 3″x3″ 11 gauge steel columns, a quick attach pull up bar, and a unique folding system. It's also backed by Rogue's lifetime guarantee.
If you're looking for a squat rack that won't completely take over your garage, the RML-3W could be the answer- this review is here to help you make that decision.
We'll take a close look at all the specs and features that this rack has to offer. After reading, you'll know everything you need to in order to decide whether or not this is the right option for your home gym.
The Rogue RML-3W Fold Back Wall Mount Rack
Rogue Fitness has made a name for themselves over the last 15 years or so as one of the premiere suppliers of home lifting gear. Although they cater to CrossFit athletes (because CrossFitters often have a need for a lot of their equipment), their products fill the demand for anyone looking to add gym quality gear to their home gym.
Rogue specializes in lifting rigs- we're talking power racks, squat racks, barbells, and all the other accessories you need to use that stuff.
They provide all the plates and dumbbells you could ever need and even have their own clothing line.
In other words, their product inventory is impressive.
Rogue racks are available in 4 different tiers based on the heavy-dutiness (is that a word?) of the steel and hardware used. The different tiers are: monster, monster lite, infinity, and echo.
The monster series is their most heavy-duty line, using 3″x3″ 11 gauge steel columns and 1″ diameter bolts.
The RML-3W Fold Back Rack is part of their monster lite series (I think that's what the "ML" in the name stand for). They offer 3 or 4 variations on their Fold Back Rack, including a "monster" series variation with larger hardware.
Pros
3″x3″ 11 gauge steel components
Wall-mounted, folding design
Powder coating
5/8″ hardware
Quick-attach pull up bar included
Pair of J-cups included
Plastic foot plates
All mounting hardware included
Compatible with all "monster lite" attachments
Westside spacing
Lifetime warranty
Great price
Cons
Takes longer to fold
Stringers aren't included
Frame
The frame is the most important part of a squat rack- kinda the only part when you think about it. And when you're looking for a rack that could potentially be holding hundreds of pounds at a time (with you underneath it), strength and durability are of the utmost importance.
The RML-3W comes with 2 3″x3″ 11 gauge steel columns that are just over 90″ tall. These columns act as the primary weight bearing structures of the rack, with the rear of the system being attached to a wall in your garage.
A 3″ x 3″ column is the largest you're going to come across, regardless if you're talking free-standing or wall-mounted. The larger columns instantly add an extra level of frame integrity and allow the rack to safely hold more weight.
For the sake of comparison, some other more affordable rigs use 2″x2″ or 2″ x 3″ steel columns, which may be fine depending on how much weight you're moving around.
But if you're looking for the strongest system 3″x3″ is the way to go.
Rogue doesn't mention any weight limits for the RML-3W, but based on similar rigs, it would have to be at least 1000 lb. I know the PRx Profile Squat Rack can hold 1000 lb and it only uses 2″x3″ columns.
Keep in mind these limits are describing static hold maximums- this means the rack can hold this much weight without any movement involved.
Some racks will have a rating for drop tests, where they actually test dropping barbells loaded with weight onto the rack to see how much it can hold in these dynamic situations.
Dropping a loaded barbell onto a rack obviously puts more stress on it than simply having a loaded barbell resting there, so the weight capacity in these dynamic situations would be less.
Moving on, the RML-3W comes with 5/8″ bolts and laser cut holes. At 5/8″, the hardware is large enough and strong enough to withstand the immense forces that occur when loading barbells on the rack.
For those looking for the strongest set up available, Rogue's RM-3W Fold Back Rack comes with massive 1″ hardware.
This system will cost ya a few hundred bucks more, but may be worth it if you know you'll piling serious weight on or have multiple users in your home.
During the assembly process, the folks at Rogue inspect every weld individually to ensure the highest quality. They inspect everything again after they apply their powder coating, which helps protect the rack from corrosion and damage.
Also gives it a mean look.
The rig is built like a tank, but it's also foldable. In order to accomplish this, there are 4 detent pins that are used to lock and unlock the support beams that attach the rack to the wall.
After your workout, you pull the pins out, fold the rack against the wall, and reinsert them to lock it in place. In its folded position, the RML-3W sticks out about 5″ from the wall- which is pretty impressive considering how robust this squat rack is.
You have a couple of options on how you fold the rack against the wall- you can fold each column to the middle (which I think looks the best) or 1 to the middle and 1 out. I guess you could fold both columns out as well if you wanted to.
Having a few options is handy because it could make it easier to fit on your garage wall, depending on what other shelving or storage stuff you might have.
There aren't many folding racks to compare this one to, but of the other models, most use a similar folding pattern. The PRx rack I mentioned above uses a vertical folding pattern, which is a little faster and more convenient (but more expensive).
Overall, the RML-3W scores very highly in terms of frame integrity- this rack uses large, heavy-duty components that are as durable as any on the market. The folding mechanism is easy to use as well.
Features
The RML-3W comes with the following features:
Quick-attach pull up bar- Rogue includes an attachable pull up bar with this rack. Using 2 hitch pins, you can easily attach and detach the solid steel bar for added workout variety.
Pair of J-cups- this squat rack comes with 2 J-cups that are compatible with any rack in their monster lite line up. The J-cups are easy to glide up and down the columns for quick adjustments during your workouts.
2 plastic floor caps- the bottom of each column is covered with a plastic floor cap to protect your garage floor from any unwanted scraping. It also ensures a sturdy, level surface for each column to rest on.
Westside spacing- this rack includes Westside hole spacing toward the bottom, giving you the ability to precisely position your J-cups for bench press moves. Smaller spacing (25mm) allows you to fine tune your starting and stopping position, which comes in especially handy when benching higher weights.
Choice of depth- the RML-3W comes with 2 options for rack depth: 21.5″ and 41.5″. The standard depth is 21.5″ and this should work fine for most users, but if you want a little more room away from the wall you can pay the extra $80 and get an extra 20″ (which does come in handy when doing more gymnastic style movements on the pull up bar). Keep in mind the 41.5″ depth will cause there to be some overlap of the columns when both are folded toward the middle (thus increasing the distance they stick out from the wall).
Assembly
The biggest complaint users have about the RML-3W is usually that it takes some doing to install. These are large, heavy-duty parts so they're pretty heavy and can be difficult to manage- especially if you're assembling by yourself (which isn't recommended).
This rack comes with all the mounting brackets and hardware necessary for installation, but Rogue highly recommends that you opt for the optional stringers at an additional cost ($50).
The stringers make installation a lot easier because they have pre-cut holes in all the right places- simply line up on the studs and you know you have the holes in all the right places.
The stringers also add another level of stability to the rack. These plates are also constructed out of 11 gauge steel and powder coated.
Speaking of studs, the stringers (and standard brackets) come with the hardware necessary for installation on wood studs. You can install this rack on other types of walls, but you'd be responsible for acquiring that hardware separately.
Rogue has a video of 2 guys installing the RML-3W in 15 minutes (check it out below)- these guys are obviously professionals and have probably installed a 100 of these things. Realistically, it'll probably take most folks a few hours to get the job done.
Overall though, installation with the stringers shouldn't be too bad as long as you have all the necessary tools and a helper.
Warranty
Rogue Fitness backs the RML-3W with the following warranty:
If for some reason any part of this squat rack becomes faulty during normal use, Rogue will repair or replace without charge to you.
If it's obvious you were trying to adapt or adjust the equipment in a way that isn't recommended the warranty is voided.
This is a great guarantee and a sign of how well-made this rig really is. As heavy-duty as this thing is, I'm not sure how you could find a way to damage it anyway. But if you do, it's nice to know it'll be taken care of.
Final Thoughts
Rogue has developed a reputation for making some of the best lifting equipment out there. And after taking a close look at their RML-3W, it's easy to see why.
They start with the best materials, add the best hardware, and finish with a lifetime guarantee. A simple formula really.
Seriously though, I would say this is probably the nicest folding squat rack currently on the market. Technically, their RM-3W is heavier-duty with the upgraded hardware, but I think most of us mortals would do just fine with the RML-3W.
The biggest competition for this rack is probably the PRx Profile, which is also a wall-mounted, folding system. The Profile isn't quite as heavy-duty, but it comes with a faster, more convenient vertical folding system. It's also about $350 more expensive.
For the price, the RML-3W Fold Back Wall Mount Rack is a great buy. It does take a little longer to fold/unfold, but it's tougher than any rack in its price range.
I wish Rogue would include the stringers with purchase- even if means bumping the price up $50. They make installation easier and the whole system even more secure.
Overall, if you want a squat rack that can hold up to heavy use and still fold away for easy storage, the Rogue's RML-3W is a smart choice (getting those stringers is also a smart choice). Highly recommended.