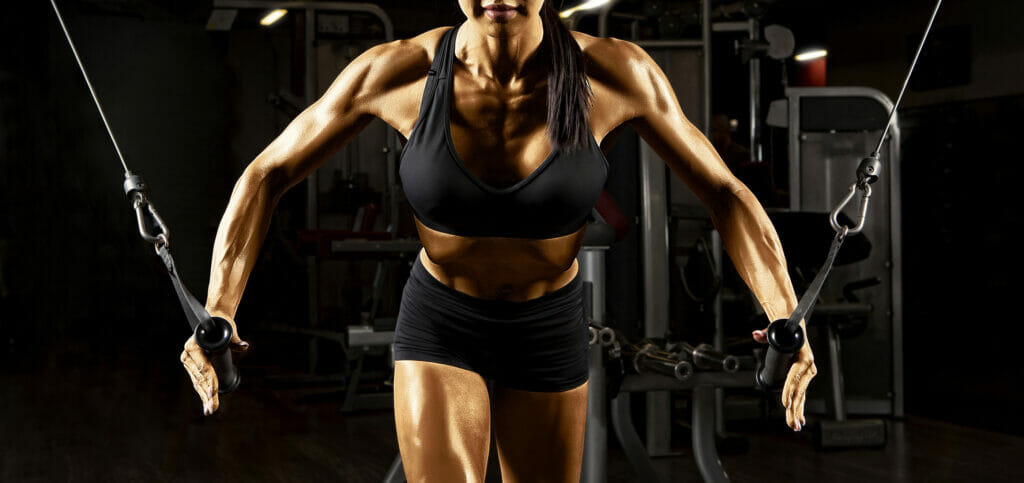 REP Fitness is making quite a name for themselves in the world of home fitness and with machines like their FT-5000 Functional Trainer, it's easy to see why.
With the FT-5000, REP basically designed a commercial-grade trainer and priced it effectively for home use- a combination that makes for some very happy customers.
Highlights of this beast include an 11-gauge steel frame, dual 220 lb weight stacks (2:1 pulley ratio), fully adjustable pulleys, and multi-grip pull up handles.
It's also backed by a lifetime frame warranty.
The only real downside I see is that it doesn't come with many included handles/attachments.
Otherwise though, I think the FT-5000 is a great functional trainer.
But you really shouldn't just take my word for it- instead, you should do your own homework.
And if you've found your way to this article, you're off to a good start.
In this review, I'll go over everything REP's FT-5000 has to offer. After reading, you'll know whether or not this is the right functional trainer for your home gym.
The REP FT-5000 Functional Trainer
REP is a legit home fitness company that's well on their way to becoming one of the premiere brands when it comes to strength training gear.
They specialize in power racks and all the accessories you'd need to use that strength training equipment, but they offer a few functional trainers too.
And even though they do provide high-end equipment, they also offer some great budget-friendly racks too.
REP reminds me of Rogue Fitness- and I mean that in a good way.
Like Rogue, they offer very high-end gear, but their lineup isn't quite as big and they offer some different variations.
The FT-5000 we're here to discuss is their highest-end functional trainer at the moment and costs somewhere around $2500 depending on time of year and where you find it.
Speaking of which, finding it can be difficult because it tends to sell out frequently.
They also have a more compact trainer, the FT-3000, that doesn't take up quite as much floor space and can fit in most corners.
Pros
Heavy-duty, 11-gauge steel frame
2 x 220 lb weight stacks
16 height adjustments for each pulley
Smooth acting pulleys
Laser etched cable columns
2 layer powder coating
Magnetic tipped weight pins
Multi-grip pull up handles
Attachment storage
Exercise placard
Good warranty
Cons
Not many attachments included
Assembly can be challenging
Frame
When you think about it, functional trainers are pretty straightforward devices.
I mean, they're really just a pair of adjustable pulleys and their respective weight stacks (although not all functional trainers use weight stacks, some still use plates).
But don't let their minimalist design fool ya- these machines are potent strength training devices with almost unlimited exercise potential.
When comparing these gyms, I like to start by assessing what the frame is made of.
All should be made out of steel of course, but the gauge (or thickness) of that steel will vary.
The FT-5000 is constructed out of 11-gauge steel, which is the thickest metal we can expect any home gym to be made out of.
This gives this trainer a heavier-duty look and feel from the get go.
The entire frame is also hit with a double layer of electrostatic powder coating that looks great, but it also helps protect the gym from scratches and chips.
Assembled, the FT-5000 takes up the following dimensions: 84″ x 72″ x 45″ (H x W x D.
It also weighs about 1000 lb, so I would make sure you know exactly where its going because you won't be able to move it once it's up.
At 6′ wide, and considering you'll need additional space to actually use it comfortably, this trainer takes up a fair chunk of square footage- something to consider if your space is limited.
Speaking of weight, this gym comes with 2 x 220 lb stacks – 1 for each pulley.
Like many functional trainers, the FT-5000 utilizes a 2:1 pulley ratio. This means that it feels like you're lifting half the weight you select for each rack.
Example: selecting 100 lb for each stack feels like 50 lb worth of resistance in each hand.
This might sound like a bummer, but that's still over 100 lb worth of resistance for each side (which is way more than most of us will ever need).
And using the 2:1 pulley ratio makes for a smoother feel, which is a significant plus.
Each pulley comes with a handle for easy single hand adjustments and each pulley has been upgraded for added smoothness during adjustments.
Each pulley can be adjusted to one of 16 height positions, allowing folks of all heights to perform exercises of all varieties.
The weight pins have also been magnetized to make for smoother weight selections – a nice touch indeed.
Between the 2 stacks REP has included 6 storage pegs for handles/attachments, allowing you to keep your workout station clean and organized.
Overall, the FT-5000 scores very highly when it comes to construction. I like that it's so heavy-duty and that it comes with so much resistance to work with.
Attachments
Functional trainers are compatible with pretty much any handle or attachment you can connect to the cable, meaning you can mix and match accessories from other brands.
REP Fitness includes the following attachments with their FT-5000 Functional Trainer:
Pair of urethane strap handles- standard handles that can be used for any standard single arm move (or used together to work both arms simultaneously)
Multi-grip pull up bar- I'm not sure if this really counts as an attachment or not, but what the hell, I'll throw it in. You can perform pull ups/chin ups with various grips using these built-in handles
Exercise placard- there's a built-in exercise chart that demonstrates several exercises you can do with this trainer
Yeah, that didn't take long, that's it.
Hey, nothing's perfect- everything gym has its flaws and the FT-5000's most obvious one is that it doesn't come with many included handles.
REP offers additional handles for their trainers, but they're sold separately.
But again, you could purchase handles from any brand and use them with this trainer- they don't have to be REP handles.
Overall, it would be nice if the FT-5000 came with a few more handles, but in the grand scheme of things this is a pretty minor downside.
At least it comes with a pair of handles to get ya started.
Assembly
Ok, maybe I lied when I said the lack of attachments was the FT-5000's only flaw because there's not going to be anything easy about assembly.
Actually, when you check out the assembly instructions, it's not as complicated as you might think.
But keep in mind how big and heavy all of these components are- the frame itself weighs over 500 lb and that's before you add the 440 lb worth of weight plates.
Needless to say, it's recommended that you have at least 1 helper available to help get this trainer assembled.
Users seem to agree that the most challenging task is snaking the cables through the pulleys, which makes sense considering everything else is basically just bolting components together.
REP states that it should take about 2 hrs to assemble and most users seem to be able to do it within 2-3 hrs.
Which really isn't that bad for such a heavy-duty machine like this.
Overall, if you do purchase the FT-5000 and decide to assemble yourself, expect it to take a bit of work to get the job done (and make sure you have other folks around to assist).
Warranty
REP Fitness backs their FT-5000 Functional Trainer with the following residential warranty:
Lifetime frame
1 year on pulleys, cables, pins, hardware
A lifetime warranty on the frame is great and certainly adds an extra layer of confidence when making a purchase of this magnitude.
That said, you really shouldn't have to worry about the frame every breaking down- it's 11-gauge steel after all.
It would be nice to see a longer warranty on the moving parts, but 1 year is pretty standard for these trainers (and identical to the warranty on XMark's popular functional trainer).
Overall, I think the warranty REP offers on this trainer is pretty good for a gym in this price range.
Final Thoughts
Ok, like I said at the beginning, I think REP's FT-5000 is a fine functional trainer and has a lot going for it.
As much as it would suck to try and move it, I love how big and heavy-duty this thing is because that's what really gives you that "commercial" feel.
With an 11-gauge steel frame and 2, 220 lb weight stacks you certainly won't have to worry about this thing feeling flimsy.
Speaking of which, with 220 lb on each side, even with the 2:1 pulley ratio this gym can provide enough resistance to challenge even the most gifted weight lifters out there.
The pull up handles and included attachment storage are nice perks, but it would be nice if REP included a few more handles with purchase.
Otherwise, I really don't have anything to complain about here.
All things considered, I think the FT-5000 is a great home gym and one of the best functional trainers currently available.