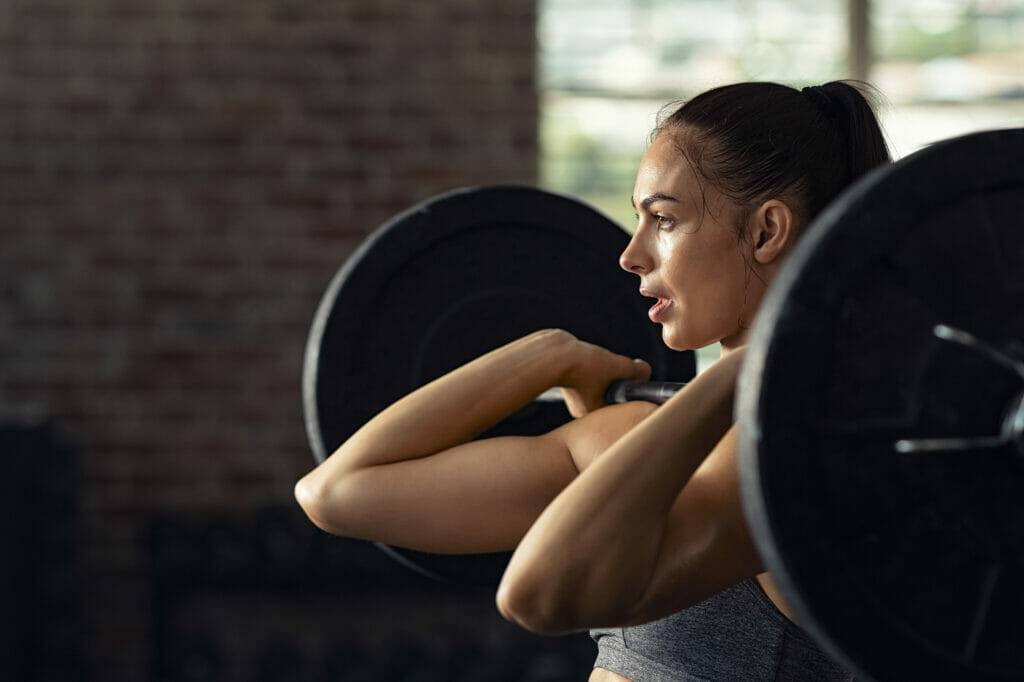 When it comes to affordable power racks, few are as impressive as REP Fitness's PR-1100.
Not only does this rack take it easy on your budget, but it comes with a few nice upgrades you wouldn't necessary expect in this price range.
Like an included pair of J-cups, lined with industrial grade plastic, to protect your bar and a reversible, multi-grip pull up that can be used in room with low ceilings.
The chrome plated safety bars are pretty sweet too.
Overall, the PR-1100 has a lot to be proud of, but like all racks in this price range, it has its fair share of downsides too.
Most notably, the fact that it's constructed out of lighter-weight, 14-gauge steel and comes with smaller, 2″ x 2″ uprights (like all other racks in this price range).
If you're thinking about investing in this home gym, you've come to the right place- in this review, I'll go over everything the PR-1100 has to offer.
After reading, you'll know whether or not this is the right power rack for your home gym.
Let's begin.
The REP Fitness PR-1100 Home Gym Power Rack
REP Fitness is a respected home fitness brand who's gained a favorable reputation over the last decade or so since they started.
The PR-1100 is a budget rack, but REP has plenty of high-end racks to choose from as well. As a brand, they remind me a little of Rogue, although they aren't quite as big as Rogue yet.
Anyway, back to the PR-1100.
This rack is part of REP's 1000-series, which consists of their most budget-friendly power racks.
The other models in this lineup are the PR-1000 and the PR-1050 (designed for homes with low ceilings).
All 3 of the 1000-series racks are priced about the same (~$400), but there are subtle differences between the models.
The PR-1050, as mentioned above, is the shortest rack, allowing it to fit in rooms with lower than average ceilings and the PR-1000 comes with weight horns in the rear and a different pull up bar setup.
All of these racks come with the same size uprights and gauge of steel, as well as the same weight limits.
Speaking of which, that's probably a good place to start with the PR-1100.
Pros
Affordable
700 lb weight limit
Upgraded J-cups included
Chrome safety bars included
Multi-grip pull up bar (reversible)
Straightforward assembly
Lifetime warranty?
Cons
Small, 14-gauge uprights
3″ hole spacing
No weight storage included
Uprights
When you look at this power rack, there really isn't that much going on- it's a very simple device.
A traditional power rack really just consists of 4 vertical, weight bearing beams (the uprights) and a few horizontal connecting bars.
Most also come with some form of pull up bar and of course there are the J-cups and whatever attachments, but that's it.
But it's the uprights that really determine how heavy-duty your rack is going to be.
Power rack uprights come in different shapes and sizes, as well as different gauges of steel.
In terms of size, having uprights that are larger is a good thing because it adds to the stability of the rack.
Most budget racks come with 2″ x 2″ uprights, while higher-end, more expensive racks will come with larger, 3″ x 3″ uprights.
As expected, the PR-1100 comes with 2″ x 2″ uprights.
The gauge of steel refers to its thickness and keep in mind that the lower the gauge is, the thicker the steel is (for example: 11- gauge steel is thicker than 12-gauge, etc).
A lot of home power racks are constructed out of 12- or 14-gauge steel, although the top power racks will be constructed out of thicker 11-gauge steel.
The PR-1100 is made out of the thinner, 14-gauge steel.
Put all this together, and you see that this rack comes with smaller, thinner uprights.
This sounds bad, but this is why the PR-1100 is more affordable to begin with- budget racks are budget for good reason.
And even though the PR-1100 comes with smaller uprights, it still comes with an impressive weight limit of 700 lb, which I'm not ashamed to say is more than I'd ever need.
So, if you're benching and squatting a few hundred pounds, you certainly won't have to worry about this rack malfunctioning or coming apart, but you might notice that the rack moves some when racking or re-racking the bar.
This is because the rack weighs less than the heavier-duty gyms out there. Due to the smaller, thinner uprights it has an assembled weight of only about 130 lb.
This can be corrected by adding some weight plates to it, although unfortunately you have to purchase the weight plate storage attachment separately (but more on that below).
The last thing worth mentioning when it comes to the uprights, is that the adjustments holes are spaced 3″ apart from each other.
This is pretty common for affordable racks, but it would be nice to have them a little closer (2″) so you could have more control over the height of the bar.
It's nice that REP numbers every 5th hole though, makes it easier to get the J-cups lined up correctly.
Overall, the PR-1100 comes with smaller, lighter-weight uprights, but it still comes with an impressive weight limit.
Attachments
As I said, a power rack itself is a really simple home gym, but through the addition of attachments and accessories, it can grow and expand to do all kinds of stuff.
The PR-1100 comes with the following attachments included:
Multi-grip pull up bar- allows for pull ups of all varieties, the front bar is 1.25″ thick and the back bar is 2″ thick for different grip options as well. It can be attached so that it's pointing toward the ceiling or inverted for lower ceilings.
Pair of J-cups- these are used to hold the barbell and are attached in any of the holes in the uprights. Unlike most J-cups in this price range, these are lined with a heavy-duty plastic that will protect your bar from scratches when racking/un-racking.
Pair of safety bars- you can position these bars below the J-cups to act as a built in spotter in case you drop the barbell during a lift. These bars are chrome plated for an attractive look and they also have an extended end that can be used to hold a barbell outside of the cage.
That's it for the included attachments.
You'll notice this rack doesn't come with any benches, weights, or barbells, so you'd be responsible for purchasing all that stuff separately.
Speaking of buying stuff separately, the PR-1100 is compatible with a few other attachments (that are sold separately):
Weight storage- this attachment connects to the rear of the rack and gives you a place to store your weight plates and barbells.
Lat pulldown/low row- this one also attaches to the rear of the rack and it gives you an upper/lower pulley that can be used for lat pulldowns and rows.
Dip handles- these handles allow you to perform dips, one of the best upper body strengthening moves around. These attach to the safety bars and are placed on the side of the rack.
Landmine station- this connects to the base of the rack and allows you to perform all kinds of rotational and lifting moves (it's great for full body core strengthening exercises).
Weight horns- if you don't want to go all in with the weight storage attachment, you can get 2 weight horns that attach to the base of the rack to store a few plates (they also help weigh down and stabilize the rack).
Warranty
There's a little bit of confusion regarding the warranty the PR-1100 comes with.
I say this, because Amazon states that REP offers a 2 year warranty on this rack, but on REP's website, they report that all of their racks come with a limited lifetime warranty for the frame and all welds.
Not that I think there's much chance of this power rack breaking down or anything, but I still like the idea of a lifetime warranty better than a 2 year warranty.
If you decide to purchase the PR-1100, it might be a good idea to ask REP about this.
But anyway, 2 years isn't much of a warranty, so if that's what REP is really fulfilling, it's something to keep in mind.
But again, there isn't much here that can break down.
Final Thoughts
Well, that about does it for the REP PR-1100.
I always feel like my power rack reviews are so short, but there just really isn't that much to talk about on these things.
Which I think is a good thing- these home gyms are simple, yet effective.
Overall, I think the PR-1100 is a great budget rack.
The biggest downsides I see are the use of the smaller, 14-gauge uprights and the overall lighter weight of the rack, but these are the same downsides any rack in this price is going to have.
Unlike other brands though, REP provides upgraded J-cups and safety bars, which I think is one of the best reasons to go with this model.
And if REP will hold up to that lifetime warranty, that's even more reason (few racks this affordable will come with a lifetime guarantee).
All things considered, I think the PR-1100 is easily one of the best power racks for under $500. Recommended.