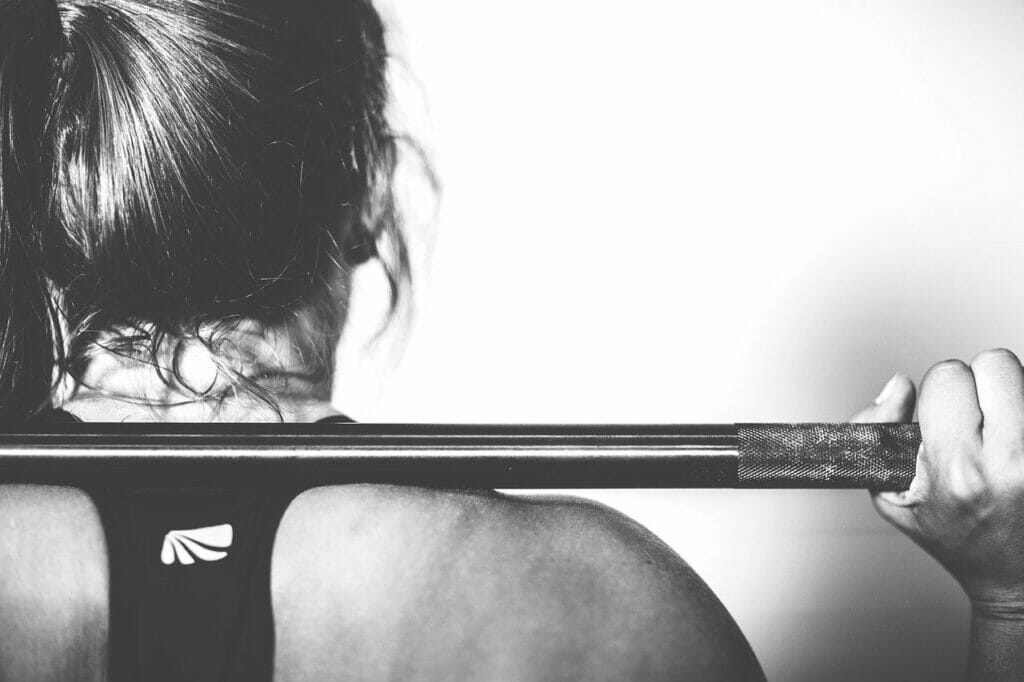 If you're looking for a power rack that can fit in any room, regardless of how low the ceiling may be, REP's PR-1050 might just be what the doctor ordered.
With only a 72″ height, the PR-1050 is about a foot shorter than most other power racks on the market.
But that doesn't mean this rack can't hang with the bigger models.
With a 700 lb weight capacity, the PR-1050 can safely hold more weight than most home gymers will ever need.
Other notable features include dual pull up bars, high-end J-hooks, and a great home warranty.
And with a sales price of around $400, the PR-1050 even takes it pretty easy on your budget.
Overall, if you're in the market for an affordable rack designed for low ceilings, REP Fitness' PR-1050 is a smart choice.
But before you decide, you need to do your homework – and that's where I can help.
In this review, I'll go over everything this power rack does and doesn't have going for it. After reading, you'll know everything you need to in order to decide whether or not this is the right option for your home gym.
Off we go.
The REP Fitness PR-1050 Short Home Gym Power Rack
Wow, that's a doozy of a model name.
For the sake of my fingers I'll be simply referring to this rack as the "PR-1050″ or maybe as I like to call it, 'The Shortie 1050".
Long names aside, this rack is just one of many that REP Fitness offers in their lineup.
If you're not familiar with REP Fitness, they're a fairly new brand (been around a decade or so) that specializes in strength training equipment.
They've earned a great reputation for providing heavy-duty, well-made gear that's priced fairly.
REP offers several different racks to choose from, as well as all the barbells, plates, and accessories you'd need to go with 'em.
The PR-1050 (along with the PR-1000 and PR-1100) is part of their 1000-series, which includes their most affordable racks.
The biggest thing that sets the 1050 apart from the other racks in that series is the shorter height- this rack is designed specifically for rooms with lower ceilings.
Pros
Only 72″ tall
Can fit in rooms with very low ceilings
Affordable
700 lb weight capacity
2″ hole spacing
High-end J-hooks
Safety bars included
Dual pull up bars
Weight storage horns
Great warranty
Cons
14-gauge steel
Compatible with few attachments
No Westside spacing
Uprights
When looking at the specs and features of a power rack, there really aren't that many things to compare.
What I mean, is that power racks are very simple devices- they really just consist of 4 uprights and a couple horizontal connecting bars.
That's about it.
But the specifics of those components makes all the difference in the world.
The uprights on a power rack are the vertical posts at each corner and they are what provide the rack's stability. These uprights are responsible for the majority of the rack's weight bearing abilities.
Having stronger uprights = a more stable rack.
When comparing uprights, you have to look at the size of the uprights, as well as the gauge.
The size refers to the actual dimensions of the post- 2″ x 2″, 2″ x 3″, 3″ x 3″, etc.
And the gauge refers to the thickness of the steel used to make the upright (keep in mind that a lower gauge refers to thicker steel).
With all of this in mind, the PR-1050 comes with 2″ x 2″, 14-gauge steel uprights.
At 2″ x 2″, these are the smallest uprights you can expect to see in a power rack. 14-gauge is also the thinnest steel you'll see being used on home racks.
Compared to the top home power racks, which pack 11-gauge, 3″ x 3″ uprights, this doesn't sound like much, but this is quite standard for racks in this price range.
There are reasons some racks cost more than others. Affordable racks are affordable in the first place because they aren't as heavy-duty.
Even so, the PR-1050 can still safely hold 700 lb (on the J-hooks or safety bars), which is quite high.
It's certainly higher than most home lifters will ever need.
But with the smaller, thinner uprights, the rack isn't going to be as heavy; which means it could move some while doing pull ups or racking a heavy barbell in the front.
This rack isn't designed to be bolted down, but it comes with 2 weight storage pegs in the rear that can (and should) be used to stabilize it.
As I've mentioned this rack is only 72″ high- meaning at 6'1″, I'm a whole inch taller than it.
But don't worry, you can still do all of the same exercises you would with a full size rack- you'll likely just have to bend your knees when doing pull ups.
Which again, is exactly what the PR-1050 is designed for.
There aren't that many true power racks designed for low ceilings, although I know Titan has one (the T-2), which is very similar in size (although I think Titan uses 12-gauge steel).
Last thing I want to mention, is that the uprights come with 1″ holes that are spaced 2″ apart.
This is nice because it gives you more options for bar placement than a lot of the affordable racks that come with 3″ spacing.
Overall though, the PR-1050 is certainly a light weight rack with smaller, thinner uprights. It can still hold a respectable amount of weight, but you're going to want to weigh down the rear to improve stability.
Accessories
Alright, time to move on to the accessories and attachments this rack comes with and those that it's compatible with.
One of the great things about a quality power rack is that it can serve as an all-in-one home gym system.
Through the addition of attachments, a power rack can grow and expand over time to really incorporate any strength training move you want to perform.
Well, some racks can anyway.
Let's start with the accessories that are included with purchase of the PR-1050:
Pair of J-hooks
Pair of safety bars
2 weight holders on rear
2 pull up bars
Ok, so that's it for included accessories.
REP doesn't include a bunch of additional stuff, but it gives you everything you need to have your rack ready to hold a barbell.
Something worth noting is that the J-hooks REP Fitness uses are nicer than a lot of the hooks used by other budget companies.
These hooks are lined with a thick plastic to protect your bar from scratches and they're actually shaped like a "J" to make racking safer (unlike some other budget models).
The safety bars also extend in the front, giving you room to rack a bar there too if you wanted.
The pull up bars are different sizes – 1 is 1.25″ in diameter and the other is 2″.
You'll notice this rack doesn't come with a bench, a barbell, plates, or any spring clips, so you'll have to purchase that gear separately.
The PR-105o is also compatible with the following REP attachments (sold separately):
Dip handles
Landmine station
Yeah, that's not a lot.
The shorter height of the PR-1050 means the lat pulldown/row station and weight storage attachments won't fit.
Warranty
REP Fitness covers their PR-1050 Short Home Gym Power Rack with the following residential warranty:
Yeah, that great warranty is one of the biggest things that separates the PR-1050 from the other budget racks out there.
Other racks in this price range might offer 1-5 years on the frame…not REP.
A power rack is 95% frame, so the majority of this rack is covered with that lifetime guarantee (including all welds).
The accessories aren't covered, all though I want to say REP offers a year on the plastic coating on their J-hooks? (don't quote me on that).
Anyway, you can't beat a lifetime guarantee. Truly a great warranty for such an affordable piece of equipment.
Final Thoughts
Alrighty guys, that's about all I've got when it comes to REP's PR-1050.
Long-story-short: I think this is a great budget rack.
As we discussed earlier, with 2″ x 2″, 14-gauge uprights, it's safe to say the PR-1050 is a light weight power rack, but it can still safely hold a large amount of weight.
You won't have to worry about the rack tipping over or anything, but it could definitely wobble a little during use.
It's highly encouraged to throw some plates on those horns in the back to help keep the rack secure.
The biggest benefit of going with this rack is of course the shorter height which allows it to fit in rooms larger racks could never fit in.
But I also like that it comes with the higher-end J-hooks.
And that warranty is amazing for such an affordable rack.
Overall, if you have low ceilings and are looking for an affordable power rack, REP's PR-1050 is your best bet.