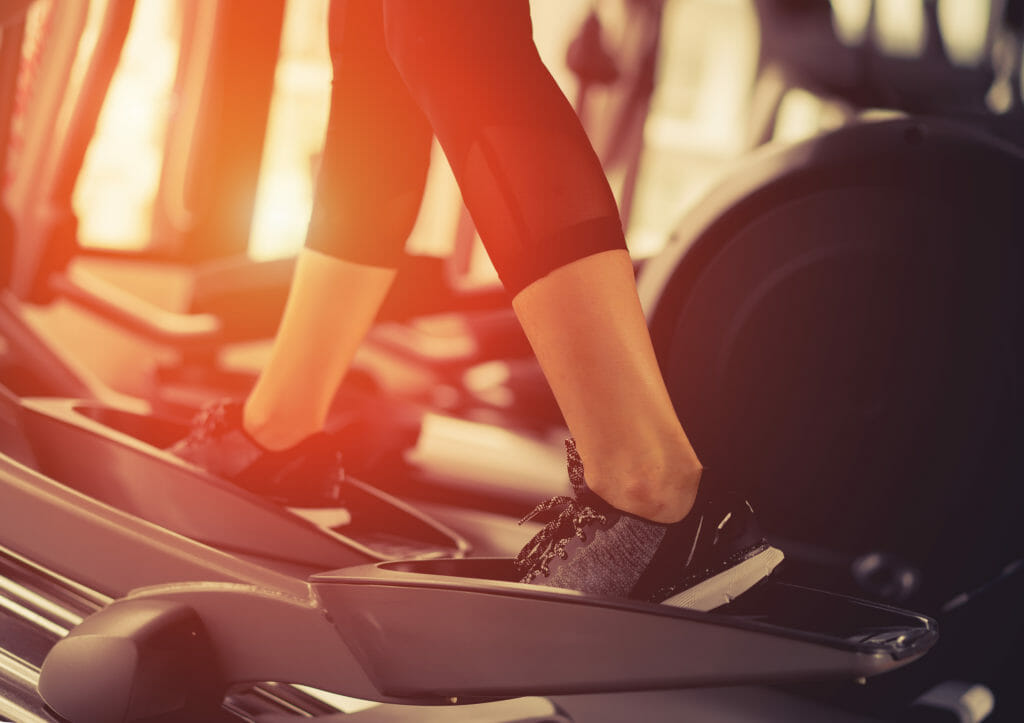 The Smart Strider 695 CSE elliptical trainer is a budget friendly, compact model in ProForm's CSE series. It's an iFit-ready machine with decent specs that are perfect for beginners and intermediate-level users.
Performance-wise, the 695 CSE is driven by a smooth and quiet rear-drive design operation, 18" footpath, 20 resistance levels, and a zero-to-10% power incline.
It's built for convenience with its foldable technology. 
But is the 695 CSE worth investing in? Even though this is a budget elliptical (priced well under $1000), does it make sense to purchase it with so many models to choose from these days?
Well,  that's what we're going to try to help you answer in this review. Keep reading so you'll know everything you need about this elliptical.
The ProForm Smart Strider 695 CSE 
ProForm is one of the most recognized home fitness brands out there. You may have heard about them before or even used one of their machines at fitness clubs.
They offer a blend of both function and style, and it's something many people have enjoyed in their treadmills, HIIT trainers, bikes, and ellipticals.
ProForm can offer you several options if you're looking for ellipticals. To simplify your shopping experience, they've categorized their ellipticals into 4 different series: Endurance, Pro, Hybrid, and CSE. 
The Endurance series is known for having the resistance systems upfront instead of at the back of the machine. Models under the Endurance group take up less room, without cutting down on the potential stride length. 
The Pro family is more powerful than Endurance. It's ideal for strength-training. It's known for having heavier flywheels to give a smoother experience and to offer a greater challenge for both amateur and seasoned runners.
When it comes to impressive versatility, their Hybrids are one a kind. All units under its wing can be transformed from a recumbent bike into an elliptical trainer with simple adjustments. 
As for the CSE series, their units are rear-drive elliptical trainers, so they usually require more floor space than front-drive trainers. But that may not be a problem, as they're all foldable (which is pretty unique for ellipticals).
The CSE is one of the top picks for beginners, and we shall get to it later.
There are several models comprising the ProForm's CSE family — the 295, 495, 695, and 895. The 695 CSE is a mid-level model, offering a solid combination of performance specs and features.
This is the 695 CSE in a nutshell:
Pros
18″ stride length

18 lb flywheel

20 levels of magnetic resistance

10 levels of power incline

24 workout apps

iFit-enabled

Pulse grip sensors

Integrated tablet holder

Transport wheels

Foldable frame

300 lb weight capacity

Lifetime warranty on frame
Cons
No telemetry heart monitoring feature
Stride Length
Stride lengths are often the undervalued specifications on an elliptical, as many favor the "bells and whistles" on consoles. Well, these extra features make any exercise fun and engaging, but a good stride length makes for an effective and more comfortable workout. 
Comfort for me is paramount when it comes to exercising, as it helps me feel safe and stay focused in any session. That's why I'm placing stride length as the most important thing to consider for any elliptical.
If you're wondering, stride length is the measurement of how far your feet will move apart with each step and is measured in inches. It directly relates to how comfortable your workouts are going to be.
If the stride length is too short, it can make you feel cramped; too long, and it can make you feel like you're having to stretch out too far. Both situations will affect your comfort level… and not in a good way. 
But what is the best stride length?
The best stride length should match your height. If you're anywhere between 5'3" and 6'0", a 20" stride length will probably be comfortable. If you're shorter, you can aim for 16" to 18".
At these lengths, you should be able to stretch out to a normal gait pattern. Of course these numbers are estimates and everyone is a little different.
Another consideration when finding the proper stride length is your leg length. If you are short but have long legs, you may need a longer stride length than other users of your height. 
When it comes to home ellipticals, the 20" stride length has become the gold standard because it can cater to almost all users.
Keeping this in mind, the 695 CSE has an 18" stride length, which is ideal for smaller trainees. Taller folks will probably feel like they can't quite stretch out completely.
It would be nice if ProForm offered an adjustable stride length. The versatility sounds awesome, but at this price range it's just not gonna happen.
When it comes to the frame, the 695 CSE has a 300 lb max user weight capacity. For home machines, 300 lb is the minimum for higher-end equipment. Smaller and more affordable machines tend to come with smaller weight limits.
Given the price of this elliptical, it's a good sign that it comes with a 300 lb weight limit, because many don't.  This unit is strong enough to hold most users safely.
The machine has a footprint of 65" x 32" x 80". If you have a limited training space at home, you'll appreciate that the 695 CSE folds with ProForm's Vertical SpaceSaver® Design. 
This elliptical folds up and out of the way when you're done with your workout. You can easily and safely move it out of the way with its built-in rear-mounted wheels.
Overall, the 695 CSE has a durable steel frame and a stride length that's ideal for smaller users. Its space-saving design is impressive, a spec you can't easily see from this price category.
Flywheel
Most home ellipticals use a perimeter weighted flywheel to provide the resistance. As you pedal, your flywheel spins and creates your resistance with its magnetic system.
Heavier is better because the extra weight builds more momentum and gives a smoother ride. Low-budget ellipticals usually come with lighter flywheels. We're talking in the 14-20 lb range.
The 695 CSE has an 18 lb flywheel. 
I like going for elliptical trainers with at least 20 lb flywheel. At this weight, you've got a better chance of getting a smooth feel during operation.
At 18 lb, the flywheel on this machine is a bit on the light side. But for the price range, it's not bad. Keep in mind, budget ellipticals are budget for a reason (or several reasons).
The 695 CSE is commended by users for its quiet operation. ProForm has included a dedicated SMR™ Silent Magnetic Resistance on this machine, so you can keep a conversation or watch the television uninterrupted by any squeaky or banging noise while using the unit.
It offers 20 resistance levels, which is quite cool and unexpected for something this cheap. Having plenty of resistance levels is great because it gives you more control over your intensity. 
The 695 CSE has adjustable incline settings up to 10° for a more challenging fitness routine. This is best for targeted muscle toning. For example, higher inclines let you focus on hamstrings and glutes.
To sum it up, the 695 CSE does a decent job in the flywheel department. Although it comes with a light flywheel, users agree it doesn't affect its performance, which is noted to be smooth and quiet. 
Features
The ProForm Smart Strider 695 CSE elliptical comes with the following features:
24 on-board workouts: For a cheap unit, having this many built-in programs is a plus. All are designed by a certified personal trainer. This offers a fun mix of challenges and should meet any of your fitness goals, whether calorie-burn or speed.
iFit-enabled: Connect your tablet to this iFit® Coach Ready™ elliptical via Bluetooth and start working out with your own personal trainer. You can sync your fitness data, access unlimited exercises, attend virtual workout classes, choose a workout path with Google Maps, or invite another iFit user for a friendly match.
The iFit is a very cool fitness technology, and it's awesome that you can enjoy plenty of interactive workouts with the 695 CSE. The catch is that you have to pay a monthly fee for the iFit subscription. 
Round Watts LED display: You can watch your power output right on the console with bright LED lights. You can tell instantly if you are in the Endurance, Tempo, or Peak zone. 
EKG pulse grip sensors: You can monitor your heart rate by gripping the hand bars. Pulse grip sensors are common for this price range. 
Adjustable pedal angle: The pedals are oversized and cushioned for a more comfortable workout session. The adjustable angle lets you enjoy a number of foot positions to target different muscle groups.
Adjustable leveling feet: This keeps your machine stable on uneven surfaces.
iPod®-compatible audio: The 695 CSE has 2" dual speakers that come with adjustable volume. You can plug your iPod® or MP3 player into its built-in sound system for a more entertaining experience.
Coolaire workout fan: Its dual workout fans provide significant cooling power. They come with speed controls too.
Tablet holder: It's located on top of the console. You can read or watch movies conveniently without blocking the LCD screen.
Assembly
ProForm does a good job with their assembly manuals. I like that they provide the step-by-step process in words and that they provide helpful images to make the process easier.
The 695 CSE is one ProForm's easiest ellipticals to assemble. All you have to do is unfold it and insert a few bolts to attach the stabilizers and the tablet holder. That's it.
I think most folks will find the assembly to be a piece of cake. Just keep in mind this machine is pretty heavy, so it will be helpful to have another set of hands for moving it around.
I bet most people can have this elliptical out of the box and running within half an hour.
Warranty
The 695 CSE comes with the following warranty:
Frame: Lifetime

Parts: 2 years

Labor: 1 year
The 2-year parts and 1-year labor are pretty standard at this price point, but the lifetime warranty on its frame is a major plot twist. Lifetime warranties are great because the company is willing to help in protecting your investment. 
A cheaply priced unit with a lifetime warranty is a rare gem. I really think this is a fantastic guarantee for any price range, but especially for one under $800. 
A thumbs up for the 695 CSE in the warranty department.
Final Thoughts
The 695 is a very respectable model in ProForm's CSE series. It's priced well (especially on sale) and it's offering some impressive specs for its price range.
I love how it offers plenty of training varieties with its resistance and incline levels. It's also sporting many built-in programs, which is a great alternative if you don't want to pay the monthly iFit bill.
Hands down to its lifetime frame warranty too- well done ProForm.
My verdict is that the 695 CSE is a good starter elliptical for many users, especially those who are the smaller side. If you're looking for an affordable elliptical that is easy to fold away, this is a great choice.
If you're looking for a more powerful machine, check out our budget friendly elliptical guide for some great ideas.