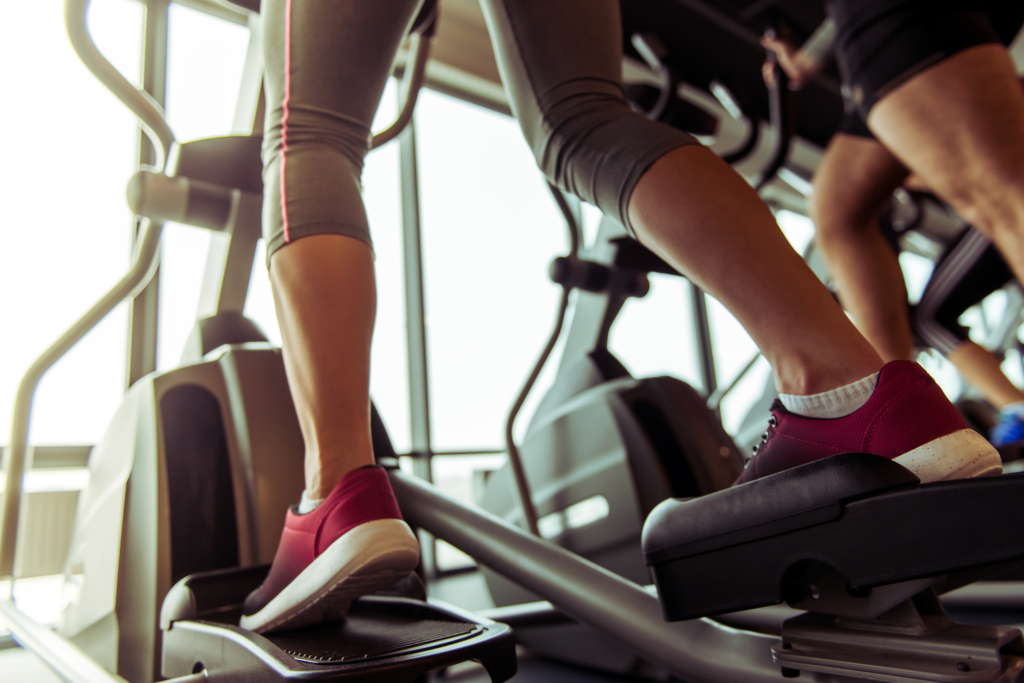 ProForm's Smart Strider 495 CSE is a light-duty elliptical trainer designed to fit smaller workout spaces. Folks with limited room for fitness equipment will appreciate the fact that it folds in half for storage (something few ellipticals can claim).
Highlights of this elliptical include 18 built-in workout apps with the option to access iFit, in case you want to access a more interactive training session.
The flywheel and stride length are on the smaller side, making the 495 CSE more appropriate for smaller users. But its foldable frame comes with a lifetime warranty, which is impressive given the price range. 
If you're looking for a small, compact elliptical with plenty of workout options, this model might be what you're looking for. But before you decide, it's smart to learn everything you can.
And that's where this review comes in. In this article, we'll discuss all the important aspects of this elliptical you should consider.
After reading, you'll have a better idea if it's worth investing in your home gym.
Let's get rolling.
The ProForm Smart Strider 495 CSE Elliptical Trainer
ProForm is one of the industry leaders when it comes to home fitness gear. They're famous for manufacturing premium machines that are affordably priced. 
ProForm is owned by ICON Health & Fitness company. It's a big multi-brand organization that also owns other fancy fitness brands like Weider, NordicTrack, and iFit.
Having said that, it's very understandable why machines manufactured by these companies are iFit-ready.
ProForm is a superstar when it comes to treadmills and HIIT trainers. If you're looking for exercise bikes or ellipticals, they also have a powerful lineup you can choose from. 
As for their ellipticals, ProForm has always something to offer in terms of price, performance, and durability. They're categorized into 4 different series: Endurance, Pro, Hybrid, and CSE. Each series focuses on a specific feature. 
So, depending on your fitness needs and personality, you can easily sort your options by choosing which series is perfect for you. 
But let's focus on ProForm's CSE series which the 495 belongs to. 
Their CSE lineup consists of their rear-drive elliptical trainers. Although these machines tend to take up more floor space than front-drive trainers, ProForm solved this by making these machines foldable.
Other models in the CSE lineup include the 295, 695, 895, and 935.
Pros:
18 levels of magnetic resistance

18 workout apps

iFit-enabled

Pulse grip sensors

Integrated tablet holder

Transport wheels

Foldable frame

275 lb weight capacity

Lifetime warranty on frame
Cons:
No incline

Small stride length

Light flywheel

Not telemetric
Stride Length
Stride length is very important because it relates directly to your overall comfort as you exercise. That's why I also start here when reviewing a new model.
By the way, stride length is how far your feet are allowed to move apart (front to back) during use. Cheaper trainers often come with a shorter stride length. Good quality ones should have a longer stride length.
Budget ellipticals typically offer stride lengths in the 14-18″ range. High-end ellipticals will usually come with at least a 20″ stride length. This is one reason why more expensive machines feel more comfortable to use.
Although there isn't really a perfect stride length that fits everyone comfortably, the 20″ size is pretty darn close. It's been shown that ellipticals with a stride length of this size can fit most people of differing heights comfortably.
That said, the 495 CSE has an 18" stride length. At this size, taller folks are going to notice that they can't stretch out completely during their workouts. It's kinda like comparing jogging to running.
People under 5'8″ might not notice, but it does depend a lot on your leg length.
The 495 CSE has a 275 lb max user weight. Many machines in this price range offer a more durable frame that can accommodate up to 300 lb at least.
If you're heavier, I suggest you look into heavy-duty machines. 
The machine has a footprint of 65" x 32" x 80". If you have a limited training space at home, you'll enjoy the 695 CSE because of its Vertical SpaceSaver® Design. 
This elliptical folds up and out of the way when you're done with your workout. You can easily and safely move it out of the way with its built-in rear-mounted wheels.
Overall, the 495 CSE has a stride length suitable for shorter trainees and a decent frame. It's foldable too, a feature you'll less likely see from other machines at this price point.
Flywheel
Flywheels are important if you're looking into ellipticals or spin bikes. Both types of equipment use a perimeter weighted flywheel to provide the resistance. As you pedal, your flywheel spins and creates your resistance with its magnetic system.
Heavier is better because the extra weight builds more momentum and gives a smoother ride. Although this rule isn't written in stone, aiming for an elliptical with at least a 20 lb flywheel is a good way to make sure you get a smooth operating machine.
The 495 CSE has a 13 lb flywheel, which falls very short of the 20 lb goal. Especially considering the full retail price of this model is around $1000 (which is insane if you ask me).
With a flywheel this light, this elliptical is best suited for casual users or smaller folks looking for a low intensity workout.
Considering how small the flywheel is, it's not a big surprise that there have been many user complaints regarding unwanted noises and issues with smooth operation. 
The 495 CSE offers 18 resistance levels. Having plenty of resistance levels is great because it gives you more control over your intensity. However, it misses the incline features that we often see from ProForm's elliptical selections.
Inclines are great because you can focus on specific muscle groups. They also add workout variety, which is always a good thing.
Overall, the 495 CSE falls short in the flywheel department. At 13 lb, it's very light and not equipped to provide more intense workouts. Smaller users or people looking for gentle workouts might be able to make do.
Features
The ProForm Pro Smart Strider 495 CSE comes with the following features:
Round Watts LED display: You can watch your power output right on the console with bright LED lights. You can tell instantly if you are in the Endurance, Tempo, or Peak zone. 
18 workout programs: The 495 CSE is loaded with effective workout programs that are designed by professional trainers. Having this many training options is a solid alternative if you decide against the optional iFit subscription.
iFit compatibility: iFit is a fitness app that gives you unlimited access to exercises led by virtual coaches. This lets you track all your workout data, access scenic trails, and more. If you do decide to purchase the 495 CSE, you get to enjoy a free 1-year iFit subscription. After that, you'll have to pay a monthly subscription fee to access.
EKG pulse grip sensor: The 495 CSE comes with a conventional heart rate monitoring feature. You can get your pulse readings by gripping its handlebars. Unfortunately, this model isn't compatible with telemetry monitors.
Oversized pedals: They're oversized and cushioned for a more comfortable workout session. 
Dual 2" speakers: The port is compatible with iPod and most MP3 players and other devices, and the dual speakers come with volume. You can play your favorite workout tunes for a more entertaining experience.
Water bottle holder: It makes hydration easier.
Integrated tablet holder: The tablet holder is conveniently located above the huge display screen. You can easily watch a movie or browse your social media apps while exercising. 
Assembly
ProForm designed the 495 CSE with an easy-peasy assembly process. The goal is to be able to get the elliptical out of the box and have it up and running in a matter of minutes- and I actually think, in this case, that goal was met.
You're only responsible for adding the front and rear stabilizers, unfolding the elliptical, and inserting a few screws to lock the handlebars in place and attach the tablet holder.
That's really about it.
I bet pretty much all users can get this job done themselves (or know someone who can do it for them). Putting this elliptical together shouldn't take longer than 30 min.
Warranty
The ProForm Smart Strider 495 CSE comes with the following warranty:
Frame: Lifetime

Parts: 1 year

Labor: 1 year
It's a pleasant surprise to see a lifetime frame warranty here. Especially considering ProForm isn't really backing any of their newer (and nicer) products with lifetime guarantees anymore.
A year on parts and labor is pretty standard and expected given the price range.
Overall, the 495 CSE scores highly for me in the warranty department.
Final Thoughts
The 495 CSE is one of the lowest-priced rear-drive ellipticals around (considering its sale price, not the full retail asking price). Given the smaller stride length and light flywheel, I think this elliptical would be best suited for smaller users.
Especially users who are interested in a lot of workout options or who are looking to take advantage of the folding frame.
It's also backed by a surprisingly generous warranty.
I've seen the 495 CSE on sale for under $500 on sites like Amazon -this elliptical makes sense at this price. It doesn't make sense at $1000.
There are just too many high-quality ellipticals under $1000 that offer a lot more (please don't pay that much for the 495 CSE).
But if you're working with a tighter budget, you have to do what you have to do. ProForm is a respected brand and, for under $500, this elliptical could work.