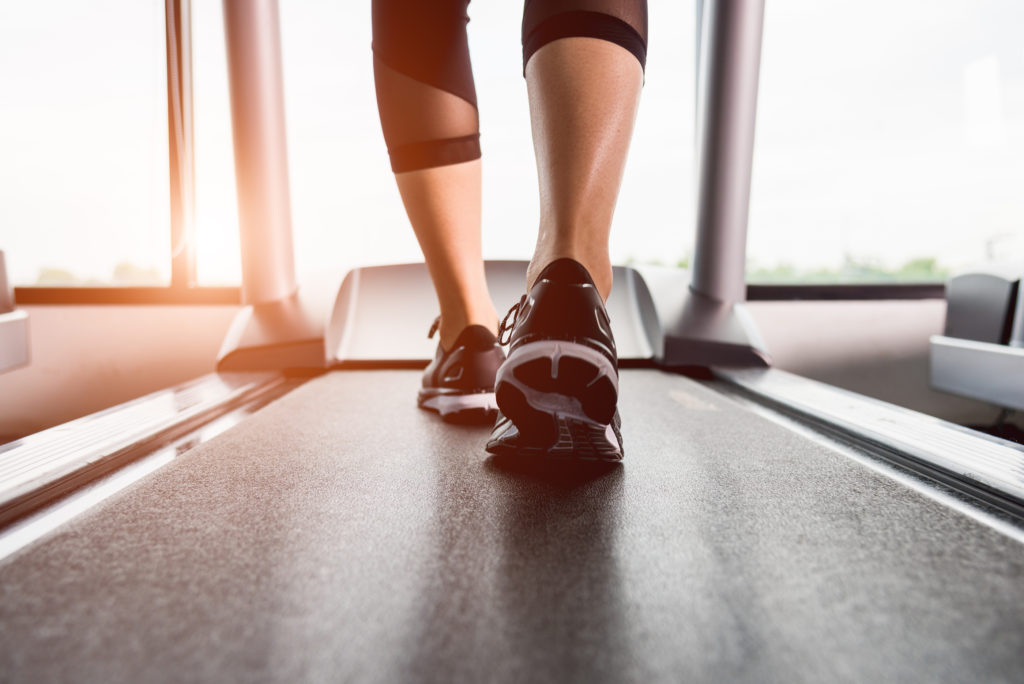 Innovative, sophisticated, and performance-driven, ProForm surely keeps up with its reputation for premium machines with its Performance 900i.
This treadmill comes with some impressive features, with highlights including a max speed of up to 12 mph and top incline of 12%. It also comes with 30 preset workouts, all designed by a professional for super effective training.
The Performance 900i offers a variety of challenges while keeping you entertained as you burn those calories. It has a large 10" screen display, an integrated tablet holder, and an iPod-compatible sound system. 
Not to mention it's iFit-ready so you can easily sync your fitness data, get access to unlimited training, and run with Google Maps routes from all over the world. You can run in Brazil or walk the streets in Japan right in your living room.
When it comes to tech, the Performance 900i scores pretty highly, but this machine has its flaws (most notably a small running surface).
In this review, I'll show you all its specs and features, as well as provide my two-cents on everything it has to offer. After reading, you'll know whether or not the Performance 900i is a good choice for your home gym. 
Let's begin.
The ProForm Performance 900i Treadmill
ProForm is a very familiar name when it comes to treadmills. Or maybe you've seen some of their units at fitness clubs. They're known for offering commercial-grade machines at comfortable prices, hence becoming a top choice for many users' home gym.
Their treadmills come in 3 different series: Pro, Power, and Performance. Each lineup has its own unique selling points. 
Their Performance series, which the Performance 900i is a member of, emphasize on touchscreens, but their running surfaces and motors are smaller.
In contrast, their Power series have machines notable for their stronger motors. They put less focus on their tech offerings.
Combining both features gives you the Pro series, which is ProForm's most advanced selection yet. You get stronger motors, longer decks, and large touchscreen displays.
As expected, they carry the most expensive price tags. But, you know what they say- you get what you pay for. 
So, regardless of your training needs and wish list, ProForm probably has a treadmill to match. 
Although they are popular for their treadmills, their HIIT trainers are also a huge hit. They offer powerful units for cardio training and ellipticals too.
ProForm is owned by ICON Health & Fitness company, the same company that owns iFit. So there goes your answer if you're wondering why all ProForm machines are iFit-ready. 
Pros
Foldable frame 

Top speed of 12 mph

Power incline to 12%

30 built-in workout programs

2.75 CHP motor

iFit Ready

Tablet shelf

10″ LCD

EKG Pulse sensors 

iPod-compatible sound system

300 lb max weight capacity

Lifetime warranty on frame and motor

3-year parts warranty

1-year labor warranty
Cons
Running surface a tad small

Telemetry not included

iFit subscription not included
Running Surface
A lot needs to be considered when selecting a treadmill. If you're a newbie looking into exercising at home, I can only imagine how tough it must be for you to decide which unit is worth taking home (check out our treadmill guide for more info on what to look for). 
But when you finally get to the part when you start comparing machines, one of the most important specs you need to focus on is the running surface.
The running surface is also known as the belt size. It refers to the dimensions of the treadmill belt, which is the area you use for running or walking on your workout. It's measured in inches and usually written as width x length.
It's my top priority when scouting for treadmills, as it can affect your comfort level more than any other feature. If you get a treadmill with a running surface that's too small for you, it'll be awkward to execute your strides properly.
If it's too narrow, it'll feel a bit claustrophobic.
Regardless of price, you can tell a lot about treadmills just by looking at how big their operational surface is. Bigger is always better, especially if you're a 6-footer. 
The gold standard for home treadmills is a belt area of 20" x 60". That's because at this size, it's been shown that most users can use it without shortening their stride.
The Performance 900i falls a bit short with a running surface measuring 20" x 55". It may be fine for walking or shorter runners, but taller folks might feel a little cramped.
When it comes to frame integrity, this model has a max weight user capacity of 300 lb, which is pretty standard for a treadmill in this price range.
It can accommodate most users, but larger individuals might feel safer on a more robust treadmill with a higher weight limit.
ProForm's ProShox™ Cushioning system can help reduce the impact on your joints as you use the Performance 900i. If you have arthritis or any joint pains, this machine can reduce stress and help improve your recovery rate after training.
The Performance 900i is foldable. You can fold it vertically after using. It's a great perk for a machine in this price category as it helps save space at home.
Folding is easy too, since it comes with an "easy assist" mechanism. It's engineered for easy folding, which is a plus considering how heavy treadmills are.
Overall, this is a smaller treadmill with a running surface that is smaller than I'd prefer. Shorter users (under 5'8″) shouldn't have any issues though.
Motor
Another spec you need to pay close attention to is the motor strength. It's measured in horsepower (HP) or continuous horsepower (CHP). HP is all about peak power, while CHP refers to the amount of power the motor can maintain over time.
CHP is more commonly used in quality treadmills. A higher CHP means a stronger motor, and that's what we are interested in. It tells you that the machine can keep up with you even during longer, more intense workouts.
It won't struggle to sustain the necessary force to keep you running.
Most home treadmills have motors ranging between 2.0 to 4.0 CHP. 
The Performance 900i has a 2.75 CHP motor. A good motor for running should have at least 3.0 CHP to sustain higher speeds without wearing out the motor.
To be frank, this is a bit of a letdown. But then I remember that the Performance 900i is under ProForm's Performance series that focuses on tech rather than running surface and motor strength.
Anyway, a 2.75 CHP motor still works well with easy, low impact workouts. But if you're a pro or a sprinter or someone who wants to focus on high-quality motors, you may want to consider ProForm's Pro or Power series.
They have machines crafted for intense training and longer workouts. 
It's also worth mentioning that the upgrades on ProForm Performance selections come with larger decks and stronger motors. For instance, their Performance 1800i has a 22" x 60" tread belt and a 3.5 CHP motor. 
The Performance 900i has a top speed of 12 mph, which should be fast enough for most. Its sufficient motor size and large flywheel allow it to operate at such high-level speed.
It comes with QuickSpeed® buttons for you to adjust your intensity instantly.
To keep things interesting, it has 0 to 12% incline capabilities. If you train with Google Maps, you can enjoy more fun and challenging experiences as the Performance 900i automatically adjusts its incline to simulate the trails.
Features
Let's begin with its 10" full-color touchscreen LCD that offers one of the largest and nicest displays in this price category. It offers excellent readability that you'll enjoy checking your workout metrics or seeing the fantastic terrain view from Google Maps.
In terms of metrics, it displays the time, distance, calories, pulse, and even the number of laps you've completed. You can also see your current incline and speed settings. 
It comes with 30 pre-set programs filled with weight loss and performance workouts to keep you motivated. You can also create, modify, and save your own routine.
The Performance 900i has EKG pulse sensors located on the handlebar. Almost all machines have grip sensors, which seems perfect so users can monitor their cardio conditions while running. 
EKG grip monitoring is often advertised to be fast and reliable, but many users could agree that wireless heart monitoring is better.
It's disappointing that this model doesn't come with telemetry heart rate monitoring, many in this price range do.
When it comes to training options, the Performance 900i has a lot to offer since it's iFit® Coach Ready™. This program will open you to a whole new world of fitness possibilities. You can match routes from Google Maps, train with a celebrity coach, or access its unlimited fitness library. 
With the iFit, there will never be a dull moment training with the Performance 900i. You can challenge other iFit users if you like a little competition down the road. 
But the catch is that you need to pay a monthly subscription fee to access.
So if you want the wealth of training options within your fingertips, you can pay extra for the iFit access. It's a good option for users who want to perk things up with their exercise experience.
Otherwise, you can stick with its built-in 30 workout programs (which is a lot to begin with).
The Performance 900i has iPod-compatible stereo speakers. You can easily plug your device to its dedicated port or connect via Bluetooth to listen to your favorite tunes. 
If you want to watch a movie or read while exercising, you can do so with its attachable tablet holder. It's located on top of the console so your tablet won't block its crisp LCD display. This way, you can easily check your stats even while watching Netflix.
To keep you cool, the Performance 900i has workout fans that seem to do their jobs. Weak fans are common concerns among budget-friendly machines.
But the Performance 900i's airstream flow mechanism seems pretty solid and provides significant cooling power.
Assembly
ProForm has one of the simplest user guides for assembly, so you shouldn't encounter any difficulties setting up the Performance 900i.
The Performance 900i package comes with parts and important tools like the hex key for adjusting the tread belt.
Since treadmills are huge and heavy, having two people working on the assembly is a smart move. Just follow the instructions included on the package and you can begin working out with the Performance 900i in no time.
But if you're having a tough time putting up your treadmill, you can always pay for professional assistance (but I think most people will be fine assembling themselves).
Warranty
ProForm backs their Performance 900i with the following warranties:
Frame: Lifetime

Motor: Lifetime

Parts: 3 Years

Labor: 1 Year
ProForm is known for offering generous warranties regardless of the price range. They have lifetime warranties for most of their machines which scores highly for me. 
It gives another level of satisfaction and peace of mind knowing your investment is protected by the company. Their parts and labor warranties are pretty rare for this price category too. 
Final Thoughts
With its 20" x 55" deck and 2.75 CPH motor, the Performance 900i is a solid choice for beginners, especially if you're looking for a ton of workouts to choose from. 
The 900i's innovative tech features are commendable. It's hard to beat the 10" touchscreen display and generous selection of workouts. Not to mention the great warranties.
But if you ask me, there are better options in this price range. The Sole F63, for example, comes with a larger running surface, stronger motor, and costs about $300 less.
But as smaller models go, the 900i is one of the best compact treadmills around.
If you're working with a smaller budget, check out our budget treadmill guide– every treadmill on this list is under $1000.