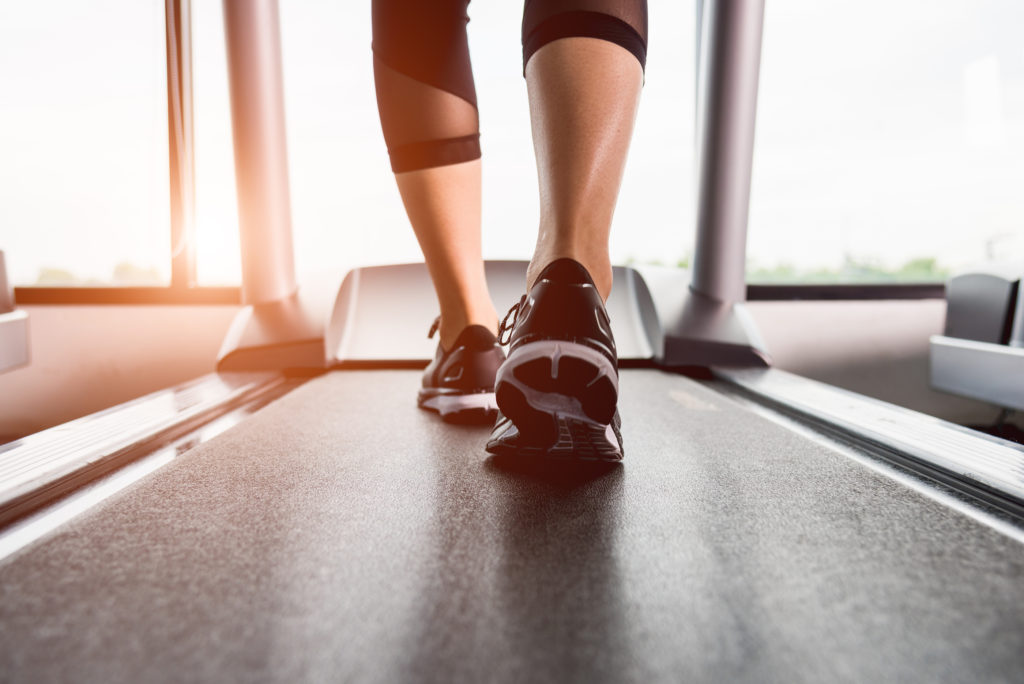 Unique incline and decline capabilities, more pre-set workout programs and a lifetime warranty help make ProForm's Performance 1800i treadmill one of my favorite value machines for this price range.
The Performance 1800i comes with several features that stand out, beginning with its roomy 22" x 60" running surface, 7" backlit display, and 2.5" rollers for more comfortable and lasting workouts. 
Its 12 mph speed settings offer a variety of challenges to meet the needs of both amateur and advanced runners alike. It also offers unlimited access to fun and challenging workouts through ProForm's fitness app, iFit.
If you're looking for a great running machine for your home gym, the Performance 1800i treadmill is a wise choice. It's engineered to perfection, matching any of your training needs.
But with so many quality treadmills on the market, it's important to do your research – and that's where this review comes in. In this article, I'll walk you through everything you need to know about this treadmill.
After reading, you'll be well equipped to determine whether or not this is the right choice for you.
Off we go.
The ProForm Performance 1800i Treadmill 
ProForm is one of the most recognized home fitness brands out there. You may have heard about them before or used one of their machines at fitness clubs.
They've become famous for their HIIT trainers and treadmills, but they do offer great exercise bikes and ellipticals as well.
ProForm is owned by ICON Health & Fitness company. It's a big multi-brand organization that also owns other fancy fitness brands like Weider, NordicTrack, and iFit.
Having said that, it's very understandable why machines manufactured by these companies are iFit-ready.
When you shop for home gym equipment for the first time, all machines start to look the same. But ProForm has machines built to motivate you during use.
All of their features are both functional and exciting. They don't distract you from the stuff that matters.
You get premium treadmills that work the way they're supposed to, and on top of that, they are backed with lifetime warranties.
ProForm offers a blend of both function and style. And much to the adoration of its patrons, their machines are priced comfortably for every budget.
This is one of the reasons why ProForm has won the hearts of many. You can take home commercial-grade machines without breaking your bank.
Take for instance their Performance 1800i treadmill that offers the following specifics:
Pros
Foldable frame 

Large workout area (22″ x 60″)

Top speed of 12 mph

Power incline to 15%

Power decline to -3%

32 built-in workout programs

3.5 CHP motor

2.5" rollers

iFit Ready

Tablet shelf

7″ backlit LCD

EKG Pulse sensors with telemetry capabilities

Smartphone-compatible with port 

Speakers

Dual cooling fan

300 lb max weight capacity

Lifetime guarantee on frame and motor

5-year parts warranty

2-year labor warranty
Cons
Chest strap for telemetry not included

iFit subscription not included
Running Surface
In order to pick the best treadmill, you need to decide which factors are important for you. You need to concentrate your search on your ideal specs and features. 
Of course, the price matters. It's always everybody's top priority. But let's assume that we've ruled out your list based on your price range and the Performance 1800i treadmill makes your shortlist. Now what?
As for me, I like to begin looking at the size of the running surface.
The running surface is the dimensions of the belt. This is the area you will be exercising on. It's measured in inches and written in width x length formats.
The running surface is a good way to spot premium treadmills from junkier machines. Great treadmills should have large running surfaces, while poor-quality machines tend to have smaller belt areas.
If the belt is too short, you'll likely shorten your stride; too narrow and it can make you feel claustrophobic. Just imagine running on a tightrope. Awful, isn't it?
For a safer and more comfortable experience, aim for a larger running surface. That said, the gold standard for home treadmills is a running surface of 20" x 60". This provides enough legroom (for most users) for your running pace.
The Performance 1800i treadmill has an extra-large workout area with 22″ x 60″.
That's more than what's expected for a good quality treadmill. It has a roomy deck, and the wider belt area also offers more elbow room.
It comes with a heavy-duty frame that could safely handle users up to 300 lb. It's pretty standard, but there are models out there with higher weight capacities of up to 400 lb. 
For comparison's sake, the ProForm Power 995i has a 325 lb max weight user capacity and is under the same price category as the Performance 1800i treadmill.
The Performance 1800i treadmill can accommodate most users, but larger folks might want to consider a heavier-duty unit with a higher weight capacity (3G's Cardio Elite Runner comes to mind).
The Performance 1800i treadmill takes it easy on your joints. Its ProShox™ Cushioning system offers softer landing with every step. You can enjoy longer training without putting too much stress on your joints.
If you're looking to save some training space, this machine can let you do that because it's foldable. After using your Performance 1800i, you can easily lift the belt upwards without using too much strength.
The Performance 1800i is a fairly large unit. When fully assembled, it measures approximately 80" long and 40" wide. But since it's foldable, this shouldn't bother you at all. You can collapse your machine anytime you want and smoothly glide it to a corner. 
Overall, ProForm's Performance 1800i scores highly with its spacious deck and foldable frame. Although it would be better if it came with a higher user weight capacity, most people should be able to use it safely.
Motor
Motor strength is another important factor to consider when choosing treadmills.
You can compare motors by their horsepower (HP) or continuous horsepower (CHP). The HP refers to peak power, while the CHP denotes the power a motor can maintain over time.
For treadmills, more CHP means better. It shows that the machine can keep up with you, especially for longer workout durations. It can let you go faster and offer a more comfortable routine without feeling as if the motor is struggling.
The ideal treadmill motor power ranges between 3.0 and 4.0 CHP. 
If your workout consists of plenty of running, you should look for treadmills with 3.0 CHP and higher. But if you'll only be using it for walking, a 2.0 CHP is probably okay.
The Performance 1800i has a 3.5 CHP motor. 
With a motor this strong, you shouldn't have any issues with hearing the motor struggle to reach higher speeds. 
Also, it's a good idea to take note of the roller size. Rollers are the part that make contact with the belt, propelling it to move along the deck as the motor continues to operate. 
Again, bigger is better. Larger rollers provide smoother use because there's more surface contact area between the roller and the belt. The motor benefits from larger rollers too- they put less stress on the motor, prolonging its life.
For treadmills with bigger running surfaces like the Performance 1800i, it makes sense to pair them with bigger rollers for better performance (although not all fitness brands do this).
The generic roller size for many treadmills is 1.9". The Performance 1800i has 2.5" rollers, which is the ideal size.
With the Performance 1800i, you can enjoy running up to 12 mph (if you can). Sprinters will love this machine, especially as it comes with QuickSpeed® buttons for you to adjust your intensity instantly.
But what seems to be the real game-changer about the Performance 1800i is its insane incline and decline capabilities.
You can challenge yourself to train at up to 15% incline or do the opposite with a -3% decline. The training variety is so awesome that it's the best fit for those users preparing for a hiking adventure or road race.
But if you prefer lower impact exercises, simply keep the track flat and go at your own pace. The great thing about this treadmill is that it's equipped to meet the needs of people at all fitness levels.
Features
The Performance 1800i offers quite an impressive palette of features.
Let's start with its 7" backlit LCD that offers excellent readability because of its large and bright display. 
From here you can check your workout metrics, like time, distance, calories, pulse, and even the number of laps you've completed and the vertical feet you've climbed. It's also where you can see your current incline and speed settings. 
The mid-section of the display shows the 32 workout programs, which are divided into 6 categories: Calorie, Speed, Incline, Intensity, Random, and Manual. Even if these programs are pre-set, you can modify them to your liking.
The handlebar of the Performance 1800i has pulse sensors. But in terms of comfortability and accuracy, telemetry heart monitoring is better. 
Luckily, the Performance 1800i is also telemetric. It can track your pulse using a Bluetooth wireless HR chest strap. But the catch is that it's not included in your package, so you need to buy it separately. 
But it's great to know that this unit enables a wireless heart monitoring option. Many treadmills under this price category only offer pulse grip sensors.
One of the amazing features of the Performance 1800i is its iFit compatibility. You can directly stream your workout data, train with celebrity coaches, and run on virtual terrains powered by Google Maps.
The machine will automatically adjust its incline and decline depending on the topography. Heck, you can even compete with other iFit users for more fun and challenging sessions.
iFit opens doors to many training possibilities, giving you that extra push whenever you feel bored from your regular routines.
The downside is, you need to pay in order to subscribe. Anyway, it's still a good option for users who want to level up their exercise experience.
Other features of the Performance 1800i include their stereo speakers that are compatible with most MP3 players and other devices. There's an AUX located on the right part of the console and volume controls at the bottom.
This treadmill comes with dual workout fans- something you don't see from other ProForm treadmill models. They are located on each side of the console, with speed controls located on the bottom left. Many users say they provide significant cooling power.
The Performance 1800i has accessory trays on the console dashboard. You can place your water bottle, keys, phone, and other small objects here. You can attach the tablet holder to the top part of the console so it won't cover the display and other buttons.
Assembly
The Performance 1800i is pretty easy to assemble. Its package consists of the parts, basic toolkit, and a manual. 
Some users relied on a video tutorial online. So, if the going gets tough for you, you can also check the internet for assembly tutorials of the Performance 1800i. But each step is illustrated in its package manual, so it should be simple to follow. 
You can assemble the Performance 1800i in an hour, but it's probably ideal to have an assistant for this task as treadmills are large and heavy.
Warranty
The best part about ProForm is their generous warranties. For the Performance 1800i, you get the following:
Frame: Lifetime

Motor: Lifetime

Parts: 5 Years

Labor: 2 Years
Lifetime warranties are great because it shows the company is willing to help in protecting your investment. The Performance 1800i comes with a heavy-duty frame and a powerful motor, and getting lifetime warranties for both is so sweet.
Your unit is truly made to last.
A 5-year warranty on parts and a 2-year on labor is more than the standard guarantee you'll get at this price point. Most machines have 3-year and 1-year warranties respectively.
Obviously, the Performance 1800i scores highly for me in terms of the warranty. 
Final Thoughts
ProForm's Performance 1800i treadmill is a great machine for your home gym. It's powerful and can accommodate intense training workouts. 
It has a lot to offer with its 3.5 CHP motor, 12 mph top speed, and 32 workout programs that can offer challenging workouts for users of all fitness levels.
Not to mention the unlimited training possibilities with the optional iFit subscription. The -3% decline setting is a unique feature too, especially from this price range. 
Overall, this treadmill is a pretty awesome unit with heavy-duty specs. And with its lifetime warranties, the Performance 1800i is sure to last you for many years to come.