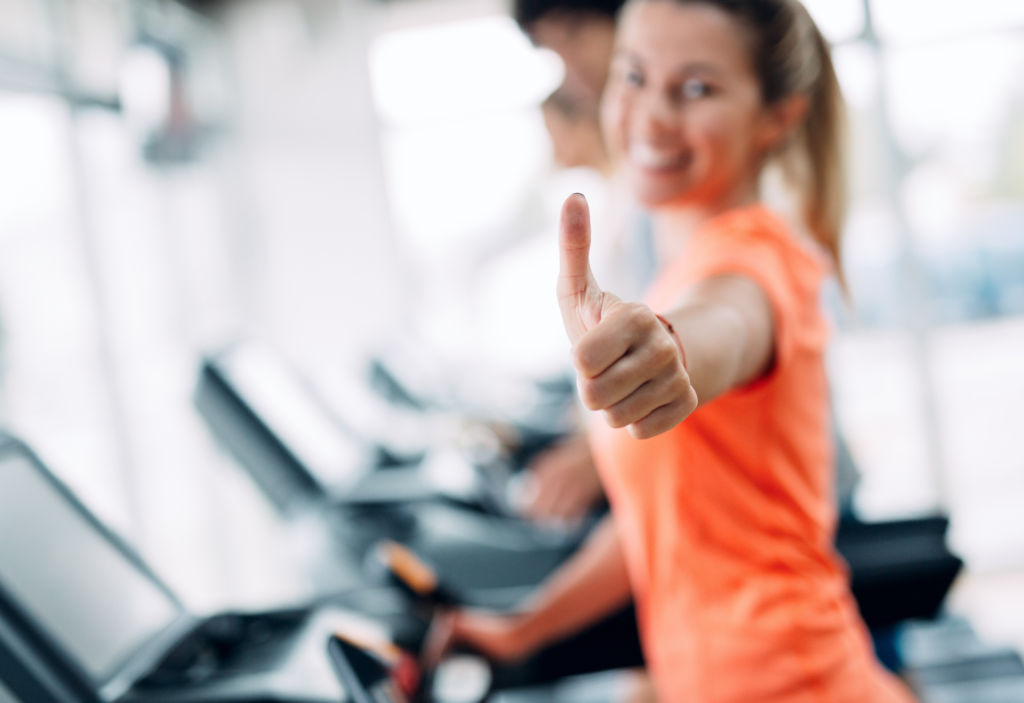 The Performance 300i is a wallet-friendly model from ProForm. It comes with a decent range of training varieties and like any other ProForm machine, it's iFit-enabled so you can access unlimited interactive routines.
It operates smoothly and quietly with its 2.0 CHP motor as you pace at up to 10 mph speed or enjoy its 10% incline capability.
Since it comes with the ProShox Cushioning system, the Performance 300i is friendly to your joints. However, its deck area is not as large as other models and will likely feel cramped for taller users.
The Performance 300i can monitor your heart rate and shows your progress metrics neatly with its LCD display. Its 2″ built-in speakers offer more entertainment, and its tablet holder helps you stay efficient.
ProForm's Performance 300i is a wise choice for this price range. It can support a variety of light workouts and could work nicely to support a walking program.
But is this the right treadmill for you? Well, that's what this review is here to help you figure out.
Let's begin. 
The ProForm Performance 300i Treadmill
ProForm is one of the industry leaders when it comes to home fitness gear. They're famous for manufacturing premium machines that are priced comfortably. 
ProForm is owned by ICON Health & Fitness company. It's a big multi-brand organization that also owns other fancy fitness brands like Weider, NordicTrack, and iFit.
Having said that, it's very understandable why machines manufactured by these companies are iFit-ready.
ProForm is a superstar when it comes to treadmills. But their HIIT trainers are also a huge hit. If you're looking for exercise bikes or ellipticals, they also have a powerful lineup you can choose from. 
As for their treadmills, ProForm has always something to offer in terms of price, performance, and durability. I guess the common denominator of all their offerings is their fantastic features. 
All of their treadmills are feature-rich. It's good because having enjoyable amenities can help keep you motivated and entertained during exercise. You can expect touchscreen displays and iFit training even from their budget-friendly alternatives.
When shopping for ProForm treadmills, you might notice 3 different series: Performance, Power, and Pro. Each series focuses on a specific feature. 
Performance puts emphasis on entertainment, while Power gives you stronger motors for longer workouts. Pro is ProForm's most advanced series, as it's a combination of both Performance and Power.
So, depending on your fitness needs and personality, you can easily sort your options by choosing which series is perfect for you.
But if you're on a tight budget, I suggest you begin with their Performance series. The Performance 300i, which we're reviewing in this post, is the oldest model of this lineup.
It has primitive specs but they're satisfactory for light exercises (and the price range). 
In case you want a newer model, the Performance series also consists of the 400i, 600i, 900i, and 1800i. Each upgrade has more sophisticated technologies, which can be enjoyed at higher costs.
Nevertheless, ProForm's Performance series is quite a good deal for budget-friendly alternatives.
Pros
Foldable frame 

Top speed of 10 mph

Power incline to 10%

16 built-in workout programs

iFit Ready

Tablet holder

EKG Pulse sensors 

2" dual speakers

300 lb max weight capacity

Decent warranty
Cons
Small workout area of 16" x 50"

Weak motor at 2.0 CHP

No backlit LCD

No workout fan
Running Surface
It's safe to assume that all shoppers have their own set of preferences when looking for treadmills. You have your ideals in terms of specs and features. As for me, I like to start with running surfaces.
The running surfaces are the area which we'll be using for running and walking. It's also referred to as the deck or belt size. It's measured in inches with width x length as the format.
We can easily categorize high-quality treadmills from cheap junks based on their running surfaces. Premium machines have a roomy deck, which we should be interested in.
Bigger running surfaces tell us that we can comfortably keep pace with the belt without shortening our strides or feeling cramped.
The best running surface measures at least 20" x 60". It's often found on higher-end treadmills. It's a rare commodity for budget-alternatives like the Performance 300i which only has 16" x 50".
Most treadmills have belt widths of 18-22" and lengths of 48-60". Although I wasn't expecting a roomy deck from the Performance 300i, its 16" x 50" deck size is still a bit disappointing. 
A 16" width is tiny and its length is not ideal for running, especially if you're tall. Most people require at least 55" for comfortable running.
Given its small running surface, the Performance 300i is better suited for walking exercises. If you're into low impact workouts, this should be good for you. 
With its ProShox™ Cushioning system, the Performance 300i is very suitable for aging adults or those with joint problems. It's designed for shock absorption, so exercising won't have to be painful.
Many users have enjoyed a smoother exercise with this machine. It's easier for their joints. Even those with arthritis can continue working out with this unit without hurting themselves. 
When it comes to frame strength, this treadmill isn't bad considering the low price range. It can accommodate users weighing up to 300 lb safely. 
One nice perk about the Performance 300i, is that it's foldable. You can easily save some training space by folding it up and out of the way after use.
It comes with an easy assist mechanism so you can safely and conveniently lift the running surface without exerting too much force.
Motor
After running surfaces, your next point of inspection must be motor strength.
Motors tell us that the machine can sustain a consistent power for longer and more intense workouts. Motor strength is measured in continuous horsepower (CHP) and that's what we should look into.
Remember the golden rule: the bigger, the better.
Bigger CHP tells us that the machine won't struggle to keep up with our routines. It won't slow down, hiccup, or pause. It will offer a smooth and comfortable motor power.
The gold standard for motor strength ranges between 3.0 and 4.0 CHP (if you plan on running anyway). 
If your workout consists of plenty of running, you should look for treadmills with 3.0 CHP and higher. But if you're only planning to use it for walking, a 2.0 CHP is okay, which just so happens to be the motor strength of the Performance 300i.
For sprinters and pro users, check out ProForm's Power and Pro series. Both of them offer stronger motors. But for the Performance series, their 1800i treadmill already has a whopping 3.5 CHP.
The Performance 300i has a top speed of 10 mph. This should be plenty for any of your light exercises and cardio training. It comes with QuickSpeed® buttons for you to adjust your intensity instantly.
Its incline setting of up to 10% gives you good training variety. A good low impact exercise is to walk at an incline. It's a good caloric burn alternative to running.
Combining both speed and incline capabilities can give you many workout options. The amazing training varieties can help give you more motivation to use the Performance 300i.
Otherwise, you can try using iFit's Google Maps access for a more interactive workout. You can select any place in the world to train, while still being in the comforts of home. Think about running in Indonesia or walking in Brazil. 
The Performance 300i will automatically adjust its incline to simulate the trails. This is a very nice option for training at home.
This awesome technology lets you visit and train at any 7 continents even at the peak of a pandemic (of course you have to pay a monthly fee to access it).
Features
For an affordable treadmill like the Performance 300i, it still comes with a solid console. 
Its display may not be as mind-blowing as those higher-end treadmills, but it's good enough to show us a decent number of progress metrics, such as heart rate, speed and incline, miles, time, total distance, and etc.
Its console is designed for safety and convenience. It can be tough and dangerous to adjust the speed and incline levels while walking or running.
ProForm utilizes large and color-coded buttons with their Performance 300i to make adjustments easier and more straightforward.
Its heart rate can be monitored by gripping hand bars, which seems generic for this price range. But the Performance 300i went a step above its competition by being telemetric.
Yes, it offers wireless heart monitoring which is better and more accurate than pulse grip sensors. However, you may need to buy the chest strap monitor separately. 
The problem with pulse grip sensors is that it's very inconvenient. Trying to exercise while grasping the handlebars can be quite a challenge.
The telemetry-enabled feature of the Performance 300i is a good option, in case you need more reliable cardio readings.
The Performance 300i is iFit-enabled. You can sync your fitness data, access unlimited exercises, attend virtual workout classes, choose a workout path with Google Maps, or invite another iFit user for a friendly match.
iFit is a paid subscription. If the wealth of interactive training helps keep you on track with your fitness goals, then paying an additional monthly bill may be worth it.
However, other users think it's unnecessary since the Performance 300i comes with 16 pre-programmed workouts. Eight are designed for fat loss, and the other eight are designed for performance improvement. 
Other features of the Performance 300i include their audio auxiliary port that is compatible with most MP3 players and other devices. There are 2" dual speakers that come with volume. You can play your favorite workout tunes for a more entertaining experience.
It also has a tablet holder located on top of the console so it won't cover the display and other buttons. You can multitask with the Performance 300i, like watching a video or checking your social media conveniently.
Assembly
The assembly of the Performance 300i is simple. You need to follow the step-by-step procedure found in the manual. It's included on the package, as well as the hex keys. However, you'll need a screwdriver and pliers to put together some parts.
Two people can make the assembly easier, especially when unpacking the Performance 300i and attaching the console. 
It should take you an hour or more to get the Performance 300i working. But if you're skillful, you might complete everything in a jiffy.
Warranty
Considering its affordability, the Performance 300i has a decent warranty:
Frame: 5 years

Motor: 5 years

Parts: 90 days

Labor: 90 days
ProForm is known for offering lavish warranties. If you're looking for a company that can help protect your investment, then ProForm is a good choice. Their higher-end models have lifetime warranties, but they come at higher costs too.
For a roughly $500 treadmill, 5 years on the frame and motor is pretty good. The 90 day parts and labor warranties are pretty low, but again, treadmills in this price range come with short guarantees (it's part of the reason they're so affordable to being with).
Final Thoughts
To wrap everything up, the Performance 300i is a good buy considering the low price. Its small size and weak motor are better suited for walking and not suggested for running.
It has a sophisticated design and solid construction. Its LCD console is pretty to look at, and it comes with color-coded, one-touch buttons for more safety and convenience.
Although it would be nicer if it comes with a backlit display, it's forgivable at this price point.
The Performance 300i is feature-rich and provides a good value for the cost, although it may be hard to find since it's been discontinued by ProForm (although some retailers like Amazon and Wal-Mart might still carry it). 
If you're interested in learning about some great alternatives, check out our budget friendly treadmill guide– all models are under $1000.