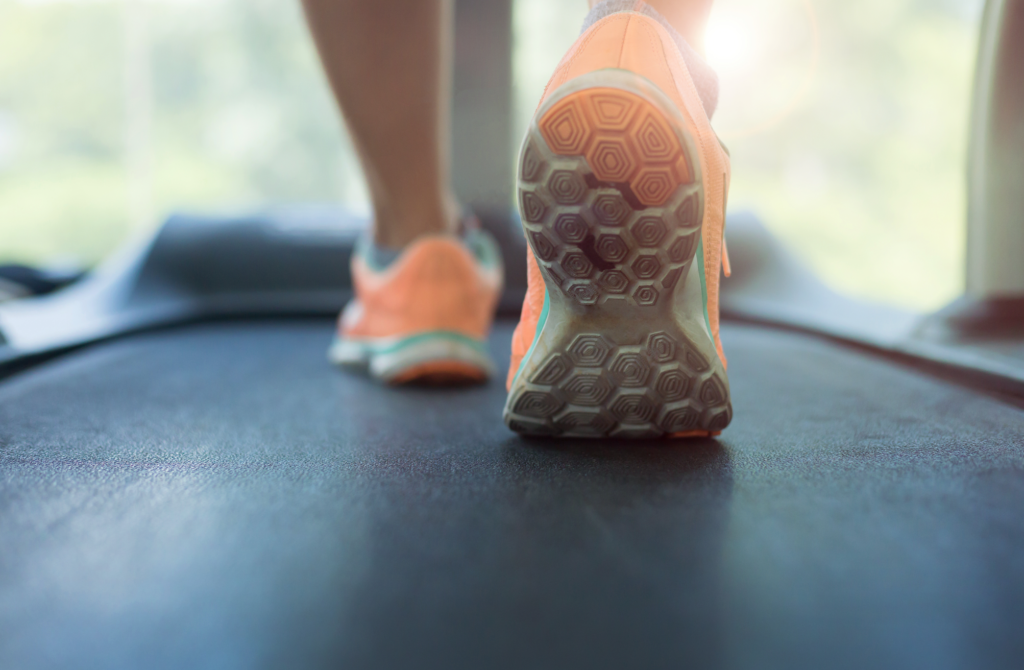 ProForm's SMART Performance 600i treadmill offers an interesting combination of tech and performance specs. Actually, it appears ProForm designed this model with the tech more in mind than anything else.
But if you're looking for a high-tech treadmill at a reasonable cost, the Performance 600i could be a good fit.
Whether you enjoy watching your virtual coaching class on a large screen display or matching your pace to the beat of the music, the Performance 600i knows how to keep you satisfied.
Highlights of this treadmill include a 10″ smart HD touchscreen display, quick touch speed and incline controls, and iFit compatibility.
Although the treadmill is a little smaller and weaker than many in this price range, it can still reach a top speed of 10 mph and a top incline of 10%.
But this treadmill finds itself right in the middle of arguably the most competitive price range there is. With so many quality treadmills to choose from, does it make sense to invest in the 600i?
Well, that's what this review is here to help you figure out. After reading, you'll know everything you need to in order to make that call.
The ProForm SMART Performance 600i Treadmill
When it comes to high-quality machines at affordable prices, ProForm is a top choice.
ProForm has been making premium home gym units for over 30 years, and they've built a stellar reputation in the industry. 
Their treadmills and HIIT trainers are a huge hit. But they also have an array of other exciting machines for cardio training, such as rowing machines and ellipticals.
When it comes to their treadmills, they offer 3 different series: Power, Performance, and Pro. Each lineup has its own unique selling points. 
Their Power series focuses on motor strength. You can expect their units to have spectacular motors for hardcore training and longer use. 
Their Performance series, which the 600i belongs to, emphasizes comfort upgrades and awesome tech features. Think about larger touchscreens and blasting stereos.
Combining both series gives you the Pro. It's ProForm's most advanced selection. You can enjoy beastly motors and top-notch consoles. Decks are bigger and other features have gotten even better.
Of course, the Pro series carry the most expensive price tags. If you're a sprinter and want an entertaining set of features, their Pro selection is perfect for you. Otherwise, you can consider the other series with cheaper yet fantastic alternatives.
ProForm is owned by ICON Health & Fitness company. It's the same huge corporation that handles NordicTrack, another household name when it comes to spectacular home gym machines. 
Interestingly, iFit is also a sister company of ProForm and NordicTrack. That's why all of their machines are iFit-ready.
Pros
Foldable frame 

Top speed of 10 mph

Power incline to 10%

50 built-in workout programs

iFit Ready

Adjustable tablet shelf

10″ touchscreen LCD

EKG hand-grip sensors 

2" speakers 

300 lb max weight capacity
Cons
Smaller running surface 

Weaker motor

No telemetry option for heart monitoring

Lackluster warranty
Running Surface
If you're new to the world of home fitness, you might be thinking long and hard on what to look for in a treadmill. Let me share a bit of my selection process to give you an idea.
I'm practical so I like to begin with a budget. After ruling out my options, I'll be left with a handful of machines to look into.
When I finally get to this part, I'd start checking the running surface. It's also known as the belt size or deck area. It refers to the dimensions you'll be using for running or walking. Measurements are presented in inches and written as width x length.
Running surfaces can affect your comfort level more than any other feature, so it scores highly for me. Treadmills with too narrow decks might make you feel a bit claustrophobic. Too small and you'll be very cautious executing your strides.
The ideal belt area is 20" x 60". 
The Performance 600i has a workout area measuring 18" x 55". This is significantly smaller than the gold standard, which is a little disappointing for a treadmill in this price range.
If you're over 6-feet tall, you should consider this because running could be tight.  A running surface of 18" x 55" should be fine for shorter users or walkers though. 
In terms of weight capacity, the Performance 600i can safely handle users of up to 300 lb. It's standard for this price range and most users shouldn't have problems safely using this unit.
However, larger runners might consider using machines with higher weight capacities.
The Performance 600i comes with ProForm's special cushioning system. Many older adults who have used this machine have appreciated this feature. Walking or running hasn't been troublesome to their joints.
Therefore, the Performance 600i makes an excellent choice for users with arthritis or joint diseases. With its unique cushion design, it reduces the impact on the joints and improves the recovery rate after exercising.
Aside from this, the Performance 600i also comes with a SpaceSaver® Design with EasyLift™ Assist. Meaning, it's foldable so you can reclaim your living space.
I like foldable treadmills because of its clutter-free and space-savvy benefit. This machine can be folded up and out of the way after finishing your workout. 
It's engineered with a powerful shock to help you lift the deck with an easy push. Nice touch!
In case you have limited space for your home gym, you can check this previous post that showcases some of the best foldable treadmills.
Overall, considering the small running surface and average weight limi, this treadmill is better suited for smaller users.
Motor
The next big thing to consider when buying a treadmill is motor strength, which is measured in 2 ways: horsepower (HP) and continuous horsepower (CHP).
HP reflects the motor's peak power, while the CHP is the amount of power it can maintain over time. CHP is more commonly used in treadmills and a more important spec to consider. 
And as a rule of thumb — the higher CHP, the better.
Higher CHP tells you that the machine can keep up with you even during longer exercises. It won't struggle to sustain the necessary force to keep you running.
Most home treadmills have motors ranging between 2.0 to 4.0 CHP. 
The Performance 600i comes with a 2.5 CHP, which is a bit disappointing.
For this price range, I'd like to see at least a 3.0 CHP motor. At only 2.5 CHP, this motor is a little weak, especially for people who are planning to do some serious running.
However, let's not forget that it's a part of ProForm's Performance series that focuses on tech rather than running surface and motor strength. 
While this motor is a little weak for running, it should do just fine for walking and jogging.
ProForm's Pro or Power series have machines dedicated to intense training and longer workouts. But the newer models of their Performance series have better motor quality. You might want to check out their Performance 1800i treadmill for comparison. 
The Performance 600i has a top speed of 10 mph. I believe this speed range is a good match for its motor strength, but it is slower than the 12 mph top speed many treadmills offer.
I do like that you can adjust your speed instantly with its QuickSpeed® buttons found on the console.
The Performance 600i has 0 to 10%  Digital Quick Incline™ Control. This gives you higher intensity options when burning calories or training your legs for uphill routes.
It automatically adjusts its incline levels when you'll use it with Google Maps when simulating the trails. This capability gives a more realistic training at home.
Overall, this treadmill comes with a smaller motor and slower top speed than many in this price range.
Features
As mentioned, the Performance series puts emphasis on tech features. So, let's see if the Performance 600i has tech specs that can make up for their motor strength and smaller deck. 
Let's start with its 10" Smart HD touchscreen. It's one of the largest and nicest displays at this price point, and I'm truly impressed.
With its crisp colors and full bright display, it's easier to check your workout metrics, watch your virtual training classes, or see the amazing views of your chosen place from Google Maps.
This display feature is quite a catch if you'll compare it with other budget-friendly treadmills. If you're a fan of tech upgrades in a training console, the Performance 600i is perfect for you. 
The Performance 600i is iFit® Enabled. You can access the app directly from your console, sync your workout data, browse its unlimited training materials, or even challenge another iFit user for a more stimulating session.
What seems to be a game-changer when training with the Performance 600i is its Google Map access. It's mind-blowing and it opens you to a whole new world of fitness possibilities. 
With iFit's Google Map integration, you can select a specific destination from all 7 continents. If you want to run along the shores of Hawaii or jog through the Cascade Range, iFit lets you do that. The Performance 600i will automatically adjust its incline depending on your chosen terrain.
This is a very splendid option if you want to enjoy some scenic and challenging routes at home. There's never a dull moment when working out with the Performance 600i.
iFit needs Wi-Fi to work, but most importantly, you need to subscribe. There's a membership fee of around $39 per month which gives you access to unlimited training from your treadmill and other smart devices.
ProForm offers a 1-year free iFit subscription upon purchasing their Performance 600i. This should give you plenty of time to browse and enjoy its interactive workout materials and decide later on if you'll continue your subscription (which you'll be paying directly from your pocket by then).
Otherwise, the Performance 600i comes with 50 onboard built-in training programs. It's a lot more than its competition and even to some more sophisticated units.
This should give you a wide variety of workout options to target any of your fitness goals. It's designed by professionals for more effective sessions. 
So even without the iFit subscription, the Performance 600i can keep you motivated with its comprehensive pre-set programs.
In terms of cardio monitoring, the Performance 600i features 2 hand-grip heart rate sensors. It's conveniently built into its handlebars. This way, you can easily monitor your cardio condition as you exercise.
EKG heart monitoring is common in most home fitness machines. They're often advertised to be fast and reliable, but many users could agree that wireless heart monitoring is better.
Telemetry heart monitoring gives you a wide range of motion and it's more accurate- it's disappointing that this treadmill isn't compatible with chest strap monitors.
Music can truly affect your performance, that's why the Performance 600i features an audio auxiliary port with dual 2″ speakers. You can listen to your motivating playlist or videos, match your pace to the tempo of your tunes, and enjoy a more entertaining workout.
Busy users can also multi-task with the Performance 600i. Its tablet holder is adjustable. You can have access to all your training tools and entertainment must-haves. It's located on top of the console so your tablet won't block its touchscreen display.
Now, you can easily check your stats while reading an office report or watching Netflix.
Lastly, this treadmill has a built-in CoolAire™ fan to keep you cool and comfortable as you train. You can control its two-speed settings. 
Assembly
The Performance 600i package comes with parts, a manual, and important tools like the hex key for adjusting the tread belt.
ProForm provides one of the simplest user guides for assembly. Your Performance 600i should be ready in about an hour or so, give or take.
It could be a challenging task to take out the pre-assembled body from the package all by yourself, let alone fitting together all the parts. It's smart (and highly suggested) to ask someone for help. 
Simply follow the step by step guide and you can begin working out with the Performance 600i in a jiffy.
Just in case you're having difficulties in putting up your treadmill or wanting to skip the assembly fuss, ProForm offers professional assembly services.
Warranty
I've always been interested in ProForm's machines mainly because the company usually offers good warranties.
ProForm is known for providing longer warranties than most. Their higher-end products come with lifetime warranties. But of course, they come at a cost, much more expensive than the Performance 600i which only offers the following warranties:
Frame: 10 Years

Parts: 2 Years

Labor: 1 Year
A 10-year frame warranty is disappointing considering most quality treadmills offer lifetime guarantees. However, its parts and labor warranties are common. It's forgivable, but I've expected more from ProForm, given its fantastic reputation. 
If warranties are important to you, I suggest you look into the company's younger and more sophisticated models like the Performance 900i. It costs a bit more than the 600i, but you get plenty of upgrades aside from a lifetime warranty.
Final Thoughts
The SMART Performance 600i is quite a catch when it comes to entertaining features. Its 10" full-color touchscreen display and expansive workout library are perks you couldn't easily find at this price point. 
But its 18" x 55" deck size and 2.5 CHP motor are both on the small side. The warranty is also a little disappointing for a treadmill with a sale price around $1000.
Overall, if you're smaller and looking for a high-tech console with loads of workouts to choose from, the SMART Performance 600i is a good choice.
But if you're more interested in function, there are better options out there for this price (we're talking bigger running surfaces, stronger motors, and better warranties). Check out our budget treadmill guide for some great options.