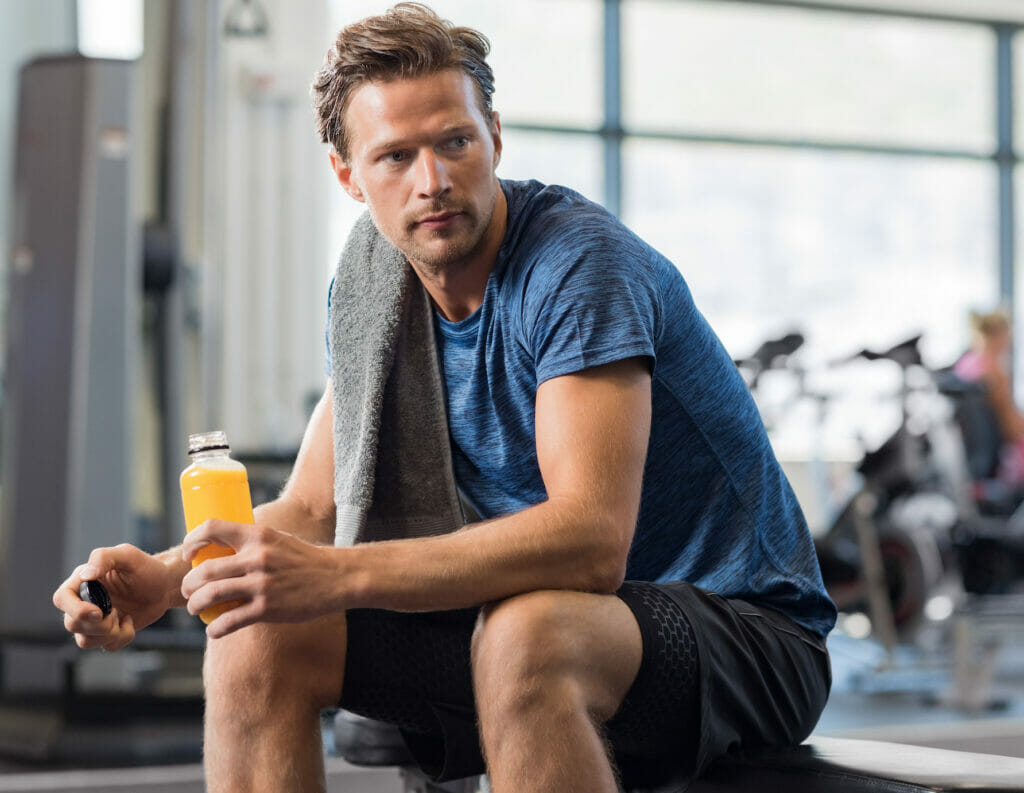 Body-Solid's EXM2500S is one of the most popular home gym machines around- and it's pretty easy to see why.
This well built machine comes with all the workout stations you'd expect from an elite gym, including a separate pec fly station and a lower pulley with a dedicated built-in foot plate.
It also comes standard with a 210 lb weight stack and is compatible with a leg press attachment for those who want to expand in the future.
And with a lifetime warranty on everything and a sales price well under $2000, the EXM2500S is one of the best values in its category.
In other words, I think this gym is awesome.
But there's no reason for you to take my word for it, you have to do your own homework- but I can help with that part.
In this review, I'll go over all the specs and features this machine has to offer. After reading, you'll know whether or not the EXM2500S is the right home gym for your home gym.
Off we go.
The Body-Solid EXM2500S Home Gym
Body-Solid is one of the leaders when it comes to home fitness equipment. They've been around since the late '80's and in that time, they've developed a stellar reputation for the quality of their gear.
It doesn't hurt that they came out with the first lifetime warranty for weight training equipment either.
Over the years, they've rapidly expanded their lineup. Now, they offer a little bit of everything weight training related, including both residential and commercial equipment.
They have a very extensive lineup of home gym machines, including weight stack systems, free weight systems, as well as a large array of squat racks and power racks too.
The EXM2500S is one of their more popular single stack systems designed for home use.
This gym comes with a full retail price of about $1700, but you can usually get it even cheaper on sites like Fitness Factory.
Pros
Heavy-duty frame
210 lb stack
6 workout stations
Ability to perform dozens of strengthening exercises
Smooth action
Includes several attachments
Compatible with optional leg press attachment
Incredible warranty
Fair price
Cons
Takes up a fair amount of floor space
Challenging assembly process
Frame
Body-Solid builds their gyms with heavy-duty materials, giving them a stable feel- and the EXM2500S is certainly no exception.
The frame of this gym is constructed out of 2″ x 4″, 12- gauge steel components, which is pretty impressive for a gym in this price range.
When talking about frame strength, you can look at the size of the steel (the 2″ x 4″ part), as well as the thickness (the gauge).
Seeing larger dimensions is a good thing when it comes to the sizes, but keep in mind that when it comes to the gauge of the steel, lower is better (means thicker steel).
12-gauge steel is pretty common for home gyms, especially in this price range. More expensive models may upgrade the frame to 11-gauge steel, but rest assured 12-gauge is quite stable.
I also like to look at the assembled weight of a gym to get an idea as to how heavy-duty it is (literally).
I prefer to see a higher number in this spec, because a heavier machine is more likely to feel stable and comfortable during use.
Well, with an assembled weight of roughly 448 lb, the EXM2500S scores highly in this category, so you really shouldn't have to worry about this gym feeling flimsy or shaky during workouts.
Body-Solid doesn't provide a user weight limit for this model, but given how heavy and stable it is, I would think users of all sizes should be able to sit on it safely.
One of the more interesting aspects of this gym is its design with 2 separate seats- one being used for the press station and the other being used for the pec fly station.
I don't see any obvious advantages to this, considering a lot of gyms combine both of these stations with a single seat, although I will say I like the open look it provides (less clustered in the front).
Doing this however, means you have to be able to access the gym from both sides, as well as have enough room to operate the pec fly station in the back.
And the EXM2500S isn't what I'd call a compact gym either.
With an assembled footprint of 83″ x 51″ (L x W), this gym takes up a fair amount of space, but keep in mind you'll need extra wiggle room to actually use it- especially considering you need to be able to access both seats.
It's a good practice to have at least a 10′ x 6′ chunk of floor space available to ensure you have plenty of room to operate and move freely with this gym.
Overall, the EXM2500S scores highly with a heavy-duty, stable frame. If you're considering it, just make sure you have enough floor space in your home.
P.S- you can get this gym in the classic white powder coat (the "S" model) or in a black powder coat (the "B" model)- the gyms are the same for both models, the only difference is the color.
Stations
When you hear manufacturers talking about a gym's "stations", they're really referring to the pulley systems- having more is beneficial because it gives you access to more exercises.
Most quality home gyms will come with 3 pulleys- the upper, middle, and lower.
Some will include additional stations, like a pec fly station or a separate set of functional pulleys, for even more exercise variety.
The EXM2500S comes with the following workout stations:
Upper pulley- this is your high pulley system and it can be used for classic moves like lat pulldown or tricep extensions, but you can really use this station for any high pulley exercise you can think of.
Press arms- this is where you'll be doing your bench presses and shoulder presses. The addition of the neutral grip handles allow for extra variation, which is nice.
Middle pulley- this one is located right above/behind the pec fly seat and it allows you to perform seated tricep extensions, standing rows, ab crunches, and more.
Pec station- this is where you can perform pec flys or rear delt flys (turn around so your chest is against the back support).
Leg developer- this is the classic leg station that allows you to perform knee extensions or hamstring curls.
Lower pulley- this handy station can allow you to perform a lot of moves, like seated rows, standing bicep curls, upright rows, and shrugs. I also like that Body-Solid designed this one so that it's really its own station, with a built in foot plate and everything. You can also hit your hips with the include ankle cuff.
Resistance
The EXM2500S is a single stack home gym, meaning it comes with only 1 stack of plates. Some gyms come with 2 separate stacks (referred to as dual-stack gyms), like most functional trainers.
The stack on this gym comes standard with 210 lb worth of weight, divided into 10 lb weight plates.
Many of Body-Solid's home gyms are upgradable, giving you the ability to purchase an extra 50 lb worth of plates to add to them, however the EXM2500S isn't.
This means 210 lb is all you're gonna get, unless you decide to jerry-rig your own method of attaching additional weights to the rack (which isn't recommended by the way).
I couldn't find a weight ratio for the pulleys on this gym – this ratio tells you how much actual weight you're lifting with each pulley.
Recall from physics class that pulleys are simple machines designed to make work easier- this means that with most home gyms, you're not actually lifting the real equivalent of the weight stacks selected.
I say "usually", because if you had a 1:1 ratio, you would be lifting the equivalent of the weights selected.
That said, a weight ratio of 2:1 is pretty common. This means you're lifting half the weight selected from the stack: 100 lb selected would feel like 50 lb.
Although, with the optional leg press attachment, the pulley set up actually doubles the weight you select (1:2 ratio), so with that exercise you can select up to the equivalent of 420 lb.
In terms of smoothness and quality of feel, users seem to be very happy. There are few complaints out there regarding the quality of the movement this gym provides.
Overall, this gym scores pretty highly in the resistance department. The 210 lb stack is heavier than many in this price range, although it would be nice if you could upgrade an additional 50 lb.
Accessories
The Body-Solid EXM2500S comes with the following attachments:
Lat pulldown bar
Straight bar
Ab/triceps strap
Ankle cuff
This gym comes with all the necessary attachments to get it up and running from day one. If you have any other attachments you want to purchase (or already have), you could always use them as well.
I could see wanting to purchase a tricep press down bar possibly.
And as I mentioned above, the EXM2500S is compatible with a leg press attachment that's sold separately. So if you want to expand your gym down the line you can.
Assembly
One of the only really downsides I see to this gym is the assembly process- there's a lot going on here.
To be fair, all of these gym machines are like this. The truth is, none of it really comes pre-assembled, meaning you have to put the entire thing together.
All those pulleys and cables- yup, you'd have to deal with them.
And there's a ton of hardware required to attach all the components the EXM2500S comes with.
The assembly manual isn't awful- the images are large and fairly easy to follow, but there's no way I'd want to tackle assembling this myself.
I think it would be worth the few hundred bucks it costs for professional assembly to save myself the headache.
But, if you want to save that cost and go at it yourself, just be prepared to spend the better part of a day (or 2) getting the job done.
Also, make sure you have 2-3 people available to help because this is a large, heavy gym.
Speaking of which, you'll want to assemble in its final destination, because this machine isn't designed with mobility in mind. Once assembled, it'll be quite difficult to move.
Warranty
Body-Solid backs the EXM2500S with the following residential warranty:
Lifetime frame & welds
Lifetime parts & hardware
Lifetime wear items
Yeah, I know, this warranty is crazy good.
What can I say, a lifetime warranty on the entire machine- that's as good as it gets. Even the pulleys, cables, and upholstery are guaranteed for life.
I have nothing to complain about here, I think this warranty speaks for itself. It also demonstrates how well-built this home gym really is.
Final Thoughts
Ok, that's about all I've got to say about the EXM2500S.
Is it perfect?
Not quite, but it's pretty darn close.
In a nutshell, I think this is a fabulous option for folks looking for an all-in-one home gym. With all of the attachments and included stations, you can perform pretty much any strengthening move you can think of.
The biggest downsides I see are the size and the assembly process, but if you've got the floor space, you'll be hard pressed to find a nicer gym in this price range.
Especially when you consider the lifetime warranty on the entire machine.
Overall, I think the EXM2500S is one of the best single stack home gyms around. Highly recommended.