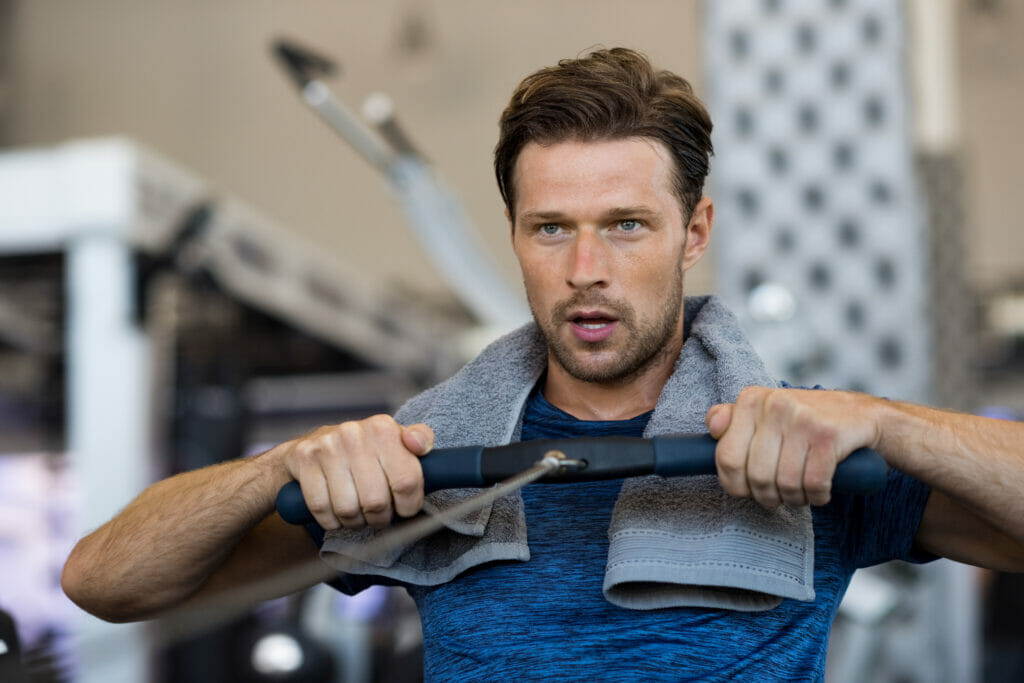 At roughly half the price of an Ergatta or Hydrow, NordicTrack's RW600 offers a significantly more affordable streaming rower experience.
Now to be fair, it's half the price for good reason, but I still think the fact that you can get a rower with a 10″ HD touchscreen console for $1k is a pretty good deal these days.
And looking past the console, the RW600 scores pretty highly in terms of performance too.
With a dual resistance system, it offers the advantages of both air and magnetic systems and with an easily foldable frame, it packs up nicely for storage.
And NordicTrack even backs it with a legit warranty, which is always nice to see.
All things considered, the RW600 isn't the heaviest-duty rower on the market, but it's easily one of the best streaming rowers $1k will get ya.
But before you decide, check out the rest of my review – in this article, I'll be going over everything you need to know about this rowing machine, including specs, features, and pretty much anything else you can think of.
I'll also try to compare it to some of the other rowers in this price range to see how it stacks up.
After reading, you'll know whether or not the RW600 is worth investing in.
Well, let's get to it already.
The NordicTrack RW600 Rowing Machine
Streaming workouts seem to be everywhere now (I'm patiently waiting for a toaster with a touchscreen so I can get a quick workout in while making my toast in the morning), but in the early days, it was only found on indoor cycles.
I'm pretty sure we have Peloton to thank/hate for the streaming revolution that seems to have taken over home fitness…
But regardless, now there are all kinds of home fitness machines with streaming capabilities, including rowers.
The Hydrow was the first streaming rower I remember seeing, but there are several too choose from these days and they're becoming more affordable all the time.
The RW600 we're here to discuss now is a less advanced version of NordicTrack's RW900, which is in direct competition with some of the most popular streaming rowers out there (Hydrow, Ergatta).
There's also NordicTrack's mid-range model, the RW700, not to be confused with the FREE RW700 they offer as part of their NordicTrack+ program… so confusing.
Anyway, at the time of writing this, the RW600 is selling for roughly $1k.
Pros
Dual resistance system
26 magnetic resistance levels
10″ HD touchscreen console
Adjustable damper
Folding frame
iFit ready
Automatic Trainer Control (iFit)
Unlimited workouts on/off of rower (iFit)
Metric tracking (iFit)
Quick touch resistance buttons
Easy assembly
Fairly priced
Great warranty
Cons
Resistance
I stress the important of examining the performance specs for any home fitness machine and when it comes to rowers, one of the most important is the type of resistance it uses.
There are several types of rowing machines you can get now and classifying them by the type of resistance they use is the easiest way to organize 'em.
I'm not going to go into the pros and cons of each type of resistance here, but if you're interested in more info, check out my full rowing machine guide.
Instead, I'll cut right to the chase – the RW600 uses a combination of magnetic and air resistance systems.
A lot of rowers use combination systems now and it makes good sense why – essentially, you can take advantage of some of the perks of both systems.
Although you don't get 100% of the benefits from either.
Wit a magnetic system, you get very quiet operation and constant resistance regardless of how fast you pull.
You set your resistance level (in the case of the RW600, it comes with 26 levels to work with) and off you go – anytime you want more resistance, you have to change your level manually.
With an air rower, the resistance you feel is dependent on how hard you row – pull faster and you get more resistance, slower and less.
Well, with a combination resistance like that found on the RW600, you set your magnetic resistance level and this acts as your baseline resistance.
But if you start pulling harder and faster, that air resistance will kick in, giving you more resistance to work against.
That said, it's been my experience that with combo resistance systems like this, it's the magnetic system that provides the majority of your resistance.
The RW600 comes with a damper too, allowing you to adjust how much air is getting inside, thus fine tuning the feel of your workouts even a little more (more air flow = more overall resistance).
Combo resistance systems like this work pretty well and are able to provide a lot of total resistance, but you loose the natural feel of rowing on water that a true air rower provides.
And they produce more noise than a true magnetic rower, although still not as much noise as a pure air rower.
When it comes to the RW600, most users agree it offers a smooth rowing experience and plenty of resistance to challenge most rowers.
Frame
Ok, the dual resistance system works well and having 26 magnetic levels to work with is nice, but what about the frame itself?
The RW600 comes with a folding frame, meaning you can essentially fold it in half after workouts, making it a lot easier to store.
Which can come in handy for homes with limited workout space because this rower takes up a little over 7′ of floor.
Being able to fold is always a nice touch, but I also like to get an idea as to how heavy-duty or stable a rower's gonna feel and to me, this is more important.
It can be hard to objectively compare how heavy-duty rowers are, but there are a few specs you can look at to get an idea – the assembled weight and weight limit.
The assembled weight tells you exactly how heavy the rower is and heavier rowers are usually going to feel more secure than lighter ones.
And by the same rationale, rowers with a higher weight limit are also more likely to be better built and feel more secure during use.
Of course, there are always exceptions – Concept2's highly popular RowErg only weighs around 70 lb and feels rock solid…
Anyway, with this in mind, the RW600 comes with an in box weight of 117 lb.
Now the in box weight includes the box and any packaging, so we have to subtract a little something to get an idea of what the rower itself weighs.
And I don't know exactly how much the packaging weighs, but I would guess the RW600 comes with a true assembled weight somewhere in the 90 – 1000 lb range.
Which isn't bad for a rower in this price range.
Sole's similarly priced SR500 weighs in at 115 lb, but Sole products are heavier-duty than pretty much anyone else's.
What's a little more disappointing is that the RW600 only comes with a weight limit of 250 lb, so larger folks will have to go with a heavier-duty model.
Most higher-quality rowers come with weight limits in the 300 lb+ range, so this is low for a rower of this caliber (surprisingly, the RW900 also comes with a 250 lb weight limit).
But if you fall under that weight limit, you'll be just fine.
Overall, I like that the RW600 folds for storage and its assembled weight is pretty good, but its weight limit is lower than I'd expect.
Features
The NordicTrack RW600 Rowing Machine comes with the following features:
10″ HD console- it's hard to miss the touchscreen console mounted in front and even though this is small by NordicTrack's standards, it's still a lot bigger than the consoles most other rowers in this price range are offering. And it's still big enough to see all the streaming workouts on while rowing.
iFit- that touchscreen console is there for a reason – streaming workouts through iFit. iFit is NordicTrack's streaming platform and through it, you get access to unlimited instructor-led workouts, scenic routes, metric tracking, and all that stuff. iFit is optional, but you kinda need it to take advantage of all the good stuff this rower has to offer. NordicTrack includes a free 30 day trial, but after that iFit will cost ya $39/month.
Automatic Trainer Control- oh, this is another feature available through iFit and it's a cool one. This feature allows the rower to automatically adjust its resistance to match what the instructors are telling you to do. Most users enjoy it, but you can always make adjustments manually too.
Molded seat- the seat is contoured for a more comfortable feel during workouts.
Pivoting pedals- the pedals move a little with your ankles, making for a more natural movement for your feet as you row. Each pedal also comes with an easily adjustable strap to keep your feet secure.
Quick touch buttons- you can instantly set the resistance to preset levels with the quick touch buttons on the console.
Assembly
NordicTrack did a great job making the RW600 easy to assemble.
The main frame itself comes entirely pre-assembled, so you don't have to worry about attaching the 2 pieces of rail together or anything like that.
All you'll have to do is slide the seat on the rail, attach the end cap, connect the console, and add a few covers… that's it.
As always, you have to make sure not to pinch any console cables while connecting the console and putting on the covers, but that shouldn't be too challenging.
The assembly manual is also easy to follow and there are walkthrough videos as well if you need more assistance.
Overall, this rower couldn't really be an easier to assemble.
Warranty
NordicTrack backs their RW600 with the following home warranty:
10 year frame
2 year parts
1 year labor
You know, NordicTrack offers this warranty on most of their products and while I find it a bit short for a $3k treadmill, I think it's quite generous in this case.
10 years on the frame is great considering most other brands only offer 5 years (including Hydrow and Ergatta) and 2 years on parts beats out the 1 year Hydrow and Echelon offer too.
Sole still offers a lifetime frame warranty on their rower, but most do not.
A year on labor is what pretty much everyone offers, so nothing too crazy going on there.
Overall, I think this is a great warranty for any rowing machine, but especially one in this price range.
Final Thoughts
Ok, that's about all I got when it comes to the RW600 and when you put it all together, there's a lot to like here.
Most folks agree the dual resistance system works well and I like that this rower allows you to adjust both the magnetic and air resistances separately.
I also like how easy this rower is to assemble and that it can easily fold away for storage.
The HD touchscreen console is likely the show stopper here, but NordicTrack's warranty on this rower is equally impressive.
It would be nice to see a higher weight capacity, but smaller users shouldn't have any issues with the RW600.
Based on the specs and features, I'd argue that this rower is priced fairly, especially considering there aren't really any other streaming rowers in this price range.
There's ProForm's Pro R10, which you can get for free with a 3 year iFit commitment – it also comes with a 10″ touchscreen console, but it only uses a magnetic resistance and comes with a much shorter warranty.
There's also Echelon's Row, which is similarly priced and designed for streaming through Echelon's platform – but it doesn't even come with a console.
All things considered, I think the RW600 is easily the best streaming rowing machine $1k will get ya.