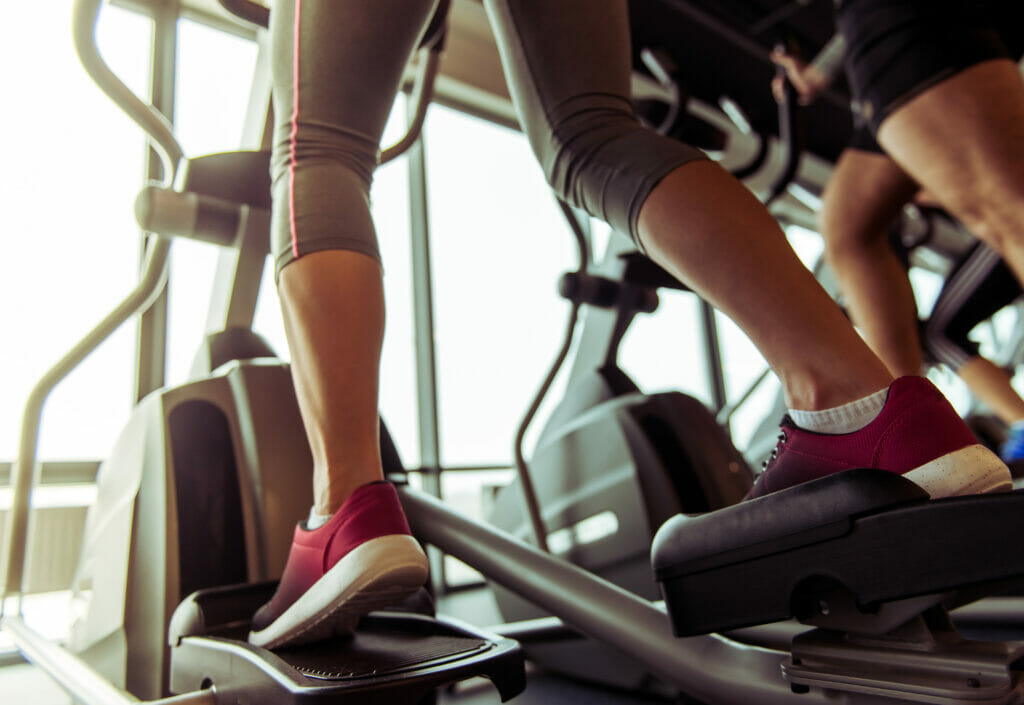 You can get NordicTrack's Commercial 9.9 Elliptical for free if you opt into a 4 year commitment with iFit, their streaming platform that gives you access to all the workouts, metric tracking, and all that stuff.
This is part of the NordicTrack+ program and it sounds like a pretty good deal, but that really all depends on what the Commercial 9.9 has to offer.
I mean, what's the use of getting a free elliptical if it can't provide a smooth, solid workout?
Luckily, I don't think you'll have to worry about that with the Commercial 9.9.
Promotions aside, this elliptical still comes with some legit performance specs and features.
Like a 25 lb flywheel, a power incline up to 20%, and a 7″ HD touchscreen console – it's also surprisingly heavy-duty, coming with a weight limit of 350 lb.
The biggest downside I see is that the stride length may be a little small for taller users, but if you like the idea of getting a free elliptical, you should keep reading.
In this review, I'll go over all the specs and features the Commercial 9.9 has to offer and I'll also toss in my 2 cents reading how it compares to other ellipticals in this price range.
After reading, you'll know whether or not NordicTrack's free Commercial 9.9 is really a good deal.
Let's do this.
The NordicTrack Commercial 9.9 Elliptical
NordicTrack's a popular brand that's been around for a long time and with the exception of their customer service, they've got a pretty good reputation.
Their products aren't the heaviest-duty or backed by the best warranties, but if you're looking to access streaming workouts, they're one of the best options out there.
And they've got a pretty extensive lineup of cardio machines to choose from too.
The Commercial 9.9 we're here to talk about now is part of their traditional front-drive elliptical lineup, but they've got a couple of FreeStride Trainers and a couple of rear-drive models to choose from as well.
With regards to their front-drive ellipticals, the 9.9 is their mid-range model, with only their Commercial 14.9 boasting more impressive specs.
At the time of writing this, this elliptical is part of NordcTrack+, a program that allows you to get certain products for no additional cost if you sign up for 4 years of iFit.
And since iFit costs $39/month, that's the equivalent of $1872 (which can be paid monthly or as one upfront payment).
According to NordicTrack, this deal is really worth $3171, meaning they consider the Commercial 9.9 to be a $1299 elliptical (this will come in handy when we compare it to other similarly priced ellipticals later).
Pros
Free with 4 year iFit membership
25 lb flywheel
22 magnetic resistance levels
Power incline up to 20%
Heavy-duty frame
350 lb weight limit
7″ HD touchscreen console
Access to unlimited workouts (iFit)
Scenic routes (iFit)
Metric tracking (iFit)
Automatic Trainer Control (iFit)
Bluetooth compatible
Cooling fan
One touch resistance/incline buttons
Decent warranty
Cons
Stride length could be a little longer
Stride Length
But let's start with the stride length because I think this is easily one of the most important specs to consider for any elliptical.
Simply put, this spec tells you immediately if this elliptical is going to fit you or not.
I might be being a little dramatic when I say that, but if the stride length is too small for ya, you're probably going to find yourself wishing you could stretch out a little more (or a lot more depending on how small the stride length really is).
Most higher-quality home ellipticals these days come with a stride length somewhere between 18 – 20″, with 20″ kinda being the gold standard because folks of most heights can use a 20″ stride length comfortably.
That said, some shorter folks might find a 20″ stride too long.
Regardless, the Commercial 9.9 comes with a max stride length of 18.7″.
And a say "max" stride length because the stride on this elliptical will vary a little depending on the slope of the incline, with a minimum stride of 17.5″.
I think NordicTrack's being a little misleading when they refer to this as an auto adjusting stride length because to me, that makes it sound like you can adjust your stride length to your liking.
And that's not really the case.
Well, it's definitely not the same as an elliptical that truly has an adjustable stride length independent of the incline.
Anyway, with an 18.7″ stride length, taller users might find themselves wishing they had a little extra room to stretch out.
Another way to think about it is to compare the feeling of jogging to the feeling of running – with a stride length of this size, most will likely feel more like they're jogging.
Not that this is necessarily a bad thing, but it's important to know what to expect.
That's my long-winded way of saying it would be nice to see a longer, 20″ stride on this elliptical – which isn't asking too much, considering Sole's E25 is packing a 20″ stride.
When it comes to the frame though, the Commercial 9.9 scores highly.
With an in box weight of 244 lb and a max weight capacity of 350 lb, I think it's fair to call this machine "heavy duty".
I'm not sure how much the packaging weighs, but if we subtract 30 lb or so, we're still left with a true assembled weight well over 200 lb.
Which is quite good for a home elliptical in this price range.
Resistance
It's important to consider an elliptical's resistance system not only for the function of providing enough resistance to challenge you, but also to ensure a smooth pedaling motion.
Which is paramount to having an enjoyable workout.
Like most exercise bikes, most home ellipticals operate by pairing a weighted flywheel with a magnetic resistance mechanism.
And, like most exercise bikes, most ellipticals benefit from having a heavier flywheel (the extra weight helps create a smoother pedaling motion).
For the sake of comparison, most quality home ellipticals are packing flywheels in the 20 – 30 lb range.
Well, the Commercial 9.9 comes with a 25 lb flywheel.
This falls right in the middle of our expected range and it's even quite a bit heavier than the 20 lb flywheel found on Sole's E25.
It's also heavier than the 23 lb flywheel found on Horizon's 7.0 AE and much heavier than the 17 lb flywheel Nautilus' E618 is rocking.
With a flywheel this heavy, you shouldn't have to worry about the fluidity of the pedal motion on the Commercial 9.9, but it also comes with 22 resistance levels to work with.
Having this many levels is a good thing because it gives you the ability to make smaller adjustments between levels, fine tuning the intensity of each workout.
This elliptical also comes with a power adjustable incline up to 20%, giving you the option to add more variety to your workouts and even target different muscle groups as you please.
Overall, I'd say the heavy flywheel and resistance system on the Commercial 9.9 is one of its more impressive features, even beating out some of the other top ellipticals in this price range.
Features
The NordicTrack Commercial 9.9 Elliptical comes with the following features:
7″ HD touchscreen console- this screen is small by NordicTrack's standards, but hey, it's still pretty good for a free elliptical. And it still makes it easy to make all your selections and view all your workouts.
iFit- as I've mentioned, the 9.9 is part of the NordicTrack+ program, so you have to commit to a 4 year iFit membership to get this elliptical. Through iFit, you get access to unlimited instructor-led workouts of all kinds, scenic routes, metric tracking, and more. And iFit costs $39/month anyway, so you really aren't paying anything additional for this elliptical.
Automatic Trainer Control- this is another feature you get with iFit, allowing the instructors to automatically adjust your resistance and incline settings during workouts. It's a pretty cool feature, but you can always adjust things the old fashioned way too if you prefer.
Bluetooth- the console is compatible with bluetooth headphones and heart rate straps for convenient tracking.
One touch controls- these convenient buttons allow you to instantly set your resistance and/or incline settings, saving valuable time during workouts.
Cooling fan- the built-in fan will hopefully help keep you a little more comfortable during those more challenging workouts.
Water bottle holder- and finally, yes, there is a place to keep your water bottle.
Assembly
If decide to get this elliptical, assembly shouldn't be that bad.
The process is fairly straightforward and NordicTrack's assembly manual is pretty easy to follow.
You'll basically be responsible for attaching the front/rear stabilizers, the upright, the pedals, the handlebars, the console, and several covers.
As always, you have to be careful when dealing with the upright and console as to not pinch any of the cable wires because the last thing you want is to plug this thing in and realize your console doesn't have power.
If assembling yourself, it's a good idea to have a second set of hands, especially when it comes time to attach the console.
And again, this is a pretty heavy duty machine, so having an extra person around will make it easier to move around if necessary.
Overall though, assembly shouldn't be too challenging for most folks who are at least a little handy.
Warranty
NordicTrack backs the Commercial 9.9 Elliptical with the following home warranty:
10 year frame
2 year parts
1 year labor
This is NordicTrack's standard warranty they use on pretty much all their products these days and in the case of the 9.9, I think it's pretty fair.
10 years on the frame is pretty solid, although Sole offers a lifetime frame guarantee on their similarly priced E25 (Horizon also offers lifetime; Nautilus offers 15 years).
And 2 years on parts is par for the course for a moderately priced elliptical (Sole offers 3 years, Horizon only 1).
A year on labor is what most offer as well, so that's pretty standard.
Overall, not the best warranty on the market or anything, but pretty good considering you can get this elliptical for free.
Final Thoughts
Ok, I think that about does it for the Commercial 9.9.
You know, normally you have to give up a lot to get a great deal and I have to admit, I wasn't expecting much when I heard that this elliptical was free with a 4 year iFit membership.
But in this case, I think NordicTrack is actually giving us a pretty sweet deal.
When compared to other ellipticals in the $1k range, the Commercial 9.9 holds its own quite well… and then some.
Forgetting the promotion, with such impressive performance specs, this elliptical might be one of the best elliptical options in this price range, period.
And folks who are looking for a streaming elliptical will likely appreciate all the nice tech features this model has to offer.
And it's even backed by a decent warranty.
The only real complaint I have is that it would be nice to see a slightly longer stride length – if the stride was 20″, folks of all heights could be confident in choosing this elliptical.
But I think this is forgivable, again, considering everything else this elliptical has going for it.
All things considered, I think the Commercial 9.9 is indeed a great deal. Recommended.