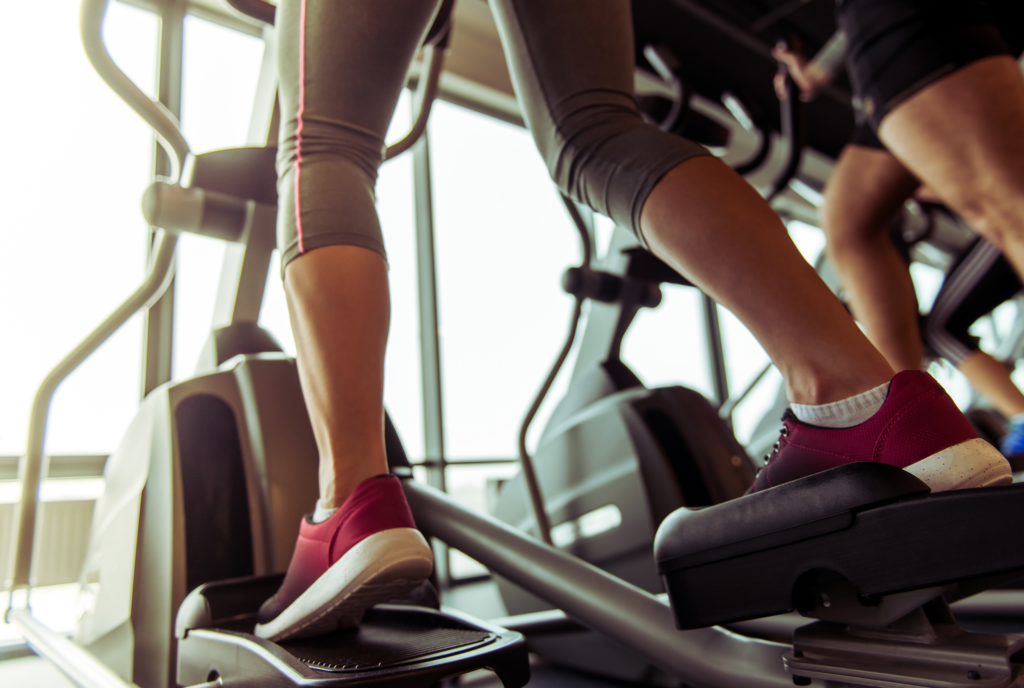 If you're looking for an elliptical trainer with an impressive library of workouts to choose from, the NordicTrack Commercial 14.9 might just be what the doctor ordered.
With a 14″ HD touchscreen display and tons of workouts to choose from, this elliptical is one of the most hi-tech options in its price range.
But in case you want more, the large display also pairs perfectly with iFit, giving you access to scenic routes, metric tracking, and instructor-led workouts of all varieties.
The Commercial 14.9 Elliptical has more to offer than just a fancy console- notable specs include a 32 lb flywheel, commercial grade solid steel frame, and a solid warranty.
Put this all together and you have a home elliptical well-equipped to kick your butt on a daily basis.
If you're in the market for a solid elliptical that won't destroy your budget, the Commercial 14.9 is a pretty good choice.
To help you in your decision making, this review will show you all the ins and outs of this model- we're taking pros, cons, and everything in between.
After reading this, you'll know everything you need to in order to figure out whether or not this is the right elliptical for your home.
The NordicTrack Commercial 14.9 Elliptical
The NordicTrack brand needs no introduction.
The home fitness behemoth started a few decades ago with their famous cross country skiers- they were kinda goofy looking, but they did work.
Fueled by their early success, they gradually branched out, becoming what they are today- one of the most popular providers of home treadmills, ellipticals, and pretty much everything else fitness related.
Today, they offer several elliptical varietals, including front-drive, rear-drive, and even a free-stride series.
The Commercial 14.9 is the most advanced option in their front-drive series and as such, it comes with the biggest screen, heaviest flywheel, and best warranty.
Pros
32 lb flywheel
26 levels of magnetic resistance
0-20° of power incline
350 lb weight capacity
14″ HD touchscreen display
35 built-in workout programs
iFit compatible
One-touch controls
Bluetooth
Adjustable pedal angles
Multi-grip handles
Good warranty
Cons
Only a 19″ stride length
NordicTrack's customer service has a reputation for being difficult
Stride Length
I think stride length is the first thing you should consider when choosing a new elliptical. The fact is, if the stride length is too short for ya, you're not gonna be comfortable.
And if your new elliptical isn't comfortable, you aren't going to use it.
Most high-quality ellipticals come at least a 20″ stride length.
At this size, people of most heights can stretch out comfortably during their workouts (meaning they don't feel like they have to shorten their stride).
We're all different shapes and even an elliptical with a 20″ stride length is bound to not fit everyone- people under 5'3″ or significantly over 6′ for example.
The Commercial 14.9 comes with an adjustable stride length between 17.5 – 18.7″ (depending on the ramp setting).
To me, this is this elliptical's Achille's heel.
At this price range, I'd to see at least a 20″ stride length, but at roughly  19″, folks under 6′ tall probably aren't going to miss the extra inch, but taller folks should think hard about this.
The stride length is smaller than I'd like, but the frame is heavy-duty.
The Commercial 14.9 is robust enough to handle users up to 350 lb safely.
The machine itself weights about 200 lb fully assembled, giving it a pretty solid base, so you shouldn't have to worry about the machine moving around or wobbling during use.
Overall, I'm gonna ding the Commercial 14.9 for having a stride length under 20″, but the frame is heavy-duty and high quality.
Flywheel
The flywheel is another important spec I suggest you consider when comparing ellipticals.
With ellipticals, much like indoor cycles, when it comes to flywheels- heavier is usually better.
The idea is that heavier flywheels build up more momentum as they start spinning.
This momentum helps the wheel continue spinning between pedal strokes, reducing the lag or choppiness that can occur mid-stroke.
A heavier flywheel should be able to provide more overall resistance than a lighter one can too- after all, there's more weight to push against.
Nice ellipticals should have at least a 20 lb flywheel. At this weight, you know there's going to be enough mass to get that wheel spinning smoothly.
The Commercial 14.9 comes with a 32 lb flywheel, which is massive for any price range.
And this heavy flywheel is going to make for a smooth pedal action during your workouts.
And when you pair this with 26 levels of magnetic resistance, you have the perfect recipe for an elliptical that challenge even the most gifted athletes.
Speaking of resistance levels- more is better because it gives you more control over your intensity.
It may not change the overall resistance the machine is capable of providing, but it does allow you to increase or decrease the intensity in smaller intervals, allowing you to fine tune the intensity.
This elliptical also comes with power adjustable incline settings up to 20% for even more workout intensity.
Changing the incline setting also allows you to focus on certain leg muscles more than others (example: higher inclines tend to focus on glutes).
Overall, the Commercial 14.9 scores highly in the flywheel department. The extra heavy flywheel and magnetic resistance system are ideal for a smooth, powerful workout.
Features
The NordicTrack Commercial 14.9 comes with the following features:
14″ HD touchscreen display- the large, HD screen is one of this elliptical's most impressive highlights. It pairs perfectly with iFit, making it comfortable to watch all those instructor-led workouts.
iFit compatibility- iFit is a fitness app that gives you unlimited access to workouts lead by professional trainers. You can also track all your workout data, access scenic trails, and more. NordicTrack includes a free trial with purchase, after that you'll have to pay a monthly subscription fee to access (you can still use this elliptical without an iFit subscription, but I don't really see the point).
Automatic trainer control- through iFit, you can also take advantage of the automatic trainer control feature that allows the resistance and incline to adjustment automatically to match whatever workout you're doing. A cool feature, but you can always adjust these manually if you prefer.
One-touch controls- the one touch buttons allows you to instantly set your resistance and incline settings. This comes in really handy if you like to switch between intensities often during your workouts (like during interval training).
Bluetooth- the console has built-in speakers so you can hear the instructors, but it's also compatible with bluetooth headphones in case you need to keep the noise level down around other family members.
Multi-grip handles- the handles are large and offer different grip options. You can also adjust the resistance and incline settings from the handles.
Heart rate monitoring- the 14.9 is compatible with bluetooth heart rate straps, however one isn't included these days.
Adjustable pedal angle- you can adjust the pedal angle for optimal comfort or to help emphasize certain muscle groups. I believe this plays a part in the adjustable stride length too.
Cooling fan- yup, there's a fan, pretty standard.
Integrated tablet holder- the tablet holder is conveniently located above the huge display screen, so you won't have to block that gorgeous display in order to watch Netflix.
Assembly
Most users agree putting the Commercial 14.9 together is pretty straightforward.
I think NordicTrack does a good job with the instruction manual- there are written directions and large images for each step along the way.
And the written instructions actually make sense, which is a nice touch. I like that the manual offers assembly tips along the way to keep you on track.
I also like that they provide an easy to read, to scale chart identifying all the hardware before you start. It works as a nice reference during assembly.
Most fairly handy folks should be able to pull this off by themselves without dishing out for professional assistance.
That said, this thing is heavy, so it's recommended you have a second person to help (especially for making sure you get this machine to its final destination before even starting assembly).
I'd expect to spend at least 2 hrs getting the job done.
Warranty
The NordicTrack Commercial 14.9 Elliptical comes with the following warranty:
10 year frame
2 year parts
1 year labor
I think NordicTrack used to offer lifetime frame warranties, but that's no longer the case.
Yes, a lifetime frame guarantee would be wonderful (and many competitors do offer this), but 10 years isn't awful either.
Two years on parts is ok too, not great, but not awful.
A year on labor is pretty standard operating procedure.
Overall, there's room for improvement, but still a pretty good warranty.
I should mention that there have been a lot of complaints about NordicTrack's customer service though. They have a reputation for being slow and difficult to work with at times.
Final Thoughts
The Commercial 14.9 is NordicTrack's most high-end front-drive elliptical to date and I think it has a lot to offer.
For the price, it offers an impressive combination of hi-tech features and performance specs.
But I think its most impressive features are its 32 lb flywheel and hi-tech console.
This elliptical also has a ton to offer in the workout department, so if you're looking for an elliptical with loads of workout options, its going to be tough to find a better option.
My only real problem with this elliptical is the smaller than expected stride length.
At only 19″, taller users might find themselves having to shorten their stride a little, but I guess it all depends on what you prefer.
Overall though, NordicTrack has designed one of the best-in-class ellipticals here. If you're looking for the utmost in workout variety, the Commercial 14.9 is a smart buy.